Deadly floods spark protests, authorities respond with restrictions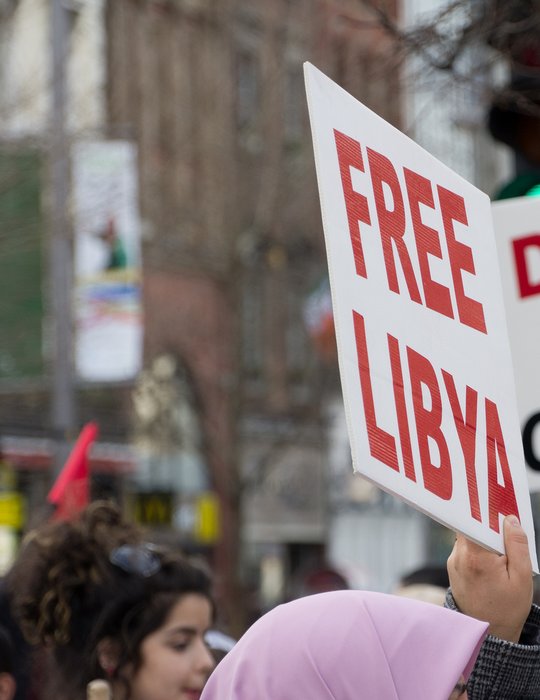 General update
Civil society organisations raised their concerns on the civic space situation including during the 54th Human Rights Council session held in September 2023. Human rights defenders raised concern about the repressive legal framework that has reduced civic space, the repeated violations during local elections, the complete paralysis of the national judicial system and its inability to hold perpetrators of war crimes and crimes against humanity accountable.
During the discussions under Item 3 -- General Debate on Promotion and Protection of All Human Rights, Civil, Political, Economic, Social and Cultural Rights, Including the Right to Development -- Libya activist Cher Saadi stated that "No one is safe in Libya" as authorities revive Gaddafi-era policies and called for the urgent resumption of investigations into human rights violations in Libya, warning that failure to implement this will only encourage armed groups to commit more violations.
Peaceful Assembly
Following the 10th September 2023 deadly flooding in East Libya's Derna City, where thousands of people were reported dead and thousands more missing, on 18th September 2023 it was reported that hundreds of demonstrators gathered in Derna to protest negligence by authorities that led to the deadly flash floods. The protesters gathered outside the city's grand mosque and chanted slogans against the parliament in east Libya and its leader Aguilah Saleh. In their statement, the protesters called for quick investigations and legal action against those responsible for the disaster. On the evening of the protests, the demonstrator's torched the Mayor's house.
#Libya: We are shocked by reports that the administration in charge of eastern Libya has ordered journalists to leave #Derna after anti-government protests broke out a week after a flood killed thousands of people. https://t.co/tys6kGOKcl

— CPJ MENA (@CPJMENA) September 19, 2023
Expression
On 19th September 2023, Libya's eastern administration issued an order for local and foreign journalists to leave the city of Derna on grounds that they were impeding rescue efforts in the aftermath of the deadly 10th September floods. CPJ noted that these restrictions on media access – along with reported internet and mobile network shutdowns – will likely significantly curtail the availability of information beyond state-controlled channels. Beside the order issued, media sources referred to detention of Libyan journalists as well.
Diana Eltahawy, Amnesty International's Deputy Regional Director for the Middle East and North Africa, said:
"The loss of life and devastation in Derna and Libya is an unimaginable tragedy, with thousands still missing and tens of thousands displaced. Entire neighborhoods and families have been washed into the sea. Yet instead of focusing on facilitating humanitarian access to all affected communities, LAAF is resorting once again to its well-honed machinery of repression to silence criticism, muzzle civil society and evade responsibility."
On 7th April 2023, Maher Elgheryani, director of the media office of the Benghazi municipality, was arrested in relation to previous comments he made on social media criticising an ongoing campaign to demolish buildings and houses and forcibly evict residents from Benghazi's centre. The activist was later released.
Association
In a statement, UN experts noted that "We are particularly concerned about the negative impact of the discriminatory procedure on the fundamental rights and freedoms of women and girls, in contradiction with Libya's international and national obligations on non-discrimination, equality and the right to privacy." UN experts also refered to the attempts by the Libyan Internal Security Agency (ISA) to intimidate human rights defenders, including women, who have spoken out against these policies and called the authorities to withdraw this discriminatory requirement and to prevent all intimidation, harassment and attacks against women and human rights defenders who have protested against this discriminatory policy."
In practice, these restrictive policies have been challenging for women human rights defenders, and in particuar, the new policy requiring all women and girls who wish to travel to fill in a form providing personal information, reasons for travelling without a male guardian or mahram, and details of their previous history of travelling without a mahram.