CSOs call for protection of the right to peaceful assembly during the pandemic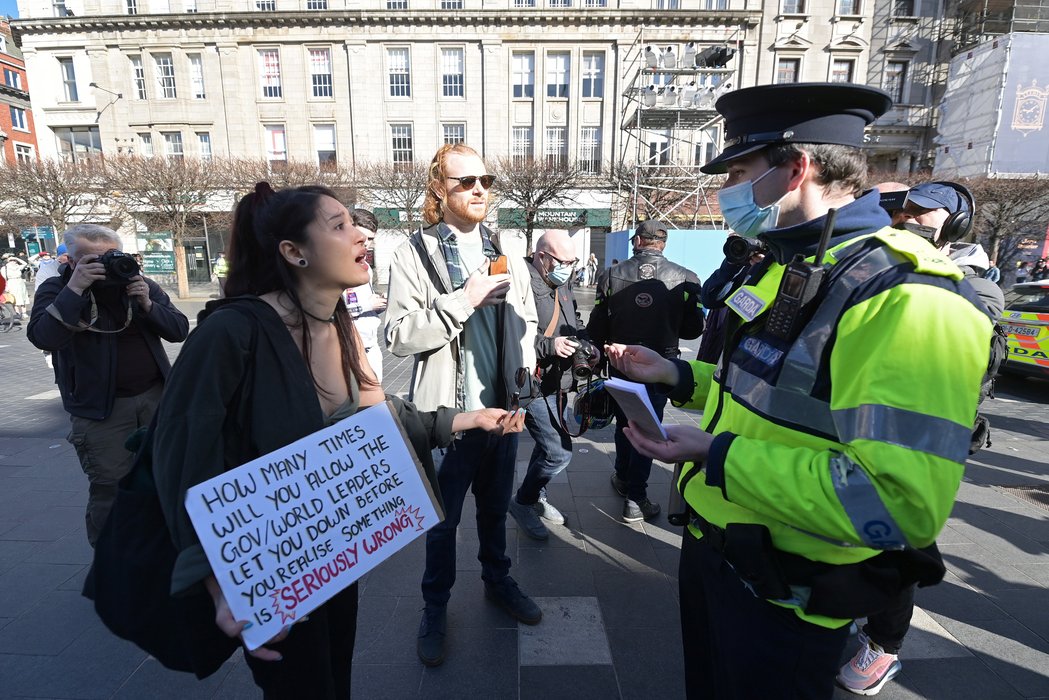 Association
CSOs call for removal of restrictions on CSO funding
The Coalition for Civil Society Freedom, which is made up of six CSOs working to influence public policy in Ireland, has prepared a submission together with the Office of Senator Lynn Ruane as part of the pre-legislative scrutiny process of the Electoral Reform Bill (2020). They are seeking the removal of broad provisions inserted into Section 22 of the Electoral Act 1997, which prohibits any person or organisation based in Ireland from accepting sizeable or any international donations to assist them in campaigning on or seeking to change public policy. The coalition is also concerned about the impact of the onerous tracking and reporting requirements attached to small domestic donations.
What is causing the issue?
In the submission, it is highlighted that the definition of 'political purposes' as defined in the 1997 Electoral Act (as amended) is too broad, and this means that any 'third party' organisation who seeks to engage on public policy, either inside or outside an electoral period, falls under its remit. The coalition believes that this was an unintended consequence of the 2001 amendment to the act.
What is the practical impact?
Organisations such as the Irish Council for Civil Liberties, (ICCL) Amnesty International and others are effectively banned from seeking funding for their work and risk sanctions for engaging in the public policy process. What's more, the Irish Council for Civil Liberties has reported that in the past few years this legislation has been enforced selectively and unequally, often targeting CSOs for specific causes, such as the referendum on abortion.
The legislation is comparable to legislation in authoritarian countries, such as in Russia where it is used to stifle civil society, and recent comparable laws in Hungary that violate EU regulations on privacy and the rules governing the single market. If ensuring that civil society has the space it needs to operate abroad is a priority for Ireland, as its foreign policy states, the government needs to lead by example and ensure that an enabling environment for civil society exists at home.
Concerns about human rights dangers of Health Amendment Bill
On 25th and 26th February 2020, the government attempted to steamroll the mandatory quarantine legislation through the Dáil (lower house of parliament). The Irish Council for Civil Liberties (ICCL) contacted all TDs and Senators to raise their concerns about this affront to the democratic system of law-making and encouraged them to challenge the Bill as it could significantly infringe on fundamental rights. ICCL's main concerns about the legislation include:
Mandatory quarantine, which is a form of detention with no provision for inspection or access to independent advocates and legal advice,

proposed "unnecessary and potentially disproportionate powers" granted to police,

the need for a person to "adduce evidence" of reasonable excuse for leaving their home,

an increase in fines and introduction of retrospective penalties and

concerns regarding data protection.
Rushing the bill through the Oireachtas (the legislature) deprives people in Ireland of the key safeguard against the disproportionate interference with rights. Read ICCL's full briefing here. 
Peaceful Assembly
CSOs call for protection of peaceful assembly rights
As fundamental rights continue to be restricted under the pretext of the health emergency, CSOs are calling for the need to protect the rights of "peaceful and pandemic-safe protesters". The ICCL is requesting the government to demonstrate consideration for human rights by carrying out a 'human rights test' every time it makes the decision to restrict rights. A human rights tests asks: 'Is this necessary? Proportionate? Legal?"
ICCL's Head of Legal and Policy, Doireann Ansbro said:
"During an emergency, the right to protest can be restricted but not banned entirely. Right now, if you hold a one-person protest at the end of your street, you are acting illegally. People who want to protest but also protect others by holding very small socially distant protests are without the protection of the law at the moment, which is an untenable situation".
If level five restrictions are extended until 5 April, then government must - by law - produce a human rights test.

It needs to show it's taking rights into account. They are even more important during an emergency. https://t.co/f1hCgndpRE

— ICCLtweet (@ICCLtweet) February 23, 2021
More specifically, ICCL has called on the government to issue specific guidelines on how people can exercise fundamental rights such as protesting in a "pandemic-safe" way. ICCL argues that failure to issue this guidance creates a climate of uncertainty that can be exploited by far-right groups who are using discontent about the lockdown to recruit people into their ranks. Read ICCL's letter to the Minster of Justice here.
More than 20 arrested amid anti-lockdown protests on St Patrick's Day
On17th March 2021, St Patrick's Day, anti-lockdown protestors were met with a heavy Garda presence in Dublin, who set up a major policing operation to guard key locations and block off streets surrounding landmarks in the city centre. By 8pm, the Garda reported that 21 people had been arrested in relation to "different events" in Dublin, 14 of whom were brought before the Dublin District Court on minor charges, and seven of whom were released on station bail having been charged with various offences. It was estimated that 150 people took part in the rally, which lasted for an hour, with the majority of protesters later joining another anti-lockdown event in Herbert Park Ballsbridge, where around 500 gathered. At this protest, the Chair of the Irish Freedom Party, Professor Dolores Cahill, drew cheers from the crowd when she said that the lockdown was "based on lies" and that children and elderly people had been treated like prisoners. Some arrests were made after people refused to give their name and address during checks to establish if they had made non-essential journeys.
Violence ensues in anti-lockdown protests in Dublin
On 27th February, hundreds of protesters took part in anti-lockdown protests in Dublin, which resulted in over 20 arrests. Parks were closed and extra Gardaí were deployed to the city centre to deal with the crowds. One protester was seen firing fireworks towards Gardaí in the city centre, which resulted in police using batons to disperse crowds of protesters.
Video circulating from this afternoons protest in the city centre showing fireworks being fired towards Gardai.
Understand extra garda resources are being drafted into the area from other parts of Dublin pic.twitter.com/zD1SUslc8E

— Robin Schiller (@11SchillRob) February 27, 2021
The Irish Taoiseach (Prime Minister) Micheál Martin said that "there can be no justification for the violence that unfolded". Higher Education Minister Simon Harris labelled the protests as "pure thuggery". However, many protesters argued that the fireworks were an isolated incident and the action of just one protester, to which the Gardaí reacted with violence. The ICCL commented that it was "appalled" by the violence directed at members of the Garda at the demonstration, but highlighted in their letter to the Minister of Justice their strong support for protecting the fundamental right to peaceful assembly and the need for the government to issue guidelines on COVID19-safe peaceful protesting.
Vigils for Sarah Everard
On 16th March 2021, several dozen demonstrators gathered in Dublin to protest against violence against women following the recent murder of British woman Sarah Everard (see our UK update). Regardless of the social distancing and mask wearing by compliant protesters, as per the current health regulations, the gathering was illegal. A Garda inspector took down the names of those present, which eventually caused protesters to disperse. The Irish Times reported that the Garda approach to policing protests has drawn some criticism for its "perceived inconsistency in policing demonstrations".
4-year-old, Ariana Lamcellari, holds a sign at a protest against violence targeting women, in Dublin, #Ireland, March 16, 2021. Demonstrations have followed the charge of a British police officer in the London kidnapping and murder of #SarahEverard. #propergaanda #potd pic.twitter.com/FFgLvNZ8n1

— Propergaanda (@propergaanda) March 17, 2021
For example, while a protest staged byDebenhams workers was dispersed, on the same day a far-right demonstration was allowed to go ahead. On 22nd April 2021, people gathered at a former Debenhams store and staged a protest by locking themselves in a loading bay to prevent the removal of stock. The response by the police was alleged to be "extremely heavy handed and fairly aggressive". Ultimately, as frustrations with the government rise, calls to relax the ban on demonstrations have grown.
Irish PM Micheal Martin warns against 'spiral' in Northern Ireland violence after 12 days of sporadic violence
Just over the border in Northern Ireland, 12 days of sporadic violent protests bring serious concerns for Ireland and the Good Friday Agreement, which brought an end to the three-decades-long conflict over British rule in Northern Ireland. Recently, the cities of Londonderry, Belfast, Carrickfergus, Ballymena and Newtownabbey have seen protests sparked by the introduction of an Irish sea border and tensions over Brexit between pro-United Kingdom unionists and pro-Irish nationalist communities. From 29th March to 9th April 2021, a series of nightly protests has ensued, involving bricks, bars, fireworks and petrol bombs, culminating in ongoing unrest and 88 injured police officers, who have reacted with water cannon and arrests. Protesters have also suffered injuries, but numbers are unconfirmed.
NEW: Man injured by petrol bomb in Newtownabbey last night. The flames were eventually put out before his injuries were more severe. pic.twitter.com/AD6gflvnMJ

— Mark Simpson (@BBCMarkSimpson) April 4, 2021
The Irish Prime Minister, Micheal Martin, warned against a "spiral back" into sectarian conflict in Northern Ireland, and Irish foreign minister Simon Coveney said "these are scenes we haven't seen in Northern Ireland for a very long time, they are scenes that many people thought were consigned to history and I think there needs to be a collective effort to try to defuse tension."
Protests over Climate Action Bill
On 23rd March 2021, Extinction Rebellion Ireland staged a protest in Dublin and called on the government to make good on its promise to ban fracked gas imports. The group, together with Love Leitrim and Safety Before LNG (Liquified Natural Gas) campaigners, staged a visual performance. Extinction Rebellion activist Cara Kearney said:
"We're here to protest the lack of a mention of fracking, importing fracked gas in the Climate Bill.... Unfortunately, the climate crisis is so bad that we need hard and fast drastic action on par with that we've seen with Covid...There needs to be an immediate ban on imported fracked gas – black and white."
Members of @ExtinctRebelsIE protest outside Leinster House calling for a ban on fracked gas imports and a moratorium on constructing a Liquefied Natural Gas (LNG) Terminal in Shannon. @PAImages #fracking pic.twitter.com/haIbzm61xU

— Niall Carson (@niallcarsonpa) March 23, 2021
In a related development, two activists from XR Ireland were arrested during an action outside the Ministry of Foreign Affairs in Dublin. One of the activists painted in red outside the building "no more empty promises" regarding action on the climate emergency, while the other filmed the action. In the footage, passerby are heard shouting at the activist who was painting, calling her a "disgrace". In response to this, the group wrote on Twitter:
"To those who seem concerned about whether the building was damaged, the paint was easily removed. We wish you were half as concerned about climate and ecological breakdown as paint."
Expression
Concerns over Online Safety and Media Regulation Bill
The Irish Council for Civil Liberties (ICCL) has raised concerns on the proposed new legislation on online safety, stating that it may not meet human rights standards. Principally, the legislation proposes to restrict non-illegal speech online, but there are grave dangers in seeking to restrict speech that does not break any existing laws.
Executive Director of ICCL, Liam Herrick, said:
"A Media Commission like the one proposed in this legislation could play a useful role in the regulation of online illegal speech. It's particularly helpful that additional routes of redress for victims of online crime would be available. But we are concerned about the impact to freedom of expression and other rights if non-illegal speech becomes restricted online."
ICCL made a submission to the Oireachtas Committee on Media outlining their concerns about restrictions to freedom of expression, the right to send and receive information and the right to privacy. The ICCL highlight that these rights are all enshrined in the Irish Constitution and international human rights law, stating that "if they are to be impinged upon, the measures must pass the three-part test of legality, necessity and proportionality". The ICCL argues that significant parts of the legislation may not pass this test, and outline four additional areas of concern:
The vague definition of harmful content will make it difficult for people to know when their behaviour could be subject to sanction;

The Bill fails to provide for the role of the Online Safety Commissioner and/or outline what this person's role or function will be;

The Bill fails to recognise the very different rights and responsibilities of individuals and powerful corporations;

The Bill fails to provide explanation of how the Media Commission will identify illegal content within private communications in a legal, proportionate and necessary manner.
The Irish Human Rights and Equality Commission (IHREC) has also criticised aspects of proposed new online safety legislation, stating that the definition of harmful online content is "vague and open-ended, and lacks legal certainty". They reaffirm similar concerns to the ICCL, highlighting that legal certainty around the definition of harmful online content is important to ensure that the legislation is proportionate and compatible with rights, including freedom of expression.
Facebook has voiced their concern for the new Bill too, mentioning that it could clash with the Digital Services Act (DSA) EU law currently being passed.
Journalists barred from government briefing
On 15th February 2021, Health Minister Stephen Donnelly held a press conference on the county's COVID-19 vaccine rollout. Several reporters and political correspondents stated that they were refused access to the briefing. The conference was only meant for health reporters and correspondents, according to the ministry. The spokesperson for the minister stated that journalists were refused access based on the fact that several outlets, including newspapers and broadcasts, did not have a health correspondent. However, after one senior journalist threatened to boycott the briefing unless all reporters who were present were given access, several reporters were eventually allowed to attend.
A number of reporters/political correspondents were refused access to a briefing held by Min Stephen Donnelly today on logistics around the vaccine roll-out. 1/4

— Ciara Phelan (@ciaraphelan_) February 15, 2021