Crackdown on LGBTI rights continues; feminists protest over withdrawal from domestic violence treaty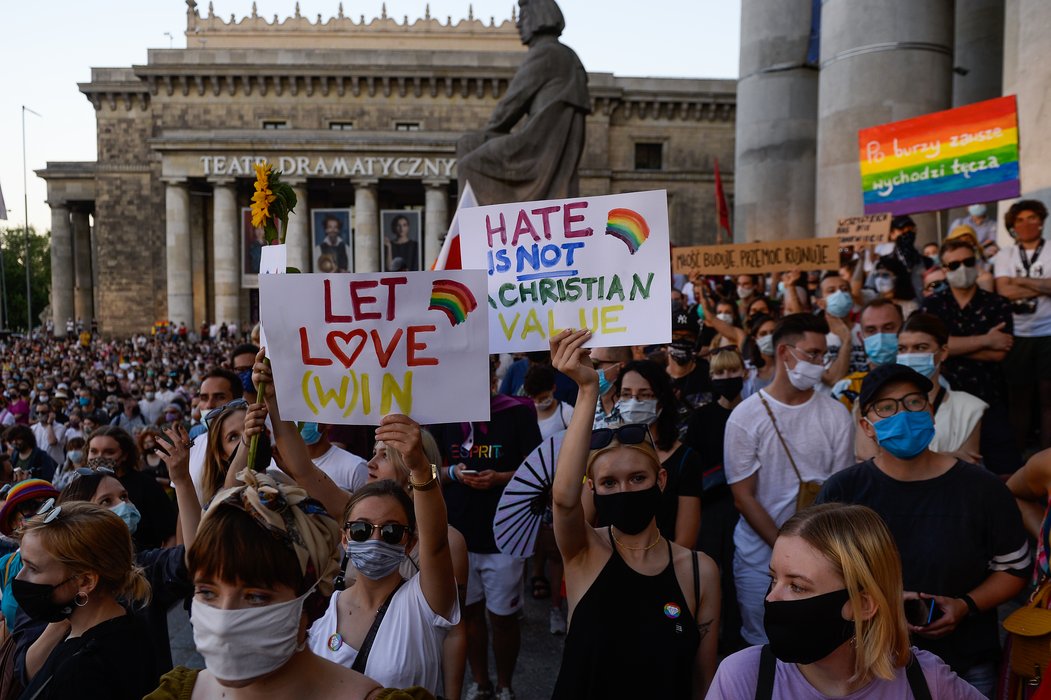 Association
In July 2020, the Polish Minister of Justice, Zbigniew Ziobro, and the Minister of the Environment, Michał Woś, both from the radical-right junior coalition party United Poland (Solidarna Polska), proposed legislation to make it mandatory for non-governmental organisations that have an annual income above PLN 156,000 (approx. EUR 35,000), where at least 10 per cent of that income comes from abroad, to report to the Ministry of Justice within 14 days of obtaining foreign funds. Organisations that receive more than 30 per cent of their annual income from abroad would need to state this fact on all of the materials they publish and label themselves as such on their websites and before every public appearance of their representatives. If they fail to do so, they may face harsh administrative penalties (PLN 3,000 – 50,000 for NGOs, PLN 1,000 – 30,000 for members of the board). In the event of repeated violations, they could lose their NGO status.
Woś told state broadcaster Polskie Radio that one of the motivations behind the proposed law was to fight NGOs that serve foreign interests. In his view, "it is an open secret" for example that a number of environmental organisations "actually work to carry out the instructions of big business, big capital or the powerful of this world." More specifically, he mentioned environmental organisation Greenpeace, accusing it of working for "bigger interests".
Maciej Kalisz, lawyer at the Helsinki Foundation for Human Rights, told the CIVICUS Monitor that this proposal carries many risks. If introduced, it may contribute to the creation of a "climate of suspicion and stigmatisation of foreign-funded NGOs". Secondly, the proposal clearly includes disproportionate administrative penalties, penalties that are far above the average annual income of Polish NGOs. Moreover, it is unclear what legitimate need such legislation satisfies as there are already existing and sufficient mechanisms to monitor the activity of NGOs, argued Kalisz.
As previously reported on the Monitor, a similar piece of Hungarian legislation was recently found by the European Court of Justice to violate EU law.
Soon after the announcement of the proposal, the Minister of Culture and President of the Public Benefit Committee, Piotr Gliński, of the senior governing party Law and Justice (PiS), informed the public that the government does not stand with the proposal in question. However, Gliński stressed the fact that a new system of regulating the finances and the transparency of NGOs is being prepared but no further details have been disclosed.
As the future of Poland's governing right-wing coalition is currently hanging on a thread, the new regulation may not surface in the coming months.
Peaceful Assembly
Protests over withdrawal from domestic violence treaty
In July 2020, Justice Minister Zbigniew Ziobro announced that Poland would begin the process of withdrawing its ratification from the European convention on preventing violence against women, known as the Istanbul Convention. The ruling PiS party has previously stated that the convention has been used to promote "gender ideology". President Andrzej Duda has stated that the convention contained "concepts that are contrary to our tradition and culture" and that there are already Polish laws in place to tackle domestic violence.
Jesteśmy pod siedzibą Ordo Iuris! Nie zgadzamy się na wypowiedzenie Konwencji Antyprzemocowej!#KonwencjaAntyprzemocowa #KonwencjaStambulska pic.twitter.com/Rw6qMyhFwI

— Wielka Koalicja za Równością i Wyborem (@WielkaKoalicja) July 24, 2020
The announcement by the government sparked massive protests on 24th July 2020 in Warsaw. Thousands of women, dressed as characters from the dystopian series The Handmaid's Tale, gathered outside the offices of Ordo Iuris, a conservative right-wing legal foundation.
Speaking to the CIVICUS Monitor, Klementyna Suchanow, feminist and one of the founders of the Polish Women's Strike said that feminists want the European Union to consider human rights and funding collectively.
"We are trying to convince the international community that European funds should be allocated bearing in mind the actual human rights compliance records of each member of the European Union (EU). A new instrument introduced in the EU established that funding should be linked to adherence to democratic principles and practices. We are trying to convince the Council of Europe, the source of the Istanbul Convention, to introduce similar measures towards the governments that are relinquishing their people's rights."
Amnesty International Poland condemned the move to withdraw from the Istanbul Convention, adding that there is currently a "shadow pandemic" occurring during COVID-19, with many reports of domestic violence during the quarantine.
"The surge in domestic violence during the COVID-19 pandemic has brought into sharp relief the need for governments across the world to strengthen their protections for women and girls' rights...Were Poland to push ahead and leave the Istanbul Convention, it would send a deeply disturbing signal that ensuring that women and girls live free from violence, is no longer a priority," - Nils Muiznieks, Europe Director for Amnesty International
Protest Ogólnopolskiego Strajku Kobiet. Od siedziby Ordo Iuris do ministerstwa rodziny. NIE dla wypowiedzenie konwencji antyprzemocowej ! NIE dla legalizacji przemocy ! To nasz sprzeciw wobec ideologii ultrakoserwatystów.#NieDlaLegalizacjiPrzemocyDomowej #NieBędziemyOfiarami pic.twitter.com/KPQtaDpbtV

— Katarzyna Kotula (@KotulaKat) July 24, 2020
Crackdown on LGBTI activists
On 7th August 2020, an activist of the queer collective "Stop Nonsense" known as Margot S was arrested on charges of earlier vandalising a van belonging to a homophobic group and attacking its driver and for hanging LGBTI rainbow flags on Warsaw statues (see below).
According to witnesses, the activist was coming out of the headquarters of the Polish organisation Campaign Against Homophobia (KPH) and preparing to surrender to police officers. However, the police, allegedly for tactical reasons, refused to arrest her until Margot and her supporters reached one of the main streets of Warsaw, Krakowskie Przedmiescie, where the activist was eventually arrested. The crowd tried to block the police car that was taking Margot, and the police began to arrest them. Footage on Twitter shows how the participants were chosen randomly from among the crowd. According to Rzeczpospolita, even people who were shopping and had nothing to do with the protest were arrested. A participant reported that:
"The police were aggressively pushing the protesters out of the way, knocking people to the ground and holding them down with their boots. Our path was cut off on both sides and a roundup of random people from the crowd began. We stayed there and took care of each other, none of us were left alone".
Forty-eight people were arrested in total and are facing sentences of up to three years. During their detention, some protesters did not have access to food and water and were interrogated during the night.
In reaction to the way protesters were treated by the police, representatives of the District Bar Council of Warsaw asked the state authorities to immediately introduce regulations guaranteeing the right to legal defence from the earliest stage of legal proceedings against detainees. To date, this right is not fully implemented in Poland.
A representative of the KPH told the CIVICUS Monitor that the two month long pre-trial detention the court ordered against activist Margot is outrageous as it is clearly disproportionate to the charges the LGBTI activist is facing. In addition, Margot, who is non-binary and uses female pronouns, was detained in a men's facility. In KPH's view, what happened around Margot's arrest is the result of a two-year campaign against LGBTI people in Poland:
"We experience repressions at the hands of the blatantly homophobic Polish government. The aggression police used on us and the 48 detentions that followed were unprecedented and shouldn't have ever happened in a civilised society."
Poland has stepped up its crackdown on LGBTI activists.
In July 2020 three LGBTI activists were indicted for the crime of offending religious feelings. The activists are accused of creating and distributing images in April 2019 of the Virgin Mary and Jesus with LGBTI rainbows added to their halos. They may face up to two years in prison if convicted.
Uraziła cię Tęczowa Matka Boska na #MarszRówności w #Częstochowa? Zgłoś się na policję.
Przepraszam, ale już samo to pytanie jest dla mnie tak absurdalne... Nie, to nie jest @ASZdziennik. To się dzieje. Czytajcie o szczegółach na @zachodni. @k_jurkiewicz https://t.co/4bAuwEF2XX pic.twitter.com/KkHFsgTTxu

— Bartosz Wojsa (@BartoszWojsa) November 13, 2019
In August 2020 three LGBTI activists, including Margot, were charged and detained for hanging LGBTI rainbow flags on as several statues in Warsaw, including a statue of Christ. They are accused of insulting monuments and offending religious feelings. The activists state that the aim of this act was to highlight "internalised homophobic attitudes".
We produced a timeline of anti-LGBTI hate in #Poland since 2018, which shows the increasing pressure and fear #LGBTI people have been enduring. #factchecking #PolishStonewall https://t.co/JsqRcERDfI pic.twitter.com/ytqI8A5wXT

— ILGA-Europe (@ILGAEurope) August 13, 2020
Independent, international non-governmental umbrella organisation, ILGA Europe condemned the anti-LGBTI developments taking place in Poland.
"The LGBTI community is being denied the right to exist by the leading political party. LGBTI people in Poland live in a situation of constant, repressive pressure with no access to justice or State protection. In circumstances like these, where marginalised members of society are being attacked from all sides, protest and activism are inevitable, and may even be considered provoked by the government's failure to protect their fundamental rights and disproportionate law enforcement responses. Let us not forget this is happening in an EU country where the human rights of all citizens are deeply rooted in law,"- Björn van Roozendaal, Programme Director at ILGA-Europe.
It also called on international mechanisms, including the European Union, the Council of Europe and the United Nations, to condemn police violence and arbitrary detention in Poland and to demand that the fundamental rights of LGBTI people in Poland are protected.
Farmers protest animal rights bill
On 16th September 2020 farmers gathered outside the headquarters of the ruling PiS party to protest against an animal protection law, currently before parliament, which seeks to place a ban on fur farming - a major export industry in Poland. It also seeks to put a stop to the use of animals in circuses, severely restrict the ritual slaughter of animals for halaal and kosher meat and limit the restraining of dogs. Protesters displayed signs such as "leave our jobs alone", and "who wants to butcher Polish agriculture?" The demonstration was peaceful.
🔴 Protestujący rolnicy idą w stronę @KancelariaSejmu. Rolnicy mówią wprost, że #PiatkaDlaZwierzat to ogromne uderzenie w polskie rolnictwo, które załamie sytuację tysięcy gospodarstw rolnych. Czy @pisorgpl poświęci polską wieś w imię interesów? @szczepan_wojcik pic.twitter.com/5fx1QEGvpn

— Świat Rolnika - portal rolniczy 🇵🇱 (@Swiat_Rolnika) September 16, 2020