Crackdown and arrests reported by the Fact-Finding Mission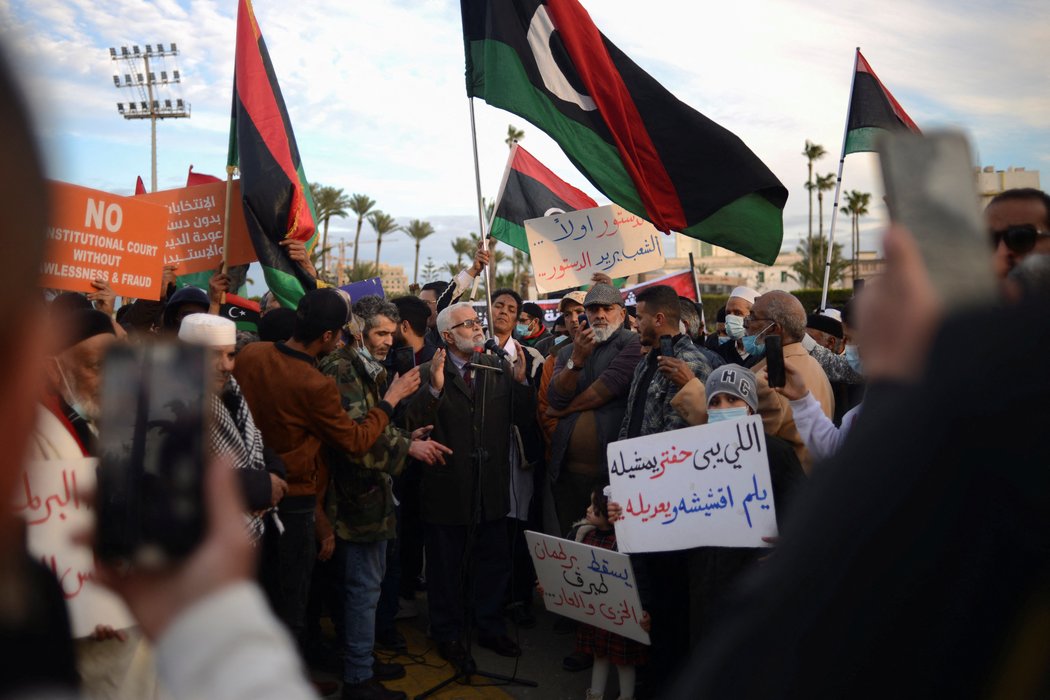 Peaceful Assembly and Expression
A report published by the Independent Fact-Finding Mission on Libya in March 2022 cites multiple violations affecting the transition to democracy and the integrity of the electoral process in Libya, including the intimidation and harassment of activists, attacks on the judiciary as a protector of human rights, and mass violations affecting vulnerable groups including migrants, women, peace activists and detainees.
The report documents alarming reports of attacks on civil society organisations, activists and human rights defenders in Libya. The report refers to several restrictive laws and regulations, including the Anti-Cybercrime Law ratified on 26th October 2021. As reported by IFEX, the Law makes provision for a myriad overbroad and ambiguous terms that would give the Libyan judicial authorities extensive discretionary power to restrict online freedom of expression. For example:
Article 4 stipulates that the use of the internet and new technologies is considered "legal", provided that "public order and morality" are respected. Hence, any use that violates these ambiguous concepts can be deemed illegal. Additionally, violation of "public order and morality" has already been used repeatedly to persecute journalists and HRDs.

According to Article 37, "whoever spreads a rumour or publishes information or data that threaten security or public safety in Libya or any other country," shall be imprisoned for a period of up to fifteen years, in addition to facing a heavy fine of no less than ten thousand Libyan Dinars.

Article 35 provides for the imprisonment of "anyone who is aware of the commission or attempted commission of any of the crimes stipulated in this law", even though it includes phrases having a general and broad meaning.
IFEX notes that such broad and ambiguously drafted articles are in violation of international human rights standards and Article 19 of the International Covenant on Civil and Political Rights (ICCPR).
Additionally, despite UN human rights officials warning about the crackdown on civil society, arbitrary arrests continue to be used as a tool to silence HRDs.The report notes:
"activists are routinely threatened online, mainly on the platforms Facebook and Club House, and live under the constant fear of abduction, arrest and arbitrary detention."
Other concerning developments, related to gender rights, were noted by the mission:
Activists, specifically women activists, and their female relatives face threats of sexual violence. This was noted as "tactics used to terrify and silence activists."

People face abuse or arrest, including sexual violence because of their sexual orientation or gender identity. In one such example documented, two men in a car were stopped by an armed group, who checked their mobile phones. After they found content on a phone suggesting that the men were gay, they arrested them. One man was reportedly held in Mitiga prison and sexually abused while there.
In another concerning development, Amnesty International reported that on 19th March 2022 protests took place in Sirte to call for compensation for the victims of the 2011 NATO airstrikes. Following this, nine peaceful protestors and journalists were arrested by the Internal Security Agency (ISA), a collection of powerful armed groups operating in areas under the control of the Libyan Arab Armed Forces (LAAF).
"The arbitrary detention of these peaceful protesters for demanding justice and reparation in connection to the 2011 armed conflict shows just how intolerant LAAF and affiliated armed groups are of any independent activism, even if not critical of their rule. The LAAF must immediately ensure the release of all those detained simply for exercising their rights to peaceful assembly and expression," said Diana Eltahawy, Deputy Director for the Middle East and North Africa at Amnesty International.
On 26th March 2022, Ali al-Rifawi, a reporter at TV channel 218, who was covering the protest, was arrested by armed men and taken to an undisclosed location.
The Committee to Protect Journalists (CPJ) called for al-Rifawi's immediate release and noted thatprior to his arrest the mayor of Sirte filed a complaint accusing the journalist of influencing public opinion due to his coverage of corruption issues in Sirte.
"The Libyan Arab Armed Forces' arrest of journalist Ali al-Rifawi and refusal to disclose his current location for almost a month shows the extent to which authorities are willing to go to muzzle journalists covering local events. Authorities must immediately and unconditionally release al-Rifawi and refrain from arresting journalists who are just doing their jobs," said Sherif Mansour, CPJ's Middle East and North Africa program coordinator.
Earlier in November 2021, the ISA arrested at least 13people due to their alleged participation in a protest in support of Saif al-Islam al-Gaddafi's candidacy for the presidential elections, which were later postponed.