COVID-19 restrictions hamper civil society response to volcano and tsunami relief in Tonga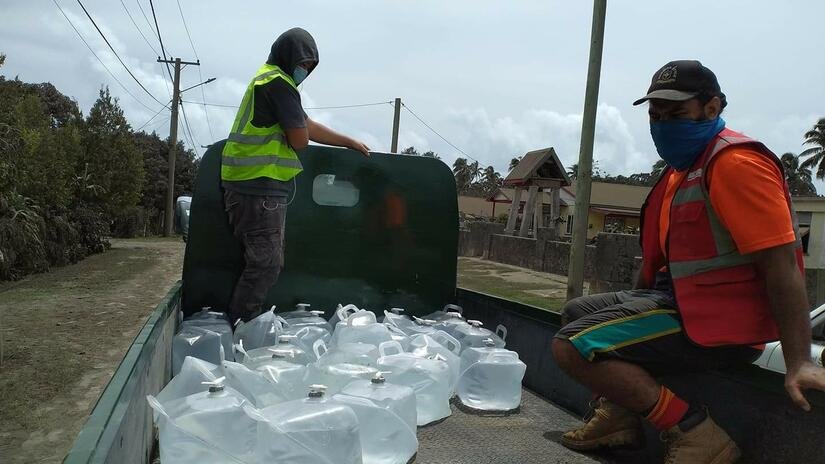 Association
In January 2022, Tonga was hit with the eruption of the undersea Hunga Tonga-Hunga Ha'apai volcano, which sent gas 20km into the air, prompting a tsunami with waves reaching 15 metres, and blanketed the country in ash. Three people died in Tonga as a result of the tsunami and the Tongan government estimates that 84 percent of people in the country have been affected. Communications were also cut off for nearly a month due to damage to a submarine cable.
While foreign aid and support has come in, the strict COVID-19 measures have severely impacted the work of relief agencies and their ability to distribute relief. First detected in February 2022, the country quickly went into lockdown. The stay-at-home order meant all businesses and schools had to close, with only essential services allowed to operate. There have been 11 confirmed deaths as of 23rd April 2022 with 9,468 people having contracted COVID-19.
Due to this, the Tonga Red Cross was forced to pare back operations for several weeks, relying on skeleton staff and a core group of volunteers to do essential "contactless" distribution. On 15th April 2022, it reported that after a three-week delay, a group of 25 Tonga Red Cross staff and volunteers was finally given permission by the Ministry of Health to travel by boat to islands in the Ha'apais to deliver food items, bottled water, family kits and washing kits.
According to PIANGO, the Civil Society Forum of Tonga (CSFT) response to affected communities was slow because movement was restricted. CSFT Executive Director Keasi Pongi said: "battling three natural disasters was the most difficult part of their humanitarian efforts where the vulnerable were not able to receive the much-needed assistance."
On 23rd April 2022, the government announced that restaurants would be allowed to offer full service inside, with the night time curfew to run from 10pm to 5am. Acting Prime Minister Poasi Tei said his government is easing some restrictions as cases in Tongatapu drop off. But he said strict guidelines will remain in place with police and monitoring teams ensuring people follow the rules.