COVID-19 restrictions affect peaceful assembly, expression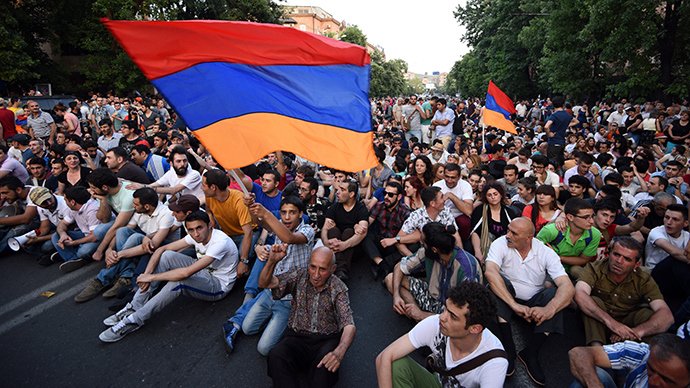 On 16th March 2020, in response to the COVID-19 pandemic, the government of Armenia announced a 30-day state of emergency, thus allowing restrictions which would affect freedom of peaceful assembly and association.
Peaceful Assembly
The state of emergency affects peaceful assembly
On 16th March 2020, the government invoked a state of emergency in a bid to stop the spread of Coronavirus in the country. Assemblies and strikes were banned while mass events involving more than 20 people, including religious ceremonies, concerts, exhibitions, displays, theatre performances, sports, cultural, educational and entertainment events, celebrations and memorial services, could also be banned under the provisions of the state of emergency.
Commemorative march cancelled due to COVID-19
On 1st March2020, several citizens planned a commemorative action to pay tribute to the ten people killed in March 2008 protests. Prime Minister Nikol Pashinyan laid a wreath at the memorial to Alexander Myasnikyan, where the main protests took place. The march was however cancelled due to the COVID-19 pandemic. As previously reported by the CIVICUS Monitor, the March 2008 protests against the presidential election results, led to the deaths of eight protestors and two law enforcement officers in Yerevan. Serj Sargsyan, who won the disputed 2008 general elections, lost his seat only after the velvet Armenian revolution of 2018.
Residents protest demolition of cultural building
On 10th June 2020, more than 30 local residents of Yerevan protested in the city centre against attempts by a private company to demolish a historic building to pave way for a new residential building. The residents who were against the demolition of the building situated in Anrapetutyan Street, said that the building had cultural and historical heritage. According to the protesters, the developer had already begun demolishing part of the building a few days before but had failed to show the permit documents when requested to do so.
90 arrested in #Armenia today during protests over the raid on the home of Gagik Tsarukyan - leader of the largest opposition faction & former Pashinyan ally who lost favor after calling on the govt to resign over its mishandling of the #COVID19 crisis.https://t.co/4szxnpt9pq

— Alex Galitsky (@algalitsky) June 14, 2020
Police arrest 252 people during a politically motivated protest in Yerevan
On 14th June 2020, 252 people were arrested in Yerevan where they had gathered to hold a rally in support of business tycoon and opposition party leader Gagik Tsarukyan from the Opposition Prosperous Armenia Party (PAP). The protesters were arrested for flouting COVID-19 social distancing rules which banned rallies in the country. The protesters had gathered in support of Tsarukyan after authorities conducted searches at his house and at his party's office, which party supporters said was political persecution.
According to his supporters, Gagik Tsarukyan was being persecuted by the authorities for criticising the government's handling of the spread of Coronavirus, and for demanding the resignation of Prime Minister Nikol Pashinyan.
Expression
Concerns over media censorship in guise of COVID-19 restrictions
Following the declaration of a state of emergency, several civil society representatives and journalists expressed their concerns about the restrictions imposed on media, saying that these amounted to censorship of the press. According to the regulations issued, the government imposed fines on both media and social media users who published information about COVID-19 which 'does not reflect reports from official sources.' Radio Free Europe reported that some journalists and social media users were fined for posting updates about COVID-19 which did not rely on official sources. The Aravot and Hraparak newspapers were forced to edit their stories under the regulations while Aravot.amalso edited one of its stories which mentioned a reported concealment of coronavirus cases in Russia, after a police warning.
In early April 2020, the Council of Europe Commissioner for Human Rights, Dunja Mijatović cautioned European governments against unduly preventing journalists from carrying out their work, emphasising that COVID related restrictions must be necessary and proportionate. Her statement read in part:
"I therefore urge all Council of Europe member states to preserve press and media freedom and ensure that measures to combat disinformation are necessary, proportionate and subject to regular oversight, including by Parliament and national human rights institutions. Measures to combat disinformation must never prevent journalists and media actors from carrying out their work or lead to content being unduly blocked on the Internet. Those countries which have introduced restrictions that do not meet these standards must repeal them as a matter of urgency."
Civil Society raises concern over draft law on freedom of information
In early April 2020, the government approved amendments to theFreedom of Information Law. The proposed amendments include a provision which would essentially allow a refusal by the Ministry of Environment to provide information if such dissemination is 'deemed to have a negative impact on the environment, including breeding sites of rare species'. The law however sparked grievance from civil society who claim that the law was not well-drafted and that the procedure followed by the government was not exactly transparent. According to civil society, if adopted in its current form, journalists and experts would have limited access to information, thus stifling their work. Secondly, civil society also raised concern that the bill was shrouded in mystery and without meaningful public participation which denied experts the opportunity to propose amendments or suggestions.
In their statement, members of the EaP CSF Armenian National Platform called on the government to withdraw the bill.
Armenia ranked 61st in the 2020 World Press Freedom Index
In separate developments, in April 2020, Armenia was ranked 61st place in the 2020 World Press Freedom Index by RSF. The report by RSF noted that only two years after the Velvet Revolution, Armenia had made significant improvements in media freedom and particularly in improving conditions for the development of new press initiatives, especially investigative journalism.
Nevertheless, the report also noted that the new government still faces some difficulties in ensuring an enabling environment with less media polarisation, as there are still media outlets whose owners have the last say regarding editorial policies. These realities affect independence, transparency and accountability of authorities as many of the publications represent different political interests.
The report also highlights judicial harassment of journalists, many of whom are subjected to judicial proceedings under various pretexts.