Climate protesters arrested, farmers protest environmental targets set by government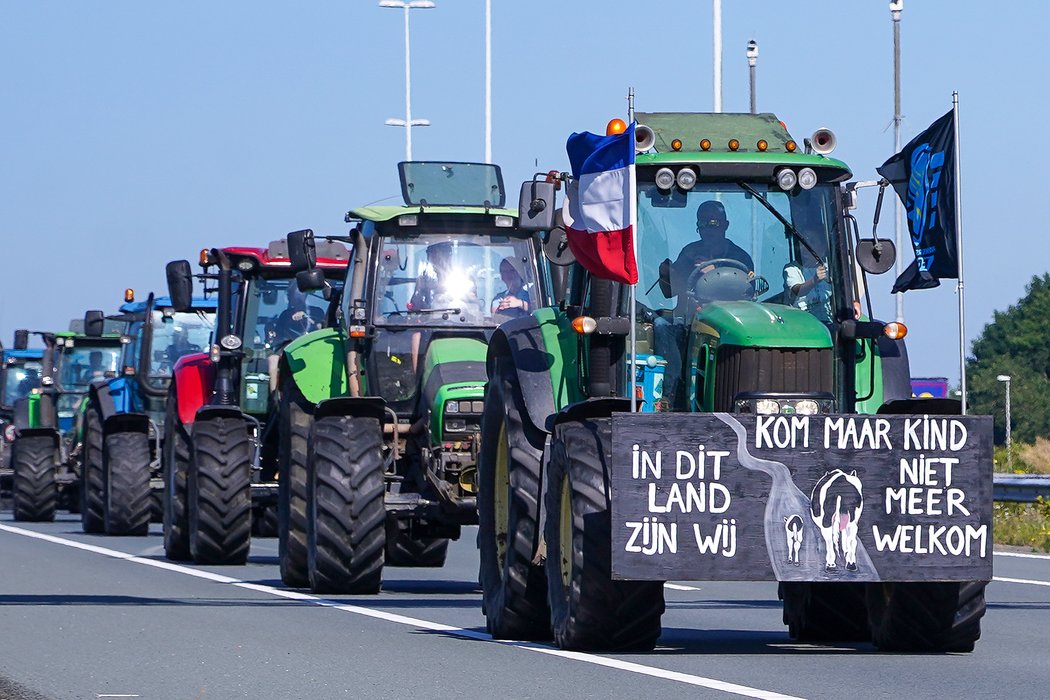 Peaceful Assembly
175 arrests at Extinction Rebellion protest in Rotterdam
On 24th May 2022, 175 protesters were arrested following an Extinction Rebellion action in Rotterdam. The protesters blocked Weena, a busy street in the city where the oil and gas multinational company Shell has its offices, at around 12 PM. Fake blood was also sprayed close to Shell's premises. The arrests were carried out at around 3 PM, after the police's order to end the protest was not respected. In order to strengthen their blockade and as an act of civil disobedience, protestors chained themselves to cars and glued themselves to the street. Police had to use ice cubes and Coca-Cola to free the protesters and remove them from the location. After they were apprehended, the protesters cooperated with the police. On the same day, other actions were performed by Extinction Rebellion in another part of the Dutch city, in Maasvlakte, where the Onyx coal-fired power station is located. Some arrests were carried out there as well.
The events of 24th May 2022 took place as part of a series of protests launched on 19th May 2022 by the Dutch branch of Extinction Rebellion with the objective of demanding a swift transition to a 'climate-just' environment and an end to the fossil fuel industry.
Riot police attacked by ADO Den Haag football fans after playoff match
On 29th May 2022 ADO Den Haag football club fans attacked riot police and the Excelsior team's supporters following a loss in the playoff final against the Rotterdam team. After the match, a group of supporters targeted police and opposing fans with stones, fireworks and ripped-up paving slabs. As a result, several people were injured and an unspecified number of supporters were arrested.
Farmers block traffic to protest environmental targets set by government
On 22nd June 2022, thousands of farmers blocked the main roads and major highways of the Central Netherlands with their vehicles, including tractors, causing traffic disruptions for the entire day. This protest was in reaction to the government's plan to reduce the country's emissions of nitrogen oxide and ammonia, caused in large part by the agricultural sector. The farmers are worried by these environmental targets as they claim that these actions will threaten their livelihoods. One of their key messages is that they are "food makers, not pollution makers". The government has defined this green transition as "unavoidable" and has set the target of a 70 per cent emissions reduction in many places close to protected nature areas, and as high as 95 per cent in other places. Provincial governments have been given a year to formulate plans to meet the reduction targets. This reform has found some opposition, even within the party of Prime Minister Mark Rutte.
Expression
Broadcasting ombudsman accuses TV channel Ongehoord Nederland of misinformation
On 7th June 2022, Margo Smit, broadcasting ombudsperson at the Dutch public broadcasting system (NPO) assessed that television channel Ongehoord Nederland (ON) has broken the public broadcasting sector's journalistic code of ethics by spreading wrongful information and not differentiating between fact and opinion. The investigation by the ombudsperson was triggered by a series of complaints regarding alleged racism and biased reporting received by NPO in January 2022, when the TV channel was admitted into the public system. By 1st June 2022 the ombudsperson had received 146 emails accusing the broadcaster of being partisan, broadcasting racism and spreading disinformation.
ON is aligned with some Dutch far-right parties including Geert Wilders's PVV and Forum voor Democratie. Arnold Karskens - ON's founder - attributed the source of the complaints to the fact that people "will have to get used to hearing different opinions and interpretations of the facts than those which the public system offers". Media minister Gunay Uslu said that it is NPO's decision to establish what actions need to be taken towards ON.