Climate activists detained; clashes at anti-Islam protest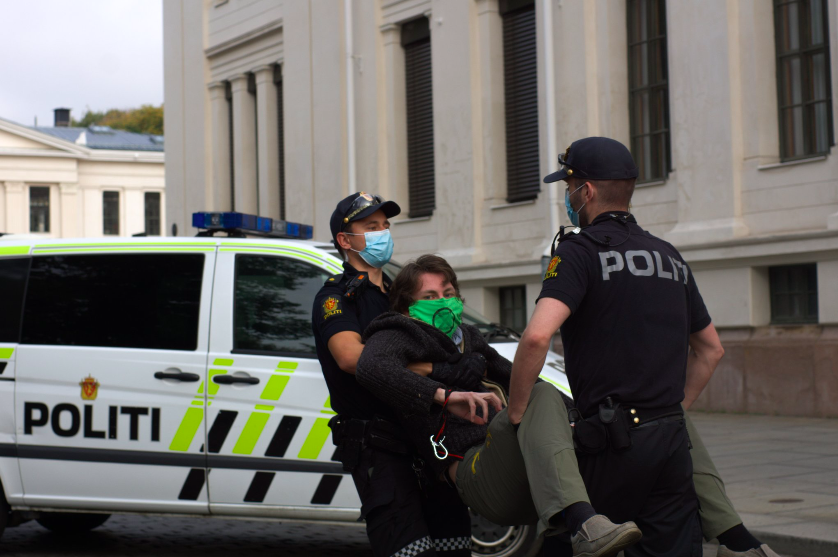 Peaceful Assembly
On 29th August 2020 an anti-Islam protest was staged in Oslo by the Stop Islamisation of Norway (SIAN), a far-right anti-Islam group. The group has previously staged protests which turned violent (see previous monitor update). According to reports, during the protest a member of the group ripped pages out of the Quran (the Islamic holy book) and proceeded to spit on them. A counter demonstration was also staged calling for "no racism on our streets". Clashes erupted between the groups, with authorities using tear gas and pepper spray to disperse the groups and arresting 29 people.
Anti-Islam Protest in #Oslo, #Norway. A protester tears pages out of the #Quran and spits on them.#Islamophobia #Islam #Europe pic.twitter.com/nEvs1SOA7Q
-@doamuslims

— inkPoint Media📰 (@inkPointMedia) August 31, 2020
In a separate development, on the morning of 21st September 2020, around 40 climate protesters from Extinction Rebellion were arrested in Oslo. Climate activists gathered at various sites throughout the city to protest peacefully against the announcement of new oil drilling and government's failure to deal with the climate crisis. Some blocked a busy intersection by chaining themselves together, whereas others protested outside ministry buildings.
Vi nekter å la fremtidige generasjoner arve en døende planet fordi vi unnlot å handle nå.

Extinction Rebellion fikk rundt én million i bøter etter fredelig, ikke-voldelig sivil ulydighet mandag 21.09. Alle midler innsamlet til bøtekassa går til betaling av bøter fra aksjoner. pic.twitter.com/HpohTb1kqq

— Extinction Rebellion Norway (@ExtinctionR_NO) September 24, 2020
One of many climate activists arrested at yesterday's peaceful Oslo Uprising. @ExtinctionR_NO's actions were focused on oil or 'the elephant in the room' in Norway's climate politics. Key goal of disruption + arrests is to put oil, energy, + climate crisis on the national agenda. pic.twitter.com/K7sdRQ1d3e

— Emma Arnold (@theIAE) September 22, 2020
Expression
Norwegian human rights activists have expressed their concern over a possible free trade agreement between Norway and China. Arne Melsom of the Hong Kong Committee in Norway said that "We see a danger that Norway will be more exposed to economic pressure", especially because Norway is a relatively small economy compared to China. In a letter with other groups, they point out that Norway is already giving in to pressure, for example, in 2019 when a member of the Norwegian parliament, who wore a t-shirt with 'freedom' written in Norwegian and Chinese, was refused access to the Stortinget (Supreme Legislature) in connection with a visit from a Chinese delegation. The groups fear that self-censorship will become more common if Norway becomes more economically dependent on China.