Civil society concerned about physical attacks and ongoing prosecution of Thai activists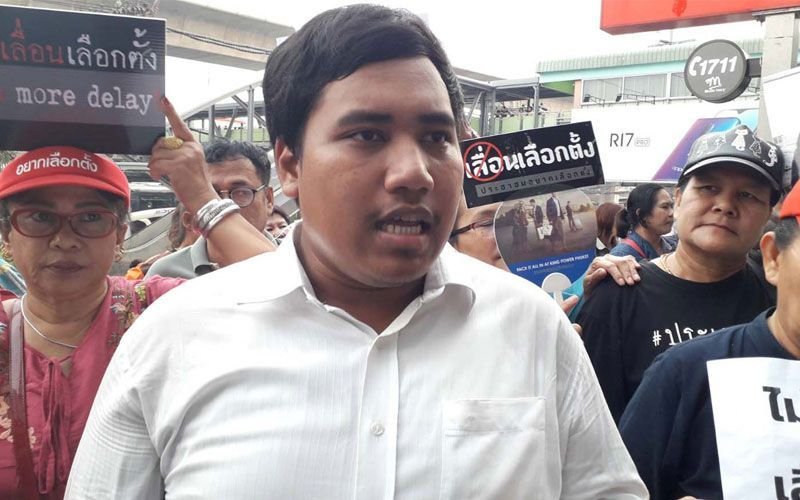 In June 2019, Thailand's parliament voted former army chief Prayut Chan-o-cha as Prime Minister, five years after he seized power in a military coup. Prayut trumped rival prime minister nominee Thanathorn Juangroongruangkit, the leader of the Future Forward Party (FFP), by 500 votes to 244.
In the 500-member elected Lower House of Representatives, his 19-party coalition holds only a slim majority. However, Prayut won the vote was because of support from the Upper House (250 seats), the Senate, which was entirely appointed by the military junta.
Thanathorn has faced at least two politically motivated criminal cases since forming the FFP. In August 2018, Thanathorn and two other FFP members were charged with violating the Computer Crime Act for streaming a video on Facebook critical of the military. On 6th April 2019, police filed three criminal charges against Thanathorn – including for sedition under article 116 of the Thai criminal code – which all relate to him allegedly providing assistance to an anti-military protest leader in 2015. 
In the last few months, there have been physical attacks against activists and human rights defenders. Activists have been disappeared or placed under surveillance. Further land rights activists from Sai Thong National Park have been prosecuted and jailed while pro-democracy student activists are facing sedition charges.
Association
Systematic assaults of activists and human rights defenders
Breaking! #Junta critic Sirawith "New" Seritiwat was attacked. Four assailants hit him in the head with baseball bats. #Thai authorities have failed to investigate ongoing thuggish violence against dissidents, raising concerns about possible government involvement. pic.twitter.com/Al4mTaG7VU

— Sunai (@sunaibkk) June 28, 2019
On 2nd June 2019, a prominent pro-democracy and anti-junta political activist, Sirawith "Ja New" Seritiwat was attacked and beaten by five men wearing plainclothes and motorcycle helmets. The attack happened on a busy street full of pedestrians and it is speculated that Seritiwat was targeted for holding a signature collection event in Bangkok for a petition that urged the 250 incoming senators not to support the military junta leader, Prime Minister Prayut Chan-o-cha. Right after the attack he was sent to the hospital and suffered injuries to his head and face.
On 28th June 2019, Seritiwat was attacked again by four men with baseball bats and was admitted to the intensive care unit with serious injuries. The men were wearing helmets and rode on motorbikes with no licence plates. The assault came one day before he was to attend another event to promote democracy at the 14 Oct Memorial on Ratchadamnoen Avenue.
Local NGO, Thai Lawyers of Human Rights (TLHR) called the attacks "systematic violence" and reported that this case was the tenth attack against pro-democracy activists since the March 2019 elections. Activist Ekachai Hongkangwan a frequent critic of the government, has been attacked nine times since 2018 and his car was set on fire by unknown men in two separate incidents in 2019. Most recently on 13 May, four unidentified assailants beat Ekachai outside the Bangkok Criminal Court building, breaking his hand and ribs.
Another activist, Anurak "Ford" Jeantawanich was attacked on 25th May 2019 by a group of 6-8 men, some wearing motorcycle helmets. The assailants knocked him and his motorcycle over, and as he tried to get up, they rammed their motorcycles into his back. They then hit him many times with metal bars, injuring him on his head, face, arms, and legs. The incident occurred after he announced a plan to protest the election of the pro-army speaker of the lower house of Parliament.
Thai police have yet to arrest any suspects for the violent attacks, raising serious concerns among civil society about possible government involvement.
In response to these attacks against pro-democracy activists and human rights defenders in Thailand, Thai Lawyers for Human Rights (TLHR) and other civil society groups released a joint statement, expressing their grave concerns with the intimidation and attacks against activists and human rights defenders urging the Thai state to make an effort in earnest to investigate the cases promptly. They added:
"The successive attacks of the three political activists do not just demonstrate failure of the state to uphold the right to freedom of expression, but also show the state's failure to uphold and protect safety in life and body as well as property of the people. If such intimidation of activists which has escalated to sheer physical attack is tolerated and if no one can be brought to justice, it will certainly give rise to more violent attacks which may eventually be fatal."
Three dissidents missing and may have been disappeared 
While two activists who fled #Thailand after the coup have been confirmed dead, another three remain missing in #Laos and their fate or whereabouts remain unknown pic.twitter.com/6OgAT644rP

— AG (@ag_fidh) February 2, 2019
Three prominent government critics have gone missing after a secret extradition from Vietnam. According to Human Rights Watch, in early 2019, Vietnamese authorities reportedly arrested Chucheep Chivasut (known as Uncle Sanam Luang), Siam Theerawut (known as Comrade Khaoneaw Mamuang), and Kritsana Thapthai (known as Comrade Young Blood) for illegal entry and using fake travel documents as they tried to flee persecution from authorities in Thailand.
The three were reportedly handed over to Thai authorities on 8th May 2019. Thai authorities have previously accused the three men of committing lese majeste (insulting the monarchy), including by operating online anti-monarchy radio programs and mobilising supporters of Chucheep's Organisation for Thai Federation to hold demonstrations against the monarchy by wearing black T-shirts in Bangkok and other provinces.
Since the May 2014 coup, Thai authorities have aggressively pursued Chucheep and other anti-monarchy activists who operated from neighbouring countries. The Thai government has repeatedly demanded that Laos, Vietnam, and Cambodia hand over the exiled Thai activists.
Land rights defenders sentenced for "encroachment"
A call for all charges against the 14 residents of Sab Wai village in Chaiyaphum's Sai Thong national park case to be dropped. #LandRights #ForestMasterPlan #NCPO @ManushyaFdn https://t.co/Tg89X056Hq

— The Isaan Record (@isaanrecord) July 10, 2019
In June and July 2019, 14 land rights defenders from Sab Wai village were sentenced by the Chaiyaphum Provincial Court for encroachment of the Sai Thong National Park. According to Manushya Foundation who monitored the trial, in 2015 the National Park authorities had approached the families of the HRDs, who had lived in the park for generations and forced them to sign documents, handing over the land to them. They were told "that if they did not sign the documents, they could not continue using the land for farming and would be charged by the court".
Subsequently cases were filed against them for encroachment using the forest reclamation policy passed by the military junta's National Council for Peace and Order (NCPO). The 14 were handed down sentences of between 5 months and 10 days and 4 years and fines of up to 1.5 million Thai Baht (USD 48,693).
Manushya Foundation, the Isaan Land Reform Network, and the Future Forward Party called on the Thai government and National Park authorities to immediately drop all criminal and civil charges against the 14 villagers for the legitimate use of their land and stop, without further delay, the abuse of forest conservation laws and policies, NCPO orders, to evict local communities and individuals from land they have been living on for generations.
Ongoing cases against activists for reporting labour abuses
#Thailand: Drop criminal complaint against lecturer Ngamsuk Ruttanasatain. Court to consider complaint by Thammakaset Company Limited on July 1. https://t.co/RoDuEIutNm

— John Quinley III (@johnquinley3) June 28, 2019
As previously documented, Thammakaset Company Limited a Thai-owned poultry company in Lopburi Province has filed criminal and civil complaints against a number of human rights defenders, including former employees for reporting labour rights abuses.
In May 2019, Thammakaset filed a new complaint against Ngamsuk Ruttanasatain a lecturer at Mahidol University's Institute of Human Rights and Peace Studies (IHRP). In addition to her academic work, she promotes human rights protections throughout Thailand
She is being charged for defamation under Article 326 and 328 of the Thailand Criminal Code for her alleged involvement in sharing a news release on the IHRP Facebook page on 12th March 2019. The news release relates to a criminal defamation lawsuit filed by Thammakaset. If convicted, it carries a sentence of up to two years in prison and up to 200,000 Thai Baht (USD 6,500) in fines.
In May 2019, the Observatory for the Protection of Human Rights Defenders (a joint FIDH-OMCT partnership) released a 13-page fact sheet that details the 14 criminal and civil cases filed by Thammakaset against a total of at least 22 defendants, including HRDs, workers, and two reporters, for alleged defamation of the company.
Peaceful assembly
Students activists facing sedition charges
15 activists, including Jatupat "Pai Dao Din" Boonpattararaksa, have been summoned to Pathumwan Police Station on sedition charges filed by Col Burin Thongprapai, says Thai Lawyers for Human Rights (TLHR).https://t.co/0MCJSQHtr5 pic.twitter.com/wFc3g496mr

— Prachatai English (@prachatai_en) May 15, 2019
On 15th May 2019, 15 activists and members of the "Dao Din Group" - a prominent student activist group - were summoned on sedition charges filed by the military junta known as the National Council for Peace and Order (NCPO). The summon was related to events in 2015 when the activists attempted to bring charges against the Thai police for using excessive force to crack down on a peaceful assembly. A former member of Dao Din, Panupong Sritananuwat, said that he is facing charges under Articles 116 (sedition) and 215 (assemblies leading to "breach of the peace") of the Criminal Code.
The list of summoned activists also included Jatupat "Pai Dao Din" Boonpattararaksa, who was released from jail in early May 2019, and a member of the Future Forward Party, Rangsiman Rome. One of the activists who was summoned, Chonticha Jangrew, posted on Facebook saying that it was an "obvious attempt by the authorities to silence the public from expressing their opinion".
Expression
Activists monitored and intimidated around coronation 
During the coronation ceremony of King Maha Vajiralongkorn, between 4th to 6th May 2019, Thai Lawyers for Human Rights (TLHR) reported that there was constant monitoring and intimidation of political activists and human rights defenders to restrict their activism during the period. The harassment included house visits by state authorities to ask about their travel plans, political involvement and activities, surveillance and to demand regular reports of individuals' movements to the authorities. In total, there were at least 38 of such cases by the state authorities documented by TLHR from early April to mid-May 2019.
Report filed against human rights commissioner for criticism of the junta
Thailand's rights commission is sinking to a new low by seeking to punish Angkhana for doing her job by exposing rights abuses and demanding accountability https://t.co/GB8vPQaJmu pic.twitter.com/BWIsBOlpRw

— AK Rockefeller (@akrockefeller) May 4, 2019
In May 2019, it was reported that the Thai National Human Rights Commission (NHRC) was investigating Angkhana Neelapaijit, a human rights commissioner, for being 'biased' against the military junta. The investigation was prompted by the complaint filed by the pro-NCPO (National Council for Peace and Order) activist, Surawat Sangkharuek, questioning Angkhana's political partiality and because of thus she faces possible impeachment. Angkhana has been a well-known critic of the military junta and has been consistently outspoken about the pressing human rights violations in Thailand. Human Rights Watch released a statement urging the commission to drop its inquiry of Angkhana and to ensure a secure environment without fear of reprisals.
Brad Adams, Asia director of HRW said:
"Thailand's rights commission is sinking to a new low by seeking to punish Angkhana for doing her job by exposing rights abuses and demanding accountability. The commission's leadership has repeatedly failed to hold the military government to its human rights obligations, but it appears now to be doing the junta's dirty work."
On 14th June 2019, it was reported that that the NHRC had decided not to forward the complaint for further action after Angkhana gave a verbal statement in a meeting on 30th April 2019 and submitted a written clarification.