Civil society calls for accountability for killing of Maldives journalist and its cover-up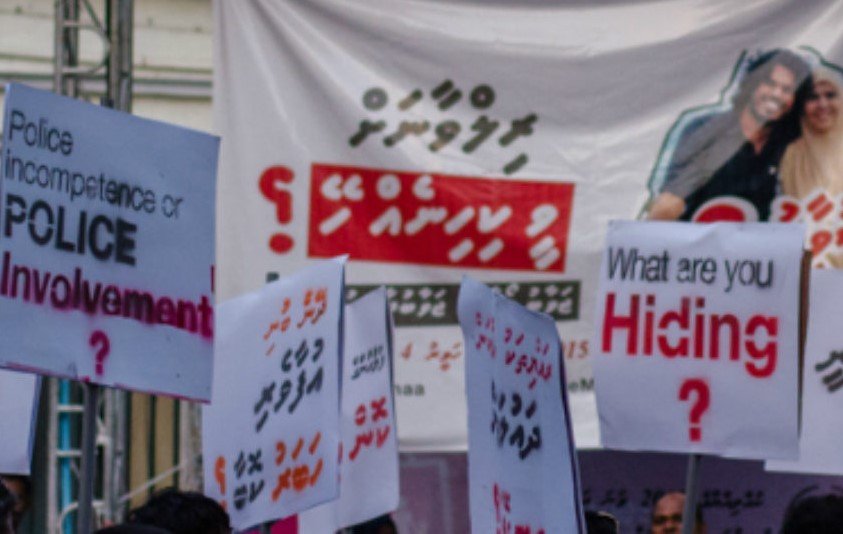 In recent months, a presidential commission revealed that missing journalist Ahmed Rilwan had been murdered, while an international NGO has raised concerns about ongoing threats on human rights defenders. The trial of murdered activist Yameen Rasheed is currently ongoing and the UN Special Rapporteur in the field of cultural rights raised concerns about threats to those challenging fundamentalism.
Association
Commission says journalist Ahmed Rilwan killed by local terror group
Maldives journalist Ahmed Rilwan Abdulla killed by Al-Qaeda group in 2014, commission finds https://t.co/muu6eVb6L3

— CPJ Asia (@CPJAsia) September 3, 2019
On 2nd September 2019, the presidential commission mandated to investigate unresolved murders and abductions revealed that a local affiliate of the terrorist group al-Qaeda was behind the abduction and murder of journalist Ahmed Rilwan.
A reporter with the Maldives Independent newspaper, Rilwan went missing in August 2014. He was an outspoken journalist who uncovered political corruption and its links to Islamist extremism. In August 2018, the criminal court acquitted the two suspects on trial for abducting him. The weak police investigation into Rilwan's case and concerns about the credibility of the trial raised serious questions about the willingness of the state to bring the perpetrators to justice.
Husnu Al Suood, Chairperson of the Commission on Disappearances and Deaths, also said the commission's nine-month investigation found that then-President Abdulla Yameen tried to "divert the focus" of the police investigation, while his former deputy tried to obstruct justice in the case. The commission also concluded that the gang had a "hit list" that included other activists and critics of the government.
On 3rd September, Aliya Iftikhar, the Committee to Protect Journalists senior Asia researcher said:
"We are deeply saddened by news of Ahmed Rilwan Abdulla's murder and, while we are encouraged by the progress in the investigations, five years is far too long to await justice. We urge Maldivian authorities to see this through and swiftly prosecute all those involved in Rilwan's killing, including those who organised and financed it as well as authorities who were complicit or negligent."
Local and international civil society organisations have repeatedly expressed concern at the lack of progress in the investigation more than five years after his disappearance. On 8th August 2019, commemorating the 5th anniversary of Rilwan's abduction, his family renewed their call for an expeditious, credible and transparent investigation and accountability.
International NGO raises concerns about threats to human rights defenders
#Maldives: Open letter to President Solih: Take action to #stop the ongoing threats against #humanrights defenders!https://t.co/Pm7HOXyvaS@presidencymv @IntSpkMV pic.twitter.com/pP5yMKGNrP

— The Observatory (@OBS_defenders) August 8, 2019
On 8th August 2019, the Observatory for the Protection of Human Rights Defenders, a partnership of the International Federation for Human Rights (FIDH) and the World Organisation Against Torture (OMCT), issued an open letter to the President of the Maldives.
According to the Observatory it has received information that at least 15 human rights defenders, including journalists, lawyers and non-governmental organisation (NGO) workers, have been subjected to repeated acts of harassment and intimidation online since the new government took office in November 2018. In many cases, such acts have amounted to hate speech and death threats, which foster a dangerous environment for human rights defenders and impede them from doing their work. It further added:
"We are particularly troubled by the lack of action by law enforcement agencies to investigate and respond to threats and death threats against human rights defenders. Coupled with a lack of condemnation by your administration, this impunity emboldens extremists who have little hesitation to turn their words into action."
The open letter called on the government of the Maldives to take meaningful action to stop ongoing threats against human rights defenders.
Case of murdered human rights defender continues
Witness identifies suspects in Yameen Rasheed murder trial - https://t.co/dhS4NqPHvI pic.twitter.com/tR7c1BBvKl

— Maldives Independent (@IndependentMV) August 7, 2019
The trial of the suspects involved in the killing of human rights defender Yameen Rasheed is currently ongoing. As previously documented, blogger and social media activist, Yameen Rasheed was found stabbed to death on 23rd April 2017 outside his apartment building. He had received multiple death threats before his murder, which he had reported to the police. Rasheed had been a vocal critic of rising religious extremism, human rights abuses, injustice and government corruption.
On 11th July 2019, the Maldivian Democracy Network (MDN) issued a press statement urging the Criminal Court to uphold its obligation to conduct a fair and transparent hearing in line with the Maldivian Constitution and the International Covenant on Civil and Political Rights (ICCPR). This was in response to the authorities denying entry to MDN representatives to observe the eighth hearing in Rasheed's case.
According to MDN, at the following hearing on 31st July, a secret witness for the prosecution revealed that the plan to kill Rasheed began in November 2016, with the suspects accusing him of "insulting Islam, and therefore deserved death."
At the 7th August hearing, one of the two secret witnesses for the prosecution testified that he "heard loud screams of someone in severe pain, followed by two suspects leaving the house, while another waited on a motorbike at a corner".
During the hearing the secret witness identified the three defendants as the men he saw at the crime scene: Ismail Haisham Rasheed and Ahmed Zihan Ismail, the two men who were seen coming out of the house; and Ismail Rasheed, who was waiting on a motorbike outside Yameen's house, acting as a lookout.
Expression
UN expert raises concerns about threats to those challenging fundamentalism
UN Special Rapporteur in the field of cultural rights, Karima Bennoune visited the Maldives in June 2019. She raised concerns about "extremist positions being advocated, including online and by teachers, and of people being harassed and threatened by those motivated by fundamentalist ideology". Such said such intimidation shrinks the space for freedom of expression and that "those who speak out against fundamentalism, including in the fields of arts and culture, need unequivocal support and for their safety to be ensured urgently".