Civil society alarmed by rise of lese majeste cases and proposed NGO law in Thailand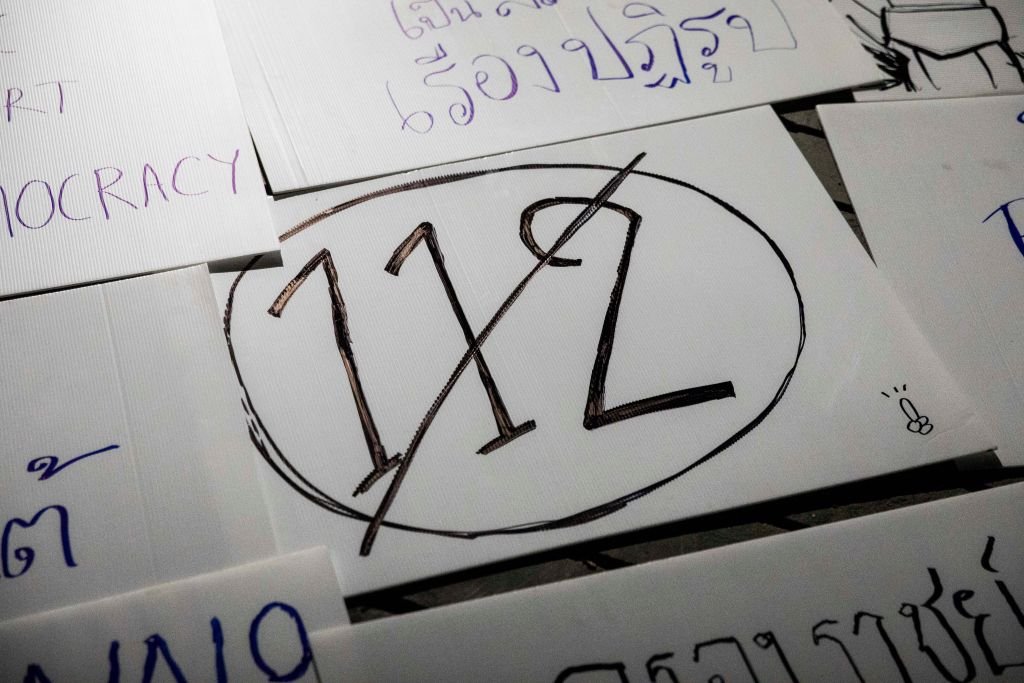 Thailand on 12th July 2021, placed 10 million people in the capital under fresh pandemic restrictions and a curfew. The country has recorded a total of some 345,000 cases and 2,791 deaths – with the bulk of them coming in the latest wave that began in April 2021 due a surge in cases of Alpha and Delta variants in the Bangkok region and Deep South border.
People held in Thailand's overcrowded prisons and detention facilities have also been at grave risk from COVID-19 outbreaks. Human Rights Watch reported that in May 2021, Thailand's Corrections Department announced that 1,795 inmates in Bangkok Remand Prison and 1,040 in Central Women's Correctional Institution had tested positive for the virus. In addition, hundreds of people detained in provincial prisons such as in Chiang Mai and Narathiwat have reportedly tested positive.
Despite this situation, the authorities continue to stifle civic freedoms and is rated as 'repressed' by the CIVICUS Monitor. In recent months civil society have continued to raise concerns about charges against activists for lèse-majesté or insulting the monarchy including children, restrictions to freedom of expression online and attempts to restrict freedom of information. There are also concerns around a proposed NGO law which could be used to muzzle civil society and the use of excessive force during protests. A land rights activist was also killed.
Expression
More than 100 people charged for lese majeste
As the number of people facing lèse majesté charges reach 100, FIDH and TLHR call for an end to legal prosecution against dissenters and an amendment to Article 112 to bring it into line with Thailand's human rights obligations.https://t.co/ojwRW2ypQI

— Prachatai English (@prachatai_en) June 12, 2021
The Thai authorities have continued to charge individuals for online political expression and the participation in peaceful pro-democracy demonstrations with lèse-majesté (Article 112 of the Criminal Code). According to human rights groups Thai Lawyers for Human Rights (TLHR) at least 103 people have faced such charges between August 2020 and June 2021.
Of these, eight are children (individuals under the age of 18). Article 112 imposes jail terms for those who defame, insult, or threaten the King, the Queen, the Heir to the throne, or the Regent. Persons found guilty of violating Article 112 face prison terms of three to 15 years for each count. Many of those charged for lèse-majesté have been subjected to a systematic denial of bail by the courts, both during investigation and pending trial.
The number of lese majeste cases in Thailand has significantly increased in the past year. After almost a three-year hiatus in which lese majeste prosecutions were not brought before the courts, in November 2020, Prime Minister Gen. Prayut Chan-ocha ordered the authorities to resume lese majeste prosecutions because of growing criticisms of the monarchy. Here are some recent cases:
On 24th May 2021, the Central Juvenile and Family Court informed 17-year-old Thanakorn Phiraban that he has been charged for lese majeste related to his speech at a pro-democracy rally on 6 December 2020, in Bangkok.
On 9th June 2021, two students from Ramkhamhaeng University were arrested by police officers from the RTP's Technology Crime Suppression Division (TCSD) under Article 112 and the Computer Crimes Act (CCA) as a result of their posts on social media. During the arrest operation, the devices operated from their homes as well as their portable devices were searched and their access to the lawyers denied. Both were detained overnight at Tungsonghong police station in Bangkok and subsequently released on bail granted by the Criminal Court on 10th June.
In a separate case, on 14th June 2021, another student from a vocational school was indicted under Article 112 and the CCA by the Samut Prakan Provincial Public Prosecutor for sharing and making three comments on a Facebook post of another person where he called for monarchical reforms in 2020. He was released on bail on the same day
On 21st June 2021, prominent Thai student activist, Parit "Penguin" Chiwarak was slapped with yet more charges under the law, bringing the total of lese majeste charges filed against him to 20 over comments he made on Facebook in 2020 which were deemed insulting to Thailand's King Vajiralongkorn.
In a positive development, two activists charged with lese majeste were freed on bail on 1st June 2021. The two are pro-democracy movement leader Arnon Nampa and fellow activist Panupong "Mike" Jadnok. They were released from Thammasat University Hospital in Bangkok where they had been treated after testing positive for COVID-19. Arnon had spent 113 days and Panupong had spent 86 days in jail. They had to post a 200,000 Baht (USD 6,500) bail bond each and are banned from leaving Thailand or becoming involved with further activities that defame the monarchy.
In a posting on one of his Facebook pages, Arnon thanked those who aided him in securing bail, saying, "Our goal remains the same and is even clearer." Panupong made a similar statement on his page: "Staying in or being outside [the jail] we are still fighters, nothing could change us," he said.
New report on violations in the digital sphere
🇹🇭 Dictating the Internet: Curtailing Free Expression & Information Online in #Thailand, documents laws that do not comply with intl. human rights law; contain vague & overbroad provisions & wrongly criminalize free expression or prescribe disproportionately harsh penalties. pic.twitter.com/mCKU8zitJl

— ICJ - Asia and the Pacific (@ICJ_Asia) June 22, 2021
In June 2021, the International Commission of Jurists (ICJ) published a new report on increasing violations of human rights in the digital sphere in Thailand. The 75-page report, "Dictating the Internet: Curtailing Free Expression and Information Online in Thailand", documents a range of laws that does not comply with international human rights law and standards.
According to ICJ, these laws contain vague and overbroad provisions, wrongly criminalise free expression or prescribe disproportionately harsh penalties, and are applied without independent oversight mechanisms. These arbitrary restrictions have intensified in response to the COVID-19 pandemic and pro-democracy protests. The report also states that Thai authorities have also pressured and co-opted big technological companies to improperly restrict or block content on their platforms, through court-enforced demands and the filing of criminal complaints for failing to comply.
Journalists from Myanmar granted asylum
Human rights group called for three Myanmar journalists arrested in May 2020 after they fled a crackdown by the military junta to be set free because they would face severe punishment if they were deported to Myanmar. Police in Thailand's northwestern city of Chiangmai arrested the three Democratic Voice of Burma (DVB) journalists along with two political activists in a house in the city's Sansai district.In June 2021, it was reported that the three have been granted asylum in a third country. All five have been "given asylum in a third country and left Thailand recently", DVB's chief editor Aye Chan Naing said in a statement.
Authorities attempt to restrict access to information
According to reports, civil society groups in particular anti-corruption organisations and journalists have raised concerns about attempts to revise the current Official Information Act to gag the disclosure of public information.
The draft amendment considered expanding the criteria of information that can be withheld and prescribing legal punishment for anyone disclosing prohibited information. The revised law gives each agency broad arbitrary powers to decide whether and what type of information can be revealed with a specific timeframe.
The new OIA puts restrictions on disclosure of any data and information that would do harm to national defence and security, anti-terrorism, intelligence, the royal institution and information related to its security protection as well as international relations with foreign countries and financial security. Furthermore, any court cases dealing with disputes over the disclosure of national security would be carried out in secret. Those who reveal the details of these cases could face a criminal charge with 10 years' imprisonment.
In a protest on 28th May, the Association of Journalism Students, a coalition of mass communication students from several universities, submitted to the Chair of the Committee on Political Development, Mass Communications and Public Participation of the House of Representatives their objections to the Official Information Bill.
On 15th June 2021, The Anti-Corruption Organisation of Thailand (ACT) said that the government had withdrawn the controversial Official Information Bill from the Cabinet for reconsideration.
Association
Land rights activist shot dead
Thai authorities should immediately investigate the killing of Somsak Onchuenjit, a lawyer and land rights activist, in Trang province in southern Thailand, Human Rights Watch said on Saturday (8 May).https://t.co/WLTWmMbpvv

— Prachatai English (@prachatai_en) May 10, 2021
On 4th May 2021, a land rights activist was shot dead by an unknown assailant while he was working on a plantation in the southern province of Trang. Somsak Onchuenjit, a 54-year-old farmer, had been a vocal advocate of the rights of villagers in his community.
Somsak had led a campaign for the right to agricultural land for poor villagers in his district. Over the past five months, conflicts in the area have intensified between local villagers who occupied oil palm plantations that no longer have valid leases with government agencies and private companies backed by local politicians. Before his murder, Somsak reportedly told his relatives that he had been receiving death threats due to his activism. The farmer also reported having been followed.
Brad Adams, Asia director at Human Rights Watch said: "Thai authorities should not just stand by while grassroots activists in southern provinces are being murdered for standing up for their communities. The Thai government should urgently conduct a credible and impartial investigation and bring those responsible for Somsak's death to justice".
According to Human Rights Watch, during the past decade, at least five land rights activists in southern Thailand have been killed. All were leaders in campaigns seeking community ownership of agricultural land used by palm oil companies in which the lease with the government for the land had expired. The police have not made any serious progress in any of these cases. Meanwhile, the remaining activists constantly face harassment, physical intimidation, and a barrage of lawsuits filed by palm oil companies.
On 19th May 2021, it was as reported that police had apprehended the alleged hitman, Chalermwut Nokroorak, a former village head and two others for the murder.
Civil society remains concerned about proposed NGO law
As previously reported, human rights groups have raised concerns about a draft law to regulate non-profit groups which could be used to muzzle civil society groups and non-governmental organisations (NGOs). The "Draft Act on the Operations of Not-for-Profit Organisations" contains provisions that would have a deeply damaging impact on those joining together to advocate for human rights in the country, in violation of their right to freedom of association and other rights.
VOA News reported that The European Union delegation to Thailand had joined representatives from member states and other countries at a 7th May 2021 meeting at the Foreign Affairs Ministry to stress the important work civil society groups do, including in the fight against COVID-19. They added: "Amid shrinking democratic space around the world, particular attention should be paid to avoiding unintended consequences in this regard whenever new legislative action is initiated".
A concerning development related to the draft law emerged on 29th June 2021, as the Cabinet approved the incorporation of additional principles on Anti-Money Laundering and Combating the Financing of Terrorism (AML/CFT) into the bill. Under these new principles, NPOs will be subjected to eight additional requirements, including mandatory disclosure of their registration information, details of project implementation and the individuals in charge of the projects, information submitted to foreign funders by NPOs, and financial transaction data for at least five years. After finalising the draft, the Council of State will likely publish the revised bill for another public consultation before sending it to the Cabinet for an approval before the end of this year.
Activist acquitted of charges for reporting on labour abuses
In May 2021, Thailand's Supreme Court cleared Andy Hall of all charges. Andy Hall is a migrant worker and labour rights activist and researcher. In early 2013 he was sued by Natural Fruit Company following the publication of a report by the NGO Finnwatch: "Cheap Has a High Price" that revealed serious human rights violations at the company's plant in Thailand.
In 2016, Andy Hall was found guilty of criminal defamation and computer crimes and faced a 150,000 baht (USD 4,727) fine along with a four-year prison sentence. But last year Thailand's Supreme Court dismissed the four-year suspended sentence. The final case against Andy Hall was a separate defamation charge over an interview he did with media Al Jazeera in 2013. The Supreme court however, overturned a lower court's ruling that Andy Hall should pay 10 million baht (USD 321,000) in compensation charges and dismissed the case. The Supreme court ruled that his interview was justified.
In a statement, Finnwatch Executive Director Sonja Finér said, "We are pleased that all charges against Hall have now been dropped and we can leave this eight-year legal harassment behind us. Thailand should ensure that its legislation is amended so that similar harassment through the courts is no longer possible."
Peaceful Assembly
New report documents excessive and unlawful use of force against protesters
📢 NEW REPORT 📢

Authorities in Thailand have repeatedly deployed reckless and violent tactics to quell the country's youth protest movement. Our new report provides exhaustive documentation and analysis of the past year of Thai protests.https://t.co/bnuiCRlWRq

— Amnesty International (@amnesty) July 2, 2021
According to a new report by Amnesty International the Thai authorities have 'repeatedly deployed reckless and violent tactics to quell the country's burgeoning youth protest movement including beating demonstrators, firing chemicals from water cannons and shooting rubber bullets at close range. The report, "My face burned as if on fire", provides exhaustive documentation and analysis of the past year of Thai protests, painting a detailed picture of the excessive and unlawful use of force against largely peaceful protesters.
Multiple testimonies in the report highlight the excessive use of chemical irritants on crowds, including in tear gas and water cannon discharge. Victims report suffering injuries such as severe burns and nasal bleeding. Eyewitnesses and victims also describe many incidents of dangerous policing, from the aiming of high-pressure water cannons at people's heads to the reckless firing of rubber bullets into the crowd.
Eyewitnesses and verified video evidence show water jets discharged from a distance of 10m against protesters, safety marshals, journalists, and observers. The jets were sometimes aimed at the upper body and head. On other occasions, they were deployed indiscriminately at protesters pressed tightly together and unable to move or find cover. Amnesty International further documented severe police beatings as well as the unlawful use of rubber bullets during the 28 February 2021 protest. Eyewitnesses and a victim also recounted how rubber bullets were fired by riot police even after protesters at the February 2021 demonstration started to retreat peacefully. Rubber bullets and casings were found at the protest site.
Tens of thousands of Thais took to the streets to demand democratic reforms throughout 2020 and into 2021 in Bangkok, the capital, and in provinces across Thailand. According to Amnesty Interational, as the protest movement grew in 2020, so too did the severity of the Thai police's response. Riot police deployed water cannon on four occasions (16th October, 8th November, 17th November 2020 and 28th February 2021) to disperse protests which were largely peaceful, violating international human rights law and standards.
Protests resume in Bangkok
More recently In June 2021, protesters took to the streets of Bangkok demanding the resignation of Prime Minister Prayuth Chan-O-Cha. On 24th June 2021, thousands gathered outside parliament and Cabinet offices to mark 89th anniversary of Thailand's transition from an absolute monarchy to a constitutional one. The gatherings were the first rallies since the the drastic resurgence of COVID-19 infections triggered lockdowns in April.
Hundreds turned out again on 26th June 2021, to apply more pressure on the government. Protesters voiced their disapproval of the government's handling of the pandemic and vaccine rollout. The rally ended a few minutes past 10 p.m. local time with no major incident.