Chile: same-sex marriage legalised; Gabriel Boric sworn in as President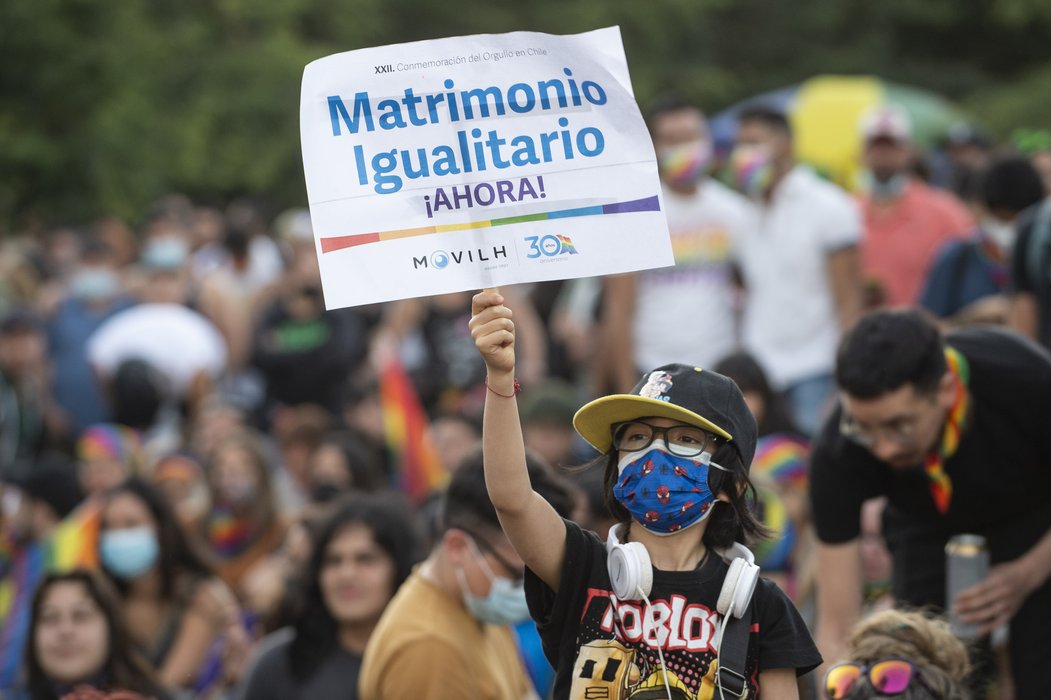 Gracias a la publicación de @InterferenciaCL te invitamos a leer nuestro Comunicado.
Para leer el reportaje de interferencia haz clic acá https://t.co/Fme2QZKpYT #PorElAguaDeStgo #ProtegeElCajón #NoAltoMaipo pic.twitter.com/iWBiYDL3Vh

— #ProtegeElCajón (@NoAltoMaipo) November 8, 2021
In November 2021, media outlet Interferencia published a report alleging that the Alto Maipo hydroelectric megaproject had hired a cyber-intelligence service to infiltrate environmental groups and monitor its own workers. Alto Maipo, operated by AES Andes SA, would have paid a consultancy firm about 3,700 USD (3 million CLP) per month for a service providing intelligence reports on "threats" to their project. AES Andes is a Chilean subsidiary of US-based multinational AES Corporation.
The reports reviewed by Interferencia included personal information on "unsatisfied" workers who had participated in environmental groups or movements opposing the hydropower project, calling them "potential internal terrorists." In addition, the company running the service provided personal information on environmental defenders and leaders of civil society groups opposing Alto Maipo, and claimed to have infiltrated the Facebook and WhatsApp chats of such groups. Several defenders were labelled "eco-terrorists" by the consultants. According to Interferencia's investigation, this monitoring began after Chilean protesters increased their demands for access to water in 2020.
Among those who have been targeted is Marcela Mella Ortiz, president and spokesperson of the group No Alto Maipo (CCNAM), a network of affected residents who have peacefully organised since 2007, voicing their opposition to the project due to its negative impacts.
New government signs Escazú Agreement
On 11th March 2022, Gabriel Boric of Social Convergence was sworn in, becoming Chile's youngest ever president. Boric is a former student union leader who had a key role in 2011 mass protests for free public education.
A member of left-wing coalitions Frente Amplio and Apruebo Dignidad, Boric reiterated his support for Chile's constitutional process soon after his election in November 2021. He appointed a female-majority cabinet, and said some of his priorities are managing the coronavirus pandemic, encouraging economic growth along with social inclusion and ensuring the implementation of a new constitution.
Association
Hydropower company monitored environmental defenders and groups
#DECLARACIÓN 🌱¡Lo logramos! Este viernes las juventudes y organizaciones de la sociedad civil dimos un paso histórico hacia la construcción de un Chile más verde y justo. pic.twitter.com/sXlmaodDBK

— Acuerdo de Escazú (@EscazuAhora) March 24, 2022
On 18th March 2022 President Gabriel Boric signed the Escazú Agreement, a regional treaty defending environmental defenders and rights – which had previously been rejected by the government of former President Sebastián Piñera. While this is a positive step, the move still has to be signed off by Chile's Congress.
"We are facing the worst ecological crisis in history and we need to face it jointly. We will not be successful alone," said Chile's Environment Minister Maisa Rojas during the signing ceremony. "The first and only environmental treaty in Latin America and the Caribbean emerges as a powerful tool for the change we long for," she continued.
Peaceful Assembly
Legislative advances and setbacks for rights
🏳️‍🌈 Llenos de orgullo asistimos a la ceremonia de promulgación de la Ley de #MatrimonioIgualitario junto a familias y niñ@s que han estado colaborando con esta lucha que finalmente se concreta 🏳️‍⚧️Seguiremos trabajando por la plena inclusión y el respeto por los derechos humanos 🌈 pic.twitter.com/YJMFPeCFuL

— Fundación Iguales (@IgualesChile) December 9, 2021
On 7th December 2021, Chile's Chamber of Deputies approved a long-awaited bill to legalise same-sex marriage. Cheers erupted in the chamber and people rallied to celebrate when the bill was approved, after a process that had lasted over four years. President Sebastián Piñera signed the law just two days after its approval, on 9th December 2021.
According to Human Rights Watch, the country's new law undoes existing legal discrimination against same-sex couples in parentage, joint adoption and assisted reproductive technology, among others. It also scraps the requirement that married transgender people divorce if they want to have their gender legally recognised.
However, just a week before this vote, Chile's Chamber of Deputies narrowly rejected a bill decriminalising abortion up to the 14th week of pregnancy. As previously reported on the CIVICUS Monitor, feminist groups had advocated for the bill, which had been approved during a first debate in September 2021. In a separate but related note, thousands of women across Chile joined marches on International Women's Day, 8th March.
Government withdraws some charges for protesters detained
🔴 Gobierno de Gabriel Boric anuncia retiro de 139 querellas por Ley de Seguridad del Estado contra presos del estallido https://t.co/BJb4PVuEj1 pic.twitter.com/5pt3z2n7oV

— La Tercera (@latercera) March 10, 2022
On 10th January 2022, then-president elect Boric asked Chile's Parliament to approve a bill pardoning people detained or facing criminal charges for their involvement in the 2019 mass protests.
A day before Boric was sworn in, his incoming Ministers of Justice and Interior announced that one of the first measures of the administration would be to withdraw 139 complaints against protesters charged using the Law of State Security. They also vowed to create a board on reparations for victims of human rights violations.
While this is a positive development, human rights experts said many of those charged under the Law of State Security are also facing charges for other offences such as "arson" or "theft." In practice, this means most will still face criminal proceedings but protesters in pre-trial detention or with precautionary measures might have their situation reviewed. If prosecutions continue, those convicted may receive lighter sentences.
Protests against migration continue
Camioneros paralizan rutas, puerto y aeropuerto en Iquique por asesinato de colega en Antofagasta https://t.co/FkWhGwjGuv

— BioBioChile (@biobio) February 11, 2022
Protests against migration continued to take place in northern Chile in January and February 2022. As previously reported on the Monitor, migration has become a salient topic in the country, leading to protests in favour and against migration at the end of 2021.
On 30th January 2022, about 4,000 people joined a protest which ended in incidents of xenophobia and violence against migrants. On 31st January 2022, truck drivers in Iquique blocked access to the city to protest crime, insecurity and migration. The demonstration was part of a wider strike in the Tarapacá region by unions representing various sectors, including taxi drivers, port and commerce workers. The strike also affected the operation of Iquique airport.
On 11th February 2022, transport workers organised blockades and barricades in the Arica and Antofagasta regions. The demonstration was sparked by an incident of a young truck driver allegedly killed by migrants in the city of Mejillones. Local authorities and the population accused the Sebastián Piñera government of failing to create conditions for orderly migration and to act in a timely matter to respond to the increasing migration during the pandemic.
After a few days of protests, the government declared a "state of exception" for 15 days in the provinces of Arica, Parinacota, Tamarugal and Loa, increasing militarisation and police deployment in border areas. The measure was extended twice, and should be in force until 15th April 2022.
Expression
Continued debates around bill regulating digital platforms
La EFF se une a expertos y organizaciones internacionales que instan al @Senado_Chile a retirar el problematico proyecto de ley chileno de regulación de plataformas digitales, que suscita graves amenazas a la libertad de expresión. https://t.co/sew5dCn50M

— EFF (@EFF) November 29, 2021
A controversial bill on the regulation of digital platforms, whose vote in the Senate was scheduled for November 2021, was sent back to the Commission on Challenges of the Future for further analysis on 26th November 2021. As previously reported on the CIVICUS Monitor, Bill No. 14.561-19 had been presented in September 2021 and was met with several objections from civil society and digital rights experts.
In October 2022, the Global Network Initiative (GNI) sent a letter to the Senate to express concern about the draft law, saying it could "distort the online information environment and pose risks for the rights to freedom of expression and privacy in Chile." The multi-stakeholder group, made up of academics, civil society, ICT companies and investors worldwide, said the proposal was introduced in a rushed process that overlooked expert consultation. They highlighted concerns about the liability risks for digital platforms, the vaguely worded obligations for content moderation and the significant penalties for non-compliance.
The bill's debate has continued in the Senate Commission. On 15th December 2022, Inter-American Commission on Human Rights (IACHR)'s Special Rapporteur for Freedom of Expression, Pedro Vaca, questioned the bill during a meeting organised by the Commission on Challenges of the Future. The expert recommended that established Inter-American standards on freedom of expression and the Internet be a starting point for the discussion.He said that the current draft approaches a complex problem with overly simple solutions that may impact the margin of certainty about the regulation.
Constitutional Convention tackles freedom of expression
Several commissions of the Constitutional Convention, responsible for drafting a new constitution for Chile, have discussed and approved articles affecting fundamental freedoms – including freedom of expression.
On 22nd February 2022, for instance, the Commission on Fundamental Rights approved text (Article 6) guaranteeing the right to freedom of opinion and information. Some of the language approved was considered controversial by human rights groups such as Human Rights Watch. Among other things, the article would prohibit the denial or justification of gross, massive and systematic violations of human rights. It also contains provisions on the promotion of Indigenous cultural diversity in public and private media.
Several draft articles from the Knowledge Systems Commission affecting freedom of expression, such as articles on a right to communication and on media education, were rejected by the Constitutional Convention on 25th February 2022. They were sent back to the Commission for review.