Chile: HRD killed during protest, anti-migrant demonstrations and concerning internet bill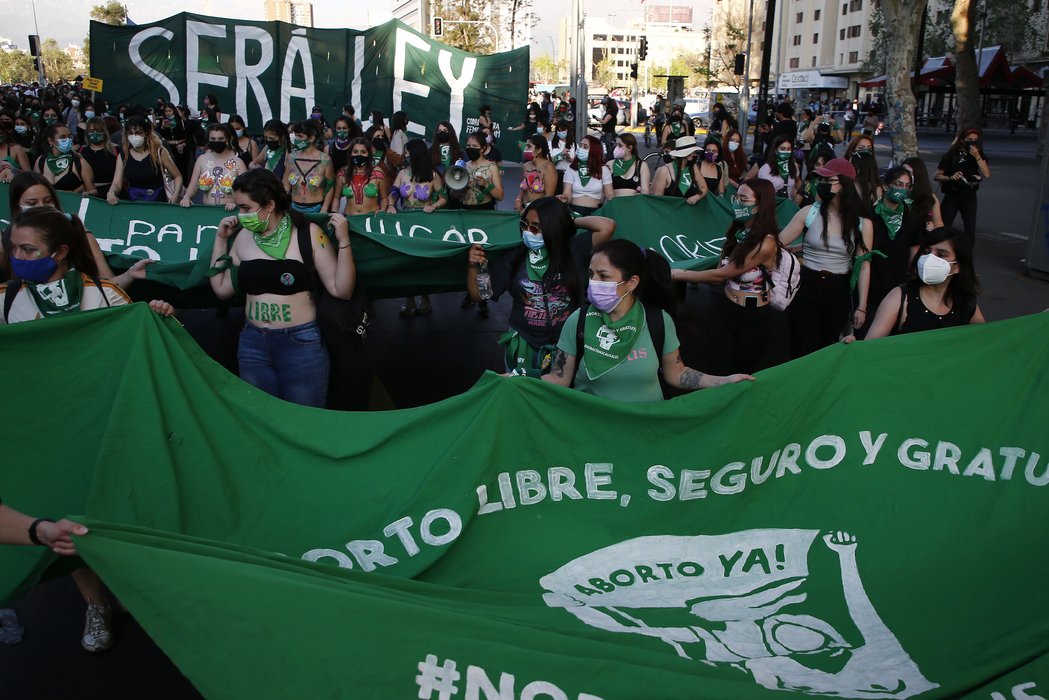 Opposition politicians launched impeachment proceedings against Chile's president, Sebastián Piñera, over possible irregularities in the sale of a mining company, after new details about the deal were revealed in documents leaked in the Pandora papers. Chile's Public Prosecutor's Office also said that it would open an investigation into possible corruption and tax violations linked to the sale.
Peaceful Assembly
Human rights defender killed during Mapuche demonstration
Denisse Cortés Saavedra Defensora de los pueblos.
Falleció ayer luego de heridas graves recibidas en la Marcha por la Resistencia Mapuche, mientras intentaba dialogar con carabineros para detener la fuerte represión. Impugnamos a este gobierno y lo hacemos responsable pic.twitter.com/u5TATb2L7k

— Coordinadora Feminista 8M (@Coordinadora8m) October 11, 2021
On 10th October 2021, student and Indigenous rights defender Denisse Cortés Saavedra was severely wounded during the March for Mapuche Resistance in Santiago; she died in the hospital later on the same day. According to news reports, she was injured when clashes began as the police acted to repress the protest using tear gas and water cannon. A police report said Cortés Saavedra was wounded by a projectile thrown by a demonstrator but her family disputed this claim and called for an investigation.
Civil society organisations said Denisse Cortés was at the demonstration as a human rights observer, recording the arrests of demonstrators and monitoring the actions of the Carabineros de Chile's security forces. In this regard, excessive use of force against demonstrators by the forces of law and order was reportedly recorded, including the use of water cannon trucks and tear gas to disperse demonstrators. 17 people were detained and 10 others injured during the protest.
Anti-immigration demonstrations
Recordamos la responsabilidad política que tiene el gobierno central por los hechos ocurridos en Iquique los últimos días. 📺Compartimos esta nota de @CNNChile, en la que entrevistaron a nuestra presidenta Vanessa González, abordando el tema https://t.co/MUyJ9JqREr pic.twitter.com/3slMKzwxug

— Coordinadora Nacional de Inmigrantes (@MigrantesChile) October 5, 2021
On 25th September 2021, in the northern city of Iquique, an estimated 3,000 people protested against migration. Holding signs with messages such as "No more migrants" and "Close the border now", the protesters demanded that authorities take measures to stop the entry of migrants across Chile's northern border. During the protest, a group of violent demonstrators burned the belongings of Venezuelan migrants who had set up a small camp.
The protests and subsequent attack on the camp were denounced as xenophobic and rejected by human rights organisations and international experts. UN Special Rapporteur on the human rights of migrants, Felipe González, described the arson attack as "inadmissible humiliation" and saidthat the "xenophobic discourse, assimilating migration to crime, which unfortunately has become increasingly frequent in Chile, feeds this kind of barbarism." The United Nations' office in Chile urged "authorities and the population to act within the framework of respect for human rights and international humanitarian rights." UNICEF and the Office of the United Nations High Commissioner for Human Rights called on Chile to implement a Migration Plan to guarantee these migrants' and refugees' rights.
Iquique has been the main port of arrival for migrants crossing the border in the north of Chile. According to news reports, most migrants in the province come from Venezuela and Haiti undocumented; many temporarily settle in public parks and spaces in the city of Iquique while awaiting the regularisation of their status. The demonstration at the end of September took place a day after police evacuated a migrant camp that had existed for a year on the town square.
Following the repercussions of these protests, more marches, both in favour of and against migration, were held on 2nd October 2021. In Santiago, a rally against migration ended with violent clashes between demonstrators against migration, counter-protesters and security forces. During the march, convened by a far-right group, participants sang the national anthem, carried country flags and held banners with nationalist messages. Police intervened after a group of hooded counter-protesters threw firecrackers at the march participants. 12 people were detained and six protesters and a police officer were reported injured.
Demonstrations supporting migrants took place in Antofagasta under the slogan "nobody is illegal, to migrate is to live." On 3rd October 2021, the National Migrants Coordinator also convened a march in Santiago to demand human rights guarantees for migrant and refugee communities.
Women celebrate the approval of legal abortion bill by the lower Chamber
Marcha de mujeres en Santiago, Chile, en el marco del Día de Acción Global por un aborto legal y seguro https://t.co/H5uQztA4XF

Fotos: @KenaLorenziniL #AbortoLegalYa pic.twitter.com/brEWAidwyt

— Desinformémonos (@Desinformemonos) September 28, 2021
On 28th September 2021, thousands of women took to the streets as part of the Global Day of Action for Free, Safe and Legal Abortion and to show their support for the a bill to decriminalise abortion in the country, which was in discussion at the Chamber of Deputies on the same day. Minutes before the vote, over a hundred women in Santiago surrounded the building where the new Chilean Constitution is being drafted. They carried banners and wore green scarves, shouting slogans such as "Free and safe abortion!" and "It will be law!"
The bill would modify the Criminal Code to decriminalise voluntary abortion within the first 14 weeks of pregnancy. The draft legislation was approved with 75 votes in favour, 68 against and two abstentions. Before becoming law, the legislation must return to the Women's and Gender Equality Commission of Congress. Another debate and vote will then take place in the lower house before the bill is sent to the Senate. Feminist coalition Coordinadora Feminista 8M welcomed the bill's approval, saying that while it is not the legislation they demand – granting access to safe and legal abortions – it is a positive step toward legalisation.
Protesters continue to demand the release of detainees from the October 2019 uprising
On 29th July 2021, hundreds of people mobilised in the centre of Santiago and other parts of the city to demand the release of protesters detained in the context of the mass demonstrations that started in October 2019. Civil society organisations such as the Asamblea Nacional de Familiares de Presos Políticos (National Assembly of Relatives of the Political Prisoners) convened the protest to demand "the immediate approval" of a general pardon for those still detained. The demonstrators moved along the Alameda Avenue until they reached the metro station Los Héroes Metro, where clashes with the national police took place.
On 29th August 2021, people marched in Santiago once more to demand truth and justice, and urge the Senate's legislators to advance the discussion of a pardon for those they consider political prisoners of the 2019 uprising. As previously reported on the CIVICUS Monitor, during its first week, the Convention approved a declaration calling for a pardon for those arrested in the context of the social uprisings.
Expression
Social organisations reject bill to regulate digital platforms
#Chile El proyecto de ley para la regulación de las plataformas digitales atenta contra los derechos humanos 👉https://t.co/lrqh0BIMAQ pic.twitter.com/z6w2SBuNu4

— Derechos Digitales (@derechosdigital) October 4, 2021
On 1st September 2021, five senators presented a bill which would regulate digital platforms in Chile. The controversial proposal will be analysed by the Congressional Commission on Future Challenges, Science, Technology and Innovation.
Civil society organisations expressed objections to the bill, saying it poses threats to freedom of expression and recommending its suspension. Among the aspects of the draft legislation criticised by the groups are the lack of a precise definition of what digital platforms are, the lack of coordination with existing regulation impacting digital rights, the use of inappropriate mechanisms to regulate false information, and the establishment of concepts such as "right to rectification and to be forgotten" and "digital consumer" without providing sufficient clarity on their application.
The organisations rejecting the draft legislation include internet rights groups Internet Society Chile, Fundación Datos Protegidos and Derechos Digitales, research centre Centro de Estudios de Derecho Informático de la Facultad de Derecho de la Universidad de Chile, free expression advocates Observatorio del Derecho a la Comunicación (OBSERVACOM) and professional associations Asociación de Investigadores en Artes y Humanidades and Colegio de Periodistas de Chile.
They said that the bill ignores "the accumulated international experience" regarding the phenomenon of fake news, which has shown the difficulty and legal uncertainty in determining what can be manifestly understood as false information. In addition, the proposal would "create perverse incentives" for the elimination of content by digital platforms.
According to Derechos Digitales, the regulation initiative was hasty and failed to include debate with a diversity of actors who work on internet content regulation and engage in the area of digital rights. Rather than helping to curb potential abuses by digital platforms, the proposed bill could do immense damage to fundamental rights in Chile. The organisation said:
"The bill sweeps aside other efforts, for example, the long struggle to establish adequate personal data protection (which has been debated for a decade in our country) and is inconsistent with the work that academics, human rights activists and international experts have been doing for at least a decade."
The civil society groups called for the suspension of the draft law and for an open, broad and participatory debate on regulation of digital platforms with the engagement of civil society, academic organisations and other experts.