"Chile has awoken": several demonstrators killed and thousands detained in massive protests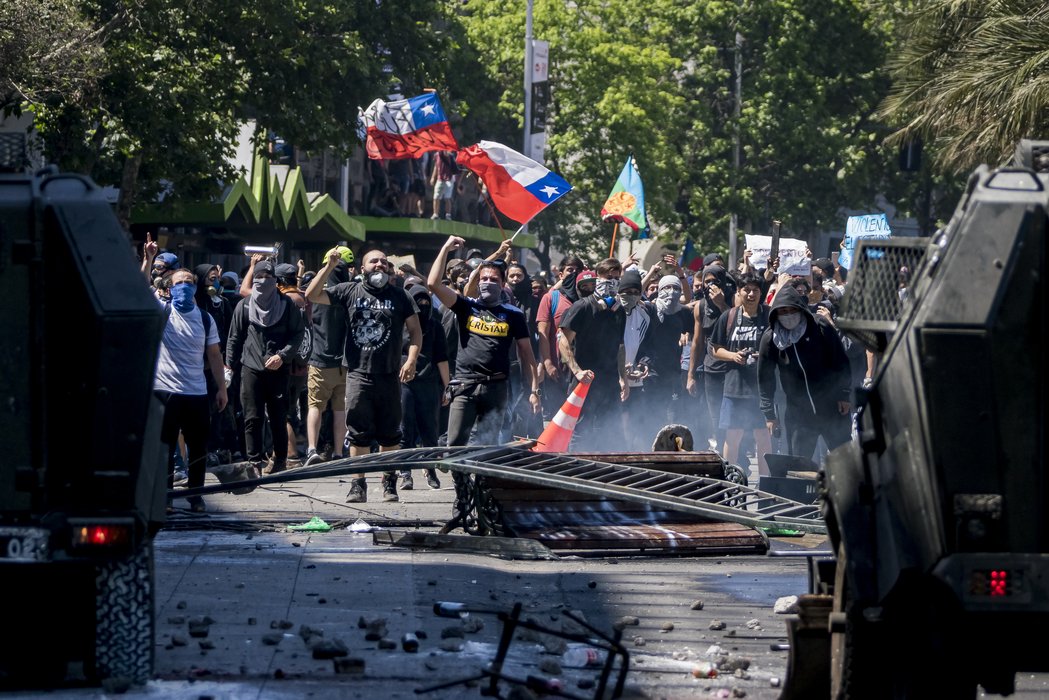 Peaceful Assembly
Over a million people took to the streets in Chile during October 2019, in what started as a protest against higher transportation tariffs and developed into a nationwide movement. On 4th October 2019, a 30 peso (US$ 0.04) increase in metro fares was announced, prompting student-led protests. As the government cracked down on demonstrators, thousands of people joined in to express their general discontent with Chile's high living costs and growing inequality.
Protests all over the country have seen peaceful marches, with citizens chanting "Chile despertó!" ("Chile has awoken") and banging spoons against cooking pots, a form of protest known as "cacerolazo". However, the demonstrations have also been marked by outbreaks of violence, with groups of protesters clashing with the police and engaging in looting and arson. The Chilean government deployed troops, declaring a state of emergency and a curfew in some parts of the country. Attempting to placate the demonstrators, Chilean president Piñera has made concessions that range from repealing the hike in fares to dissolving the cabinet. Nonetheless, protests continue.
Many have called for deeper changes, including constitutional reform. Over 300 civil society organisations have called for a new social pact. In their statement, the CSOs declare:
As civil society we invite and call upon all authorities to join a dialogue without pretences, with the disposition to arrive at profound transformations capable of including these millions that today manifest their indignation. Only this way will we achieve the yearned for social peace that Chile requires.
Hace instantes más de 300 personas realizaron una " #evasiónmasiva" en la estación #ViñadelMar de @MetroValpo en una nueva jornada de manifestaciones en el país. pic.twitter.com/IzUS5cAg39

— Mini Periodista (@AguayoAraos) October 19, 2019
El derecho de vivir en paz pic.twitter.com/ujMTz7r1fK

— Antonia Urrejola (@totonia68) October 25, 2019
On 26th October, as a further response to protesters' demands, Piñera asked all his ministers to resign with the aim of structuring a new cabinet.

On 28th October, the state of emergency was lifted in all regions. However, protests have continued.

On 30th October, Piñera announced the cancellation of the Asia-Pacific Economic Cooperation Summit (APEC) and the UN climate change conference COP25 which were scheduled to take place in Chile in late November and early December. CSOs working on climate action issued a statement expressing concern that this could signal Chile's government has stopped responding to social demands expressed in protests.
Human rights violations
⭕ [Última actualización] Cifras recopiladas directamente por el INDH en observaciones a manifestaciones, comisarías y hospitales desde el 17 de octubre hasta hoy a las 23:00 horas. pic.twitter.com/ITgXRpWcFb

— INDH Chile (@inddhh) October 31, 2019
Allegations of human rights violations and excessive use of force have quickly multiplied as the Chilean government sought to control the unrest. The national human rights commission, INDH (Instituto Nacional de Derechos Humanos de la República de Chile), registered 4,271 people detained and 1,305 injured in protests from 17th October to 31st October 2019. The commission has also received 120 complaints of torture and 18 of sexual assault. Chile's Medical College has stated that over a 100 people have been partially blinded and dozens more suffered eye injuries from rubber bullets and gas cannisters used by security forces. At least 18 people have been killed. Meanwhile, a spokesperson for the Chilean police has stated that over 900 members of the police forces have also been injured since protests began.
Tras monitorear la crisis desde el comienzo, he decidido enviar una misión de verificación para examinar las denuncias de violaciones a los #DerechosHumanos en #Chile. Parlamentarios y el Gobierno han expresado su interés en recibir una misión de @UNHumanRights.

— Michelle Bachelet (@mbachelet) October 24, 2019
In a public statement, the Inter-American Commission on Human Rights (IACHR) condemned the excessive use of force by security forces and the violent acts of civilians during the demonstrations. On 24th October 2019, the Office of the United Nations High Commissioner for Human Rights announced they would deploy a mission to Chile to examine claims of violence and excessive use of force.