Children march in Vanuatu calling attention to climate change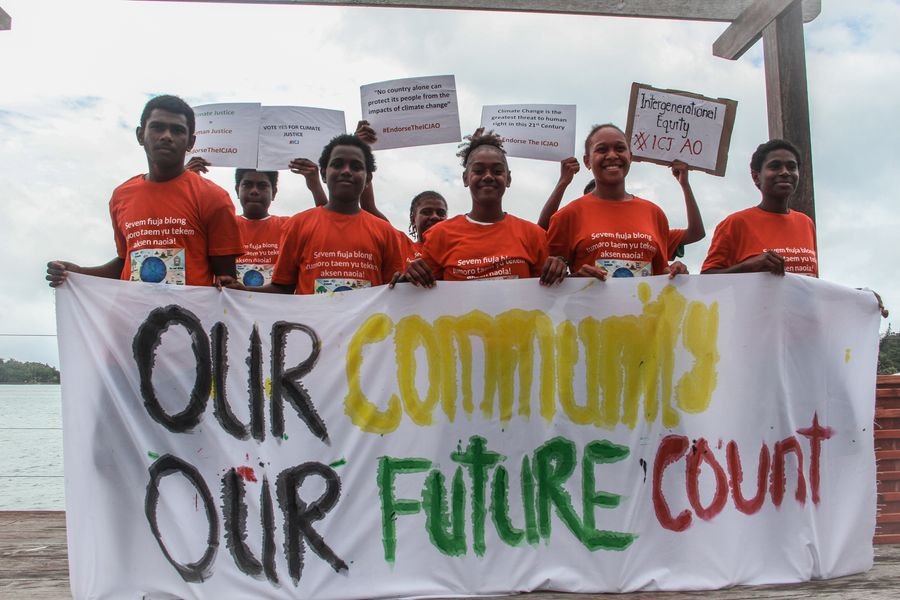 On 4th November 2022, Ishmael Kalsakau was elected unopposed as the 13th Prime Minister of Vanuatu through secret ballot by 50 out of 52 of the country's members of parliament. Ishmael Kalsakau was deputy prime minister in the previous government and is a lawyer by profession. Before his involvement in politics he served as the Attorney-General of Vanuatu.
In October 2022, Gloria Julia King became the first woman to enter the country's parliament in 14 years. King based her campaign around creating more opportunities for women in a country where gender violence is common, and where women have long been disadvantaged in employment and education. Half a dozen other women were declared official candidates, but failed to secure a seat. King is the sixth woman ever elected to the Vanuatu parliament.
Peaceful Assembly
Children march to highlight need to address climate change
In September 2022, children in Vanuatu took to the streets campaigning for the urgency to address climate change. The message was clear, with children calling attention to the continued effects of climate change being Vanuatu's single greatest development threat.
Led by Save the Children, Climate Campaign Manager Stephanie Stephens said climate change had a huge impact in the Pacific, affecting all sectors, islands, demographics and undermining economic prosperity and human rights.
During the march, the children also launched a song in support of the Vanuatu government's call to bring the issue of climate change to the International Court of Justice (ICJ) through a vote at the UN General Assembly.
Vanuatu is facing a sea level rise and increasingly powerful cyclones that periodically cripple its economy. As emissions rise and the world remains off track to meet its climate goals, overheating is threatening the archipelago's ecology, livelihoods and infrastructure.
In 2021, the Vanuatu government, with support from a global alliance of civil society groups representing more than 1,500 civil society organisations in 130 countries, launched a campaign which seeks an ICJ Advisory Opinion on the issue of climate change and human rights. This Vanuatu-led initiative was a step forward in getting climate change to be considered by the world's highest court.
Today, @VanuatuUN on behalf of a group of states, circulated to the broader @UN membership a draft #UNGA resolution to request an ICJ Advisory Opinion from the @CIJ_ICJ on climate change. Over the next few weeks consultation with member states will begin. pic.twitter.com/OFUAcWMNqX

— Vanuatu UN (@VanuatuUN) November 29, 2022
On 30th November, Vanuatu and 17 other countries published a draft resolution asking the ICJ to clarify the responsibilities of governments around the world to protect future generations from climate change. It marks a milestone in the years-long effort by Vanuatu to get legal clarification for all countries regarding the impacts of climate change.
The draft resolution aims to establish the legal avenues for climate justice for present and future generations. Kevin Chand, a legal advisor to Vanuatu's permanent mission at the UN, said more than 100 countries have indicated they will support the resolution – over the simple majority threshold of countries needed to give the ICJ a mandate in a vote at the UN general assembly.
Experts have argued that the ICJ's opinion could give prominence to the question of support for victims of climate disaster, known as "loss and damage". The issue dominated this month's COP27 climate summit, where nations agreed to create a bespoke loss and damage fund.