Government crackdown on strikes and protests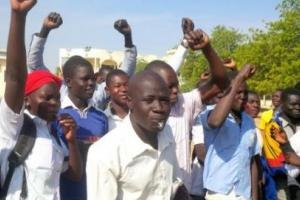 Association
Civil society partners in Chad report that social movements continue to organise within a very difficult operating environment. For example, on 29th December 2016, a Movement for Citizen Awakening (Mouvement pour l'Eveil Citoyen - MECI) was established to bring together several unions working on social and economic issues which are of serious concern for citizens. The government was, however, quick to malign the initiative by making unfounded accusations that it was connected to an armed rebellion against the government. MECI responded to the accusations in a press conference held on 6th January 2017, declaring:
"[MECI] is intended as a non-violent movement, a framework for consultation, mobilization, action and demand for the political, economic, social and cultural rights of citizens. Focusing on the restoration of democracy and republican values in a Chad of peace, justice, respect for human rights and freedoms." 
Trade unions, in turn, have also struggled to advocate on behalf of their members in the face of an increasing backlash from government officials. Workers have united around strikes as a means of drawing attention to issues such as labour conditions, pensions and salaries. Though the constitution guarantees the right to strike, the government has curtailed and regulated this right with a new amendment to the law on the right to strike adopted by the National Assembly on 30th December 2016.
Peaceful Assembly 
The government's response to workers' strikes throughout 2016 has typically been to ban demonstrations and deploy soldiers to disperse events and activities in public spaces. Though the trade union strikes have been put on hold given the crackdown, plans remain in place to potentially reignite the strikes in March 2017. 
Expression 
Freedom of expression is regularly undermined in Chad, and as previously reported on the CIVICUS Monitor, access to social media has even been blocked during politically-sensitive times, preventing citizens from engaging in open debate and dialogue online. In addition, citizens have been harassed or intimidated when expressing opinions on social media accounts. The Ambassador of Chad to the African Union, Chérif Mahamat Zene, received threats after he denounced the massacre in the N'gueli district of N'Djaména on a personal Facebook post. He did not specifically name or implicate any individuals or parties but rather demanded that their be an investigation and the perpetrators be brought to justice. In a statement, Zene declared:
"The office I occupy does not deprive me of the right to express a personal point of view on what is happening in my country, and I am proud to fulfill my mission in soul and conscience by putting the interests of my country above all other considerations." (Translated from French)