Canada: workers push back against restricting legislation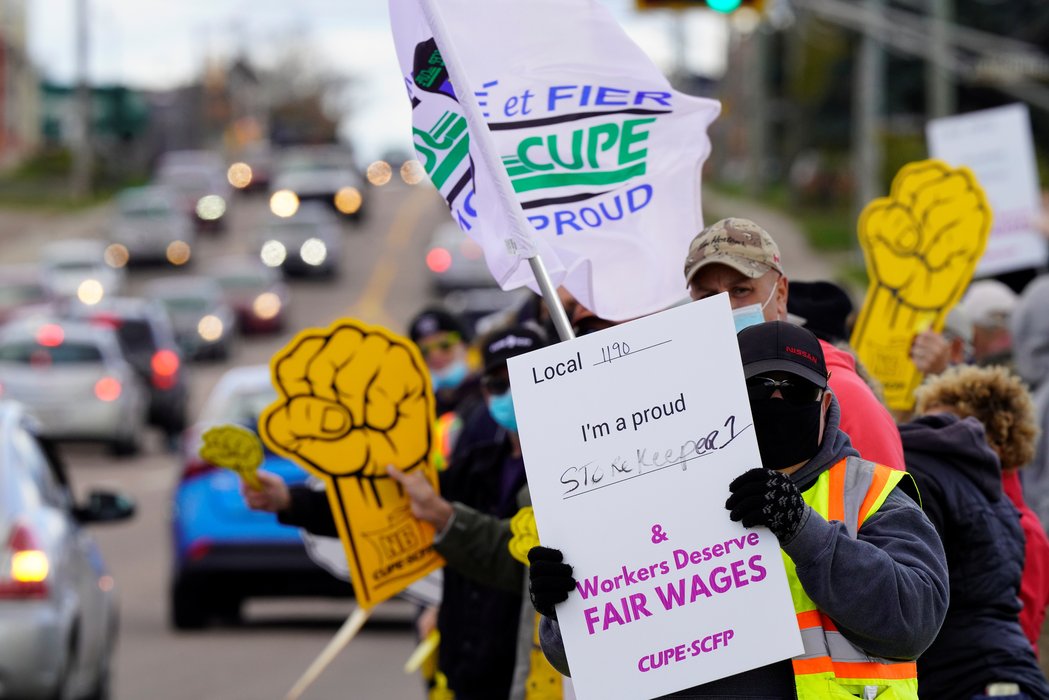 Association
BREAKING: Ontario Superior Court of Justice strikes down Bill 124#OnLab #OnPoli pic.twitter.com/r6VdRdzORC

— OFL (@OFLabour) November 29, 2022
In a decision released on 29th November 2022, the Ontario Superior Court of Justice struck down a provincial law that limited wage increases for public sector workers ('Bill 124'), saying it violated the Charter of Rights and Freedoms. The 2019 "Protecting a Sustainable Public Sector for Future Generations Act" had capped wage increases for Ontario Public Service employees as well as broader public sector workers at one per cent per year. In the ruling, Justice Markus Koehnen said the bill infringed on the rights to freedom of association and collective bargaining, in a manner he called "substantial interference." He also noted that the legislation seemed designed to avoid collective bargaining processes that might have led to strikes, and asserted that the right to strike is constitutionally protected. Unions celebrated the decision, but the Doug Ford government appealed the court ruling on 29th December 2022.
A separate bill introduced in November 2022 in Ontario would fine school support staff C$4,000 (US$2,900) a day for striking, threatening to weaken workers' rights. Bill 28 was tabled by Conservative MPs amid a dispute over pay for education workers, including custodians, early childhood educators and educational assistants. It unilaterally imposed a contract on education workers, and levied hefty fines for striking. The bill invoked a rarely used legal mechanism known as the "notwithstanding clause", which allows provincial governments to override certain portions of the Charter of Rights and Freedoms for a five-year time period.
The Canadian Civil Liberties Association (CCLA) argued that the rights and freedoms of all people in Canada were being put at risk by the Ontario government's attempt to invoke the notwithstanding clause for the purpose of avoiding a strike. Multiple Ontario-based unions announced strikes and mass demonstrations to protest Bill 28, with unions across the country planning solidarity actions. On 7th November 2022, the provincial government backed down and said it would repeal the legislation, returning to the negotiating table with the Canadian Union of Public Employees (CUPE) which represents some 55,000 education workers.
Peaceful Assembly
International Solidarity
This is the #Vancouver rally in solidarity with #IranProtests2022 on October 8th. #IranProtests #Mahsa_Amini

Protests in #Iran have entered their 4th week. pic.twitter.com/9VJEC6xPNi

— Samira Mohyeddin سمیرا (@SMohyeddin) October 9, 2022
Between October and December 2022, people in Canada continued to demonstrate in solidarity with Iranians protesting theoppression of women by the country's authorities. On 24th October 2022, nearly 200 people gathered in Halifax, with crowds chanting "zan, zendegi, azadi" which is Farsi for "woman, life, freedom." Protesters also carried photos of Mahsa Amini, the 22-year-old Iranian woman who was arrested by the morality police for wearing her hijab 'improperly' and later died while in police custody. Protesters expressed support for the Canadian government's decision to sanction members of Iran's Revolutionary Guard Corps, but said they wanted Canada to do more to encourage action from G7 countries.
In another demonstration on 24th October in Markham, people protesting against oppression in Iran were nearly hit by a vehicle driven by a man who reportedly had previously harassed a Holocaust survivor. Firas al Najim was accused of deliberately driving his car through a protest at the Islamic Mahdi Centre mosque. According to police, he "stopped the vehicle abruptly, squealing the tires while yelling at the protesters." He was charged with dangerous operation of a motor vehicle, flight from police and possession of dangerous weapons.
On 29th October 2022, Prime Minister Trudeau marched with hundreds of people in Ottawa in support of the families of the victims of Ukraine International Airlines Flight 752, shot down by the Revolutionary Guard in 2020. The demonstration was one of several held in the country and as part of a worldwide "human chain" organised by the Association of Families of Flight 752 Victims in solidarity with protesters in Iran. They have also demanded that the country be held accountable for shooting down the flight.
Similar solidarity rallies continued in November and December 2022.
Public inquiry into use of Emergencies Act continues
The public inquiry investigating the federal government's unprecedented use of the Emergencies Act in February must grapple with central questions about the right to protest. https://t.co/K6GLkjlIPw

— CBC News (@CBCNews) November 29, 2022
Between October and November 2022, an independent panel held six weeks of hearings into the use of the Emergencies Act to clear blockades organised by truck drivers and others against pandemic restrictions in early 2022. The Public Order Emergency Commission heard from residents, police, politicians and protesters about what happened, and is expected to produce a report by February 2023.
On 25th November 2022, Prime Minister Justin Trudeau defended the use of emergency powers by citing the threat of violence and lack of a credible plan by police. "I am absolutely, absolutely serene and confident that I made the right choice in agreeing with the invocation," he told the independent public commission. Critics argued police could have cleared the blockades using existing powers, and legal experts said Trudeau failed to implement a plan prepared by Ottawa Police. The former president of the Canada Border Services Agency also provided testimony to the Commission, saying the agency had warned the government that blockades protesting pandemic measures could threaten the country's economic security.
At the end of November, the Commission launched the policy phase of its inquiry with a roundtable discussion featuring legal experts who study the Charter of Rights and Freedoms. During the discussion, Commissioner Paul Rouleau said the question of how to define whether a protest is peaceful is a "critical element" of the inquiry's work. The policy phase included discussions with experts which will inform the Commission's report and recommendations on how to modernise the Emergencies Act.
Expression
Some Canadians are worried that the Online Streaming Act or Bill C-11 could change how people watch and create online content. The bill seeks to increase the amount of Canadian content shown by online platforms like Netflix and other streaming services: https://t.co/uX2PcryRGx.

— CDNForumCivilJustice (@CFCJ_FCJC) December 19, 2022
Two separate bills regulating online services and platforms sparked controversy in Canada at the end of 2022. Bill C-11, the Online Streaming Act, would introduce regulation of online streaming services like Netflix and Disney+, Spotify and YouTube, creating rules on how these platforms treat audio and audio-visual content accessible online in Canada. Critics warned of the lack of transparency and the broad definitions of what content should be overseen, saying the bill has wide-ranging potential impacts. Content creators also claimed that controlling user-generated content would negatively impact their freedom of expression. However, the bill's supporters argued it would ensure that streaming platforms followed the same rules as broadcasting services, with benefits such as promoting more diversity and representation. The bill was approved by the House of Commons and is under consideration in the Senate.
Separately, Bill C-18, known as the Online News Act, would establish a requirement for digital platforms who benefit from distributing news publishers' content to share their revenues with news businesses. The proposal received pushback from companies such as Meta and Google, who have been forced to enter into multi-million contracts with Australian news groups after the country adopted similar legislation. Critics said the bill will give an unfair advantage to large and established news companies while disempowering small companies. Some also argued that the legislation could compromise the independence of the press and increase Canadian news outlets' dependence on the world's most powerful tech companies. Bill C-18 is also under consideration in the Senate.