Canada: The struggle for rights brings people to the streets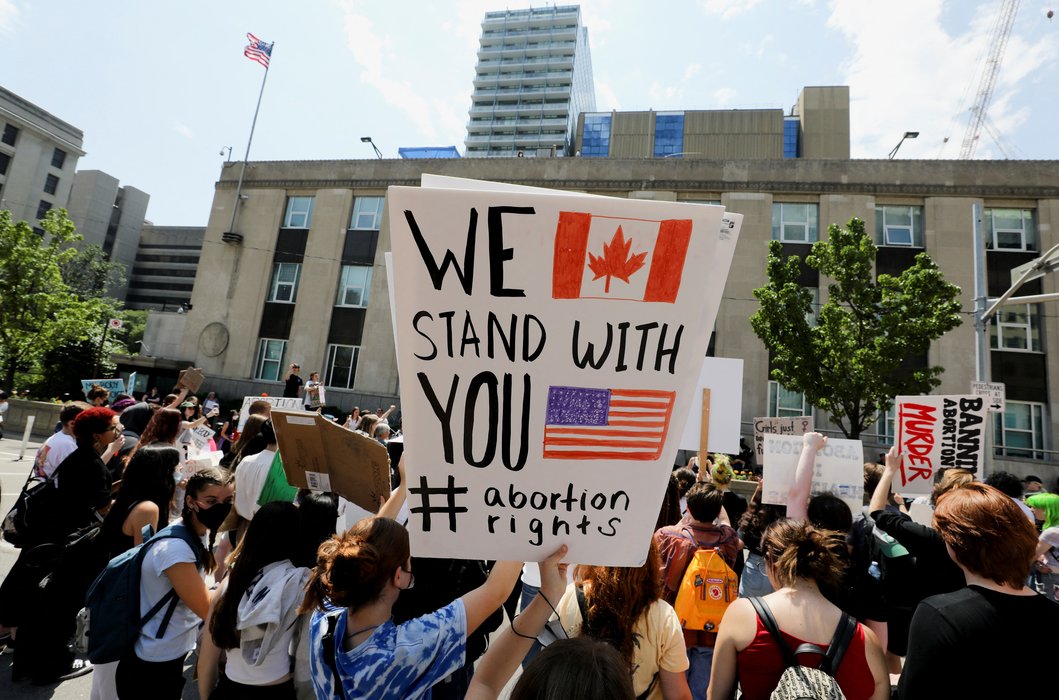 Peaceful Assembly
Hundreds in Mississauga demand resignation of Sri Lankan president https://t.co/Mc0vgJdHtm pic.twitter.com/ITT8fv6By6

— CBC Toronto (@CBCToronto) July 11, 2022
On 10th July 2022, hundreds of Sri Lankan Canadians gathered in Mississauga, Ontario to demand that the ruling Sri Lankan government step down. Protesters chanted "Gota, Go Home" in reference to Sri Lankan president Gotabaya Rajapaksa and his administration. Organisers reported that the demonstration was held in solidarity with the Sri Lankan people who have been protesting their government since March 2022.
On 25th June 2022, hundreds of people protested outside the U.S. Consulate in Toronto following the U.S. Supreme Court's decision to overturn Roe v. Wade, effectively ending federal protection for the right to safe and legal abortions in the country. Organised by the Ontario Federation of Labour, the event was held in solidarity with those affected by the court's decision in the U.S. but also noted barriers in accessing abortions in Canada. In Quebec, hundreds of people gathered outside the Montreal courthouse with signs reading: "Solidarity and rage" and "Access to abortion is a human right." Protesters said they fear the Supreme Court decision in the States will lead to a rise in anti-abortion sentiment in Canada. News outlets reported that people in Montreal, Hamilton, and other cities have received graphic anti-abortion flyers in their mailboxes. City councils are reportedly looking into preventing materials with graphic images from being delivered without appropriate warnings, and tightening guidelines around the distribution of such materials.
On 12th June 2022, hundreds of people demonstrated in Vancouver to commemorate the third anniversary of the crackdown on pro-democracy protests in Hong Kong. Organisers of the event at the Vancouver Art Gallery re-enacted scenes from a June 2019 confrontation between Hong Kong police and protesters, with participants dressed in riot police helmets using batons against participants holding umbrellas. The event raised awareness about the use of excessive force by police in Hong Kong on demonstrators protesting recent laws that restrict freedom of expression and association.
Labour-related protests
Canadian airport security screeners to protest in streetwear for better conditions https://t.co/8FDDd7I4vy pic.twitter.com/YGDild53EP

— Global National (@GlobalNational) June 20, 2022
At the end of June 2022, airport security screeners at more than 40 airports protested for better pay and working conditions in relation to negotiations for a new collective agreement. The protest involved workers wearing street clothes and did not impact airport functions. United Steelworkers Union (USW) national director Marty Warren said "airport security screening officers face tremendous pressure, stress and demands in their jobs, but they are underpaid and undervalued by the federal government."
On 8th June 2022, workers at a railcar manufacturing plant in Hamilton staged a protest calling for a police investigation after the third workplace-related death occurred in 21 months. Members of United Steelworkers Union Local 8135 led a rally outside the National Steel Car in response to the death of welder Quoc Le, expressing concerns about safety at the plant. They are asking Hamilton police to open a criminal negligence investigation into the death, as well as for a Ministry of Labour review of company safety procedures. The Union issued a statement saying the provincial government ignored calls for an emergency meeting and was "refusing to provide the union with critical information on its investigations into the previous deaths."
Demonstrations for rights
A huge thank you to everyone who helped us shut down Front St. and take over the entrance to #PDAC2022 today! It was an honour to #DisruptPDAC alongside community speaking out about #mininginjustice from the High Arctic to the Philippines, from Tigray to Neskantaga (and more!). pic.twitter.com/S4dP5fwLPC

— Mining Injustice Solidarity Network (MISN) (@mininginjustice) June 13, 2022
On 13th June 2022, Indigenous organisations and activists from multiple continents demonstrated at the world's largest mining convention in Toronto to express their opposition to extractive projects on traditional lands. Several leaders spoke of the environmental damages and human rights violations experienced by their communities at a rally organised by the Mining Injustice Solidarity Network. They denounced the "greenwashing" – false potrayal of environmental policies – by mining companies and called for accountability for environmental degradation.
In a related story, protesters in Vancouver continued to block roads to protest the deforestation of old growth forests. As previously reported on the CIVICUS Monitor, similar protests have been ongoing for several months. At least 14 people were arrested for blocking three major thoroughfares in Vancouver and Vancouver Island on 13th June 2022. In a statement, the Royal Canadian Mounted Police (RCMP) said it plans to pursue criminal charges against everyone arrested.
Between 3rd and 13th June 2022, Pride flags at a number of Ontario schools were torn down, cut up and shredded. The police said they were investigating these actions as hate-motivated crimes. In Minto, a town of about 10,000 people, the defacing of Pride decorations led residents to rally in support of the local LGBTQIA+ community. Over 300 people showed up to a Pride Picnic, while some community members and businesses organised to replace torn decorations. Throughout June 2022, different groups across the country celebrated and held demonstrations to mark Pride month. In Thunder Bay, Ontario, events started with a protest march entitled Pride is a Protest and was followed by an afternoon street festival and night-time drag show. Other events were held in cities such as Toronto, Montreal, and Vancouver.
On 28th May 2022, members of the Ontario Autism Coalition in multiple cities protested the lack of provincial support for families of children with autism. They demonstrated outside the campaign offices of several Progressive Conservative (PC) electoral candidates in Toronto, Mississauga, Ottawa, London, Sudbury and Thunder Bay. Parents wanted to sound the alarm after spending thousands of dollars of their own money to pay for services. The Ontario Autism Coalition said the Doug Ford government had allowed a waitlist for needs-based therapy for children with autism to double its size in the past four years. The members continued to protest after Doug Ford was re-elected as Ontario premier in June 2022.
Truckers' convoy repercussions continue
For the second time in two months, Prime Minister Justin Trudeau's team cancelled a planned campaign appearance, allegedly because of the presence of "Freedom Convoy" protesters, as part of the movement that blocked downtown Ottawa for three weeks earlier in 2022. On 15th July 2022, Trudeau was on his way to the Brasserie Etienne Brule Brewery in Embrun, Ontario, when his team announced the event was cancelled after about a dozen protesters gathered across the street from the brewery, including one who was carrying a flag emblazoned with a profanity directed at Trudeau.
On 15th June 2022, a prominent member from the convoy in Ottawa pled guilty to one count of counselling to commit mischief. Other charges against him were withdrawn and he was sentenced to six months of probation, then released. He was the convoy's first major figure to plead guilty. Another organiser was arrested in Alberta for allegedly breaching bail conditions; her bail was later revoked.
Court case against protesters
CBC reported in June 2022 that over ten protesters face charges after participating in a protest in Halifax, Nova Scotia over a decision to tear down temporary housing for the homeless. The demonstration, which took place in August 2021, was violently disrupted after police were told by the city to clear public grounds of tents and temporary wooden shelters built by advocacy groups. At least26 people were charged; however, at least 12 had their charges dropped after several months. Sima Atri, co-director of the Community Justice Collective in Toronto, told CBC that excessive force has been repeatedly used against people protesting, in particular those demonstrating around issues of housing and police.
Expression
Hamilton police arrested and ticketed a Toronto-based lawyer for trespassing near a PC campaign stop on Thursday evening, but Caryma Sa'd says she was targeted for criticizing party leader Doug Ford. https://t.co/UmGmmWZv2O

— CBC Toronto (@CBCToronto) May 27, 2022
On 26th May 2022, a Toronto-based lawyer was arrested when she tried to enter a campaign rally of the PC of Ontario in Hamilton. Caryma Sa'd told news outlets she had RSVP'ed to attend the event, but was not allowed inside and staff called the police on her for trespassing. Over the last two years she has been attending political events as an observer and capturing recordings of the events. In the past, Sa'd had criticised PC leader Doug Ford and other political leaders.
Hamilton police initially said she was arrested for blocking a road and being on private property amid a protest, but the group organising the protest said this was not true and that the arrest took place before any demonstration occurred. The Criminal Lawyers' Association issued a statement saying that it was clear that "Caryma was disallowed entrance this time again, and ultimately charged, because of a difference of political ideologies – not because she was trespassing." The Association further stated:
"Those who seek public office must remember the will of the people and the right to political dissent. We reject the use of the criminal justice system, a blunt tool, as a method of stifling such dissent."
In a separate incident, a June 2022 decision by the Canadian Radio-television and Telecommunications Commission (CRTC) generated controversy and debate on the use of potentially offensive words in journalism. The decision was made in response to a complaint filed by a Montreal artist against Radio-Canada after a host and commentator repeatedly usedthe N-word on air in 2020. At the time, the commentator was discussing backlash against a university professor for citing a 1960's book with the term on the title. The complainant said the term was used repeatedly "without adequate warning and contextual discussion."
The CRTC recognised that the word was not used in a discriminatory manner, but said the public broadcaster nevertheless violated Canadian broadcasting policy objectives and values. The government agency ruled that Radio-Canada must apologise and submit a plan to ensure that it better addresses similar issues in the future. Fédération professionnelle des journalistes du Québec (Professional Federation of Québec Journalists) said the decision sets a "dangerous precedent that imposes excessive and unjustified censorship on the media." Nearly 50 professionals with Radio-Canada declared in an open letter that CRTC's decision "opens the door to the dangers of censorship and self-censorship." They said the broadcaster should appeal.
Association
NSTU President Paul Wozney says teachers have been validated by today's Nova Scotia Supreme Court ruling that Bill 75 was unconstitutional.

Read the decision: https://t.co/w84Cy7mp3R#nspoli

🧵 pic.twitter.com/nz0iPUHj0M

— NS Teachers Union (@NSTeachersUnion) June 14, 2022
In June 2022, a Nova Scotia judge ruled that a provincial law (Bill 75) which imposed a labour contract on teachers was unconstitutional. The 2017 legislation included a wage increase totalling three percent over four years and removed gains from tentative agreements that members of the Nova Scotia Teachers Union (NSTU) had earlier rejected. In addition, teachers were obliged to end their work-to-rule campaign, a labour action in which employees do no more than the minimum required by their contracts.
In the ruling, Justice John Keith found that this law violated the freedom of association. Keith stated that "at best" Bill 75 may have been a misguided attempt at fiscal responsibility by the government of former premier Stephen McNeil, but in the end it failed to respect the process of good-faith collective bargaining "and was terribly wrong." NSTU President Paul Wozney said restrictions on the ability to strike have been lifted by the court decision. However, the contractual losses for teachers remain unresolved.