Canada: provinces ban demonstrations near health facilities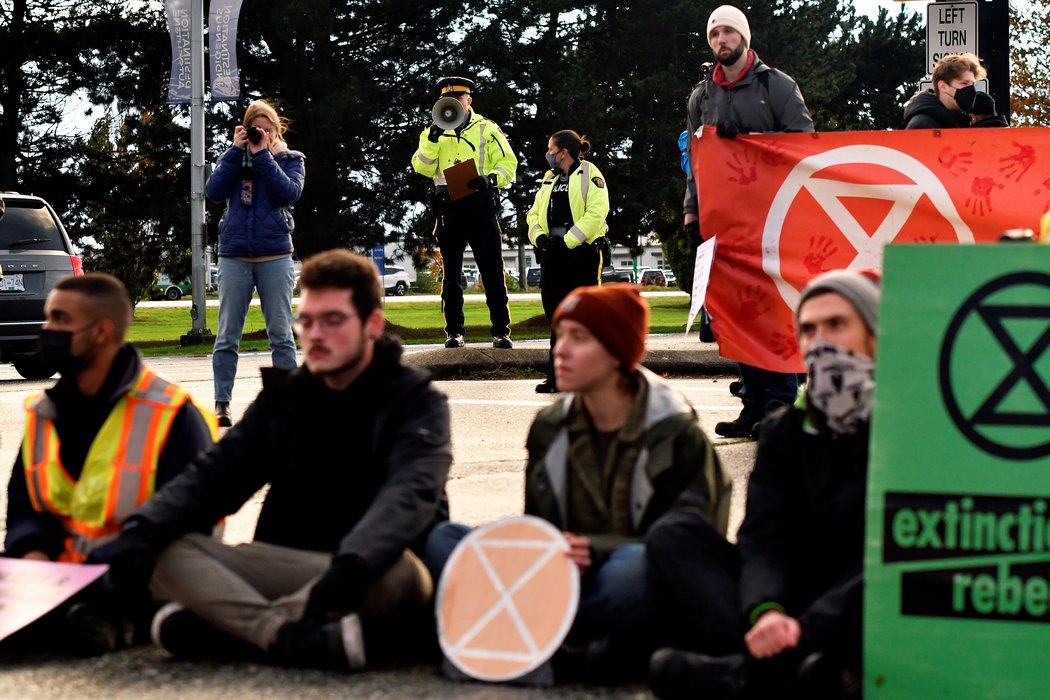 Peaceful Assembly
Absolutely massive crowd gathering at Western University for a student-led walkout to protest sexual assault and demand action from the school and community in light of a harrowing first week back. #LdnOnt pic.twitter.com/rkNlg5ciMV

— Megan Stacey (@MeganatLFPress) September 17, 2021
On 17th September 2021, 9,000 students at Western University walked out of class in protest after a series of cases of sexual assault. Many of the students had painted their bodies with the words "No" and with black handprints to protest sexual assault and gender-based violence on campus. The students were joined by faculty and community members in a show of solidarity. "Western says it protects its students, but the numbers say otherwise — 30 plus girls would say otherwise," student, speaker and survivor Teigan Elliott told the crowd. "Over the past few days, I've been asked to not confirm any numbers to the media aside from the four formal complaints. I want to take this time to remind everyone that the vast majority of sexual assaults are not reported. The vast majority of reported sexual assaults do not result in criminal charges."
In separate demonstrations on 17th September 2021, dozens of nurses protested outside the provincial legislature in New Brunswick to demand more government action to address shortages and poor working conditions in hospitals. Similar events were held in Saint John, Moncton and other cities, organised by the New Brunswick Nurses Union as part of a National Day of Action. Nurses and other healthcare workers represented by the New Brunswick Nurses Union have been without a contract since the end of 2018. "Our work situation is in crisis and something needs to be done," said the president of the union.
On 18th September 2021, hundreds of people gathered outside the Alberta legislature to oppose pandemic health measures including vaccines, vaccine passports, curfews and other measures designed to curb the spread of COVID-19. As part of the "World Wide Rally for Freedom", many in the crowd waved flags and held signs with messages like, "Give Me Liberty or Give Me Death" and "Don't Believe the Fake News." Two people were arrested and charged with assault after allegedly assaulting a mall's security staff at an anti-vaccine protest in Toronto on 25th September 2021. Similar protests took place in Winnipeg, Halifax, Vancouver and several other Canadian cities.
On 19th October 2021, hundreds of people staged a counter-protest in Ottawa while a small group of three protesters stood outside two schools with signs holding anti-trans messages. The leader of the small group had spent two days holding such messages in front of the schools, after travelling across Canada advocating against the use of hormone blockers that delay signs of puberty by children who identify as transgender. The counter-protesters surrounded the group, chanting "trans rights are human rights." Christian Wright, who organised the counter-protest, said it was "important for me as a trans person and as an organiser of a queer organisation to be out here supporting trans kids and protecting trans kids and showing them that they're loved and supported in our community."
Climate and environmental justice protests
Our message to politicians was clear: we need to phase out fossil fuels, we need Indigenous sovereignty, and we need Climate Justice. pic.twitter.com/iEDR7pntRE

— Fridays for Future Toronto (@TOforFuture) September 25, 2021
On 24th September 2021, thousands of protesters across Canada joined demonstrations to demand more government action against the climate crisis, as part of a global climate strike led by youth movement Fridays For Future. In Quebec, protesters held signs with messages like "Uproot the system." "I had really just been focusing on my own personal carbon footprint, my family, my school, but I saw that really what we need is to unite our voices to demand action from the people who can make a real difference - from our political leaders and from large companies," said one protester. At least three people were arrested at the event in Quebec. Police claimed they had allegedly assaulted an officer and made threats.
On 25th September 2021, one person was arrested and charged with mischief after 75 people with activist group Extinction Rebellion occupied an intersection in Vancouver to highlight government inaction on climate.
According to news reports, in mid-September 2021 the number of arrests made at protests against old-growth logging in Fairy Creek, Vancouver Island, surpassed 1,000. As previously reported on the CIVICUS Monitor, forest defenders have staged blockades in the area for months, and have often been met with excessive force by police.
In a positive development, on 28th September 2021 a B.C. Supreme Court justice denied an application by company Teal Cedar to extend an injunction against the Fairy Creek protests. The judge noted the significant reports of police misconduct since the injunction was originally granted. The ruling said: "methods of enforcement of the court's order have led to serious and substantial infringement of civil liberties, including impairment of the freedom of the press to a marked degree." Luke Wallace, a spokesperson for the Rainforest Flying Squad, said protesters at Fairy Creek celebrated the decision:
"We've known for a long time that the police actions out of Fairy Creek are illegal and violate the order of the injunction. This is really vindicating and encouraging to see the court standing with us in acknowledging that."
On 4th October 2021, protesters against old-growth logging also gathered outside the British Columbia legislature to call for the protection of the forest at Fairy Creek. On the same day, about 75 people rallied outside the building to oppose fracking of natural gas in the province and to call on government to stop subsidising fossil fuel companies. Supporters of the conservation group Pacific Wild also protested on the same day by delivering a petition with more than 500,000 signatures opposing the province's wolf cull programme.
Place restriction laws
Politics Briefing: Quebec introduces legislation to ban pandemic-related protests near hospitals, other facilities https://t.co/wYWOTvz1AG

— The Globe and Mail (@globeandmail) September 23, 2021
On 23rd September 2021, the Quebec government adopted special legislation that makes it illegal to protest within 50 meters of schools, day care centres, hospitals, medical clinics, vaccination sites and testing centres. Law 105 makes it illegal to organise or "incite" someone to organise protests at such venues. Those found in violation of the act will be subject to fines of CAD 1,000 to 6,000, which amount will be doubled for anyone who "threatens or intimidates a person who is going to, trying to access or leaving" these types of facilities. The law also allows a Superior Court judge to grant an injunction to either prevent a protest from taking place or stop someone from organising one. However, the law does not stop healthcare workers or school staff from protesting conditions at their workplaces.
The measures expire after 30 days, but the provincial government said it reserves the right to renew the special law while the COVID-19 state of emergency order remains in effect. The Coalition Avenir Québec said the law is a response to anti-vaccine demonstrations outside schools and hospitals.
Legislators in Nova Scotia also introduced a bill to prohibit protests around healthcare facilities and the homes of patients and employees. The legislation would create a 50-metre bubble zone around hospitals, mental health care facilities, home-care services, doctors' offices and pharmacies. The act establishes fines of up to CAD 10,000 or jail time. Similar "buffer zone" legislation was also introduced in Manitoba and British Columbia after protests were staged near health facilities. In B.C., protesters who rallied outside hospitals against vaccine card rules on 1st September 2021 allegedly verbally assaulted healthcare workers.
Association
This represents the first step in the Teamsters Canada union organizing campaign to bring Amazon to the bargaining table...
#YouAreNotAlone #Teamsters #1u https://t.co/nhzkvUUOWv

— Teamsters Canada (@TeamstersCanada) September 14, 2021
On 13th September 2021, hundreds of workers at an Amazon warehouse in Alberta filed paperwork for a union election, the first effort to unionise Amazon employees in the country. Workers at the facility in Nisku, which employs between 600 to 800 "associates," have described widespread discrimination against workers of colour and immigrants. Job security, the gruelling pace of work and low wages are also among Nisku workers' top concerns, according to Christopher Monette, director of public affairs at Teamsters Canada. Workers seek a collective agreement that would provide a long-term solution to the alleged systemic problems at the Nisku facility.
However, news reports said that after the unionisation efforts became public, Amazon began putting up messages around the facility to attempt to dissuade workers from voting in favour of a union. The same report said workers with subcontractors delivering packages for Amazon in Toronto faced retaliation after raising discussions about unionisation. A worker said 15 people were fired by one company after they tried to organise. He told news media: "When the company realised I had started to talk to the other drivers about having a union, they started an anti-union campaign. The company called an all-hands-on-deck meeting. In that meeting, the owner of the company said that "Amazon has a problem with unions so if you decide to go unionise they're just going to cut off our company and give the work to one of the other companies."