Canada: Protests against health restrictions show no signs of slowing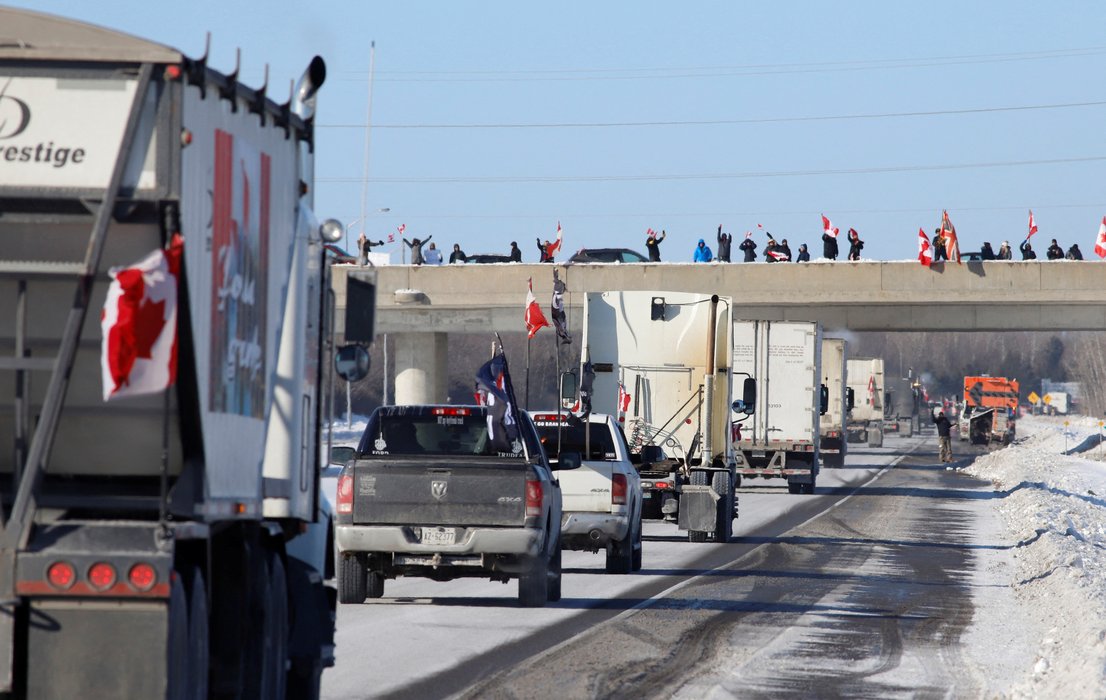 Peaceful Assembly
Protests against pandemic-related measures continue
On 1st January 2022, a pastor who has been repeatedly arrested for holding church gatherings in Calgary was arrested again after he attended a protest outside the provincial health minister's home. Artur Pawlowski and his brother Dawid were arrested on their way home from the protest, where approximately 50 people gathered for about 45 minutes on the road outside Alberta Health Minister Jason Copping's house to demonstrate against ongoing health orders and the province's vaccine passport programme. They are charged with one count of breaching a judge's order that restrained them from attending any illegal public gathering. "All Albertans have a right to protest peacefully. That right does not extend to trespassing at private homes and harassing the families of public officials," Alberta Premier Albert Kenney said in statement.
On 8th January 2022, hundreds of people in Montreal marched against health measures intended to slow the spread of COVID-19, including a provincial curfew and the expansion of the vaccination passport. Most of the demonstrators did not wear a mask and many waved flags and held signs criticising the health measures put in place by the provincial government. One week earlier, dozens of people in Montreal were cited by police for violating curfew.
On 10th January 2022, five people were arrested for failing to leave a grocery store in British Columbia and many more were issued tickets during a "Maskless Monday" protest. Police were called to the store after reports of intimidation of employees and customers by those participating in the demonstration. Those ticketed under B.C.'s Emergency Program Act face fines up to $230.
Similarly, on 17th January 2022, dozens of truck drivers in Manitoba participated in a demonstration on Highway 75 near the border with the United States to protest vaccine mandates. New federal rules mandate that Canadian truck drivers returning from the U.S must quarantine for nearly two weeks if they're not vaccinated. Meanwhile, the U.S. has also established that all drivers heading into the country must be vaccinated. "This is put on by truckers, but we are calling to end all mandates for every single human being in this country, not just for us. It's extremely frustrating," said one driver who participated in the convoy. They were joined by drivers in other provinces.
In a separate but related development, the Newfoundland and Labrador government vowed to pass legislation to prohibit demonstrations within 50 metres of a health clinic or school, following a recent protest in St. John's that forced a vaccine clinic into lockdown. "If passed, this legislation will prohibit interference, besetting, physically interfering with or intimidating service providers and users of health and education facilities," a statement said. The Department of Justice said the new proposed law, which government plans to introduce during the spring sitting of the House of Assembly, is "intended to balance the right to peaceful protest with the right of individuals to access health and education services free from physical threats and emotional upset." Several Canadian provinces have adopted similar legislation.
Environmental protests
My photos from today's action on TransCanada hiway downtown #Nanaimo, done by Save Old Growth. They blocked southbound traffic. I saw 3 people removed by police, 1 put in paddy wagon (Robert Fuller). #SaveOldGrowth #SaveFairyCreek #WorthMoreStanding pic.twitter.com/zZnaP6Uh8g

— Kim Goldberg (@KimPigSquash) January 17, 2022
On 17th January 2022, about 30 people blocked an intersection of the Trans-Canada Highway in Revelstoke, British Columbia, to protest against old-growth forest logging in the region. The activists held signs criticising deforestation and encouraged people to call the Ministry of Forests to complain. The group was met with a mixed response, as some motorists honked their horns in support, while one person set off a flare gun while driving by. The police disrupted the protest before any arrests were made. Similar protests in Nanaimo and Vancouver ended with arrests.
One week earlier, environmental activists with the Save the Old Growth campaign pledged to block the Trans-Canada Highway in B.C. multiple times to protest old-growth logging in the province. "We are declaring the Trans-Canada Highway a site of permanent nonviolent civil resistance," one of the organisers said.
Expression
We are grateful to Toronto City Councilors and Mayor @JohnTory for pitching in against the legal fight for Bill 21. Let's work together to abolish this discriminatory law. pic.twitter.com/qDiYZRDnZi

— Muslim Association of Canada (MAC) (@MACNational) December 18, 2021
On 16th December 2021, Toronto's city's council voted to help fund the legal challenge against Quebec's Bill 21, which prohibits some civil servants from wearing religious symbols. Both Toronto and Brampton voted to give C$100,000 to three organisations that are challenging Bill 21 in court. The legal challenge is being conducted by the National Council of Canadian Muslims, the World Sikh Organization of Canada, and the Canadian Civil Liberties Association. In a related story, the Prime Minister and other leaders criticised the use of Bill 21 to remove a Grade 3 teacher in Chelsea for wearing a hijab. Fatemeh Anvari's removal sparked protests at her school where students and employees wore green ribbons and put up posters in solidarity with her.
On 13th December 2021, a man accused of assaulting a photojournalist during a Trump rally in Vancouver has been criminally charged with assault. Chris Savva was among those at a small protest in front of the Vancouver Art Gallery on 6th January 2021, where he allegedly punched CBC News staff photographer Ben Nelms. The rally was one of several smaller protests that broke out across parts of North America after rioters stormed the U.S. Capitol to interrupt the certification of U.S. President Joe Biden's election victory.