Canada: protests against COVID-19 restrictions as country struggles with new wave of infections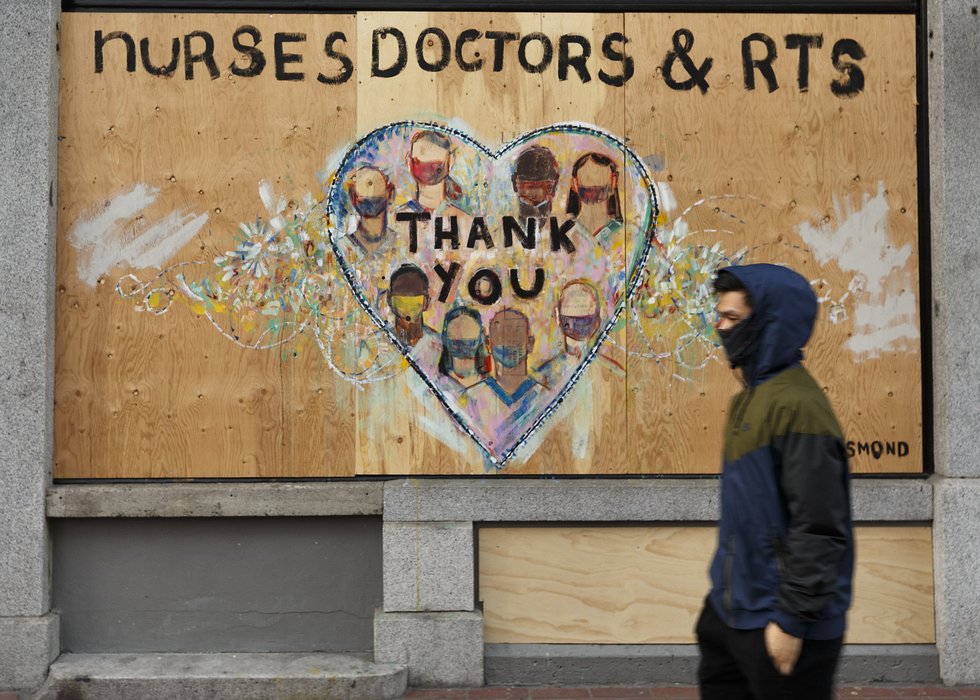 Peaceful Assembly
Coronavirus-related
We're in #Aylmer all day today covering an anti-lockdown "Freedom March" later this afternoon. This morning, some locals are already out advocating for mask wearing and social distancing as part of a counter-protest. pic.twitter.com/sUZ8z6yz1F

— Max Martin (@MaxatLFPress) November 7, 2020
On 7th November 2020, about 2,000 people demonstrated in Aylmer, Ontario, to express their opposition to facial coverings and social distancing rules implemented by the provincial and federal governments in response to COVID-19. The event was organised by local residents with support from faith-based groups that have argued against public health measures. Many held signs with messages like "I would rather die from COVID than from loneliness," and chanted "Freedom is essential". The rally attracted groups from outside the community. Several attendees were not wearing masks, leading the mayor to declare a state of emergency. The police reportedly arrested the protest's organiser and charged her with four counts of failing to comply with regulations under the Reopening Ontario Act, including two counts of hosting a public gathering that exceeds the number of people permitted.
Organisers of a similar anti-mask rally that drew about 200 people in St. Thomas on 14th November 2020 were also arrested and face charges. On 28th November, the same day that Alberta recorded a peak in daily COVID-19 cases, a rally drawing hundreds of people was held in Calgary to protest government restrictions. Also on 28th November 2020, over 30 people at a protest against restrictions in Quebec were fined by police for violations related to public health rules and traffic laws. On 12th December 2020, hundreds of people rallied near the legislature in Edmonton and in downtown Calgary calling to end the restrictions in Alberta.
In a separate development, a Toronto church filed a constitutional challenge over Ontario's COVID-19 health restrictions, claiming they violate the Canadian Charter of Rights and Freedoms, which guarantees freedom of assembly. The church's pastor said they are following public health restrictions, including limited services to 10 or fewer people, but want to provide more services to residents in need. "At a time when many are suffering with isolation, depression and a sense of despair, the most loving thing a local church can do is throw its doors wide open while maintaining public health standards," the pastor said. Another church in Winnipeg lost a similar case in a Manitoba court and was fined for allowing drive-in worship services.
More protests across Canada
What a disgusting tactic to promise community meetings in the morning with city council & ottawa police services board and then ARREST US IN THE DEAD OF NIGHT. BETRAYAL!!!!! Show up at 474 elgin street and demand the release of our brothers & sisters #BLM #LandBack https://t.co/GaxfvsoCul

— JusticeForAbdirahman (@J4Abdirahman) November 21, 2020
On 21st November 2020, 12 people were arrested and charged with mischief in Ottawa for participating in a protest camp in support of Black and Indigenous rights. According to news reports, police raided their camp and seized their gear and possessions, including drums and religious items. The protest was organised by several advocacy groups, including the Ottawa Black Diaspora Coalition and the Justice for Abdirahman coalition, a group protesting the 2016 police killing of Abdirahman. Police officials said they gave warnings to disperse before entering the campsite, but the raid happened in the early hours of the morning and on the same day protesters were set to meet with the chair of the police services board to discuss their grievances. "That the police went ahead and removed the protesters just hours before the meeting is an act of bad faith. Charging 12 protesters with mischief contradicts the [police service's] frequent claim that they want to 'improve community relations' as it seems more like an intimidation tactic," one activist said.
In a similar development in Hamilton, Ontario, on 30th December 2020 officers removed the tents from a "Defund the Police" protest outside the city hall and issued trespass notices after the city imposed a deadline to remove the tents. According to city officials, the protesters were allowed to continue their week-long demonstration without the camping gear, and as long as the group remained smaller than 25 people. However, protest organisers argued the city used intimidation tactics and overstepped its authority by trashing tents and handing out trespass notices at Hamilton's most-used public protest space.
On 7th November 2020, about 200 people gathered at a park in Montreal to protest the police killing of a Black man, Sheffield Matthews, in October 2020 and other victims of police brutality. The killing of Matthews, who authorities said was "in crisis", raised questions about how Montreal's police approach racialised people and those with mental-health problems. "Until when are we going to keep repeating the same thing?" said Marilhan Lopez, one of the protest's organisers. "This man was in distress, and instead of being met with care, he was met with bullets."
On 12th November 2020, about 400 people gathered at Mount Allison University to protest against sexual violence on campus and demand change. The protest was organised by Michelle Roy, a recent graduate who said the school failed to punish a student who harassed and attacked her. After writing about her experience on social media, Roy received responses from more than 300 people sharing their own stories of sexual assault on campus.
On 17th November 2020, protesters blocked a rail line along the Trans Mountain pipeline route near Vancouver. Organised by Extinction Rebellion, the blockade was promoted in solidarity with First Nations who have been protesting the construction and development of pipeline projects in the region. One week later, about 75 people joined an Indigenous-led protest and blocked an access route to the Port of Vancouver to raise awareness about the dangers of climate change and to call for Canada to honour the UN Declaration on the Rights of Indigenous Peoples. "This is what we have to do. We can't sit back any more and watch our Indigenous people being treated the way they're being treated from coast to coast," said Will George, of the Tsleil-Waututh Nation.
In a separate protest on 17th November 2020, dozens of people rallied outside the Prince Edward Island legislature to call for more action on mental health and addiction services. The demonstration was organised after reported nursing shortages in the region and the closure of the psychiatric unit at a local hospital. Holding signs with messages like, "Not all illness is visible", protesters called on the government to prioritise mental health issues and continue to provide services during the pandemic.
In December 2020, protesters in multiple cities rallied in solidarity with a massive farmers' protest in India. In Toronto and Vancouver, protesters organised car caravans and gathered outside the Indian consulate to show their support for farmers in Punjab and Haryana, who have been protesting against new agriculture laws which could reduce their earnings. In Saskatoon, hundreds of people turned out at a protest on 5th December 2020.
Report on police response to anti-fracking protests
#Breaking: The RCMP watchdog has released its investigation into policing of the 2013 Mi'kmaw-led anti-fracking protests in N.B.

It concludes the use of force was "generally necessary" though some aspects of the Mounties' response were illegal
https://t.co/Yv3vfJSu6M

— APTN News (@APTNNews) November 12, 2020
On 12th November 2020, the Royal Canadian Mounted Police (RCMP) watchdog released a long-awaited report on the RCMP's response to anti-shale gas protests in Kent County, New Brunswick, over several months in 2013. The report found some of the police's surveillance practices and physical searches were inconsistent with protesters' rights. "Several incidents or practices interfered to varying degrees with the protesters' rights to freedom of expression, association and peaceful assembly," the report found. However, the report also said that most of the arrests and use of force incidents which took place at the time were reasonable and justified under the circumstances.
According to news outlets, protesters who took part in the demonstration were disappointed by the report. Environmental organisations criticised the delay in the release of findings, as well as the lack of guarantees that RCMP will act on recommendations.
Association
On 10th December 2020, a workers' union called for reforming the country's Temporary Foreign Worker Programme to improve working conditions and living standards for migrant workers. The United Food and Commercial Workers Union, which represents over 250,000 workers in food, transportation and other sectors, held a virtual press conference to release a report outlining steps to improve the programme and reduce the vulnerability of thousands of migrant farm workers.
Expression
On 1st November 2020, the Quebec Superior Court began hearing testimony in a case against Quebec's religious neutrality law, known as Bill 21, that bars public servants, including police officers, teachers and judges, from wearing religious symbols at work. The case combines four different lawsuits, which argue the legislation violates religious and expression rights. Lawyers challenging the law also argue Bill 21 is discriminatory, disproportionately affecting women by not allowing public school teachers to wear items such as headscarves.