Canada: Protest during papal visit and other demonstrations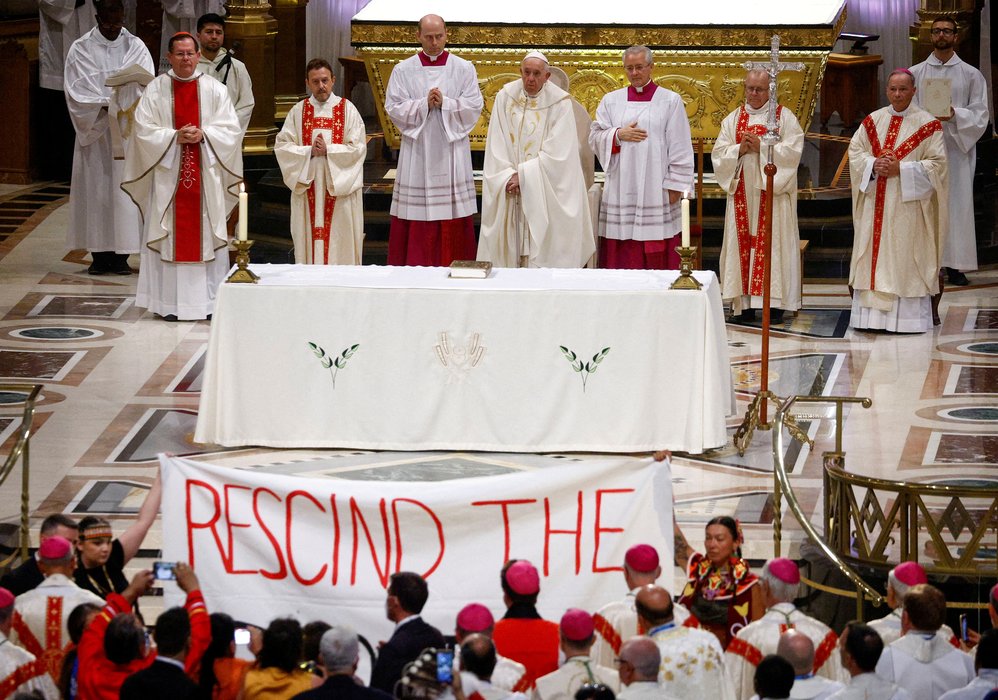 Peaceful Assembly
Thousands of migrants and allies take the streets. What do we want? Status for All! Vous écoutez @SeanFraserMP ? pic.twitter.com/gsju8LESyn

— Solidarité sans frontières #StatusforAll (@SolidariteMTL) July 17, 2022
On 17th July 2022, migrants and their supporters demonstrated in Montreal to demand the development of a regularisation programme for undocumented migrants, granting them the right to live and work legally in the country. "The real problem for migrants is they don't have any access to health care and a lot of them are exploited and you got some violence against women and you can't bring it out because they're afraid of being deported or detained," said an activist with Solidarity Across Borders, organiser of the protest.
Separately on 17th July 2022, people supporting Ukraine called on Prime Minister Justin Trudeau to "be brave like Ukraine" and uphold economic sanctions against Russia. The protest was in response to the announcement that Canada had agreed to grant an exemption to the economic sanctions issued against Russia in response to the invasion of Ukraine, allowing six turbines which were in Montreal for repairs to be returned to Germany for use in the Nord Stream 1 pipeline.
On 23rd July 2022, Freedom Fighters Canada staged demonstrations in solidarity with Dutch farmers who have protested their government's plan to curb nitrogen oxide emissions by 50 per cent by 2030. They held "slow roll" demonstrations in about a dozen cities, including Toronto, Ottawa, Edmonton, Calgary, Winnipeg and Vancouver. Members of Freedom Fighters Canada said the demonstrations were organised to show their opposition to the adoption of similar policies in Canada. The group is associated with the February 2022 Ottawa trucker convoy.
ICYMI: Indigenous women unfurled a "Rescind the Doctrine" banner in front of Pope Francis at Canada's national shrine.

The protest referred to a longstanding demand for a formal rescinding of papal decrees that legitimized the colonial-era seizure of Native lands and resources. pic.twitter.com/vAfQayz4jb

— DW News (@dwnews) July 30, 2022
On 28th July 2022, Indigenous protesters disrupted a church service celebrated by Pope Francis at the National Shrine of Sainte-Anne-de-Beaupre to demand the revocation of decrees that underpinned the so-called "Doctrine of Discovery". The 15th century papal decrees legitimised the colonial-era seizure of land and resources in the Americas and Africa. Right before the service began, two women unfurled a banner at the altar that read: "Rescind the Doctrine". The protesters were escorted out and the service proceeded, though the women later took the banner out of the basilica and draped it on the railing. The demonstration took place as Pope Francis travelled across Canada meeting with and apologising to Indigenous communities for the abuse at Catholic-run residential schools, where hundreds of thousands of Indigenous children were forcibly enrolled for over a century.
"Let us take the stage" Protesters voice their concerns about visas, healthcare access and so many other inequities. #AIDS2022 Opening Ceremony pic.twitter.com/pGxl0eO5ZW

— IAC - the International AIDS Conference (@AIDS_conference) July 29, 2022
On 29th July 2022, activists disrupted the opening of the International AIDS conference in Montreal to protest Canada's denial of visas to hundreds of delegates, mostly from Africa, and the inequality and lack of funding for HIV treatments. Canada's Minister of International Development withdrew from speaking at the opening, reportedly after hearing about the planned protest. Adeeba Kamarulzaman, president of the International AIDS Society and co-chair of the conference, said she was "deeply upset" and that "we know that underlying the difficulty experienced by many attendees of AIDS 2022 to enter Canada lies a broader problem of global inequities and systemic racism that significantly impacts global health".
On 15th August 2022, Indigenous rights defenders in Vancouver protested the Coastal GasLink pipeline currently under construction in British Columbia, briefly blocking traffic to raise awareness about the dangers of the project. "That is our land, that is our air and humanity should stand together to protect that for everybody," said Wet'suwet'en Hereditary Chief Na'moks.He then led several dozen people on a march downtown. The protest was part of Chief Na'moks' cross-country tour of cities and Indigenous communities to raise awareness about the pipeline and police raids on activists protesting the Coastal GasLink on sovereign Wet'suwet'en land.
In a related story, in August 2022 a coalition of environmental groups called on the Ottawa government to reject proposals to build export facilities for liquefied natural gas on the country's East Coast, saying such projects will produce "climate-wrecking emissions".
On 22nd August 2022, dozens of people in Tecumseh, Ontario protested against the continued funding of a safe, voluntary COVID-19 isolation centre for migrant workers. They shouted obscenities while a local MP spoke at a news conference in the Tecumseh Town Hall.