Canada: Natural gas pipeline project on Wet'suwet'en territory sparks national protests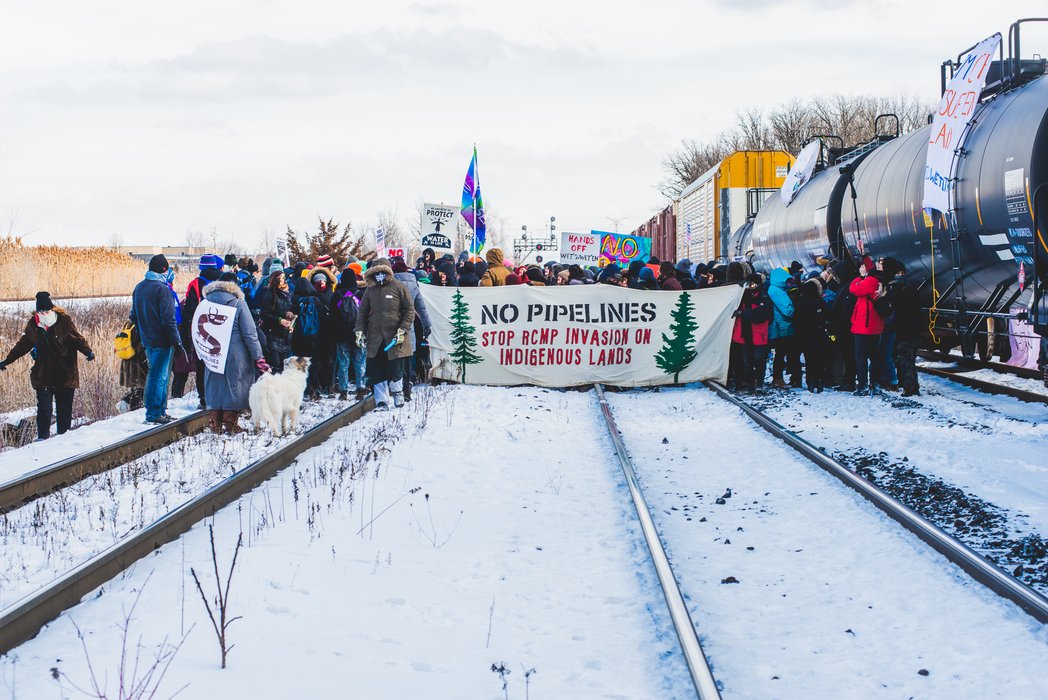 Peaceful Assembly
Repression of Indigenous demonstrators
11:07 am - Gates dismantled by RCMP. Confirmed 7 arrests.
Genocide ongoing. #AllEyesOnUnistoten #AllEyesOnWetsuweten #WetsuwetenStrong #ReconciliationIsDead #shutdowncanada #unistoten #landback #thetimeisnow pic.twitter.com/IUXWPrawH9

— Unist'ot'en Camp (@UnistotenCamp) February 10, 2020
Throughout February 2020, Indigenous-rights and environmental activists participated in country-wide demonstrations and set up blockades on major rail lines to challenge a natural gas pipeline project in British Columbia. Protests began after members of the Wet'suwet'en First Nation rejected an agreement with Coastal GasLink to build a 416-mile pipeline on their territory, setting up camps to block the pipeline construction site. Solidarity demonstrations expanded nation-wide after police used helicopters, tactical gear and dogs to enforce a court injunction to remove members of the Wet'suwet'en and their supporters from the site.
In response to defenders' arrests and reports of harassment by security agents, supporters began protesting and blocking major rail lines across the country causing widespread disruptions to rail passengers and goods. In Niagara Falls, for example, hundreds of people participated in a rally to express solidarity with the Wet'suwet'en. In Victoria, British Columbia, young people demonstrated inside the Ministry of Energy and petitioned the agency's chief to respect Indigenous rights. In Regina, Saskatchewan, a video from one protest shows a car driving through a crowd of people demonstrating on the street. According to reports, the police did not lay charges and no injuries were reported. Several journalists reported facing restrictions while covering the protests, as detailed in the "Expression" section of this update. Dozens of civil society groups and Indigenous Nations have also published solidarity statements in support of Wet'suwet'en jurisdiction and governance.
On 22nd February 2020, British Columbia's Environmental Assessment Office (EAO) gave Coastal GasLink 30 days to hold talks with members of the Wet'suwet'en while continuing pre-construction work at the site.
More protests across Canada
In January and February 2020, Canada Post employees demonstrated in multiple cities to highlight the fact that they have been working without a collective agreement for more than a year. Canada Post's back to work bill was passed in November 2018 after months of rotating strikes by workers, as reported by the Monitor at the time. In places like Montreal and St. John's, workers held protests to demand better pay and improved working conditions. The Canadian Union of Postal Workers, representing postal workers, has reportedly accused Canada Post of not negotiating in good faith. A mediator was appointed to oversee negotiations between the union and Canada Post but was unable to reach an agreement before the original deadline expired. A new deadline for arbitration has been set for 30th June 2020.
On 22nd January 2020, dozens of protesters gathered at Canada Place in Vancouver to demonstrate against a proposed $20 billion energy project in Alberta. Indigenous people were joined by members of climate activist group Extinction Rebellion and other environmental groups to voice their opposition to an oilsands mine which, if built, would be the largest open-pit mine in the country. "(The project) would mean devastation for all our wildlife we depend on," said Jean L'Hommecourt of the Fort McKay First Nation. A government review of the project found it would create significant "adverse project and cumulative effects on certain environmental components and Indigenous communities." In a similar protest, about 200 people blocked streets in Toronto on 1st March 2020 to demonstrate against the annual meeting of the Prospectors and Developers Association of Canada, which represents the interests of Canadian mining companies. "Toronto is here to say no to business as usual with this industry continuing," one activist said.
On 25th January 2020, people continued to demonstrate against war with Iran following a U.S. airstrike that killed Iranian General Qassem Soleimani. In Montreal, protesters called the airstrike illegal. Some argue the incident ultimately triggered the killing of 57 Canadians on Ukraine International Airlines Flight 752, which was shot down while crossing Iranian airspace. Demonstrators in support of the U.S. airstrike also gathered to call for regime change in Iran. In Toronto, there were minor clashes between anti-war protesters and anti-Iranian regime counter-protesters outside of the U.S. Consulate but there were no reports of arrests.
On 22nd February 2020, hundreds of people gathered outside of the convention building where Ontario Premier Doug Ford was speaking, to protest against cuts to education and other public programmes. During the rally organised by the Ontario Federation of Labour, people waved flags and held signs with messages reading "Cuts Hurt Kids", and "Ford is a Liar" while speakers called for a general strike if their demands are not met by local officials.
Expression
The treatment of journalist Melissa Cox is outrageous.

The RCMP needs to be told it cannot arrest journalists for reporting on their actions. The conditions that she as a reporter must not return to the site are unconstitutional.https://t.co/La4rGb1KnV

— Canadian Association of Journalists (@caj) February 26, 2020
On 24th February 2020, Melissa Cox, a journalist and filmmaker, was arrested while reporting on a rail line blockade in New Hazelton, British Colombia. The blockade took place in support of Wet'suwet'en Nation land defenders, as detailed in the "Peaceful Assembly" section of this update. According to the Committee to Protect Journalists (CPJ), the reporter had her arm twisted and her work camera thrown to the ground when she was detained by police officers for allegedly refusing to leave the rail lines after police orders to do so. Cox was reportedly wearing press credentials at the time of her arrest. She was released but ordered to stay at least ten meters away from Canadian National Railway property and may face criminal charges.
In similar incidents, multiple journalists reported that they were prevented from reporting on the arrests of Wet'suwet'en people during demonstrations and were also threatened with arrest by police officers if they photographed police wearing riot gear while breaking up the peaceful protests. Filmmaker Michael Toledano said that, "…the RCMP are bullying journalists to repress images in real time." According to news reports, police detained journalists in a van so they could not enter the area where officers were arresting protesters who were blocking the entrance to a pipeline construction site in British Colombia. "All week the RCMP have been unnecessarily threatening reporters who are simply trying to perform their democratic duties," said Karyn Pugliese, president of the Canadian Association of Journalists. "Yesterday the RCMP promised to respect media rights, but today they continue to abuse their powers and blatantly disregard the law in a way that is previously unheard of in Canada and unthinkable in a democratic country."
Association
Teachers and education workers from 4 major education unions walk a picket line around Queens Park Circle. 200,000 teachers & education workers are striking across Ontario 72 school boards, affecting almost 5,000 schools across in protest of the government's cuts #onpoli pic.twitter.com/fkeDjChJ8S

— Steve Russell (@SteveRussell) February 21, 2020
Teachers in Ontario continue to mobilise against recently passed legislation limiting increases for public sector workers, which they say infringes on their collective bargaining rights. For several months, teachers' unions have been conducting strikes and holding demonstrations across the province to demand better contracts and to push back against Bill 124, which was approved by the government in November 2019, as reported by the Monitor. During two weeks in February 2020, schools were closed temporarily because of a province-wide strike and smaller rotating strikes by nearly 200,000 teachers and other school workers. The province's four major teachers' unions have been in contract talks with the provincial government for months and have vowed to picket outside schools and petition provincial representatives until their demands are met.
On 10th February 2020, a union representing nearly 2,600 forestry workers reached a deal with their employer, bringing an end to their almost eight-month-long strike over better pay and working conditions. The United Steelworkers Local 1-1937 stated that the agreement reached with Western Forest Products includes health and safety improvements and increases to life insurance and other benefits. "Our membership has stood up and pushed back against a company that was bent on breaking our local union. They picked the wrong fight, with the wrong local union," USW Local 1-1937 president Brian Butler said.
On 21st February 2020, an Ontario judge ruled that parts of a recently amended sex trafficking law, including its ban on advertisements for sexual services, violates the constitutional right to freedom of expression. In the ruling, Ontario justice McKay also found that part of the law that limits sex workers from working cooperatively with others is overly restrictive. The legal challenge was brought to court by the owners of an escort agency, who argued that the legislation denies sex workers the protections given to other societal sectors. Critics of the legislation passed in 2014 argue that criminalisation negatively impacts sex workers' health, safety and human rights, while supporters say the law protects individuals and targets the sex trade. While the ruling from a provincial court is not binding, it was considered an important precedent by critics of the current legislation.