Canada: Local and global concerns move people to rally and call on government to take action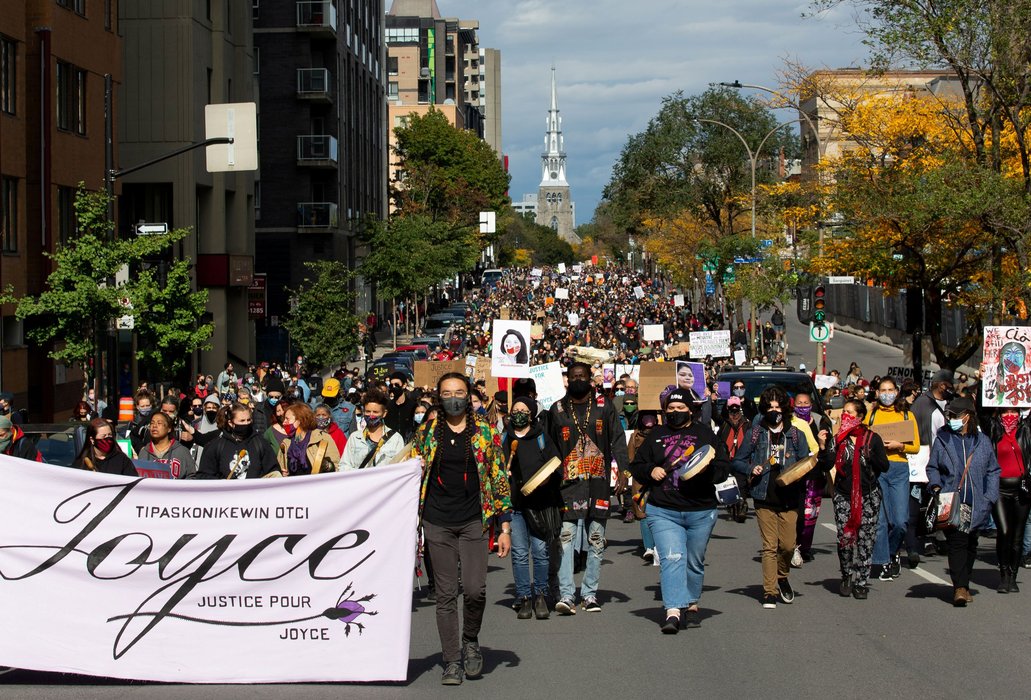 Peaceful Assembly
All eyes on Mi'kma'ki! Photos from yesterday's protest in Montreal in support of the Mi'kmaq people and the Indigenous-run fishery. The demo was organized by members of the Kahnawake Kanien'kehá꞉ka Community. #MikmaqRights #1752treaty #LandBack #cdnpoli #Indigenous #polmtl pic.twitter.com/XgY8LjlEf3

— No Borders Media (@NoBordersMedia) November 2, 2020
On 18th October 2020, hundreds of people rallied in Halifax to express support for Mi'kmaw fishers who are pushing back against commercial fishers' claims on local lobster fisheries. Protesters carrying signs with messages like "We see through your racism" and "All eyes on Mi'kma'ki" gathered in a local town square while others gave speeches about respecting Indigenous people's rights. The day before the demonstration, one of the fisheries used by Mi'kmaw fishers was set on fire – an incident under police investigation. On 1st November, another protest in support of the Mi'kmaq took place in Montreal. In September 2020, commercial fishers had protested usage of the lobster fishery, saying the Mi'kmaq were violating the terms of its use. That protest ended with minor skirmishes between opposing sides but there were no injuries or arrests.
Through the end of October 2020, thousands demonstrated in several cities to protest the conflict between Azerbaijan and Armenia over the disputed territory of Nagorno-Karabakh (also known as the Republic of Artsakh). Both countries have laid claim to the territory since the collapse of the Soviet Union, in a dispute that has escalated since September 2020. On 18th October 2020, over 2,000 Azerbaijani-Canadians and their supporters marched in Toronto to demand the removal of Armenian armed forces from the territory. On 23rd October 2020, Armenian-Canadians and their allies gathered in Calgary to call on the Canadian government to recognise the Republic of Artsakh, much of which is ethnically Armenian. On the same day, around 3,000 people, many of them from the Armenian community, protested in Ottawa to rebuke the Canadian government for supplying military equipment to Turkey, an Azerbaijan ally.
On 17th October 2020, about 200 people gathered near Calgary's Peace Bridge to protest against police brutality and corruption in Nigeria. The protesters joined calls by Nigerian mass mobilisations to "End SARS" (Special Anti-Robbery Squad), a federal police unit reportedly linked to human rights abuses including extra-judicial killings. Video of the protest shows people holding signs calling for justice and peace in Nigeria. "We are demanding for better governance," said one protester.
At least nine people were detained for protesting the expansion of the Trans Mountain pipeline in British Columbia in October 2020. According to media sources, on 15th October 2020 five people were detained for protesting near the site and two days later four women were detained for similar actions. Some of those arrested are members of the Secwepemc Nation, who have set up a camp near the Trans Mountain site to protest the construction, saying the project is being done without permission on Indigenous territory.
On 3rd October 2020, demonstrators in Montreal protested institutional racism in Canada's health-care system following the death of Joyce Echaquan, an Indigenous woman who faced insults from hospital staff in Joliette, Quebec. Shortly before she died, Echaquan livestreamed disparaging comments made by hospital staff and said she was worried doctors had given her too much morphine, which her family said she was allergic to. In the video, hospital staff can reportedly be heard calling her stupid and saying she'd be better off dead. A similar protest was held in Toronto.
On 29th September 2020, a white nationalist rally outside a shopping centre in Edmonton ended in a confrontation with anti-racist protesters, resulting in at least one arrest. According to news outlets, about 30 police officers were called to the scene to separate the two groups, of about 50 people each. The incident took place weeks after the alleged assault of an anti-racism demonstrator in Red Deer, and as RCMP investigate a hit-and-run incident at a Black and Indigenous Lives Matter protest in Ponoka in September 2020.
On 12th September 2020, hundreds of people joined the "Integrity March" in Ottawa to voice their opposition to Canada's gun control laws. The rally was organised by The Canadian Coalition for Firearm Rights, whose members say the new regulations banning firearms violate their rights and are proof of government overreach.
Also on 12th September 2020, hundreds of people demonstrated outside the office of the Ontario ministry of Indigenous affairs in support of members of the Six Nations of the Grand River who were arrested over their protest against a housing development in Caledonia, Ontario. One month earlier, police had raided a protest camp site and arrested Six Nations land defenders. As previously reported on the Monitor, an Indigenous journalist was also charged in connection with his reporting from the occupation site.
On 9th and 10th September, professors and students from several major universities rallied in multiple cities to protest against racism and police brutality. During the two-day event called the Scholar Strike, professors, staff and students walked out of the classroom to call out racism and injustice and to conduct informal teach-ins about racial inequity and violence. On 24th October 2020, about a hundred people rallied in Ottawa after a local police officer was found not guilty in the 2016 death of Abdirahman Abdi, a man with mental health issues who died after being punched several times during an arrest. Abdi's death has become a flashpoint for activists in Canada demanding police accountability.
Supporting the many #aviation workers on Parliament Hill today looking for concrete federal measures to safely restart the sector and contribute to Canada's economic recovery #SaveCanadianAviation #airlines #cdnpoli pic.twitter.com/Ak99qyMZLY

— NACC-CNLA (@NACC_CNLA) October 20, 2020
On 20th October 2020, about 250 airline workers demonstrated on Parliament Hill in Ottawa, calling on government to create a process to safely restart the industry hampered by COVID-19. Holding signs with messages like "Save Canadian aviation", pilots, flight attendants, airport staff and other aviation workers asked for help to save their jobs and financial support for the industry. They also wanted Canada to ease travel restrictions put in place to slow the pandemic from spreading. Since the start of coronavirus-related restrictions, the industry has cut back operations and several airlines have announced major job cuts.
On 17th October 2020, Ottawa police arrested two people and removed several protesters who were camping at the National War Memorial to protest the government's restrictions to stop the spread of the pandemic. Many of the protesters had been camping on the site since 1st July 2020 and, according to news media, espoused a wide range of grievances, including opposition to wearing face masks. "No camping" signs were posted at the memorial on the week before the encampment removal and the government released a statement saying, "While the Government of Canada respects the right to participate in peaceful demonstrations, on October 15 we officially notified individuals on the site that they must leave the premises through a written notice."
On 12th September 2020, thousands of people gathered in Montreal and Vancouver to protest the government's health measures adopted in response to the coronavirus pandemic. Few in the crowd wore masks, but many people held signs protesting mandatory mask measures while others showed support for Trump and QAnon. Organisers of Vancouver's March for Freedom said the rally was a protest against "government tyranny". The protest in Montreal was held on the same day that police were allowed to fine people for refusing to wear masks inside public buildings. Additionally, several unmasked protesters on a ferry in British Colombia were temporarily banned after allegedly harassing other passengers and causing a disturbance.
Expression
In September the Supreme Court of Canada released a landmark decision on a strategic lawsuit against public participation. The Court upheld Ontario's Anti-SLAPP law and provided guidance in the proper interpretation and application of the provisions. https://t.co/PMuO7IQlCn

— Can Env Law Assn (@CanEnvLawAssn) October 21, 2020
In a positive development, on 8th September 2020 Canada's Supreme Court upheld Ontario's anti-SLAPP ("strategic lawsuit against public participation") legislation, dismissing a land developer's lawsuit against the Pointes Protection Association, a civil society organisation acting on behalf of local residents. The environmental group argued that the company was trying to stop people from speaking out against a project which would affect wetlands in Sault Ste. Marie, Ontario. The Supreme Court unanimously agreed that the suit was a SLAPP. It was the first time the Court had applied Ontario's new anti-SLAPP laws, saying that this type of lawsuit is designed to curtail people's right to freedom of expression. In a case brief, the Court's official communications wrote:
"SLAPPs aren't about genuine legal claims. They are about intimidating and silencing critics. They are about getting people to settle and stop speaking to avoid the time and money it would cost to go to court."
In a separate court ruling, Yvan Godbout, a writer who was accused of producing child pornography over sections of his 2017 fictional book depicting child sexual abuse, was acquitted by a Quebec court. Godbout told the press that his goal was to reveal the terrors that transpire behind "closed doors" and to "denounce" them. A Superior Court justice ruled that certain articles of the country's child pornography laws cast too wide a net, targeting works of literature that don't endorse or promote paedophilia.