Canada: Indigenous defenders and journalists arrested in raid of protest camp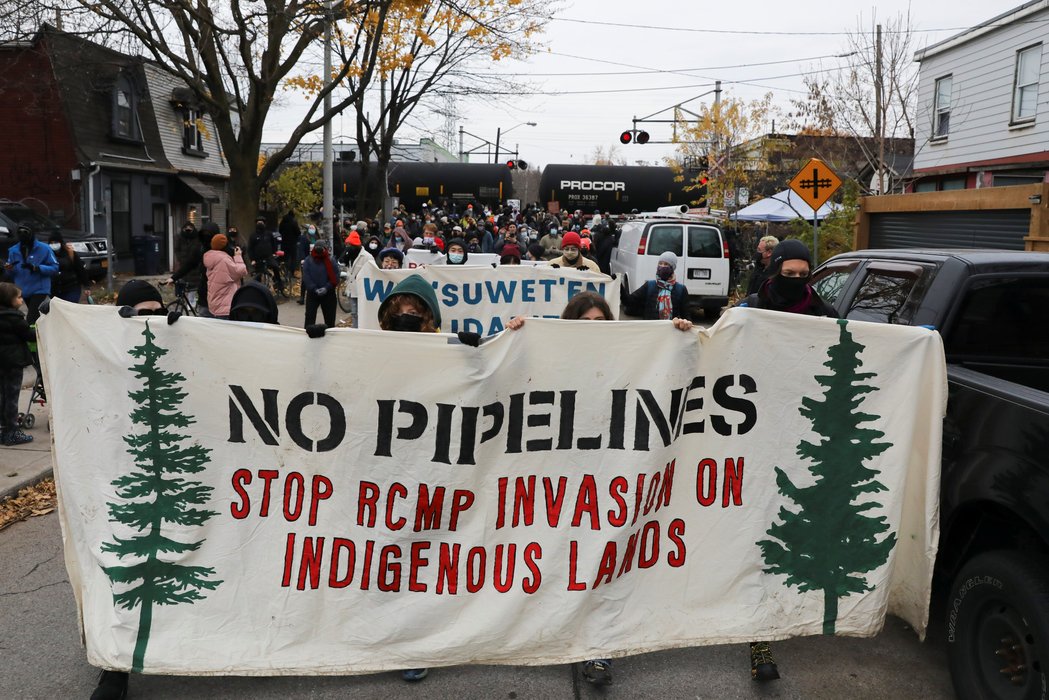 #RCMP violently raided Coyote Camp on unceded Gidimt'en territory, Nov 19, 2021, removing #Wetsuweten women from their land at gunpoint on behalf of TC Energy's proposed Coastal GasLink pipeline. #ShutDownCanada #AllOutForWedzinKwa #WetsuwetenStrong pic.twitter.com/fqyScf9Eo7

— Gidimt'en Checkpoint (@Gidimten) November 24, 2021
Peaceful Assembly
Raid of protest camp in Wet'suwet'en territory and climate protests
On 17th and 18th November 2021, new contingents of Royal Canadian Mounted Police (RCMP) officers arrived in Wet'suwet'en territory in northern British Columbia, where Gidimt'en clan protesters were blocking an access road used by Coastal GasLink pipeline workers. On 19th November 2021, the RCMP raided the protest camp and began to arrest members of the Indigenous community. Police spokespeople said they were enforcing an injunction against the protests. At least 15 people were arrested for breaching an injunction, including a photographer for media outlet The Narwhal and a documentary-maker who were reporting on the protest. Three land defenders who were detained said they were subjected to dehumanising treatment by police.
On 28th November 2021, about 100 people rallied in British Columbia in support of the Wet'suwet'en nation's opposition to the Coastal GasLink pipeline. The demonstration was one of several across Canada that followed the RCMP's raid of the Gidimt'en checkpoint in Wet'suwet'en territory. More solidarity actions were planned for December 2021.
Throughout the reporting period there were also several protests and demonstrations in support of more government action to address the climate crisis. Organised by members of the Réseau intersyndical pour le climat (Inter-union Climate Network), on 6th November 2021, environmental activists, students and officials gathered in Montreal to call for stronger action on climate change. The demonstration took place amid the COP26 UN climate summit in Glasgow.
In Vancouver on 12th November 2021, three protesters were arrested at a climate rally after people placed red handprints on the façade of the Environment and Climate Change Canada building. "We were getting ready to go for our march but some young people put washable paint with hand marks on the building and the police decided to escalate," said an event organiser. Police quickly enclosed the group and detained three people, causing protesters to push back and demand they be released. The three individuals, including a minor, were taken to Vancouver Jail but were later released pending a court appearance.
Student-led protests
Calgary post-secondary students braved the winter conditions Friday to protest rising tuition. #yyc #abpse #calgary https://t.co/fZ6tqY8sPh

— LiveWireCalgary (@LiveWireCalgary) October 30, 2021
On 30th October 2021, dozens of students at the University of Calgary held a protest to demand that the provincial government reverse budget cuts and reinstate a freeze on tuition hikes. The demonstration was part of a "Student Day of Action" across Alberta, with similar protests held at Mount Royal University, MacEwan University and the University of Alberta. "It's made life more difficult. It's made school more expensive. It's made it more difficult to budget," a student said.
In late November 2021, high school students at multiple schools in the Calgary area staged walkouts to call attention to reports of sexual harassment and assaults that they said were ignored by the Calgary Board of Education. Many carried signs with slogans saying, "No Means No" and "Enough is Enough." Some students said school officials either downplayed or ignored their complaints about groping, cat calling and sexual assault allegations. "We feel like we're not being heard, and we deserve to be heard," said one student.
International solidarity protests
Footage from today's protest in Toronto for civilian rule in #Sudan. Over 2 years ago, I was alone in Vancouver watching the revolution from afar in exile. Then I saw news of Ontario's large Sudanese protest. Two months later, I moved to Toronto and now I'm among my people again. pic.twitter.com/fZO3yMLP3b

— Amir Ahmad Nasr (@DrimaStarlight) October 30, 2021
On 30th October 2021, hundreds of people rallied in Toronto to protest a recent military coup in Sudan. Waving flags and chanting slogans, Sudanese Canadians called on the government to speak out against the arrest and killing of Sudanese civilians protesting the military's actions. "We are gathering here today to show solidarity with the Sudanese people who are fighting the recent coup in Sudan," one participant said.
On 21st November 2021, hundreds of people demonstrated near Manitoba's legislature to protest the conflict in Ethiopia and to call on the Canadian government to support the east African country. Ethiopian forces have fought the Tigray People's Liberation Front, who protesters accused of human rights abuses. Winnipeg's "No More" rally was part of several similar protests across the country in support of Ethiopia's government.
In contrast, there was also mobilisation from the Tigrayan community calling on the Canadian government to help protect the safety of people in the Tigray region of Ethiopia, and to ensure humanitarian groups are allowed passage in the conflict zone. In Ottawa, advocates called on Canada's government to open its embassy in Addis Ababa to refugees.
Labour strike in New Brunswick
Congratulations to 22,000 CUPE members in New Brunswick whose spirited and successful general strike, 5 years in the making, challenged provincial wage restraint and defended members' pension plans. Thank you for showing the way forward for all Canadian workers. pic.twitter.com/1ihT9n54dg

— MichaelHurleyCUPE (@HurleyOCHUCUPE) November 14, 2021
On 2nd November 2021, about 4,000 people demonstrated near the New Brunswick legislature in solidarity with the province-wide protests to improve workplace conditions for provincial employees belonging to the Canadian Union of Public Employees (CUPE). Many in the crowd chanted and blew noisemakers. CUPE leaders gave speeches outside the building where lawmakers were meeting.
The strike involved 22,000 government workers from the healthcare, education, transportation and agricultural sectors, as well as social workers, jail guards, court stenographers and community college employees. On 5th November 2021, New Brunswick's province issued a back-to-work order to healthcare workers, under the authority of the province's Emergency Measures Act. The union initiated a court challenge against the order, but the strike ended on 19th November 2021 after CUPE members ratified a five-year agreement with the province's government.
Protests against vaccine mandates
On 2nd November 2021, a group of people protesting COVID-19 restrictions gathered outside the private residence of a Member of the Legislative Assembly of Alberta and left a noose marked with a violent threat. "This is a shocking act of aggression, a clear threat, and a sad punctuation mark on the polarisation and anger in our society," MLA Tracy Allard wrote in a public statement.
On 7th November 2021, the organiser of an anti-vaccinate protest in Calgary was charged with mischief. Another 17 were cited under Traffic Safety Act violations for participating in a demonstration against COVID-19 public health restrictions at the Calgary International Airport on the same day. Police said the rally was part of a larger "Jam the Airports" protest across the country purportedly meant to disrupt access to various international airports.
On 11th November 2021, Remembrance Day in Canada, anti-vaccination activists organised public events in British Columbia to voice their opposition to COVID-19 vaccine mandates. Protests near monuments to war veterans upset some who had come out to observe the sombre national holiday. In Kelowna, a group disrupted an informal memorial service in City Park. In Cranbrook, the city said someone vandalised its cenotaph ahead of the day's ceremonies. The police said they were investigating and considering filing charges.
On 25th November 2021, postal workers in Peterborough carried signs reading "No Forced Jabs" and "Freedom, Not Totalitarian Control," while protesting vaccination mandates outside Canada Post's Rye Street facility. Canada Post employees were asked to attest to their vaccination status as of early November 2021. After the end of January 2022, unvaccinated Canada Post employees would be placed on leave without pay.
Restrictions on protests

On 26th October 2021, Nova Scotia passed legislation banning protests that block access to hospitals and other healthcare facilities. The Protecting Access to Health Services Act bill establishes a 50-metre "safe access bubble" around hospitals and other facilities, such as doctors' offices, where protests won't be permitted. However, an amendment to the law allows union picket lines outside these facilities. As previously reported on the CIVICUS Monitor, a number of Canadian provinces adopted or are considering similar legislation following cases of anti-vaccine protesters harassing medical staff during demonstrations near healthcare facilities.
Similarly, the Saskatchewan provincial government introduced legislation to create "safe access zones" around hospitals to protect healthcare workers and patients. Prompted by a series of protests against COVID-19 measures outside hospitals in Saskatchewan, the legislation would create a 50-metre buffer zone restricting protests around hospitals. Labour picketing would still be allowed within the buffer zone, according to the province.
Expression
The CAJ is concerned about possible violation of press freedoms against journalists currently reporting from Wet'suwet'en.

It is our sincere hope they will be allowed to do their work, in accordance with the law.

Read our letter to B.C. RCMP here: https://t.co/4LJBIPIwSN pic.twitter.com/VJro9i0wkA

— Canadian Association of Journalists (@caj) November 19, 2021
On 22nd November 2021, two journalists who were arrested amid a crackdown on protesters blocking access to a pipeline project were released on bail. Photojournalist Amber Bracken and documentary filmmaker Michael Toledano were arrested after RCMP moved in to enforce a court injunction designed to ensure access to Coastal GasLink work sites for employees. Bracken, who was on assignment for The Narwhal, and Toledano, who is working on a film about Indigenous resistance to the project, were among 15 people arrested during a crackdown on the protests.
In a statement, the RCMP claimed that the two journalists did not identify themselves when they were inside a barricaded building. During bail hearings in Prince George on 21st November 2021, however, the court heard that RCMP officers know Bracken from her work in the area, and that she was wearing badges that identified her as press. Activists and free-press advocates protested heavy-handed enforcement of an injunction against the protests by the RCMP.
A British Columbia Supreme Court judge recently ruled that the police force's expulsion zones – set up to prevent media from entering certain areas of the injunction area – were unlawful. Brent Jolly, president of the Canadian Association of Journalists, said:
"On multiple occasions, courts and quasi-judicial bodies have been clear that restrictions on media are unjustified in a free and democratic society. Whether through open defiance, or downright ignorance, the RCMP continues to act with outright impunity in defying these legal orders."