Canada: Freedom Convoy organisers have their day in court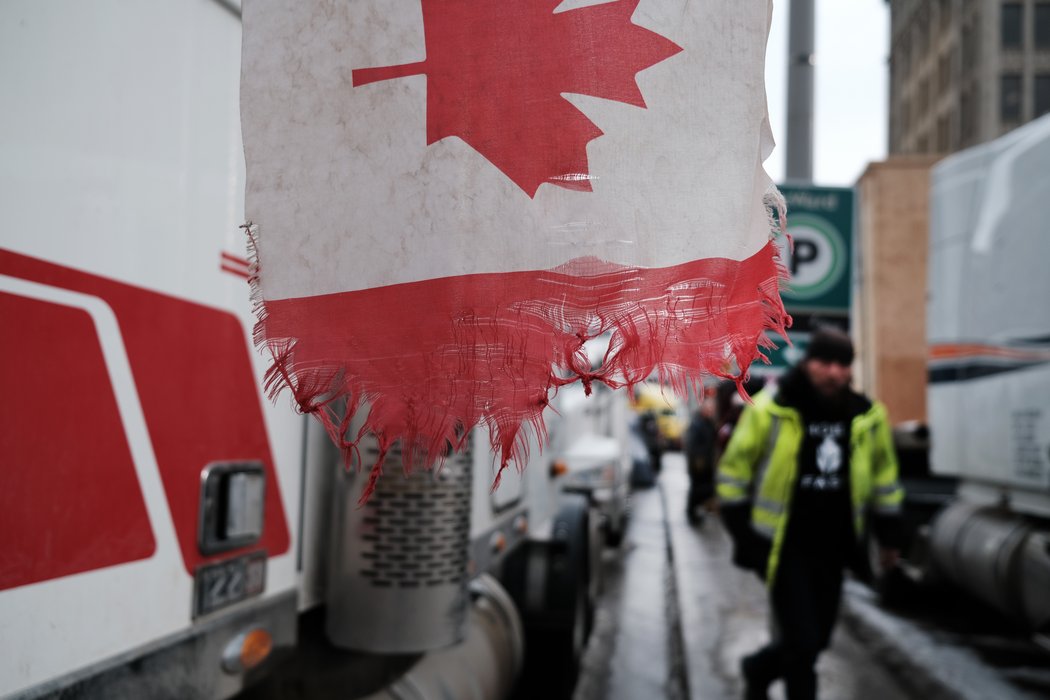 Association
Today the MAC launched a Charter Challenge against the CRA to defend the rights of Canadian Muslims and Muslim charities.

While no decision has been made against MAC, from its start, MAC's Audit has been tainted by systemic bias and Islamophobia. https://t.co/R5vA1mO5my

— Muslim Association of Canada (MAC) (@MACNational) April 13, 2022
In April 2022, the Muslim Association of Canada (MAC) announced they had initiated a Charter of Rights challenge against the Canada Revenue Agency (CRA), arguing that a multi-year audit of the charity was tainted by bias and islamophobia. MAC, one of Canada's largest grassroots Muslim organisations, said they have been cooperating with the audit since it started in 2015. However, they are now threatened with extreme sanctions that they argue are unjustified by the findings of the audit report. MAC chairperson Nabil Sultan told CBC News that the revocation of MAC's charitable status would jeopardise services the organisation provides to more than 150,000 Canadians who attend schools, mosques and community centres in its network. A recent report by the University of Toronto's Institute of Islamic Studies found that Muslim charities are disproportionately targeted for audits by the CRA.
On 22nd March 2022, nearly 3,000 employees of Canadian Pacific Railway agreed to return to work after the workers' union and the company agreed to begin arbitration around a new collective bargaining agreement. CP Rail workers with the Teamsters Canada Rail Conference (TCRC) union had begun a strike on 20th March 2022. Two dozen outstanding issues in the contract negotiations included wages, benefits and pensions. The announcement by TCRC said that, while binding arbitration was not the preferred method to negotiate their demands, the union was able to negotiate terms and conditions that were in the best interest of its members.
Peaceful Assembly
#Tibetans & #Tibet supporters gathered in front of Chinese Embassy in #Canada to mark the 63rd anniversary of the Tibetan National Uprising. The protest called for an end to Xi's war on #Tibetan language, culture and religion. #TibetUprisingDay #FreeTibet

📷@CanadaTibet pic.twitter.com/hQuewgSMSw

— Tibet Rights Collective (@TibetCollective) March 11, 2022
On 10th March 2022, dozens of Tibetans and supporters gathered near the Chinese Embassy in Ottawa to mark the 63rd anniversary of the Tibetan National Uprising. Waving Tibetan flags, protesters called for an end to aggression toward Tibetan people, culture and language and to end the Chinese occupation of traditional Tibetan lands.
On 21st March 2022, dozens of students in Toronto walked out to protest against the Ontario government's decision to end the mandatory use of masks in public spaces like schools. Students from eleven Toronto high schools took part in the protest organised by the youth-led group Ontario Students For COVID Safety. Masks are still required in some areas, including on public transport and in long-term care facilities. "Schools are a crowded space, schools are a vulnerable space, they're an essential service," one student leader said. "It's important for everyone to still wear their masks".
On 25th March 2022, people gathered in cities across the country to demand more government action to address the climate crisis. As part of the global Fridays for Future movement, activists in Montreal unfurled a red and yellow banner reading "Land Back" while also holding a teach-in on decolonisation and Indigenous sovereignty. Dozens of other events were held in Ottawa, Quebec City, Calgary and Vancouver.
In a separate development on 25th March 2022, a member of the Ontario Dump Truck Association (ODTA) was stabbed as workers in the organisation protested at a job site in Vaughan, Ontario. The injured person was taken to hospital. The ODTA said the association had been participating in job action since 21st March 2022 over labour costs and regulations. A dump truck driver was later charged with attempted murder over the stabbing, which reportedly took place as he argued with protesters.
COVID-related demonstrations continue as "freedom convoy" protesters face trial
Multiple organisers and protesters of the truck drivers' convoy against COVID-19 restrictions appeared in court or were arrested during the reporting period. As previously reported on the CIVICUS Monitor, the "Freedom Convoy" lasted several weeks in January and February 2022, eventually ending with the removal of protesters who had occupied areas in Ottawa, the Ambassador bridge and other locations.
On 7th March 2022, a judge granted bail to Tamara Lich, one of the leading organisers of the three-week convoy protest in Ottawa. Under court order, Lich must abide by several conditions, including having no contact with other organisers. She also had to post bail of CAD 25,000. Lich was arrested and charged with counselling to commit mischief. Similarly, in late March 2022 a court hearing was held in the case of two other organisers of the Ottawa demonstration.
During protests against COVID-19-related restrictions and counter protests on 12th March 2022, police officers in a Calgary suburb used force to create a pathway allowing anti-vaccine mandate protesters to move past counter-protesters. The counter-protesters said they were standing in solidarity with Beltline residents and businesses who are frustrated with the anti-mandate demonstrations taking place frequently over the past year. Using bikes, officers forcibly moved counter-protesters while allowing anti-mandate protesters to push through the officers' lines. The town's mayor questioned why bylaws weren't being enforced, calling the anti-mandate protest a "parade" that was operating without the proper permits and licences.
On 19th March 2022, six people were arrested in Calgary after they refused to leave a park that has become ground zero in the city for weekly anti-mandate rallies. Five were charged with breaching an injunction, and one of them faced an additional charge of assaulting a police officer. A sixth person was arrested on an outstanding warrant. During the demonstration, about 1,000 people gathered at the park and then marched to the city hall.
Also on 19th March 2022, police in Victoria limited vehicle access to an area around the provincial legislature, ahead of a planned protest against COVID-19 measures. Police said they were implementing "controlled access points" that would limit the number of vehicles participating in the anti-mandate protest, but not foot traffic and local vehicle traffic. Earlier in the month, organisers of the "Freedom Convoy" had vowed to bring rolling convoys to British Columbia.
On 22nd March 2022, two people were arrested and charged with harassment for their actions at protests at the home of Nova Scotia's chief medical officer of health. The charges come after three days of protests outside the home of Dr Robert Strang, which allegedly included people prank calling him until 2 a.m. Police said the two people detained were charged with criminal harassment, mischief, harassing phone calls and intimidation of a health professional. According to the police, the charge of "intimidation of a health professional" was introduced in January 2022 specifically to respond to problems arising from the COVID-19 pandemic.
On 29th March 2022, a member of Ontario's provincial parliament was arrested for his participation in the "Freedom Convoy" in February 2022. Randall Hillier was charged with two counts of mischief or obstructing property exceeding $5,000, one count of obstructing or resisting someone aiding a public or peace officer, two counts of obstructing or resisting a public officer and one count of assaulting a peace or public officer. He denies assaulting an officer.