Canada: courts consider cases with impact on civic freedoms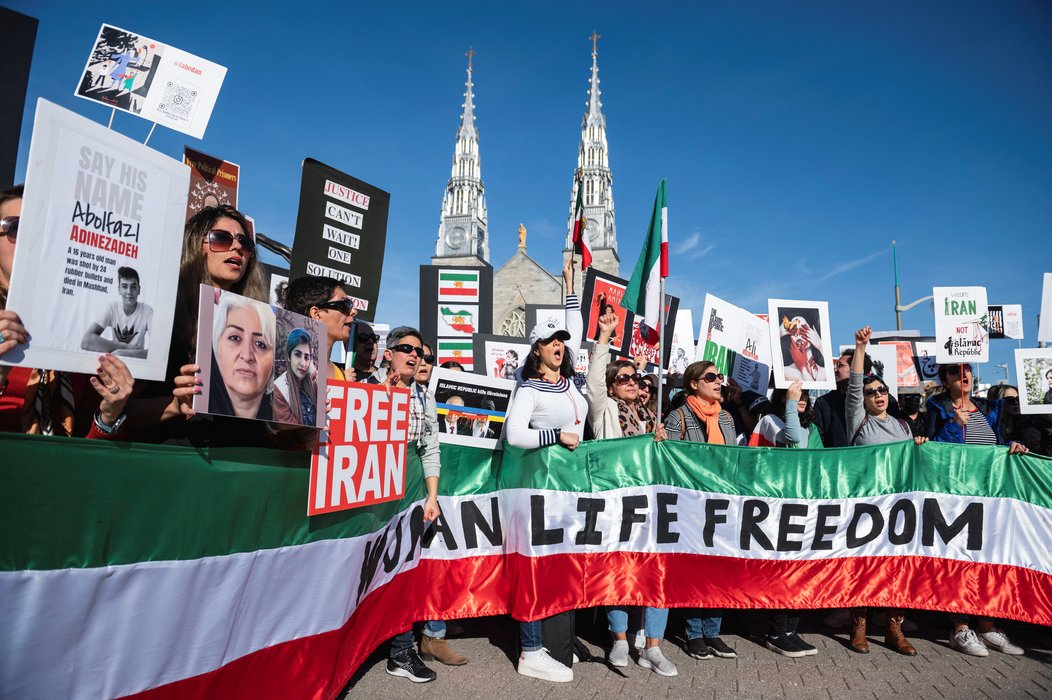 Peaceful Assembly
"I will fight until it's a free country," @ParmidaBarez told me in an interview today. Toronto is home to the 2nd largest Iranian diaspora in the world. The community has been unwavering in their support as the protests in Iran hit the 40-day mark. Story: https://t.co/1tCIABkKK7

— Tina Yazdani (@TinaYazdani) October 25, 2022
For several weeks in September and October 2022, people in Toronto demonstrated in solidarity with protesters in Iran. The city is home to the world's second largest Iranian diaspora. The demonstrators expressed solidarity with Iranian women and their supporters, who have been facing a violent government crackdown for protesting the death of 22-year-old Mahsa Amini in the custody of the morality police. Amini was arrested on 13th September 2022 for wearing "inappropriate attire." "What is happening in Iran is a tragedy, it's so brutal, but at the same time I think it was much needed because women, people in general, don't have their basic rights," said an Iranian activist and refugee who attended a protest in Toronto on 9th October 2022. On 29th October 2022, thousands of demonstrators lined the streets of Canadian cities from St. John's to Vancouver as part of a worldwide 'human chain' to show solidarity with Iranians demonstrating.
On 6th September 2022, four people were arrested at Eisner Cove in Dartmouth, Nova Scotia at a protest against the construction of a housing project on the Eisner Cove wetland. The peaceful demonstrators with environmental group Protect Eisner Cove Wetland had sat on the ground in front of heavy machinery to prevent the clearing of the site. The four protesters were charged with obstruction, and one was also charged with assaulting an officer. Dartmouth residents have protested the project's construction for several weeks.
On 18th September 2022, thousands of migrants and their supporters rallied in several cities to call on the government to develop a new pathway for undocumented migrants to become permanent residents. There were calls to implement an inclusive regularisation programme for undocumented migrants. "Living without status is dehumanising," said a young migrant at a Status for All rally in Toronto. "We don't want pity. We want action."
On 4th October 2022, police in Winnipeg arrested several demonstrators and removed a protest camp on the Manitoba legislature grounds. Police accused the protesters of having weapons but produced no evidence to support those claims. The camp had been adorned with signs and flags highlighting various issues, from the discovery of unmarked graves at residential schools to COVID-19 restrictions. The camp had been set up for months and had grown over the summer. A separate, Indigenous-led camp in another part of the grounds was also removed later in the month.
On 12th October 2022, two animal rights activists were sentenced to 30 days in jail, 12 months of probation and a fine for leading more than 200 people in an hours-long sit-in at a hog farm in 2019. Amy Soranno and Nick Schafer, who organised the protest to draw attention to animal cruelty associated with industrial animal farming, were convicted on one count of break-and-enter and mischief. Two other activists were cleared of charges related to the same protest. Soranno and Schafer said they plan to appeal the decision. In response to the sentencing decision, dozens of animal rights activists descended on Excelsior Hog Farm to demonstrate their opposition to the farm itself, and to the charges against the activists.
Public inquiry into use of Emergencies Act
WATCH: An excerpt of our opening statement at the Emergencies Act Inquiry #cdnpoli pic.twitter.com/eSifBpf00E

— Canadian Civil Liberties Association (@cancivlib) October 13, 2022
Internal documents of the Royal Canadian Mounted Police (RCMP) obtained by CBC News showed that, during the trucker convoy against pandemic restrictions in early 2022, RCMP feared that officers sympathetic to the protests might leak operational plans and cooperate with demonstrators barricading downtown Ottawa. "The potential exists for serious insider threats," said a threat advisory from the RCMP dated from 10th February. "Those who have not lost their jobs but are sympathetic to the movement and their former colleagues may be in a position to share law enforcement or military information to the convoy protests."
On 13th October 2022, an independent panel began holding hearings examining Prime Minister Justin Trudeau's use of an emergency measure in February 2022 to break up the convoy, which had blocked Canada-US border crossings and occupied downtown Ottawa. The Public Order Emergency Commission began hearing testimony from 65 witnesses, including convoy participants, Ottawa residents, law enforcement officers, municipal and provincial officials and federal government ministers. Trudeau is also expected to answer questions during the six weeks of public hearings.
Expression
#Canada: @CTVNationalNews' sudden dismissal of Lisa LaFlamme reeks of ageism & sexism prevalent against women in media. #CFWIJ stands in solidarity with @LisaLaFlamme_ & will be following parent company @BellMediaPR's internal review on the matter.

Read: https://t.co/YGlMMJdFGr pic.twitter.com/aRSQo6NzPa

— #WomenInJournalism (@CFWIJ) August 25, 2022
Allegations of sexism in the dismissal of a CTV News anchor sparked anger in Canada in August 2022. Lisa LaFlamme, who was chief news anchor and senior editor for the station, was abruptly let go by parent company Bell Media after 35 years at CTV. Days later, the newspaper Globe and Mail reported that the head of CTV News, Michael Melling, had questioned the veteran journalist's decision to stop dyeing her hair and let it go grey. In an initial statement, Bell Media said her removal as anchor was a response to "changing viewer habits" but did not respond to a request for comment on the allegations that the journalist had been fired because of her age and appearance. However, the company later said it was taking steps to initiate an independent, third-party internal workplace review. More than 70 prominent Canadian journalists, activists, politicians and artists signed an open letter condemning LaFlamme's dismissal.
In October 2022, a group representing sex workers went to court to challenge laws making it illegal to advertise or communicate about buying or selling sexual services. The legislation was enacted by the Conservative government of former Prime Minister Stephen Harper after Canada's Supreme Court struck down a prohibition on prostitution in 2013. The Canadian Alliance for Sex Work Law Reform told the Ontario Superior Court in Toronto that the new laws are more restrictive than ones they replaced, arguing that they continue to criminalise sex work, invite violence and prevent safe conversations about consent.
In a separate court case, on 12th October 2022 the Supreme Court of Canada began considering an appeal in a defamation case which puts into question the application of British Columbia's Protection of Public Participation Act. The 2019 legislation introduced changes to the law of civil procedure to protect open debate on matters of public interest, with the goal of screening out "strategic lawsuits against public participation" (SLAPPs). These are frivolous lawsuits with the intent of shutting down debate on matters of public importance.
The Hansman v. Neufeld appeal stems from a defamation lawsuit filed by a Chilliwack school board trustee against a former president of the B.C. Teachers' Federation (BCTF), after the unionist publicly denounced his inflammatory comments against a Sexual Orientation and Gender Identity anti-bullying programme. The BC Supreme Court dismissed the lawsuit, but the decision was overturned by a provincial appeals court. In regard to this case, the Canadian Civil Liberties Association (CCLA) told Canada's Supreme Court that lawsuits should not be used as means to suppress free speech, arguing that defamation law should not be allowed to discourage people from participating in democratic discussion and debate, in public or online. Rights groups also underscored that the case concerns the ability of citizens to speak out against public discourse harmful to the dignity and safety of LGBTQIA+ people.