Bolivia: controversy over alleged network of false social media accounts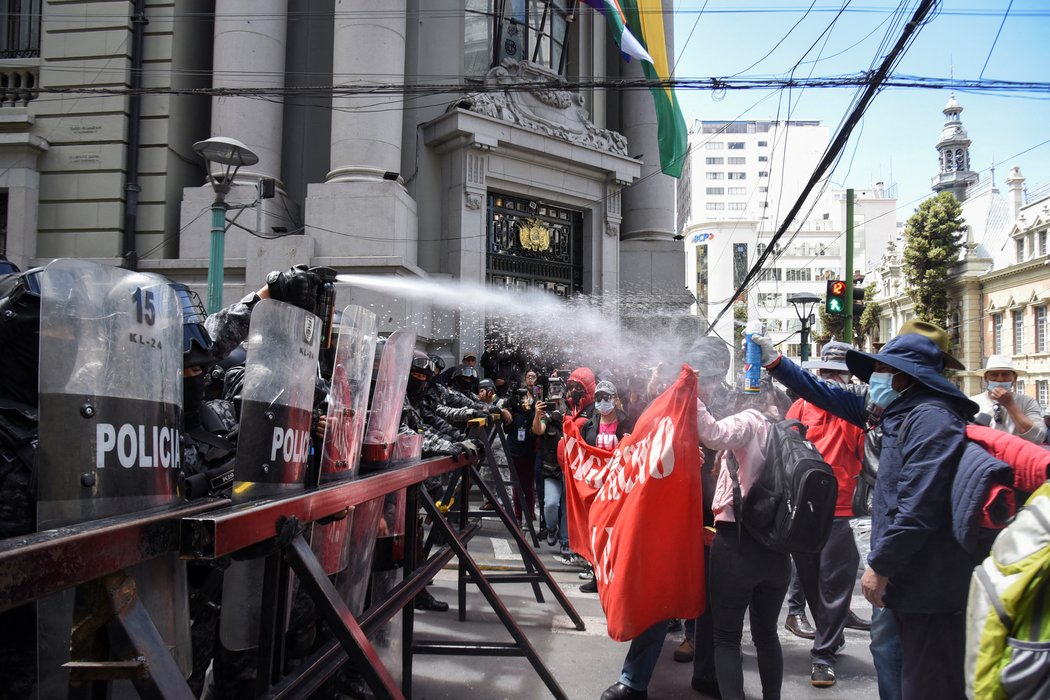 Association
725 violaciones a las libertades fundamentales en Bolivia, el 2022

Es el total de violaciones a las libertades de expresión, de asociación y de reunión pacífica, a la institucionalidad democrática y al derecho a defender derechoshttps://t.co/4xgxYym67f

— Red UNITAS (@redunitas) March 30, 2023
A report by the UNITAS Human Rights Defenders Observatory documented 725 violations of the freedoms of expression, association and peaceful assembly, democratic institutions and the right to defend rights in Bolivia in 2022. This was an increase compared to the previous two years. The most frequent violations referred to freedom of expression and the press, with 253 cases, and of peaceful assembly, with 204 cases. Common violations included detention of protesters and attacks on journalists. There were also 59 cases of human rights defenders' rights violated, in many cases with criminalisation or obstruction of their activities.
Peaceful Assembly
Teachers protest
In March 2023, teachers organised multiple protests to express their rejection of a new school curriculum, demand more teachers for public schools, and call for a higher education budget. The protesters argued that Bolivia's new curriculum includes new classes such as English and robotics, but does not assign appropriate budget for their implementation. "Robotics will be taught but there are no teachers or laboratories in public schools. These are only cosmetic changes to hide an educational crisis," said a union leader.
Hundreds of teachers marched in La Paz on 20th March 2023, during the third week of protests. Protesters paralysed roads near the Ministry of Education, where a police contingent prevented them from entering the building. Police officers used pepper spray to disperse the demonstrators.
Protests in Potosí over lithium mining plans
Separately, in March 2023 protesters in the region of Potosí blockaded a key lithium processing plant, demanding legislation guaranteeing better benefits for local communities and larger royalties from the metal's extraction. The protest was focused on a plant in Llipi, near the Uyuni salt flats, which hold one of the world's largest deposits of the metal used for electric batteries.
In December 2022, Bolivia's government announced a plan to partner with a Chinese consortium on a multi-million project to extract lithium in the region. However, the civic committee of Potosí (Comcipo) has demanded to know the details of the deal, calling for terms that favour the region's development.
Expression
Bolivian network of accounts removed by Meta
1/ Last Thursday, @Meta reported it had taken down a network of roughly 1,600 fake accounts with links to the government of @LuchoXBolivia. These accounts were used to spread official propaganda and discredit the opposition in #Bolivia. https://t.co/KRfsWFWnge

— Human Rights Foundation (@HRF) February 28, 2023
At the end of February 2023, US-based tech company Meta reported that they had removed thousands of accounts from Bolivia which had engaged in 'coordinated inauthentic behaviour.' The company detailed the removal of 1,041 Facebook accounts, 450 Pages, 14 Groups and 130 accounts on Instagram for violating their social media platforms' policies. They said these accounts focused on domestic audiences in Bolivia, and alleged that those running them had links to governing party Movimiento al Socialismo (MAS), including individuals claiming to be part of a group known as Guerreros Digitales ('digital warriors').
Meta also said this network used fake accounts to, among other things, file large numbers of false reports, including against news outlets and members of the opposition in an attempt to get them removed and silence them. Bolivia's Minister of the Office of the President, María Nela Prada, responded by saying the company should have consulted the government on these decisions and called for 'transparency and clarity' about Meta's policies. Prada said the government would request further information on the accounts' deletion.
Former President Evo Morales of MAS publicly claimed that the current government's Communication vice-minister was linked to this type of activity and had used public funds to support it. Following these reports, political group Otra Bolivia es Posible (Another Bolivia is Possible) asked the Public Prosecutor's Office to investigate allegations about this group of 'digital warriors'.
Proposed social media regulation sparks concerns
On 1st March 2023, a legislator with governing party MAS held a press conference to announce that he is working to present a social media regulation bill in Bolivia. Deputy Juan José Huanca proposed the typification of offences related to the dissemination of false news, creation of fake accounts and the use of bots. He said his proposal would be to establish penalties of up to seven years in jail for such offences. Huanca stated that the proposal was under review by MAS and that they would receive inputs before the bill's formal introduction to lawmakers.
On 25th March 2023, the National Press Association (ANP) rejected the proposal, saying aspects of the bill could lead to censorship and self-censorship. Among other things, the ANP said the draft they had received would introduce crimes 'against dignity through social networks' in the Criminal Code, including attacking the 'dignity or image' of a person or group online. The ANP said the offences proposed are already addressed in Bolivia's Criminal Code and other legislation.