Bhutan urged to repeal criminal defamation laws during Human Right Council review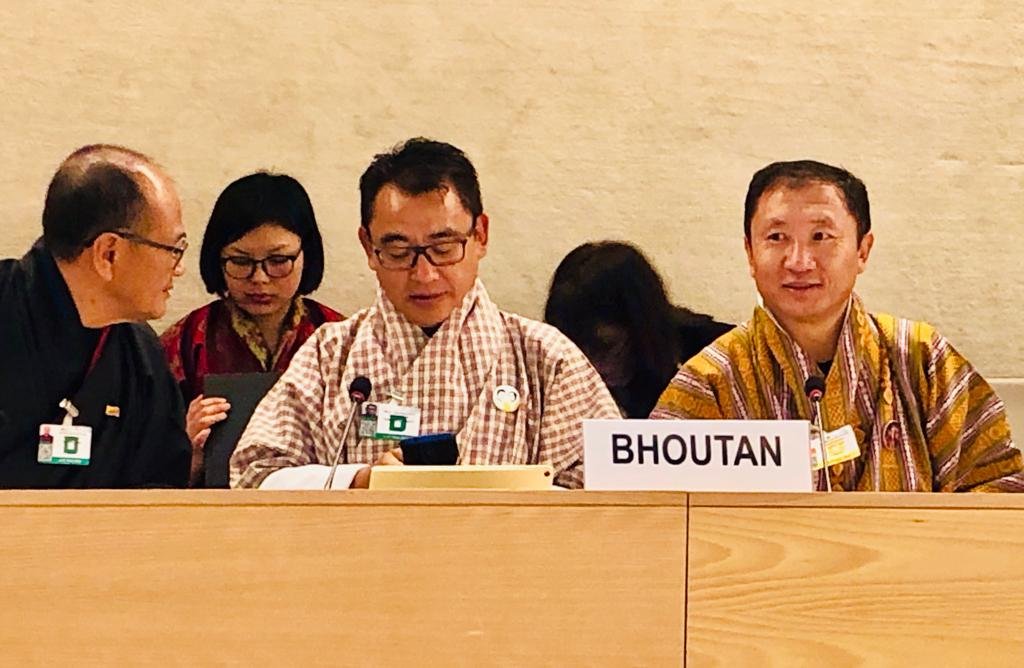 In April 2019, Bhutan's press freedom rankings improved while in May 2019 the country's human rights record was reviewed by the UN Human Rights Council where there were calls for the government to reviews its defamation laws. In June 2019, parliament made a positive move by voting to decriminalise homosexuality.
Expression
Government urged to repeal defamation provisions
In May 2019, Bhutan's human rights record was review by the UN Human Rights Council in Geneva. In the report of the Office of the United Nations High Commissioner for Human Rights to the review, UNESCO noted that defamation and libel were criminal offences under articles 317 and 320 of the Penal Code. Those offences carried a punishment of fines and a maximum of three years of imprisonment. The National Security Act (1992) also forbade criticism of the king and the political system. Bhutan was encouraged to decriminalise defamation and place it in the civil code, in line with international standards.
During the review, the US made a recommendation for Bhutan to "prevent the misuse of defamation laws to unduly constrain freedom of expression both online and offline". The recommendation was supported by the Bhutanese delegation.
The CIVICUS Monitor has previously documented the use of defamation laws in Bhutan against journalists. In August 2018, Bhutanese journalist Nirmala Pokhrel was sentenced to three months imprisonment for libel under section 320 of the Penal Code for a Facebook post about a child abuse case. In 2016, journalist Namgay Zam, formerly a news anchor with Bhutan Broadcasting Service, was charged for sharing a Facebook post written by a woman about a property dispute between her family and a local businessman.
Improvement in press freedom rankings but issues persist
In April 2019, Reporters Without Borders (RSF) reported that Bhutan's press freedom rankings had increased by 14 spots to 94th. However, the main daily newspaper, Kuensel, which is published in both English and Dzongkha, still belongs to the state, while the state-owned Bhutan Broadcasting Service lacks any legal status guaranteeing its editorial independence.
According to RSF, the level of self-censorship continues to be very high because "many journalists avoid covering sensitive issues for fear of appearing to challenge the social order". Journalists who post investigative reporting or criticism are "subject to online campaigns by political activists that combine disinformation and defamation with personal and sometimes racist attack".
Association
LGBT community welcome move to decriminalise homosexuality
Rights group hails Bhutan's move to decriminalise homosexuality https://t.co/G31raBHun6 pic.twitter.com/ZS9YCjfXH5

— Al Jazeera English (@AJEnglish) June 9, 2019
On 7th June 2019, Bhutan's lower house of parliament voted overwhelmingly to decriminalise homosexuality. The bill still needs to be passed by Bhutan parliament's upper chamber before being sent for royal assent.
Bhutanese Finance Minister Namgay Tshering had proposed to repeal the penal code provisions, saying the law, despite never being used, had become "a stain" on the country's reputation. Meenakshi Ganguly, South Asia director at New York-based Human Rights Watch said "taking steps to end the criminalisation of same-sex relationships is a welcome and progressive step by Bhutan".
Tashi Tsheten of Rainbow Bhutan that represents the country's LGBT community said:
"A lot of us cried. We are a small and marginalised community and when our rights are discussed in parliament, it makes us extremely happy."
During the human rights review at the Human Rights Council in May 2019, Bhutan was urged to ensure "non-discrimination of members of the LGBT community" and to "amend provisions of the Penal Code that are discriminatory, and that penalize relations between persons of the same sex". Section 213 of the Penal Code of Bhutan criminalises sodomy and any other sexual conduct that was against the "order of nature".
In a 2018 civil society report to the Human Right Council from Tarayana Foundation, Bhutan Transparency International (BTI) and Bhutan Network for Empowering Women (BNEW), it was reported that members of the LGBTI group RAINBOW Bhutan have experienced "suppression and harassment from the society due to lack of understanding and knowledge about LGBTI indirectly forcing the community underground". According to report this impacts on the LGBTI community and "prevents them from accessing justice to counter the injustices they suffer".