Authorities intimidate protesters and silence critics using restrictive laws in Fiji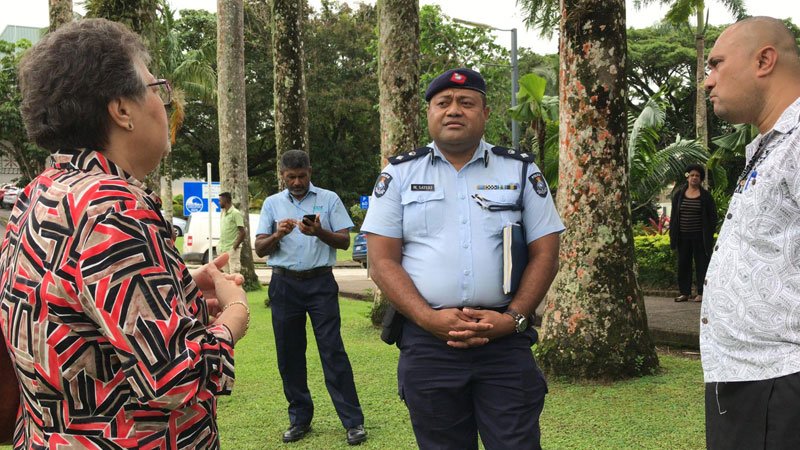 Fiji recorded its first case of the coronavirus (COVID-19) on 19th March 2020. There have been only 18 recorded cases and zero deaths, according to data from the World Health Organisation, and no new cases have been diagnosed since April.
In May 2020, Fiji's acting chief justice overturned a High Court ruling to throw out convictions handed down to people caught violating the curfew. High Court Judge Salesi Temo ruled the fines meted out by the magistrates were "too hefty, cruel, degrading and disproportionate" for the offences committed.
Over the last month, there were protests at the University of the South Pacific after the vice-chancellor was suspended because of his role in exposing mismanagement of funds and cronyism at the university. This was met by restrictions and intimidation by the authorities. Further, the judicial harassment of union activist Felix Anthony continues; a military commander justified restriction on freedom of expression during the pandemic; two people have been charged for misinformation and the office of two opposition parties were raided.
Peaceful Assembly
Civil society condemns police moves to intimidate protesters
Pacific leaders call for for 'common sense' to prevail in USP impasse https://t.co/B3cWmpDtzS #Vanuatu pic.twitter.com/8fhhIoBJAa

— Raet Lomi (@raetlomi) June 13, 2020
On 12th June 2020, Fiji's NGO Coalition on Human Rights condemned police for "heavy-handed intimidation of students and staff" at the regional University of the South Pacific.
"It is appalling to see the continued interventions and intimidation by the Fiji government and Fiji police at such a crucial time," it said in a statement. It further added:
"The NGOCHR calls on the State to stop this harassment of USP students and staff and ensure better accountability to ensure these grievances are met. The Police must also work within human rights standards and any form of intimidation is unacceptable."
According to the coalition, peaceful protests and solidarity actions had been organised within the different campuses in Fiji and the Pacific in support of suspended USP Vice Chancellor, Pal Ahluwalia, who was subsequently reinstated.
On 9th June 2020, some University of the South Pacific staff and students who were gathered near the USP Library to show support for Pal were told by police that any continuation of the protest would require a permit. The police also told protesters of the restrictions of a gathering of 20 or more people and the social distancing rule. Fiji police have also served a search warrant on Fiji Times to acquire pictures that identified protestors.
On 16th June 2020, the police questioned staff from the university, focusing on possible breaches of COVID-19 rules by participating in the peaceful protests. On 19th June, journalists were barred from entering USP as the full council met to resolve the impasse at the regional institution.
Amnesty International and CIVICUS in a joint statement on 19th June said that "under international human rights law, the right to peaceful assembly may be limited in a public health emergency, but such restrictions must be reasonable, necessary and proportionate to a legitimate aim. Given Fiji's effective response in containing cases of COVID-19 in the country, continuing restrictions on gatherings need to be specifically justified and may amount to a violation of human rights".
Expression
Judicial harassment of trade union activist continues
Magistrate Disappointed With Charges By State In Felix Anthony Case https://t.co/ezVEv1gwkF pic.twitter.com/VxRqTs4I2o

— Fiji Sun (@sun_fiji) June 4, 2020
Fiji Trades Union Congress and National Workers Union general secretary, Felix Anthony, who is facing a charge for allegedly 'making a malicious comment' appeared in the Suva Magistrate's Court on 4th June 2020.
He is alleged to have "knowingly spread abroad by word of mouth, to Fiji Times journalist Felix Chaudhary, false news relating to the expiry of Water Authority of Fiji's workers' contracts, false news which tended to create or foster public anxiety".
As previously documented, Felix Anthony was arrested ahead of a planned protest by the Fiji Trades Union Congress (FTUC) in May 2019. The protest was related to workers at the Water Authority of Fiji who had been laid off.
Anthony's lawyer told the court that the charge was vague, and he would be seeking clarification on which statement the state was pursuing in this matter as there were many statements made by his client, Anthony, between 26th April and 1st May 2019. Suva Magistrate Seini Puamau also raised concerns on the charges saying the "state prosecution brought embarrassment to the magistrate by not doing their job right". Bail for Anthony was further extended.
The judicial harassment against Felix Anthony is seen as part of a broader pattern of restrictions to weaken unions by the authorities in Fiji. The right to peaceful assembly has been arbitrarily restricted with the use of the Public Order (Amendment) Act 2014, particularly for trade unions. The Fiji Trade Union Congress was denied authorisation to hold a march at least six times between 2018 and 2019, without any valid reason and often at the last minute.
Military commander defends curbing freedom of expression
"No authority, and certainly not a military officer, should be arguing in favour of placing any kind of curb on press freedom," said Daniel Bastard, the head of RSF's Asia-Pacific desk.
RSF reminds Fiji of press freedom's importance in tackling Covid-19 https://t.co/P3HVVAmXh5

— Sadhana Sen (@sadhana_sen1) April 28, 2020
On 22nd April 2020, Brigadier-General Jone Kalouniwai, a pro-government military commander, wrote an op-ed defending curbs on freedom of expression and freedom of the press in order to enforce the lockdown imposed by the government to combat the coronavirus pandemic.
He said that "in times of such national emergency such as this [...] war against Covid-19, our leaders have good reasons to stifle criticism of their policies by curtailing freedom of speech and freedom of the press".
On 28th April 2020, Reporters Without Borders (RSF) condemned the piece. Daniel Bastard, the head of RSF's Asia-Pacific desk said:
"No authority, and certainly not a military officer, should be arguing in favour of placing any kind of curb on press freedom. We urge the Fijian government to do what is necessary to guarantee the right of its citizens to inform and be informed, which is an essential ally in combatting the spread of the virus."
In late March 2020, after the first coronavirus case was confirmed in the western city of Lautoka, police manning a roadblock outside the city prevented delivery of the Fiji Times, the country's only independent daily. Its pro-government rival, the Fiji Sun, was meanwhile distributed without any problem.
Fiji is ranked 52nd out of 180 countries in RSF's 2020 World Press Freedom Index. RSF said that the media remain "victims of government intimidation".
Two charged for Facebook posts
On 12th June 2020, a 47-year-old businesswoman was charged with one count of committing a malicious act contrary to Section 15 (a) of the Public Order (Amendment) Act.
The woman, Faith Grace, reportedly shared misinformation on Facebook that Queen Victoria School, a boarding school, would be closed by the government and teachers and current students would be relocated to other schools. She had also allegedly called for a protest against the matter. Her post was "allegedly intended to create or foster public alarm, anxiety or disaffection".
Under her bail conditions, Grace has been ordered not to obtain any travel documents and not to reoffend while on bail. The case has been adjourned to 21st September for a plea.
In another case, in April 2020, a legal consultant, Meline Buadromo was charged for violating the Public Order Act over a social media post accusing the police of being responsible for the death of a remand prisoner. Police said the man died while being transferred to the hospital from the corrections facility and was therefore in the custody of prison officials and not police. Buadromo also claimed the victim was arrested for breaching curfew but police said the man had been held on burglary charges.
UN and regional Special Rapporteurs have made clear in a joint declaration on freedom of expression and "fake news" that "general prohibitions on the dissemination of information based on vague and ambiguous ideas, including 'false news' or 'non-objective information', are incompatible with international standards for restrictions on freedom of expression".
Association
Police raid opposition political party offices 
Fiji police raid opposition party headquarters in social media blitz https://t.co/clSL75VNzh #Fiji pic.twitter.com/XOwsN3vgrf

— Raet Lomi (@raetlomi) June 9, 2020
On 9th June 2020, Fiji police raided the offices of two opposition political parties, due to anti-government social media posts.
According to reports, police raided the office of the National Federation Party (NFP) headquarters and the suspended Social Democratic Liberal Party (SODELPA) after interrogating Ferrel Khan, who is renowned for his anti-government postings on social media sites under his name and on pages such as the Fiji Exposed Forum.
Khan had claimed to have worked for political parties and individual opposition politicians and was getting paid. NFP and SODELPA have both denied that they had anything to do with Khan.
He had approached the Fijian Broadcasting Corporation (FBC) in February 2020, wanting to come clean about his dealings. Following this meeting, FBC gave Khan a pen camera and told him to bring evidence of his claims, but four months later nothing has been forthcoming.