Australia: Protesters face arrest while security laws are putting press freedom at risk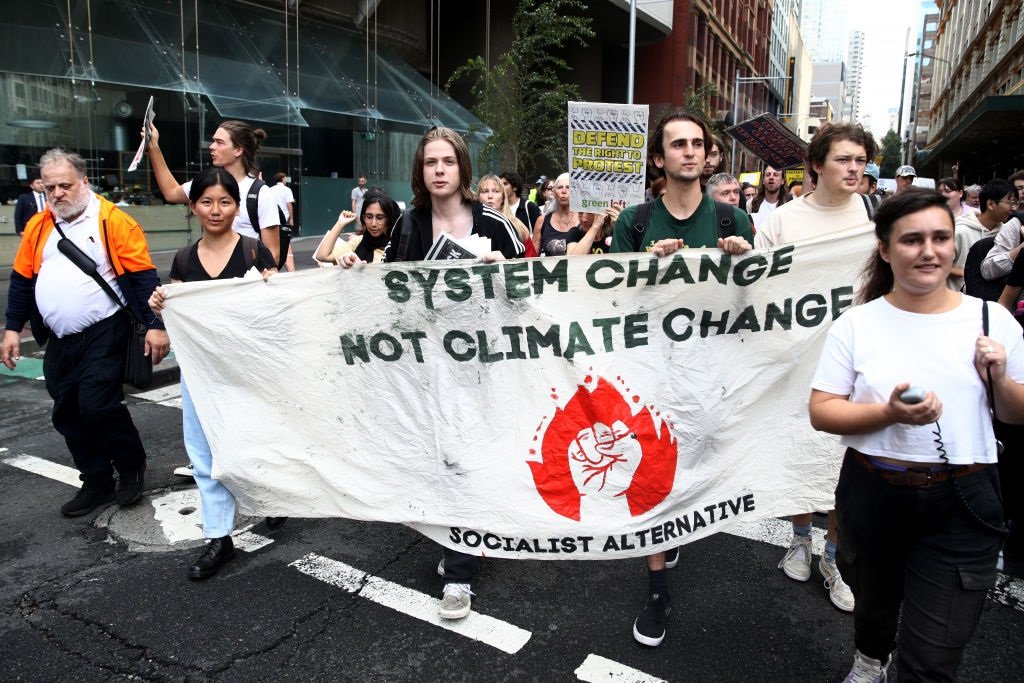 Australia remains rated as 'narrowed' by the CIVICUS Monitor in its most recent report in March 2022. Concerns highlighted in 2022 include the continued prosecution of whistleblowers, the passage of anti-protest laws which are at odds with Australia's international obligations and the arrest of climate protesters.
In February 2023, it was reported that The UN Subcommittee on Prevention of Torture (SPT) had been due to visit in October 2022 but suspended the visit after New South Wales and Queensland denied them free access to detention centres.
On 9th March 2023, the Australian Human Rights Commission launched its proposed model for a national Human Rights Act, to ensure legal protections for the basic rights of all Australians and provide avenues for redress where people's rights are breached. The proposal endorses calls made by a coalition of over 80 organisations urging the Federal Government to follow the examples set by Victoria, Queensland and the Australian Capital Territory and adopt a legally enforceable Federal Human Rights Act or Charter.
Over the last few months there have been ongoing reports of the arrest of protesters by the police, at times using very heavy-handed methods. Existing laws around foreign interference and surveillance are endangering press freedom while the media has criticised the federal court for its decision to restrict access to crucial documents. Civil society groups have also called for cases against whistleblowers to be dropped.
Peaceful Assembly
Climate protesters continue to be arrested
There continues to be reports of climate protesters in Australia being arrested by the police. On 12th January 2023, two women were arrested in Adelaide after gluing themselves to a pile of bicycles on a city street in protest against Santos being the major sponsor of the Tour Down Under cycling race. Oil and gas producer Santos is the largest company headquartered in South Australia by market capitalisation. Police charged the women from Goolwa and Hilton with unreasonably obstructing the path of a driver or pedestrian.
Activists appear in court on indecent exposure charges after Tour Down Under protestshttps://t.co/FabqYegLFy

— Greta Thunberg News (@great_thunberg) February 23, 2023
On 15th January 2023 police arrested three female climate protesters for alleged indecent behaviour at the Tour Down Under. Video footage shows partly naked women among a group of protesters standing on the side of the road holding signs and singing as cyclists and cars rode past. In a statement, climate activist group Extinction Rebellion said protesters were calling for energy giant Santos to be dumped as a Tour Down Under sponsor.
On 17th March 2023, four people were arrested following a climate protest in NSW Premier Dominic Perrottet's office. The Rising Tide Australia group posted on Twitter that 15 demonstrators had entered Perrottet's electorate office in Sydney. The group, including young people, has accused the premier of worsening climate change by approving new coal and gas projects.
Heavy-handed arrest of student protester
NSW police criticised for 'outrageous' midnight arrest of student who protested at RBA https://t.co/Zd8LxLFdex

— The Guardian (@guardian) February 21, 2023
In February 2023, the New South Wales police were criticised for a heavy-handed midnight arrest and detention of a university student over a protest that allegedly "significantly interfered" with the Reserve Bank of Australia because its doors had to be temporarily locked.
Cherish Kuehlmann, 23, a student at the University of New South Wales, said she was woken up at about 12.30am on 18th February 2023 to the sound of four or five police officers "banging loudly" on the door of her unit in Eastlakes in Sydney's inner south-east. Her arrest came after about 30 people marched into the Reserve Bank of Australia at Martin Place on 17th February 2023 to protest the cost of housing, bank profits and the Reserve Bank's monetary policy.
Kuehlmann was arrested and taken to a police station in Sydney, where she was charged with a single count of unlawful entry onto enclosed land. She said she was detained for about four hours before being released on strict bail conditions, including a ban on her travelling within two kilometres of Sydney's town hall, which would stop her from attending another protest organised.
On 1st March, a magistrate threw out what was considered "inappropriate" bail conditions imposed on Kuehlmann. The magistrate, Clare Farnan, told the court she "didn't understand" why NSW police had imposed bail given Kuehlmann had no prior convictions and was charged with an offence that carried a maximum fine of AU$5,500 (USD 3,679.87).
Protester injured by police outside Iranian Embassy
Senior leaders of the AFP have been accused of dodging questions about the arrest of Iranian-Austalian protester Hamid Sotounzadeh that reportedly resulted in the man being hospitalised. https://t.co/YzYK83ELXN

— Crikey (@crikey_news) February 14, 2023
An arrest, during which an Iranian protester was seriously injured outside the Iranian Embassy in Canberra, was referred to the Australian Federal Police's internal integrity unit. On 9th February 2023, Hamid Sotounzadeh was protesting outside the Iranian Embassy when he was arrested for failing to comply with a lawful direction. He had frequently protested at the location over the past four months.
Video from the incident shows an officer repeatedly pushing Sotounzadeh and telling him to "get back". Subsequent videos show him lying on the ground, seemingly unresponsive, and being cared for by friends and officers. He was also handcuffed. According to reports, Sotounzadeh suffered serious injuries, including three rib fractures, and was taken to the Canberra Hospital.
Climate activist's 15-month jail sentence quashed on appeal
An activist who blocked the Sydney Harbour Bridge to raise awareness about the climate emergency has successfully quashed her jail sentence upon appeal. https://t.co/boQmdLat2u

— SBS News (@SBSNews) March 15, 2023
On 15th March 2023, the sentence of climate activist Deanna "Violet" Coco was quashed upon appeal. She was issued with a 12-month conditional release order after district court judge Mark Williams heard she had been initially imprisoned on false information provided by the NSW police. She told reporters she would pursue compensation against the police after spending 13 days in prison.
In December 2022, the climate activist was jailed for 15 months with a non-parole period of eight months after a protest on the Sydney Harbour Bridge in April 2022. She had blocked a single lane of traffic on the bridge in a protest staged to draw attention to the global climate emergency.
She was the first person to be jailed under controversial New South Wales (NSW) laws passed in 2022 that introduced a possible two-year prison sentence or AU$22,000 (USD 15,257) fine for people who block major roads, bridges or ports.
At the time, Clément Voule, the UN's special rapporteur on freedom of association and peaceful assembly, said online: "I am alarmed at a NSW court's prison term against climate protestor Deanna Coco and refusal to grant bail until a March 2023 appeal hearing."
Over 220 organisations including CIVICUS also condemned the jail sentence and expressed concern about increasing repression, including the introduction of new anti-protest laws in multiple states.
Proposal for a federal law protecting protest
In December 2022, the Greens announced a proposal to introduce a bill in federal parliament 2023 that would protect the right to protest by reference to Australia's obligations at international law under the International Covenant on Civil and Political Rights.
Federal parliament would be able to pass such a law under the external affairs head of power in the Commonwealth constitution, leaving state laws that are inconsistent with the federal law vulnerable to being struck down by the High Court. In recent years, New South Wales, Tasmania, Victoria and Queensland have all passed anti-protest laws which impose severe penalties on people for engaging in peaceful protest.
Greens senator David Shoebridge said: "The right to nonviolent protest is essential in any free society, but we see politicians across the country increasingly using their positions of power to crack down on protests that threaten the fossil fuel and logging industries."
Expression
Journalists at foreign-owned outlets could face jail under foreign interference laws
#Australia🇦🇺 A new press freedom policy paper by the University of Queensland press warns that journalists working for foreign-owned news outlets could be criminalised for exposing war crimes or misuse of surveillance powers.https://t.co/R0xLPVXwwJ

— IFJ Asia-Pacific (@ifjasiapacific) October 5, 2022
A report in October 2022 found that journalists working for foreign-owned outlets could face jail under Australia's foreign interference laws for exposing defence force war crimes or misuse of surveillance powers.
The broadly-worded laws "have the capacity to criminalise legitimate journalism" and should be amended to protect public interest reporting, according to a press freedom report published by the University of Queensland (UQ). The report highlighted that current laws could be used to target journalists because the offences include "covert" conduct on behalf of a foreign principal that might influence Australian politics or prejudice national security. Recklessly doing so can attract a jail term of up to 15 years, while intentionally doing so carries a maximum sentence of 20 years.
The report said the fault element of the legislation, first introduced by the Turnbull government in 2018, "broadens the scope of the foreign interference offences beyond interference to more general harms to Australia's national security".
The author of the report, Sarah Kendall, said: "Whenever journalists liaise with confidential sources (such as whistleblowers) or use encrypted technologies (such as Signal) to communicate with sources and maintain the secrecy of certain documents, this could be covert conduct."
Report shows surveillance laws endanger press freedom
Also in October 2022, a Deakin University study involving investigative journalists and media lawyers raised fears for press freedom in Australia in the wake of tough new surveillance laws.
The research explored the impact of the Data Retention Act (2015), the Assistance and Access Act (2018), the International Production Orders Act (2020) and the Identify and Disrupt Act (2021) on the operation of a free press in Australia. Project lead Dr Diarmaid Harkin of Deakin's School of Humanities and Social Sciences said the study findings demonstrated the new legislation had pressured some whistle-blowers into silence.
Dr Harkin said: "Journalists are an important group who need to consider these laws, but these powers can also be used on lawyers, activists, politicians and political opponents as well as other individuals."
The report includes interviews with 19 investigative journalists and two media lawyers. Journalists interviewed for the study were adamant the laws did not impact the stories they chose to cover but said they had lost contact with some sources who were now too afraid to share what they know.
Journalists criticise new federal court restrictions on reporting
In January 2023, senior journalists and editors from across the media industry criticised the federal court for its decision to restrict access to crucial documents, saying the shift "contradicts the principle of open justice".
The federal court In December 2022 enacted new rules limiting access to documents for non-parties until a case's first directions hearing, a rule that would considerably delay media access to key information about proceedings. The changes were made without any consultation – a process the court justified by claiming the changes were "administrative or internal in nature".
Fifty-eight journalists from the ABC, Guardian Australia, Nine, and News Corp wrote to the Chief Justice, James Allsop, urging him to undo the changes. The letter said the restrictions would have an "extraordinary impact on our ability to do our work in providing the public with timely and accurate reports of the important work of your court".
Groups call for cases against whistleblowers to be dropped
International organisations are now taking a critical interest in Australia's prosecutions of whistleblowers David McBride and Richard Boyle. https://t.co/j5OwxX4GYh

— Drop the Whistleblower Prosecutions (@DProsecutions) November 3, 2022
In November 2022, the Whistleblowing International Network (WIN) and 17 other organisations wrote to Attorney General Mark Dreyfus to express deep concern about the ongoing criminal prosecution of whistleblowers Richard Boyle and David McBride and to urge him to take urgent steps to restore faith in Australia's whistleblowing laws.
This letter called on the Attorney General to urgently intervene to stop the injustice caused by these prosecutions and minimise the chilling effect of these cases. It is also called for the whistleblowing law to be fixed to ensure such cases can never happen again.
While working at the tax office, public servant Richard Boyle grew concerned about unethical debt recovery practices targeting small business owners. He spoke up internally and to the tax ombudsman, but his concerns went unheeded. As a last resort, Boyle went to the media. His whistleblowing has since been vindicated by three separate independent inquiries, resulting in changes to the Australian Taxation Office's debt recovery practices. Boyle is currently awaiting a court decision on whether he is protected by federal whistleblowing law. If he succeeds, the case will end, unless prosecutors appeal.
David McBride, a defence lawyer who served in Afghanistan, was concerned about serious misconduct by Australian forces, McBride blew the whistle internally, then to police, and eventually to the ABC. Subsequently, the Brereton report found credible evidence of Australian forces unlawfully killing 39 Afghan non-combatants, including innocent civilians; investigations continue into possible criminal prosecutions. McBride's whistleblowing defence was withdrawn in 2022 after an astonishing last-minute intervention by the government saw key evidence blocked on national security grounds. He will face trial later in 2023.
In January 2023, the Human Rights Law Centre, Griffith University's Centre for Governance & Public Policy and Transparency International Australia called for a comprehensive reform process to ensure stronger protections for whistleblowers.