Australia commits to press freedom reforms, better whistle-blower protection around UN review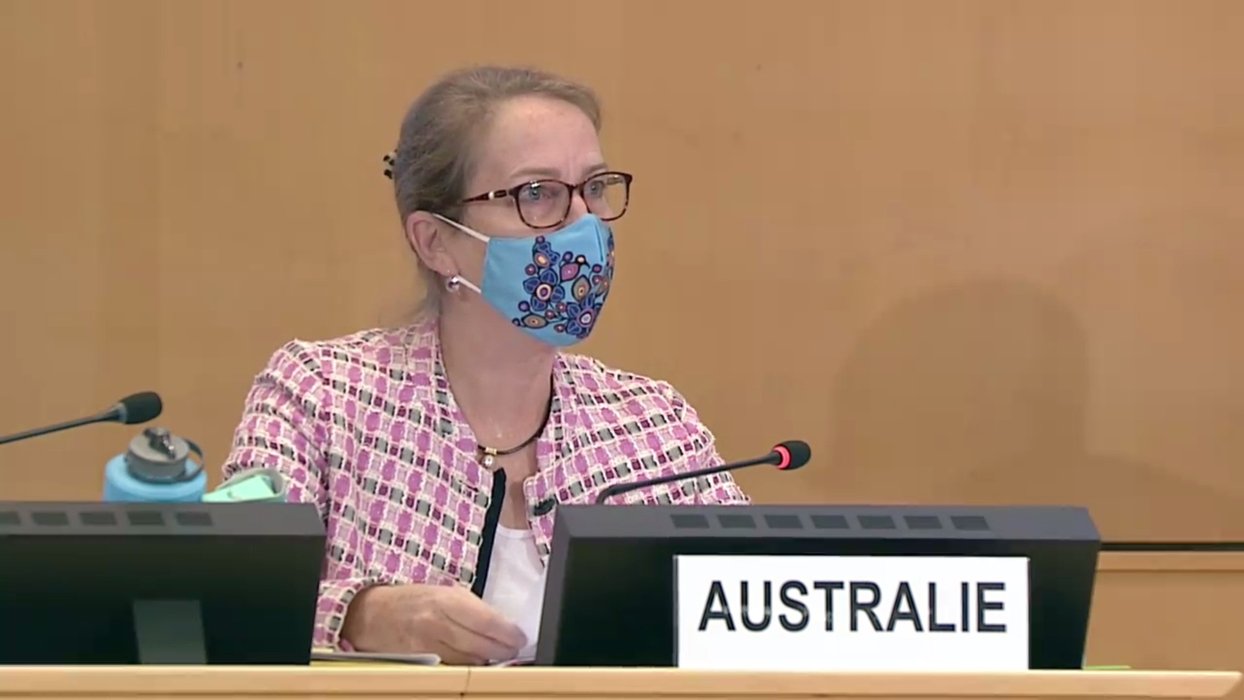 Civic space in Australia remains 'narrowed' in new ratings published by the CIVICUS Monitor in December 2020. There continues to be restrictions on civic freedoms and a growing climate of intimidation aimed at discouraging dissent. A range of problematic security laws have had a chilling effect on journalists and whistle-blowers. There have also been efforts to weaken privacy rights in the name of national security, while stricter anti-protests laws are being pushed through.
In January 2021, Australia's human rights record was reviewed by the UN Human Right Council. States made a number of recommendations related to fundamental freedoms. They include:
Continue to protect civil and political rights for all persons in Australia as well as freedom of expression and freedom of religion (Bosnia and Herzegovina);

Repeal national security laws that violate the right to freedom of expression and the privacy of journalists and whistle-blowers (Bolivarian Republic of Venezuela);

Adopt a new media Freedom Act, protecting the freedom of the press in line with the international Standard (Somalia);

Protect freedom of expression for those speaking out against government policies, including by amending national security laws that inhibit the speech of journalists, whistle-blowers and lawyers (United States of America);

Repeal laws criminalising public interest reporting and provide civil society members, human rights defenders and journalists with a safe and secure environment to carry out their work (Bangladesh);

Repeal laws criminalising public interest reporting and strengthen journalist warrant obligations (Netherlands);

Put an end to the violation of the freedom of peaceful assembly and the excessive use of force by law enforcement officials (Bolivarian Republic of Venezuela);

Amend counter-terrorism and national security legislation so that it does not unduly limit human rights, in particular freedom of expression and the right to privacy (Panama).
Other key issues raised during the review include Australia's treatment of asylum seekers and the high incarceration rates of First Nations peoples.
In recent months, the government has made commitments to adopt reforms on press freedom and whistle-blower protection following inquries. The courts have highlighted concerns on government's attempt to use national security powers to obstruct a whistle-blower engaging a barrister. Thousands came out for 'Invasion Day' protests with some arrests reported while an intelligence bill allowing for detention of children was rushed through parliament.
Expression
Government commits to adopting press freedom reforms, but concerns remain
In December 2020, Attorney-General Christian Porter said the government would adopt all 16 recommendations made by the Parliamentary Joint Committee on Intelligence and Security, following its inquiry into the impact of law enforcement powers on the freedom of the press.
The parliamentary inquiry was set up in response to the raids by the Australian Federal Police last year on the home of News Corp political journalist Annika Smethurst and the Sydney headquarters of the ABC, as previously documented by the CIVICUS Monitor.
Among the recommendations accepted was that law enforcement agencies will need a warrant from a Supreme or Federal Court judge before raiding journalists. In line with the committee's recommendations, the government will also draft new laws to expand the role of a public interest advocate to contest agencies' applications for warrants against journalists and media outlets for publication of leaked material in breach of secrecy laws. The changes will also ensure the advocate role can only be fulfilled by someone who is senior counsel, a former judge or who has served at least five years in the role.
The Alliance for Journalists' Freedom welcomed the government's move as a "good start", but said a separate Act was needed to legislate press freedom to counter the weight of national security laws passed in recent years. "A media freedom Act is needed as a buffer against all the legislation that has been created to keep Australia safe but has unfortunately weakened press freedom," said AJF chair Peter Wilkinson. ABC managing director David Anderson said the broadcaster also "remains concerned" that journalists and whistle-blowers could be raided in connection with their work.
The Media, Entertainment and Arts Alliance (MEAA), the union representing the media, said wider-reaching reform was needed. "Australia will continue to have one of the most restrictive regimes for journalism and media in the democratic world, even after the adoption of the recommendations of the parliamentary inquiry," the MEAA's Marcus Strom said in a statement.
Government intends to overhaul current whistle-blower protection laws
In December 2020, the government also responded to the Moss review of the Public Interest Disclosure (PID) Act – the heavily criticised legal regime governing whistle-blowing by public officials.
The response acknowledged deficiencies in the legal framework, and while many of the recommendations were accepted either in whole or in part, the government rejected three proposals, This includes that the procedural requirements of the PID Act be amended in order to adopt a principles-based approach to regulation.
The government also rejected a recommendation to extend the whistle-blowing regime to parliamentarians and political staff. It contended there were sufficient frameworks governing the conduct of MPs and it said its proposed national integrity commission "will also have the remit to investigate parliamentarians and their staff in relation to criminal corrupt conduct".
The PID Act allows officials to make public interest disclosures to either supervisors, a designated official in their agencies, the commonwealth ombudsman or the inspector general of intelligence and security. External public interest disclosures can be made in a narrow range of circumstances and usually only after an internal disclosure has been made.
Human Rights Law Centre Senior Lawyer Kieran Pender welcomed the government's response to the Moss recommendations. He said: "Whistle-blowers should not face prison for doing the right thing and speaking up in the public interest. Yet right now in Australia we have people facing jail time for exposing potential war crimes in Afghanistan, cynical debt recovery practices from the tax office and our Government's shameful bugging of Timor-Leste's cabinet to get the upper hand in commercial oil and gas negotiations."
Pender said given the four-year delay in responding to the Moss review and the aggressive persecution of whistle-blowers in the interim, it was vital the Morrison government moved quickly to introduce stronger protections and provide opportunity for input.
Court rules government's attempt to obstruct whistle-blower use of barrister 'unfair'
The Attorney-General's conduct in the prosecution of Bernard Collaery deserves close scrutiny. A stinging rebuke from Justice Burns in a judgment published today, via @knausc https://t.co/TDgFlK7ZKT

— Kieran Pender (@KieranHRLC) February 9, 2021
The federal government's attempt to use "extraordinary" national security powers to obstruct whistle-blower Bernard Collaery engaging a highly respected barrister in the Timor-Leste spying case was "disturbing" and "unfair", a judge has ruled.
As previously documented, in 2019 former spy and whistle-blower Witness K and his lawyer were charged under section 39 of the Intelligence Services Act with disclosing secret information about the bugging of Timor-Leste government buildings in 2004, an operation that gave Australia the upper hand in talks to carve up resources in the Timor Sea. Witness K decided to plead guilty after "six years of seclusion, harassment and questioning" but his lawyer, Bernard Collaery is fighting the charges.
Human rights groups have condemned the charge for exposing government wrongdoing, saying this case, combined with sweeping new laws criminalising unauthorised disclosures, could have a chilling effect on officials who see government corruption or wrongdoing and want to do something about it.
Collaery is appealing the decision to keep aspects of the case secret due to national security laws – a ruling sought by attorney general Christian Porter. One of Australia's leading barristers, Bret Walker, SC, who was appointed Australia's first independent national security legislation monitor, offered to represent Collaery pro bono in the appeal in December 2020.
Under the National Security Information (NSI) Act, Collaery's lawyers had to ask the federal government to approve Walker to view and handle confidential material relevant to the case. However, the government dragged their feet on this. On 9th February, Justice John Burns said the attorney general had no role in determining whether it was necessary for Collaery to engage new counsel. Burns said the decision whether to engage new counsel should be left to the client alone. Burns described the powers in the NSI act as "extraordinary" and said they should be used carefully.
Peaceful Assembly
Thousands come out for 'Invasion Day' protests
Thousands march in Australia for Indigenous recognition https://t.co/bDLS0wWCwo pic.twitter.com/ppipl5xUkG

— Al Jazeera News (@AJENews) January 26, 2021
On 26th January, thousands took to the streets in Sydney and across Australia, protesting against the controversial 'Australia Day' holiday. It marks the date the British fleet sailed into Sydney Harbour in 1788 and the start of Australia's colonisation. Branded by Indigenous peoples and its critics as "Invasion Day", it attracts annual protest rallies drawing attention to the injustices faced by Indigenous people. Protesters have also demanded that the country's national day be changed.
At least five arrests were made in Sydney for breaking COVID-19 rules at a rally attended by around 2,000 people, despite rules limiting to 500 the numbers allowed to gather. During the Sydney protest, demonstrators shouted "sovereignty was never ceded" and "no justice, no peace", and held placards and banners reading "Not a Date to Celebrate" and "Black Lives Matter".
"Until they abolish Australia Day then maybe Invasion Day will be a bit quieter," said Lizzie Jarrett, an Indigenous Australian protest organiser in Sydney. "At this moment, until this nation celebrates genocide, we will not be silent, we will not stop and we will keep coming."
Thousands more attended rallies in other cities across the country, with organisers asking protesters to maintain physical distance where possible and wear masks. In Melbourne, television footage showed several thousand people marching through the city centre, many wearing T-shirts with the Aboriginal flag, while organisers tried to ensure social distancing rules were observed. In Adelaide, an estimated 4,000 people gathered at a sit-down protest.
Association
Intelligence bill allowing for detention of children rushed through parliament
According to Save the Children, the Australian Security Intelligence Organisation Bill 2020, a bill that grants extraordinary powers but lacks safeguards, was rushed through parliament in December 2020 without adequate scrutiny.
The bill sought to expand the questioning powers of the Australian Security Intelligence Organisation (ASIO), including extending the ability to interrogate and detain children as young as 14, down from 16, which was already problematic, as previously documented.
The bill was first introduced in early May 2020 and was referred to the Parliamentary Joint Committee on Intelligence and Security (PJCIS) for scrutiny review. Throughout the inquiry process, several organisations, including Save the Children, as well as the Law Council of Australia, the Australian Lawyers Alliance and legal academics, raised concerns that the bill breached Australia's obligations under the Convention on the Rights of the Child (CRC) and lacked sufficient oversight.
When the PJCIS' report was tabled on 3rd December 2020, it recommended the bill be amended to ensure that the attorney-general took into account the best interests of the child as a primary consideration in deciding whether to issue a questioning warrant. Additionally, it recommended the reduction of the sunset clause period from 10 years to five years.
This PJCIS' recommendations were positive and aligned with Save the Children's views, but critically, the recommendation on requiring the best interests of the child did not apply in every action taken on the questioning warrant. This was a fundamental gap. It meant that when looking at the vulnerability of a child, when considering such matters as their cognitive ability, whether they have a physical or intellectual ability or their developmental status, there was a lack of attention to the best interests of the child. There was also no requirement when other major decisions were made, such as the appointment of a child's lawyer. Finally, there was no requirement that detention of children should be considered as a last resort, an obligation under the CRC.
Despite these critical child rights concerns, the bill was rushed through. Just one week after the PJCIS' report was tabled, on 10th December 2020, government amendments mirroring the PJCIS' report were put forward and passed on the same day.