Attempts to silence HRDs through arrests and imprisonment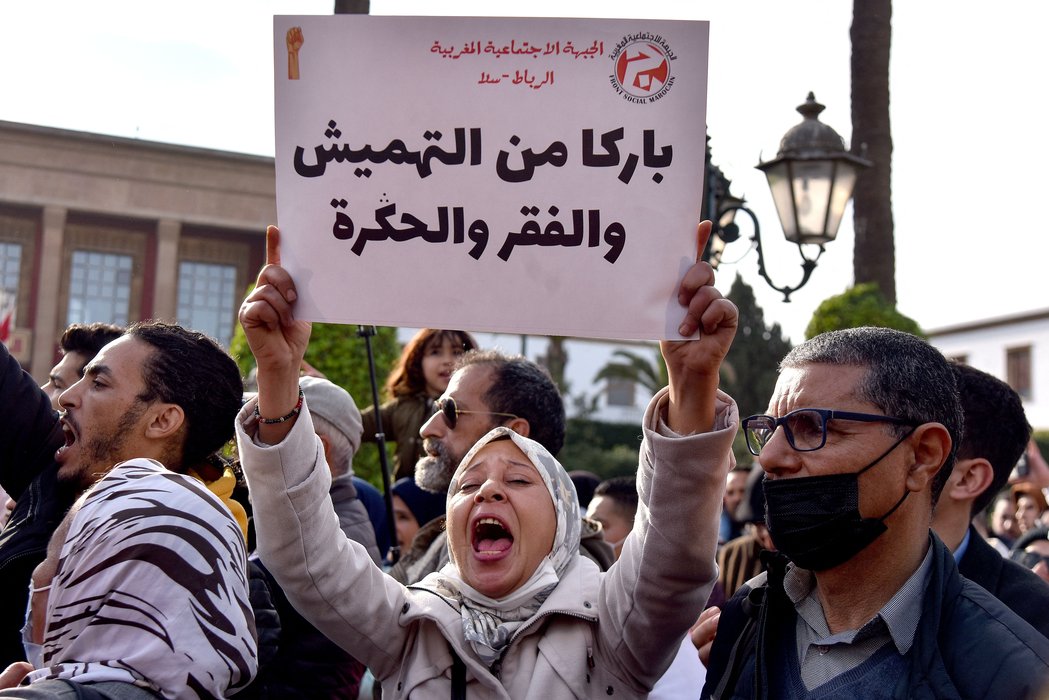 Expression
Crackdown on dissent via social media
On 23rd March 2022, blogger and human rights defender Saida al-Alami was arrested by Moroccan authorities over her social media criticism of the Moroccan government and security services. Al-Alami is accused of a number of serious violations including "insulting a body regulated by law," "insulting public officials while carrying out their duties," "contempt of judicial decisions," and "broadcasting and distributing false allegations without consent." She was sentenced by the Casablanca Court of First Instance to two years in prison.
#Morocco: Casablanca First Instance Court sentenced #Saida_El_Alami to 2 years in prison for social media posts denouncing Moroccan authorities' repression of journalists and activists.We call for her unconditional release and for dropping all charges now https://t.co/mX3c58vc9d

— Amnesty MENA (@AmnestyMENA) April 29, 2022
In a statement, Moroccan Women Against Political Detention indicated that Al-Alami is known for her critical commentary of the country's political and economic conditions, her supportive stance for political prisoners and prisoners of conscience and her rejection of tyranny and corruption. The statement added that the general political climate in which the arrest of this blogger comes is characterised by the sweeping attack on freedom of opinion and expression, the targeting of all free voices, arbitrary arrests, and the use of the judiciary to target those who are critical.
In addition, those who showed support for Al-Alami also faced restrictions. On 26th March 2022, blogger Mohamed Bouzlouf was arrested by authorities after he had expressed support for the detained activist in a Facebook post. A court sentenced him to two months in prison.
Separately, blogger and former activist of The Hirak Rif Movement, Rabih al-Ablaq was handed a four-year prison sentence for "publicly violating the duty of reverence and respect for the king's person." This comes after the activist criticised King Mohammed VI and Prime Minister Aziz Akhenoush in a Facebook post.
Authorities have also crackdown on others posting on Facebook. For example, on 9th March 2022, philosophy teacher and national secretary of the youth wing of the political party Annahj Addimocraty (The Democratic Way), Brahim Nafai, was interrogated by police for a Facebook post where he called for a boycott of fuel purchases for three days. Nafai's Facebook account was suspended after the post and when he regained access to his account the post had been deleted.
Earlier in February 2022, Abderrazak Boughanbour, ex-president of the Moroccan League for the Defense of Human Rights (LMDDH), was summoned for interrogation after sharing a Facebook post several times which called for protest for political reforms.
On the ongoing harassment of Human Rights Defenders, Amnesty International said:
"The Moroccan authorities are harassing and intimidating activists through unfounded criminal investigations and bogus charges in a shameless bid to silence critical voices and clamp down on peaceful activism…The police must stop all interrogations and prosecutions of activists that stem solely from their exercise of the right to freedom of expression," said Amna Guellali, Deputy Regional Director for the Middle East and North Africa at Amnesty International.
Pegasus spyware
In a statement during April 2022, Amnesty International revealed that human rights defender Aminatou Haidar has been hacked by Pegasus spyware. This comes after a joint investigation by AI and Citizen Lab which found that Haidar's phones contained traces of Pegasus targeting dating back to September 2018, and further traces of being hacked were recorded as recently as October and November 2021.
"The fact that Aminatou Haidar was targeted with Pegasus spyware mere months ago is further proof that companies like NSO Group will continue to facilitate human rights violations unless they are properly regulated," said Danna Ingleton, Deputy Director of Amnesty Tech.
Book promoting LGBTQI+ rights withdrawn
Despite call to decriminalise same-sex relations, article 489 of the Moroccan penal code criminalises "lewd or unnatural acts with an individual of the same sex," and same-sex relations are punishable by lengthy imprisonment and fines. In this context, a book entitled Lesbian Diaries by author Fatima Zahra Amzkar was pulled from the Rabat Book Fair by the Ministry of Culture. The move came after an online campaign using the hashtag #NotoHomosexuality called for the book to be boycotted. As quoted by Morocco World News, the author noted that
"The state has decided to take the side of people who live with darkness and intolerance. Every day I receive insults and death threats, I feel a credible threat to my life."
In a statement PEN America called for a reversal of this decision.
"Withdrawing Lesbian Diaries violates Fatima Zahra Amzkar's rights to free speech and artistic expression while also undermining the rights of LGBTQ+ communities to equality and dignity. The International Book and Publishing Fair must reverse this decision immediately." 
Prison sentences for journalists confirmed
In March 2022, Reporters Without Borders (RSF) issued a statement condemning decisions by a Moroccan appeal court which upheld a six-year prison sentence against journalist Omar Radi and a one-year jail sentence (with six months suspended) against Imad Stitou (Radi's colleague). 
#Morocco: CPJ strongly condemns the Casablanca appeals court's recent decisions to uphold the prison sentences of journalist Omar Radi and Soulaiman Raissouni.

Moroccan authorities must halt this pattern of slapping independent journalists with absurd charges. pic.twitter.com/KP4qyjv87V

— Committee to Protect Journalists (@pressfreedom) March 4, 2022
In July 2021, Radi was convicted of espionage and rape in what Amnesty International described as a "grossly unfair trial". In June 2020, AI revealed that Radi was targeted by Moroccan authorities through Pegasus spyware.
A week earlier, the Casablanca appeal court upheld a five-year prison sentence against newspaper editor Soulaiman Raissouni.
Peaceful Assembly
According to Amnesty International, five Sahrawi women activists were brutally targeted by Moroccan authorities while on their way to participate in a protest which called for Sahrawi self-determination and expressed public support for Sultana Khaya, a prominent Sahrawi activist.
The incidents which took place on 15th and 16th April 2022 in the city of Boujdour in Western Sahara, saw authorities physically and sexually assaulting the women. Amna Guellai, Amnesty International's Deputy Director for the Middle East and North Africa, said:
"These women have peacefully exercised their right to freedom of expression and assembly and yet they were brutally assaulted, leaving them with cuts, bruises and, in at least one case, broken bones."
"So far, the perpetrators have enjoyed complete impunity. Instead of seeking justice for these women, Moroccan authorities have stationed security agents outside their houses, leaving them afraid to go outside. We are urging Moroccan authorities to end the harassment and violence against Sahrawi activists, and to launch immediate, impartial investigations into all allegations of torture and other ill-treatment by Moroccan police and security agents."
Separately, on 20th February 2022, Moroccans took to the streets to protest against rising fuel and food prices and to mark the 20 February 2011 movement, which called for democratic reforms in the country.