Attacks against journalists continue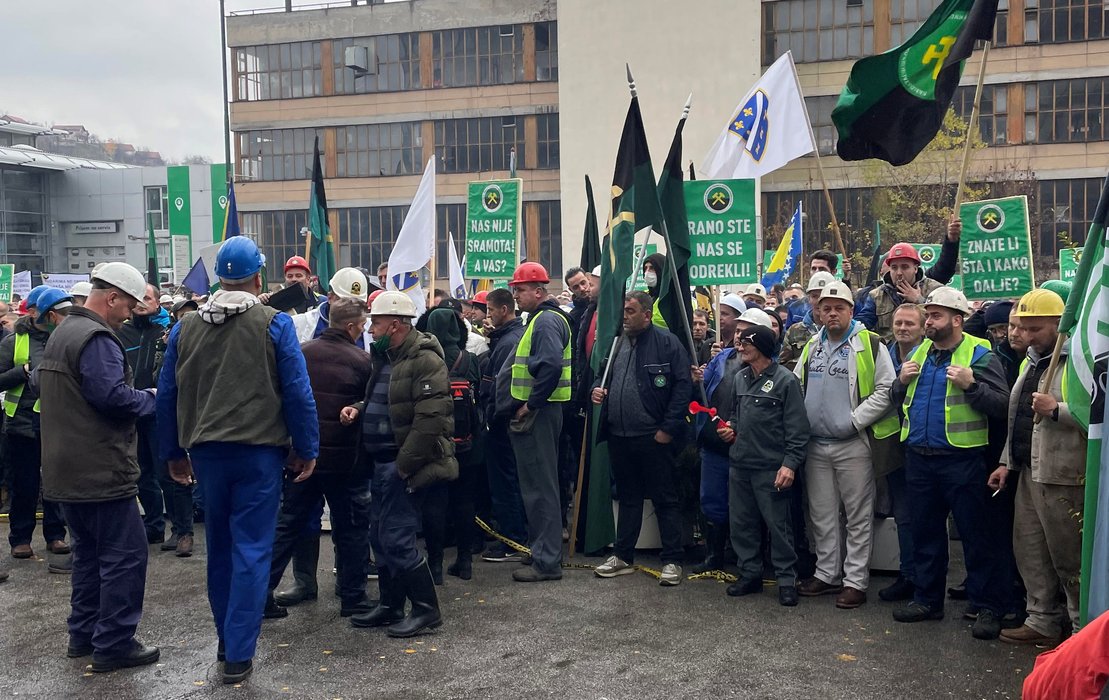 Association
According to the European Commission 2021 Report on Bosnia and Herzegovina, limited progress was made in ensuring an enabling environment for civil society. Systematic and meaningful consultation with civil society in the policy-making process is yet to be ensured. Moreover, the country needs a legal framework ensuring transparency over the distribution of public funds to CSOs. A law approved in August 2021 introduced the crime of 'offence to the reputation of Republika Srpska entity and its people', hampering the development of an enabling environment for civil society.
According to a survey by the United Nations Population Fund (UNFPA), almost half of Bosnian youth (47%) are thinking of leaving the country. Among the findings of the survey, it emerges that young people have shown low levels of political and civic engagement, such as involvement in political parties and volunteering in CSOs and NGOs. The survey shows that CSOs and NGOs are among the most trusted public institutions in BIH, although within a context of fairly low levels of trust overall.
Peaceful Assembly
According to the European Commission 2021 Report on Bosnia and Herzegovina, freedom of peaceful assembly has remained particularly problematic in Republika Srpska, since the activists of "Pravda za Davida" (Justice for David) movement continued to be subject to intimidation, fines and judicial prosecution (see previous updates).
In October 2021, a protest was held in front of the Office of the High Representative (OHR) for Bosnia and Herzegovina in Sarajevo to pressure the High Representative to take quick action after Bosnian Serb President Milorad Dodik threatened to withdraw Republika Srpska from key institutions.
In October 2021, opposition parties in Republika Srpska organised protests against the ruling party of President Milorad Dodik, accusing it of corruption and of curbing media freedom.

In November 2021, thousands of miners from seven of the 11 coal mines in the Federation of Bosnia and Herzegovina stopped working and took part in protests in Sarajevo for two days over plans for employment and wage cuts.

Residents of Petrov on Ozren held protests over the intention of the Lykos Balkan Metal company to continue exploring nickel deposits and to finally build a mine on the site, as it poses concerns over the impact on the health of locals. They also launched a petition to stop the drills.
The Banja Luka District Prosecutor's Office issued an order to suspend the investigation against Banja Luka police officers accused of physical and verbal harassment of citizens due to lack of sufficient evidence. The harassment took place in December 2018 during a protest by the group "Pravda za Davida" (Justice for David) during which protesters were arrested and clashes with the police occurred. Brane Milošević, one of those arrested for physically assaulting and injuring a police officer and sentenced to probation at the Banja Luka Basic Court, told the Balkan Investigative Reporting Network of Bosnia and Herzegovina (BIRN BiH) that, after his arrest, he was physically and mentally abused in the Banja Luka Police Department's detention unit.
Expression
According to the European Commission 2021 Report on Bosnia and Herzegovina, improvements are still needed in ensuring the protection of journalists, who are being constantly attacked both physically and verbally. During the reporting period, there was also a worrying increase in public attacks on journalists by high-level political figures. Public broadcasting remained very vulnerable from political pressure and showed a worrying trend of self-censorship. In general, journalism in Bosnia and Herzegovina has continued to remain a precarious profession.
During a conference organised by the Center for Investigative Reporting (CIN) and the Balkan Investigative Reporting Network of Bosnia and Herzegovina (BIRN BIH) which was held in Sarajevo, it emerged that media in BIH are often pressured to remove content, which is due to several factors such as an unclear and incomplete legal framework.
According to the 2021 IREX Vibrant Information Barometer (VIBE), the media system in Bosnia and Herzegovina is "slightly vibrant" with an overall score of 18/40, which means that it has a weak information system. The report noted that the COVID-19 pandemic has heavily impacted the media sector and that the quality of information has decreased overall. Moreover, it underlined the lack of a strategic approach to media literacy education and an insufficient legislative framework for the protection of personal data.
The following incidents against journalists were documented:
A journalist of the Direkt portal, Jelena Denda – Borjan has been attacked in an SMS from Ljubo Vukovi, one of the executive directors of the hydroelectric power plants on Trebisnjica and the SNSD councillor in the Assembly of Bileća. The Steering Committee of the BiH Journalists' Association and the Free Media Help Line (FMHL) strongly condemned the attack and highlighted the increasing pressure that journalists in Republika Srpska have faced in the last few months.

Milorad Dodik, the Serbian member of the tripartite presidency of Bosnia and Herzegovina attacked local television in Republika Srpska, accusing it of spreading untruths and lies and called for new regulations which would sanction such alleged acts. On another occasion, Dodik attacked N1 journalist Sladjana Jaserevic over the Gilded Icon case, accusing her of spreading lies and interrupting her while she was speaking.

After journalist Marko Ivas of Serbia's state-run news agency Tanjug denied that there was a genocide in Srebrenica in 1995, Croat member of Bosnia and Herzegovina's presidency Željko Komšić refused to continue the interview and walked away. Branimir Djuricic, a journalist from Radio Television of Republika Srpska entity (RTRS), supported his colleague Marko Ivas, calling it a violation of freedom of expression. Following this, Djuricic received a criminal complaint from Camil Durakovic, a genocide survivor and former Speaker of the Srebrenica Municipal Assembly, for denying the Srebrenica genocide.