At least 16 killed, hundreds arrested in protests to demand a return to civilian rule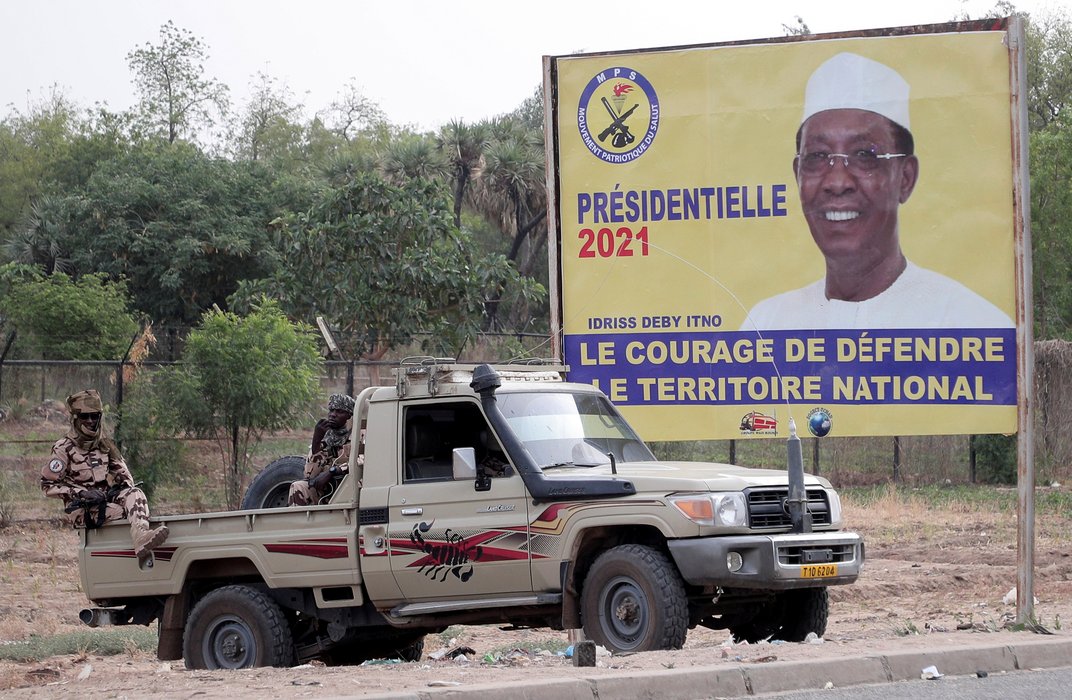 La transition tchadienne sous surveillance citoyenne https://t.co/3vcbnG3pOi via @ccfd_tsolidaire

— Tournons la Page (@TournonsLaPage) June 1, 2021
President Déby dies days after presidential poll, military takeover
On 11th April 2021, presidential elections took place in Chad, with president Idriss Déby Itno, who ran for a sixth term in office, announced as the winner of the polls. The elections were preceded by a crackdown on protests against a possible sixth term for President Idriss Déby. 
Days after Déby's electoral victory, on 20th April 2021, the Chadian military announced that President Déby had been mortally wounded in combat and a transitional military council was installed, led by President Déby's son, General Mahamat Idriss Déby. The National Assembly and the government were dissolved and the Constitution suspended, while the military said elections were to be held in 18 months. A transitional government was appointed by the military junta on 2nd May 2021. Protests to demand a return to civilian rule erupted throughout the country and were repressed by authorities, killing at least 16 people.  
Meanwhile, tens of civil society organisations launched the Citizen Observatory of the Transition (Observatoire citoyen de la transition), meant to monitor and scrutinise the Transitional Military Council. 
Tchad : plusieurs morts dans des manifestations d'opposition à la junte https://t.co/HDgw9Z7TMN pic.twitter.com/MDnAQCuvWN

— FRANCE 24 Français (@France24_fr) April 27, 2021
Peaceful Assembly
At least 16 killed, hundreds arrested in protests to demand a return to civilian rule
At least 16 people were killed in protests between 27th April and 19th May 2021 in Chad's capital N'Djamena and Moundou and over 700 people were arrested in relation to the protests. On 27th April 2021, at least six people - nine people according to Chadian human rights organisation Convention tchadienne de défense des droits de l'homme (CTDDH) - were killed in protests against the Transitional Military Council in N'Djamena and Moundou. The protests, organised by Wakit Tama, a coalition of civil society organisations and opposition parties, were repressed by police, who reportedly used live ammunition and tear gas against protesters. According to media reports, the military was deployed to contain the protests after a few hours. In N'Djamena, protesters reportedly burned tyres and attacked French symbols, such as the French flag, in reaction to Paris' support for the Transitional Military Council. 
On 8th May 2021, police used tear gas to disperse groups of protesters in N'Djamena. The protest was prohibited by authorities. According to Wakit Tama, arrests took place and several people were injured in the protests. Radio France Internationale (RFI) said their special envoys were shot in the leg with tear gas canisters while their equipment was seized by police and the journalists' driver was reportedly beaten. The military was deployed in N'Djamena on 19th May 2021 to prevent people from protesting. Some small groups attempted to protest despite the authorities' ban on the protest, with some burning tyres and the French flag before being dispersed. Several people were arrested. Security forces cracked down on protests against the Transitional Military Council and against France in Sarh and Koumra, two cities in southern Chad, on 1st May 2021. Witnesses told RFI that security forces used live ammunition and tear gas to disperse the protesters, injuring several people. 
According to Amnesty International, protests organised by civil society organisations or opposition groups have been systematically banned by authorities, while protests supporting the Transitional Military Council have been allowed to proceed. On 12th May 2021, such a protest took place and was authorised by authorities. Between 150 and 200 people gathered that day in N'Djamena, organised by the platform Nouvelle Vision, to 'march for peace' in support of the Transitional Military Council. 
Pre-electoral protests against president Idriss Déby running for a sixth term
Protests against a possible sixth term for president Idriss Déby Itno continued in March 2021, despite bans on protests. As reported previously on the Monitor, protests started in early February 2021. 
Security forces dispersed protests on 20th March 2021. According to media reports, tear gas was used in several neighbourhoods to disperse protesters and several people were injured. Civil society and opposition leaders were arrested, including two civil society leaders (see under Association) and musician N2A. Most of those arrested were released later that day. During another protest in N'Djamena on 27th March 2021, security forces used tear gas against protesters and dozens of people, including members of civil society and political opposition, were detained before being released later that day. 
⚠️ Confirmed: Internet disrupted in #Chad amid reports of deadly standoff at opposition candidate Yaya Dillo's house; real-time network data show national connectivity down to 60% of ordinary levels from ~9:30 am local time; incident ongoing 📉 #Tchad

📰 https://t.co/SsI6N9FCCe pic.twitter.com/vLvI3em4uc

— NetBlocks (@netblocks) February 28, 2021
Expression
Internet disruption prior to elections
According to internet freedom CSO NetBlocks, internet connectivity was disrupted from 28th February 2021, coinciding with the raid on the residence of opposition leader Yaya Dillo. At least two people, including Dillo's mother, were killed when security forces raided the opposition leader's home
911 days of internet disruptions since 2016
Between the last presidential elections in 2016 and 2021, authorities have disrupted access to the internet and social media for a combined period of 911 days, or 2.5 years, said Amnesty International. In 2020, internet disruptions were felt for a total of 192 days. According to an activist who spoke with Amnesty International, social media platforms such as WhatsApp and Facebook are the most targeted networks. Abdoulaye Diarra of Amnesty said: 
"We have seen in the last five years, a close link between internet cuts and Chad's important moments of political dispute. These disruptions, impacting all internet users, undermine freedom of expression."
Internal security and public order have often been used by authorities as grounds for the internet disruptions. 
🇹🇩#Tchad: Max Loalngar (@Ltdh_Tchad) et Mahamat Nour Ibedou (@CTDDH, photo) ont été violemment et arbitrairement arrêtés en marge des manifestations pacifiques du 20/03
📣Le harcèlement des défenseurs des #DroitsHumains doit cesser!
👉https://t.co/LTUmmQuLwK pic.twitter.com/N4wVsglKWQ

— The Observatory (@OBS_defenders) March 25, 2021
Protests: human rights defenders arrested 
On 20th March 2021, officers of the Mobile Intervention Group of the Police arrested the president of human rights organisation Ligue tchadienne des droits de l'homme, Maxvelt Yogangnan Loalngar and the secretary general of Convention tchadienne de défense des droits de l'homme (CTDDH), Mahamat Nour Ibedou in the context of the protest that day against a possible sixth term for President Déby Itno. Both arrests were carried out with violence against the two HRDs. Loalngar was released the same day, while Nour Ibedou was only released three days later, on 23rd March 2021. 
On 26th April 2021, unidentified armed men abducted Gilbert Morba, coordinator of citizen mobilisation within the coalition Wakit Tama. He was released on 27th April 2021.