Arrests and prosecutions around anti-government protests in New Zealand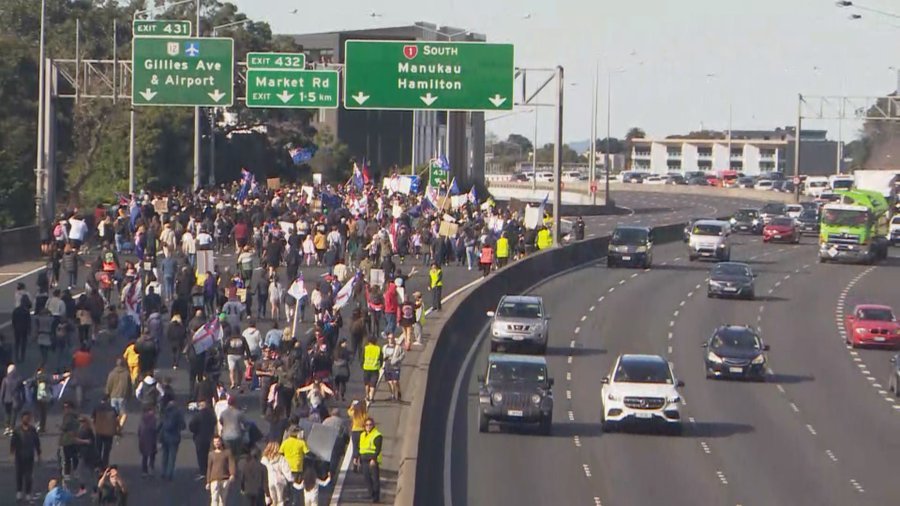 In recent months, there have been ongoing anti-government protests. In May 2022, there were arrests around a protest at the Auckland Harbour Bridge, while in July 2022, protesters from the Freedoms & Rights Coalition marched on a highway in Auckland disrupting traffic. In August 2022, the same group held protests outside parliament.
Arrests around protest on Auckland Harbour Bridge
Today's Auckland Harbour Bridge protest was organised to oppose the Three Waters reforms by Katowai Freewaters, who has spread Taxpayers Union's propaganda and who were hosted by a far-right Voices For Freedom member on their way to the Harbour Bridge. https://t.co/ANQ7KKuAmO

— Tāmaki Anti-Fascist Action (TAFA) (@AntiFascistAkl) May 21, 2022
The New Zealand police arrested 11 people after they marched over the Auckland Harbour Bridge on 21st May 2022.
According to reports, around 50 people had initially gathered in Onepoto Domain and made their way to the Harbour Bridge. The convoy slowed their vehicles while on the Harbour Bridge, brought them to a stop and a number of people jumped out of their vehicles.
Social media posts from protesters suggested the protest was against the government's Three Waters plan. The reform would create four new water entities responsible for the Three Waters – drinking, waste and stormwater. Critics say it would mean a "loss of local control" and increased bureaucracy, as well as higher water costs, flowing on to higher rates.
One of the vehicles had the words "Mana News Live" printed in large orange letters. The Mana News company describes itself as an alternate news source but groups have accused it of regularly spreading misinformation and conspiracy theories about the COVID-19 vaccine. The group has aligned itself with the parliamentary anti-mandate protests in Wellington.
Waitematā District Commander, Superintendent Naila Hassan, said they had engaged with this group prior to the march, strongly warning them it was too dangerous and disruptive. Those arrested are facing charges including obstructing police, resisting arrest, assaulting police and driving-related violations.
Anti-government protesters disrupt traffic on motorway
"This was reckless behaviour on part of the organisers and participants." Police say they are looking at a number of prosecutions after about 1000 anti-government protesters marched onto the busy Auckland Southern Motorway today.https://t.co/pyAOAjNkcU

— RNZ (@radionz) July 23, 2022
On 23rd July 2022 about 1,000 people gathered at Auckland Domain and set off on a march heading towards the Southern Motorway as part of an anti-government protest organised by the Freedoms & Rights Coalition. The protests were held in Auckland, Wellington and Christchurch and designed to cause traffic disruption in these three centres.
The Freedom and Rights Coalition (TFRC), linked to Destiny Church leader Brian Tamaki, is known for its vocal opposition to the COVID-19 mandates and involvement in Parliament protests in March 2022, as previously documented. Tamaki has been arrested and charged multiple times over previous protests regarding COVID-19 lockdowns.
In a statement, police condemned the "reckless behaviour" and said protest organisers refused to tell police they were planning to march on the motorway. Police say they are looking at a number of prosecutions. In addition to the offence of pedestrians on the motorway, police said there were reports of motorcyclists without helmets, children riding in the back of a ute, and at least one pedestrian who put themselves at significant risk by moving into a live traffic lane.
Anti-mandate protesters converge on parliament
#LIVE: Crowd of anti-Govt protesters begin march towards Parliament in Wellington https://t.co/6hY0Hprf3V

— Newshub Breaking (@NewshubBreaking) August 22, 2022
On 23rd August 2022, about 2,000 protesters converged on Parliament in Wellington to highlight their discontent over the government's handling of the COVID-19 crisis, including a requirement that people wear masks in stores. There were also calls for snap elections.
Members of the Freedom and Rights Coalition travelled in convoys from across New Zealand to the protest. The protest occurred after Destiny Church leader Brian Tamaki announced the forming of an umbrella political party called 'Freedoms NZ'. The groups that will merge to form Freedom NZ include the New Nation, Vision NZ and Outdoors parties.
Protester Carmen Page said: "people who hadn't been vaccinated face ongoing discrimination and people lost their jobs and homes as a result of the mandates", which she said amounted to "government overreach".
Mania Hungahunga who is a part of The Freedom & Rights Coalition and a member of the Destiny Church said every New Zealander had been negatively impacted by the mandates.
This time there was also a counter-protest, with several hundred people gathering in front of Parliament as the main march entered the grounds. The two sides shouted insults, but a line of police officers kept them physically separated.