Argentina's former government accused of spying on journalists, civil society leaders and others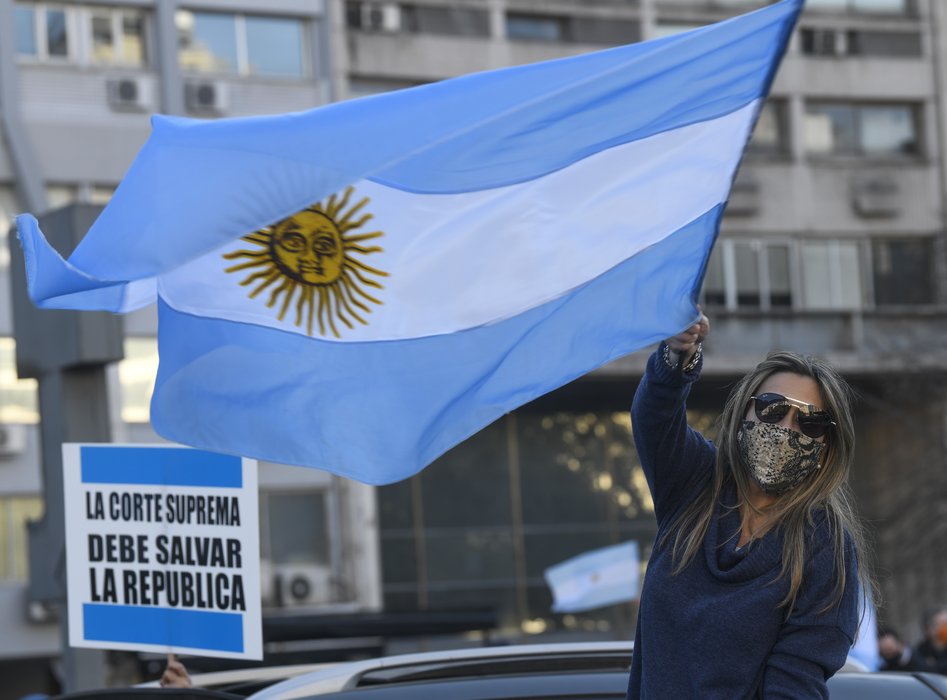 Expression
Macri government illegally spied on journalists, union leaders, politicians and executives
Authorities in #Argentina should conduct a thorough investigation into the surveillance of journalists under the previous presidential administration, and hold those responsible to account.@halconadahttps://t.co/fFiYUdV3MJ

— Committee to Protect Journalists (@pressfreedom) June 18, 2020
In early June 2020, a federal prosecutor conducting an audit of Argentina's Federal Intelligence Agency (AFI) presented evidence to the Eleventh Federal Criminal and Correctional Court, which indicated that the agency had conducted illegal espionage during the administration of former president Mauricio Macri.
The case came to light as federal prosecutors filed a complaint accusing the intelligence agency's former leadership of domestic espionage without a judicial order. As reported by news outlets, AFI compiled profiles on over 500 people around the time when Argentina hosted major international events, such as the 2017 World Trade Organisation's Ministerial Conference and the 2018 G20 Summit in Buenos Aires. 403 journalists seeking accreditation to cover these events, as well as dozens of civil society leaders, academics, politicians and businesspeople were allegedly profiled. Files presented to the court were discovered on 24th January 2020 in three dossiers stored at a safe in the office of the agency's former director of counterintelligence.
According to a report from El Destape, the profiles included names, photos, employers and "political preferences". Many included information seemingly collected from social media profiles and posts, including expressed opinions on political issues, religious beliefs or involvement with political or civil society groups, with a particular emphasis on support for movements against gender violence. They were then classified using a traffic light system (red, yellow and green) according to their perceived positions on government. Among those profiled were reporters with national media Infobae, Clarín, Crónica TV, Radio Nacional and La Nación, as well as more than 60 correspondents working for international outlets including The Associated Press, Reuters, Al-Jazeera, Bloomberg, Agence France-Presse and CNN.
As investigations into AFI's activities under Macri continued, further accusations of illegal surveillance and espionage were brought forward – including cases of tracking and monitoring. On 15th June 2020, a judge presented evidence showing that AFI had illegally surveilled journalist Hugo Alconada Mon from March to November 2018. Alconada, an investigative journalist for La Nación, told the Committee to Protect Journalists (CPJ) that the monitoring coincided with his coverage of the Brazilian Carwash corruption scandal. "There was an effort to try to identify my reporting sources," he said. The evidence presented included WhatsApp text messages and audio files exchanged among intelligence agents coordinating surveillance of the journalist, his home, his car and his parents' home.
On 30th June 2020, 22 people were detained in connection with a separate investigation on illegal espionage. Several Macri government officials, including a former assistant to the president and a former director of counterintelligence in AFI, were among those detained under accusations of forming an illicit group which would have articulated the monitoring of opposition politicians and others.
Other developments
#FopeaCalidad
A partir de un relevamiento realizado entre periodistas de todo el país, FOPEA elaboró este documento con 10 peticiones a los gobiernos en temas clave como seguridad sanitaria en las coberturas, conferencias de prensa, federalismo y acceso a la información. (1/4)👇 pic.twitter.com/IQt9259Qcz

— FOPEA (@FOPEA) April 6, 2020
In April 2020, the Argentine Journalism Forum (FOPEA) requested the resumption of press conferences, which were suspended by President Alberto Fernández's office when public health measures were first implemented in March 2020. They were replaced by official announcements banning questions from journalists. FOPEA warned that the ban was contributing to disinformation about the coronavirus. FOPEA also demanded measures to guarantee the protection of journalistic teams working to cover the pandemic and more transparency about emergency spending, as well as details about data concerning the virus and its impact on the health system in provinces.
On 4th July 2020, the Inter American Press Association (IAPA) released a statement expressing concern at the harassment and stigmatisation against journalists by officials of President Alberto Fernández's government. According to the organisation, the public request was made following threats of legal proceedings and campaigns to discredit prestigious journalists, including Luis Majul, Jorge Lanata and Daniel Santoro.
Association
Police attacks against Indigenous communities
En mayo, la policía de Chaco ingresó con violencia a la casa de una familia Qom. Golpeó y amenazó a toda una familia. Se llevó a varies detenides sin motivo ni orden judicial. Entre ellas, a una chica menor de edad a la que luego torturaron en la comisaríahttps://t.co/tZASnAnp3r

— CELS (@CELS_Argentina) July 24, 2020
On 31st May 2020, police officers in Fontana, Chaco province, raided an Indigenous Qom house and brutally attacked members of the family living there. As reported by news media Página 12, a group of officers broke into the house without a search warrant, beating and insulting several family members. They also made discriminatory remarks about the family's Indigenous community. The officers then took four people, among them a teenage girl, to the police station, where they continued to be insulted, attacked and tortured. One of the young women also reported being sexually assaulted. This violent incident led the province's Committee for the Prevention of Torture to file a complaint and request the detention of the police officers involved. Four of the officers implicated were preventively detained for a short period and will remain suspended as they face charges related to the case.
During the coronavirus quarantine, there were other reports of police violence against members of Indigenous communities in the province. In early April 2020, there were reports of a similar attack, with allegations of ill-treatment, against the Washek Community Guard of Wichi peoples in Sauzalito.
Peaceful Assembly
Thousands protest on Argentina's Independence Day
'Argentina sin Cristina'

Así coreaban los manifestantes en las multitudinarias protestas en Argentina, dirigidas contra la cuarentena y contra una reforma judicial prevista que, según los manifestantes, está confeccionada para proteger 'a los corruptos en el gobierno'. /e pic.twitter.com/l1yvOYZdmA

— DW Español (@dw_espanol) August 18, 2020
On 12th March 2020, Argentina's government declared a public health emergency; the country's strict quarantine restrictions continued into August 2020 – for over 150 days.
On 9th July 2020, thousands of people took to the streets in Buenos Aires and the country's main cities to protest for various causes, including the rejection of prolonged pandemic-related restrictions and recent court decisions in corruption cases. Protesters gathered in front of Buenos Aires' landmark Obelisk to defend individual freedoms, including freedoms of expression and movement.
During the quarantine, Argentines have also protested the dire situation of the country's poorest during this crisis. "We are the social organisations facing not only the pandemic, but also the advance of hunger in popular neighbourhoods," said a civil society representative, demanding government support at a march on 12th June 2020.
Marches for Facundo Astudillo
#DondeEstaFacundo • Movilización de Plaza de Mayo a la Casa de la Provincia.

En minutos, transmisión en vivo de la lectura del documento del EMVyJ vía nuestro Instagram Live: @correpi_#AparicionConVidaDeFacundo#FueraBerni#ElEstadoEsReponsable pic.twitter.com/JNGYBXWucQ

— CORREPI (@CORREPI) August 20, 2020
In July 2020, the disappearance of 22-year-old Facundo Astudillo led social movements, political parties and human rights organisations in Argentina to demand truth and justice for the young man. Astudillo went missing when travelling from his home in Pedro Luro to meet his girlfriend in the city of Bahía Blanca on 30th April 2020. Members of the Buenos Aires provincial police are suspected to have been involved in his disappearance, as Astudillo was last seen at a police checkpoint where he was stopped for violating the COVID-19 quarantine. Testimonies by police officers have contradicted those of witnesses who say they saw the young man inside a police vehicle. His body was found on 2nd September 2020, after over 100 days of speculation on his whereabouts. The investigation into his death is ongoing.
Before Facundo Astudillo was found, members of the movement Encuentro Memoria, Verdad y Justicia (Encounter Memory, Truth and Justice) marched in Buenos Aires to mark three months since the disappearance and demand his safe return. During the march, protesters held signs and chanted messages such as "where is Facundo?" and "the state is responsible". Demonstrations were also held in other cities, including La Plata, Pedro Luro and Carmen de Patagones. In August 2020, mobilisations continued. On 3rd September 2020, after news outlets reported that his body had been identified, hundreds of people joined marches across the country to demand truth and justice for Facundo.
Since the beginning of the COVID-19 quarantine in March 2020, there were 12 reported cases of unprovoked shootings by police officers (known as "gatillo fácil" or "trigger-happy") in Argentina and a case of enforced disappearance followed by death.