Anti-US base activist faces imprisonment as Okinawa protests continue
Peaceful assembly
Ongoing protests against the U.S. military bases in Okinawa, Japan have been ongoing for several decades. The U.S. has about 26,000 troops spread over several bases on the island, including some in densely populated areas. The foreign military presence since the end of World War II has contributed to the local economy, but resentment has built over the decades, with locals complaining of the noise and fearing for their safety.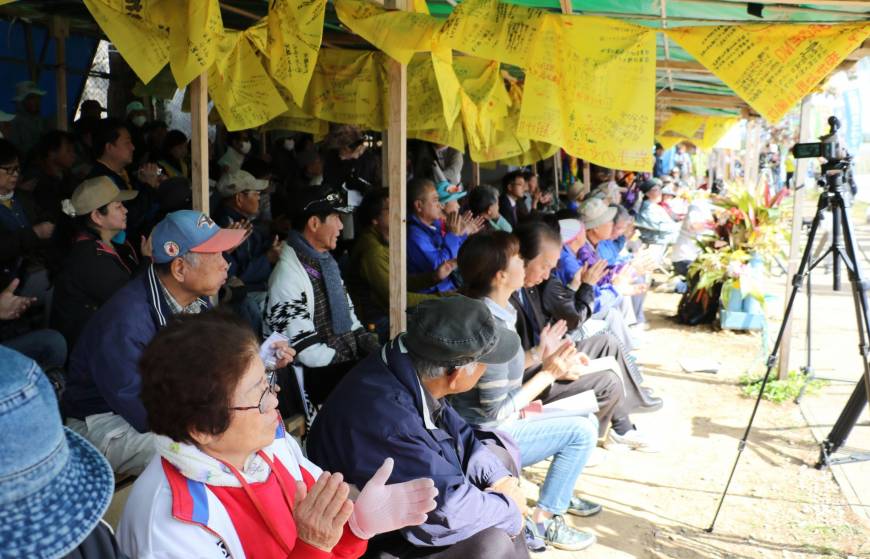 On 26th December 2017, a sit-in protest (pictured above) by citizens opposed to the planned relocation of the U.S. Marine Corps' Futenma air station in Ginowan, Okinawa Prefecture to the Henoko coastal area in Nago reached its 5,000th day. Citizens started the protest on 19th April 2004.
Earlier on 15th December, the All-Okinawa Kaigi (All-Okinawa Coalition) organised a gathering of around 3,000 protesters from Okinawa and other parts of Japan in Nago city on the anniversary of the MV-22 Osprey plane crash which occured the previous year. The Coalition criticised the ongoing U.S. military aircraft accidents that threaten the lives of Okinawan people. They called for removal of the defective Osprey aircraft, closure of Futenma Air Station, and a halt to flights of all aircraft based at Futenma.
On 6th December 2017, prosecutors announced that they are seeking a prison sentence of two and a half years of hard labour for prominent anti-base protester and chairman of the Okinawa Peace Activity Center, Hiroji Yamashiro. He was arrested on 16th October 2016 and charged with a string of protest-related offenses — from cutting barbed wire at a U.S. installation to obstructing police and businesses. He is currently on bail and was previously detained for five months from October 2016 to March 2017. He has become a symbol of Okinawa's resistance against the U.S. military bases.
Expression
On 16th November 2017, the UN Human Rights Council's (UNHRC) Universal Periodic Review of Japan urged the country to improve its protection of press freedom. The UNHRC recommended amending article 4 of the broadcasting law as it gives the government authority to suspend broadcasting licenses of TV stations not considered "politically fair". 
Japan accused of eroding press freedom by UN special rapporteur https://t.co/zJPulquLHX

— David Kaye (@davidakaye) June 14, 2017
Japan had previously been criticised by the UN Special Rapporteur on the right to freedom of opinion and expression because of its Act on the Protection of Specially Designated Secrets, which came into force in 2014. Under this Act, civil servants or others who leak state secrets could face up to ten years in prison, and those who instigate leaks, including journalists, could face prison terms of up to five years. The UN rapporteur said the law was "overly broad" and could be arbitrarily applied.