Anti-terror law could restrict rights to association and peaceful assembly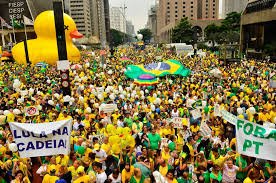 Peaceful Assembly 
Although recent mass demonstrations concerning corruption, President Rousseff's impeachment and democracy were relatively peaceful, civil society organisations remain on high alert because of an announcement by the interim government that they would review all measures taken by Rousseff in her last two months in office, including laws relating to public demonstrations. Brazil recently approved the General Law for the Olympic Games, which imposes new restrictions on freedom of expression and peaceful assembly in Rio de Janeiro. Fearing fresh police repression, Amnesty International has launched a  petition asking members of the Security Committee for Rio 2016 to "ensure that the rights to freedom of expression and peaceful assembly are fully respected and protected by officials responsible for law enforcement" and that "demonstrators should not be detained arbitrarily."
Association
In the midst of a serious political and economic crisis, on 16th March Brazilian President Dilma Rousseff enacted a new anti-terror law. Although legal experts and civil society advocates warned that the law could be used to criminalise social movements, the president only vetoed a few provisions. CSOs argued that the law's "descriptions of the offences remain vague and overly broad, the sentences are disproportionate and the text still criminalises so-called "preparatory acts", paving the way for the arbitrary enforcement of the law."
Expression
In addition to worries about the anti-terror law, the United Nations and the Inter-American Commission on Human Rights expressed concerns that two measures adopted by the new federal government would erode free expression and access to information. They criticised the removal of the director of the Brazilian Public Broadcaster (EBC) (who was later reinstated by a Supreme Court decision) and said that the conversion of the National Controller's Office (CGU) into the Ministry of Transparency, Supervision and Control could undermine the autonomy and independence of the institution in charge of facilitating access to information. Furthermore, Congress recently released the final report of the Commission on Cybercrime, which proposes eight laws which would allow security forces to access IP addresses without a court order and courts to block internet applications and services. These laws have potentially dire consequences for freedom of expression. In a separate development, on 1st March Facebook's vice president for Latin America was imprisoned at his home in São Paulo, and charged with not disclosing data about messages on WhatsApp messages to Federal Police investigating drug trafficking.