Anti-monarchy protesters face repression as the right to protest remains under threat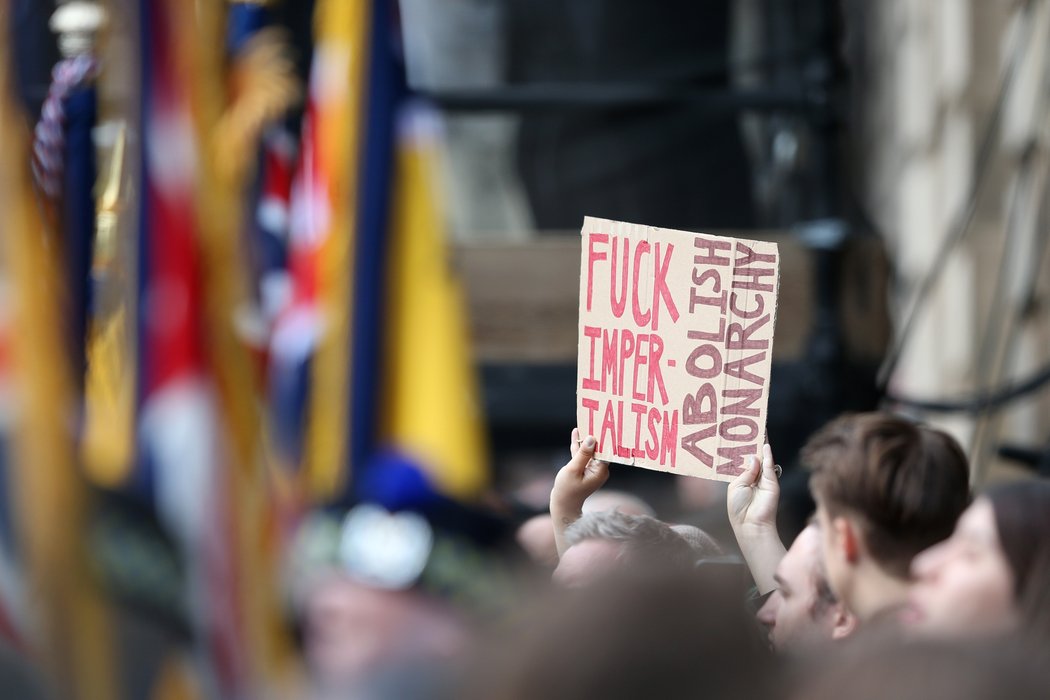 Introduction
September 2022 was a very turbulent month for the United Kingdom. On 6th September 2022, Conversative Party member Liz Truss was appointed as the new prime minister by Queen Elizabeth II after Boris Johnson's resignation in July 2022. Just two days later, the Queen died, and her eldest son acceded to the throne to become King Charles III. The Queen's passing had a significant impact on the nation. Traditionally, the Queen's death would have triggered a 12-day mourning period, but King Charles III requested an extension, with the mourning period lasting until seven days after Queen Elizabeth's funeral on 19th September 2022. Parliamentary business was suspended, shops remained closed and events were cancelled. The death of Britain's longest-serving monarch saw grief across the nation and was met with sympathy worldwide but also reignited the discussion on British imperialism and colonialism.
Association
"Rights Removal Bill" pulled as new government pledges to override ECtHR's rulings
One of the first acts of new Prime Minister Liz Truss was to pull the second reading of the Bill of Rights in the House of Commons, initially scheduled for 12th September 2022.
Before the shelving of the bill, an unprecedented coalition of 123 civil society organisations (CSOs) and charities had expressed their concern over what they nicknamed "Rights Removal Bill" and urged MPs to vote against it and to retain the Human Rights Act.
Civil society has criticised both the procedural approach and the content of the proposed Bill. They called out the government for disregarding expert legal and policy analysis of the proposal, denying calls for greater parliamentary scrutiny and for making the consultation process for the Bill difficult to access for people with disabilities (those requiring an easy to read and audio version of the draft bill received only half the time given to everyone else to respond). On the substance of the bill, they believe that it will undermine the State's duty to protect, create new barriers to justice, especially for marginalised groups and individuals, and reduce the ability of the courts to interpret legislation in a rights-compatible way. NGOs believe that the proposal would make it harder for individuals to challenge deportation decisions on the basis of violations of their right to private and family life, except in the most extreme circumstances. Similarly, freedom of speech would be limited, particularly in the context of protests against the State.
As a part of the new government's agenda on the Human Rights Act which the Bill of Rights was set to replace, Prime Minister Liz Truss announced that the government will bring in new legislation that will allow the government to overrule rulings by the European Court of Human Rights. The announcement was met with criticism by CSOs.
The European Convention on Human Rights puts people's basic rights into law, helping to protect everyone in the UK

It's enforced by the European Court of Human Rights

Dragging us out the #ECHR will hide Gov from accountability + put people in harm's way https://t.co/jfYaLqAb47

— Liberty (@libertyhq) October 5, 2022
Civil society campaigns against Rwanda deportation policy
In April 2022, the UK government and the Rwanda government agreed on a controversial deal (the Rwanda Migration and Economic Development Partnership) to transfer people seeking asylum in the UK to Rwanda to outsource the processing of their asylum claims. The deal has been opposed by the UNHCR, the UN Refugee Agency, as it violates the fundamental right to seek asylum and is in breach of the provisions of the Refugee Convention.
A coalition of leading medical bodies and charities called on the government to abandon the forcible deportation of Rwandans on ethical and medical grounds. Medical Justice, a charity which promotes and defends the health rights of immigration detainees, documented the experiences of 36 people who have been targeted for removal to Rwanda after arriving on the Kent coast in dinghies. The report found that many of the people concerned have a history of trafficking, torture and trauma, and have serious mental health conditions, including Post Traumatic Stress Disorder (PTSD) and psychosis. Some have self-harmed and/or expressed suicidal ideation whilst in detention, including one person who attempted suicide twice whilst in detention.
On 14thJune 2022, the first flight for Rwanda was cancelled minutes before take-off following a last-minute intervention by the European Court of Human Rights. 
The #Rwanda deal is "unconscionable under medical grounds" and must be scrapped, a group of leading medical bodies has said in a letter to PM Liz Truss. https://t.co/wvbuBLsTHh

— Doctors of the World (@DOTW_UK) September 30, 2022
The Public and Commercial Services Union, which represents many Home Office Staff, and charities Care4Calais and Detention Action, along with a number of asylum seekers facing removal have brought a judicial review before the High Court to challenge the government's policy. Documents obtained from the Home Office under freedom of information laws and presented in court show that the government was aware of the unsuitability of Rwanda as a third-safe country due to serious human rights concerns. The first part of the case was heard on 5th September 2022 to examine the overall legality of the policy, while the second stage scheduled in October 2022 will examine the selection criteria for those who were warned that they would be removed.
Notwithstanding pressure from civil society and international bodies to withdraw the policy and the case pending before the High Court, the UK government seems determined to carry out the removals, as the new Home Secretary Suella Braverman said it is her 'dream' and 'obsession' to see a flight take asylum seekers to Rwanda. The Home Secretary also vowed to change legislation to stop migrants from crossing the English Channel to seek asylum in the UK.
"These proposals weaken our links to vital human rights frameworks, and demonstrate the latest damaging attempt by this Government to make itself untouchable and above the law. More than this, they represent unconscionable and deliberate cruelty – and we will resist these plans In full solidarity with those seeking safety and sanctuary in the UK" - Jun Pang, Policy and Campaigns Officer at Liberty said.
Mermaids v LGB Alliance lands in court
Transgender rights charity Mermaids, backed by the Good Law Project and other UK charities, launched a crowd-funded appeal against the Charity Commission's decision to grant charitable status to LGB Alliance. Mermaids are challenging the status of LGB Alliance over whether the organisation is primarily focused on anti-trans lobbying or whether it was created to undertake charitable activities in support of lesbian, gay and bisexual people. LGB Alliance's website states that it opposes gender identity ideology, and believes it is "harmful to gay men and lesbians, as well as teenagers grappling with their sexual orientation". The charity explicitly opposes the prescription of puberty blockers to trans teenagers.
LGB Alliance was formed in 2019 and was awarded charity status in 2021. The Charity Commission considered concerns about LGB Alliance's "inflammatory language" on social media. However, it concluded that LGB Alliance was established for "exclusively charitable purposes", and would work to promote the elimination of discrimination on the grounds of sexual orientation. The decision was criticised by other charities, including Mermaids.
Earlier this year, LGB Alliance had to clarify its position after the Fundraising Regulator found that it provided misleading information on social media channels claiming to be the only registered charity set up to protect and promote the rights and interests of people with lesbian, gay and bisexual orientation. After an initial rejection of the complaint, the charity has apologised. 
Peaceful Assembly
Public Order Bill back in Parliament
The Public Order Bill is continuing its legislative journey and will reach the report stage in the House of Commons in mid-October. Along with the Policing Bill adopted in April 2022 (see previous update), the Public Order Bill is seen as a potential threat to freedom of peaceful assembly by civil rights groups because of the new restrictions it seeks to introduce. The measures included in the Bill, including offences of "locking on" and "interfering with key national infrastructure", would make illegal civil disobedience actions which have been used by civil rights activists for centuries. The Bill is also expanding preventive measures such as protest banning orders and granting more discretionary powers to police to carry out stop and search operations during demonstrations.
MPs will vote on Gov's #PublicOrderBill soon.

It will allow police to #StopAndSearch people for anything that could be used to commit protest offences.

The racist harms of stop and search are well known, and this move will only make discriminatory policing worse. pic.twitter.com/OoVR6af2Ey

— Liberty (@libertyhq) September 27, 2022
MPs have tabled amendments which seek to either remove or ameliorate the most draconian proposals, including Serious Disruption Prevent Orders, expansion of protest-related 'stop and search' powers and the criminalisation of 'locking on'. Civil society had produced a joint briefing for parliamentarians.
The right to protest is already under threat in the UK. New research published by Big Brother Watch found that cases of stop and search in London increased by over 20 percent on weekends when demonstrations took place. The organisation looked at the most significant protests taking place in 2020 and 2021.
Related to the Public Order bill, Greater Manchester Police have agreed to pay compensation to Liam Geary Baulch, an activist who was arrested outside the Conservative Party Conference last year while holding a sign "Priti Fascist" addressing then-Home Secretary Priti Patel for presenting the Public Order Bill. The arrest was found to be unlawful as the threshold for a 'breach of the peace' was not met by Baulch's refusal to leave the area.
"Colston four" appeal decision puts a threshold on the right to protest
After the "Colston four" - Rhian Graham, Milo Ponsford, Sage Willoughby and Jake Skuse - were cleared earlier this year of pulling down a statue of the 17th Century slave trader in Bristol, then-attorney general Suella Braverman referred the acquittal to the Court of Appeal to clarify a point of law. The judges were asked to clarify whether a conviction for damage to the statue would have been a disproportionate interference with the defendants' right to protest under the European convention on human rights.
In a written judgment published on 28th September 2022, the Lord Chief Justice, Lord Burnett of Maldon, said: "We have concluded that prosecution and conviction for causing significant damage to property during protest would fall outside the protection of the convention, either because the conduct in question was violent or not peaceful, alternatively (even if theoretically peaceful) prosecution and conviction would clearly be proportionate."
The decision is expected to have repercussions for future trials as defendants in similar cases will not be able to rely on the Convention's rights to freedom of thought, expression and peaceful assembly.
Anti-monarchy protests met with repression
Following the death of Queen Elizabeth II and the accession to the throne of King Charles III, civil liberties groups have expressed alarm at the response of the police towards anti-monarchy protesters.
Last night was a victory for freedom of speech & the right to express dissenting opinions about the monarchy & the accession of Charles as king, as a whole group of protesters gathered outside Parliament holding placards with their views on them. Short🧵 pic.twitter.com/FjZ9pgHg0R

— Paul Powlesland (@paulpowlesland) September 14, 2022
Protesters march for justice following Chris Kaba's death
On 5thSeptember 2022 Chris Kaba, a 24-year-old Black man, was shot dead by a firearms officer in South London while driving a flagged vehicle. Police watchdog the Independent Office for Police Conduct (IOPC) confirmed that Chris was unarmed and announced a homicide investigation on 9th September 2022. On 10th September 2022, thousands of protesters led by Chris's family marched to Scotland Yard to demand justice. A week after the fatal shooting, the Metropolitan police officer who fired the shot that killed Chris was suspended from frontline duties. During the opening of the inquest into Kaba's death on 4th October 2022, IOPC lead investigator Dean Brown confirmed that the police officer involved has been notified that they are under criminal investigation but that no charge has been formalised yet. In the meantime, protestors against racism and police brutality continue to rally to demand justice for the death of the young man.
The family of Chris Kaba, supported by charity Inquest and its lawyers, is urging the IOPC to investigate Chris' death as a matter of urgency.
⚠️BREAKING⚠️

The family of Chris Kaba have called for answers, as the inquest into his death opened & adjourned today.

'Ever since that terrible moment my family, and everyone that knew him are asking one question: WHY?' @JeffersonBosela @hickmanandrose https://t.co/eRVYwqKKTD

— INQUEST (@INQUEST_ORG) October 4, 2022
Climate activists urge government to halt oil projects and tackle cost-of-living crisis
The new government formally lifted the 'fracking' moratorium, despite scientific concern over the practice and the 2019 Conservative manifesto pledge. Climate activists have intensified their action to halt the government's plan. Starting on 1st October 2022, Just Stop Oil supporters have vowed to block the streets of Westminster every single day until the government agrees to halt all new oil and gas projects.
On 2nd October 2022, activists who staged a sit-in on Waterloo Bridge in London were handcuffed and carried away by police officers.

On 4th October 2022, about 54 Just Oil activists were arrested at Parliament Square after the fourth day of their sit-in protest.
🚨 BREAKING: APPROXIMATELY 55 JUST STOP OIL SUPPORTERS ARRESTED AT PARLIAMENT SQ 🚨

The Occupation of Westminster continues for it's fourth consecutive day — today, 55 ordinary people were arrested at Parliament Sq for demanding a liveable future.#CivilResistance #A22Network pic.twitter.com/lHU3hIlxtP

— Just Stop Oil ⚖️💀🛢 (@JustStop_Oil) October 4, 2022
On 5th October, Greenpeace activists interrupted Prime Minister Liz Truss' speech at the Conservative Party conference, exposing the government's "U-turn" on climate and environmental policies. The activists held up a sign asking "Who voted for this?" Security guards ripped their banners, their conference passes were taken away and they were escorted out of the venue. 
BREAKING 🚨
Greenpeace activists have interrupted @TrussLiz speech at #CPC22 to denounce the prime minister 'shredding' her party's 2019 manifesto promises.

The PM is U-turning on fracking, strong climate action, and world-leading environmental protections.

Who voted for this? pic.twitter.com/f2SSn7hBu3

— Greenpeace UK (@GreenpeaceUK) October 5, 2022
On the same day, approximately 30 Just Stop Oil supporters were arrested at Westminster in London.

On 6th October 2022, 25 Just Stop Oil activists were arrested for wilful obstruction of a highway after gluing themselves to the road in Whitehall, central London.
A spokesperson for Just Stop Oil said:
"We will continue in civil resistance until this government takes immediate steps to meet our demand to end the cost of living and climate crisis by stopping new oil and gas. We need to start a rapid transformation to a fairer society, decided by ordinary people and paid for by those who are profiting from humanity's destruction."
🚨 BREAKING: ARRESTS TAKING PLACE ON WATERLOO BRIDGE 🚨@metpoliceuk have began arresting the 250 Just Stop Oil supporters who are currently peacefully sat on Waterloo Bridge. So far, 35 arrests have been made. This number may rise throughout the afternoon.#CivilResistance pic.twitter.com/rIvHV2OkGx

— Just Stop Oil ⚖️💀🛢 (@JustStop_Oil) October 2, 2022
Activists who took part in blockades at different oil terminals across the UK earlier this year (see previous update) are now appearing in court for breaking court injunctions which banned the group from protesting outside the oil terminals. While several activists were able to walk free, others are facing prison sentences and fines.
Sarah Benn, a 55 year old general practitioner from the West Midlands, was sentenced to 32 days in prison after being found guilty of her third breach of the injunction for protesting outside the Kingsbury Oil Terminal. She will serve at least half of that time. She has already served eight days in prison earlier this year after breaching an earlier injunction in May.
🚨ACTION THIS SATURDAY🚨

Groups and movements across the UK will be taking action on #CostOfLivingCrisis & #ClimateCrisis

XR rebels are joining in this day of action in solidarity with other movements.

Read this & find your local action
👇👇👇https://t.co/W1URskAQ94

— Extinction Rebellion UK 🌍 (@XRebellionUK) September 28, 2022
Expression
Two government departments fail to comply with FOI Act
The Information Commissioner's Office (ICO) has issued an enforcement notice to the Department for International Trade (DIT) and a practice recommendation to the Department for Business, Energy and Industrial Strategy (BEIS) for persistent failures to respond to access to information requests within the statutory time limit.
"For the first time in seven years, the ICO has issued a Freedom of Information enforcement notice, which clearly marks the start of our new approach to regulating the Act. Accountability and transparency in the work of public authorities is fundamental to democracy and it is the ICO's role to ensure that people's right to access information is protected. I advise public authorities to take note and learn lessons from the action we have taken today, as we will be making greater use of our powers under the Act to drive good practice and compliance." - John Edwards, UK Information Commissioner.
Media outlets facing SLAPPs
Four media outlets in the UK and US are being sued after publishing investigative reports into allegations of $7.8bn in assets of a fund linked to the former Kazakh president.
Leading media freedom organisations call for libel action against 'public interest' journalism to be dropped https://t.co/2517ibuC6x

— openDemocracy (@openDemocracy) October 6, 2022
The Bureau of Investigative Journalism (TBIJ), openDemocracy and the Telegraph received several libel claims between May and August 2022 by a US law firm representing Jusan Technologies, a company registered at Companies House in the UK, and the Nazarbayev Fund Private Fund, named after former Kazakh president Nursultan Nazarbayev.
openDemocracy said the lawsuit had already resulted in tens of thousands of pounds in legal costs for them and prompted them to launch a crowdfunding campaign for defence costs.
A large coalition of rights groups is backing the reporters facing legal threats. The cases are described as the latest example of a so-called "SLAPP" - Strategic Lawsuit Against Public Participation.
"The threats facing TBIJ and openDemocracy are emblematic of the growing use of SLAPPs to target and silence open reporting. For too long, the UK has been the centre of legal threats brought by the world's wealthy, powerful and opaque to stifle media freedom and the public's right to know," Nik Williams of the free speech campaign group Index on Censorship said.
Last July, justice secretary Dominic Raab set out a package of measures that take aim against SLAPPs brought in English courts by foreign elites. The package puts forward a new three-part test to allow courts to determine whether a case is meritless and should be thrown out immediately or allowed to progress.
BBC announces job losses at World Service
The BBC is proposing to close about 382 posts at the World Service as part of a plan to save £28.5m for its international services as part of wider reductions of £500m. Radio broadcasts in ten languages including Arabic, Persian, Chinese and Bengali will cease, while seven languages will move to the digital services (Chinese, Gujarati, Igbo, Indonesian, Pidgin, Urdu and Yoruba).
The plan also includes moving London-based international journalists from the World Service to other countries. This announcement has raised concerns for the safety of journalists as the Vietnamese service will move to Vietnam, the Thai service to Bangkok, the Korean service to Seoul, and the Bangla service to Dhaka.
National Security bill threatens FOE
The government has tabled a new National Security bill, which threatens freedom of expression. Article 19 raised concerns that the bill could have serious implications for journalists and CSOs that receive foreign funding and potentially criminalises actions that are not connected to espionage, sabotage or other hostile activity. For example, CSOs engaged in legitimate activities which receive funding from UK-friendly foreign governments could commit an offence under the bill. The prosecution would only need to show the use of leaked information which they knew or should have known was restricted to avoid prejudicing the UK's safety or interests and that its use led to prejudicing the UK's safety or interests.
Censoring of critical voices
The Cabinet Office has issued new rules which effectively ban speakers who have criticised government officials or policy from speaking at "learning and development" events. Officials have been told to conduct background checks on all speakers, including checking their social media feeds for any 'problematic or controversial' comments made over the last 5 years, including criticism of government policy. The new rules are already being used. For example, Cambridge academic Priyamvada Gopal was disinvited from giving a lecture at the Home Office due to her comments on Twitter in 2013 about the then home secretary Priti Patel's family background. In the tweet, she said that the home secretary was a "reminder that many Asians in British Africa had ferociously anti-black attitudes and were used by colonial administrations to keep black populations in their place. An attitude she brings to government." In another example, Kate Devlin, an academic, was prevented from speaking during a lunch time talk about women in STEM. In an email, the ministry stated that the reason behind the decision was "because you had made a criticism of government policy via social media".
Today's Mail headlines are yelling about "campus wokery", but I've just been blocked from talking to a UK government dept (about women in STEM) because I was critical about UK government policy (unrelated to women in STEM): a thread 🧵 [1/7]

— Kate Devlin 🍂🍄🦔 (@drkatedevlin) October 10, 2022