Anti-corruption protests force removal of Mongolian politician while judicial independence at risk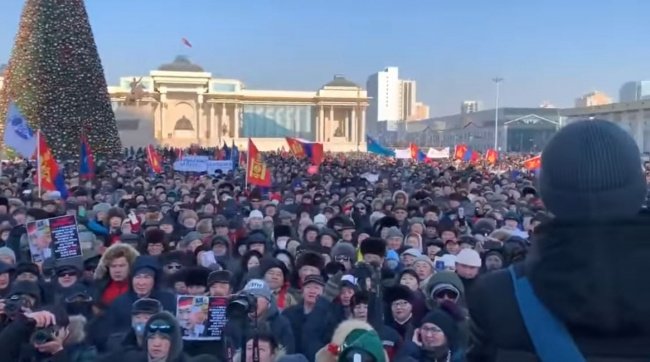 In December 2018 and January 2019, there were mass protests against corruption in Mongolia which led to the removal of the speaker of Mongolia's parliament, implicated in some of these scandals. In March 2019, civil society was alarmed when parliament passed legal amendments giving increased powers to the executive to intervene with the courts and the anti-corruption agency. A study found that hate speech is rife on news websites in Mongolia targeting ethnic and sexual minorities, among others.
Peaceful assembly
Mass anti-corruption protests force parliamentary speaker out
Thousands take to streets to protest against corruption in #Mongolia pic.twitter.com/WcNrJKl708

— Ruptly (@Ruptly) January 10, 2019
Since November 2018, there have been series of demonstrations trigged by corruption scandals, many linked to Miyegombyn Enkhbold the speaker of Mongolia's parliament
Enkhbold has been implicated in a long-unresolved 2016 case, in which a group of politicians were accused of conspiring to sell government offices in return for raising 60 billion tugrik (USD 22 million). The speaker has also been allegedly associated with the Small and Medium-sized Enterprise Development Fund (SME) case in which 14 parliamentarians, two cabinet members and other high-ranking officials channeled more than USD1 million in government funds to their families and friends.
On 27th December 2018, thousands protested in Sukhbaatar Square, the central square in the capital Ulaanbaatar, against the corruption scandals, demanding the resignation of Enkhbol, On 10th January 2019, another mass anti-corruption demonstration was held at the square. Critics allege that Enkhbold runs a secretive group of leaders from across both major political parties known as MANAN, or "fog" in Mongolian, which has become synonymous with a shadowy oligarchy.
On 18th January 2018, in response to the rising public anger on corruption cases, the Mongolian People's Party (MMP) passed new legislation which allows the removal of the speaker of parliament with a simple majority vote. On 29th January 2019, a majority of members of Mongolia's parliamentary body, the State Great Khural, voted to oust Enkhbold.
Association
Rushed legal changes undermine independence of courts and anti-corruption agency
Mongolia's President Is Slicing Away Its Hard-Won Democracy
Corruption and recession have helped push the nation toward strongman rule.https://t.co/pQ3cqc2CEy

— Baabar (@Baabarniitlelch) March 30, 2019
On 26th March 2019, civil society and pro-democracy activists were taken aback when parliament voted to remove the safeguards protecting the independence of its courts and its anti-corruption agency. In doing so, the parliament helped further President Khaltmaa Battulga's ongoing attempt to consolidate power.
Previously, Mongolian laws insulated judges from political pressure.  The president appointed the Prosecutor General while parliament appointed the head of the Independent Authority Against Corruption (IAAC). Both officials had six-year terms to protect their independence. However, a legal amendment was rushed through parliament with limited debate and no input from civil society. It grants the National Security Council - which includes the president, prime minister and the speaker of parliament - the authority to dismiss both the Prosecutor General, the chief of the anti-corruption agency and all judges without justification before their terms of office expire.
Anti-corruption group Transparency International and human rights organisations including Amnesty International condemned the law saying that "the move is an erosion of the country's democratic values". The opposition Democratic Party, also heavily criticized the law indicating that it has placed the country's separation of powers, which is guaranteed in its constitution, in grave danger.
On 28th March 2019, the president dismissed the Chief Justice of the Supreme Court and the Prosecutor General, who had been advocating for the prosecution of members of parliament implicated in a high-profile corruption scandal.
Expression
Hate speech rife on news websites
In January 2019, a study on "Hate Speech in Online Media," which was supported by Friedrich-Ebert-Stiftung showed that local news websites have become a platform for spreading hate speech. The report identified the lack of self-regulation in newsrooms and of media literacy among the public as one of the main reason for this.
The study found "aggressive, offensive and threatening speech" in 43 news websites with the country domain ".mn". Hate speech was targeted at public figures, Mongolian Kazakhs, Chinese, female politicians, women married to foreigners and LGBTI people.
The research found 30 percent of hate speech was contained in journalists' articles and 70 percent to website users' comments. The study showed that newsrooms do not effectively moderate users' comments because of the lack of staff and investment.