Ahead of new Sri Lanka resolution, civil society and UN highlight ongoing rights concerns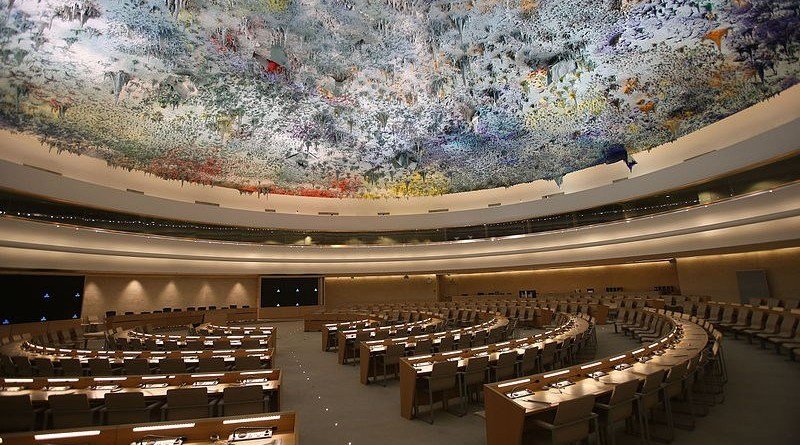 Sri Lanka is still rated as 'obstructed' by the CIVICUS Monitor in new ratings issued in December 2020. The Human Rights Council (HRC), which is currently holding its 46th session, is negotiating a new resolution on Sri Lanka on the implementation of the HRC's recommendations related to reconciliation, accountability and human rights. The present resolution, 30/1, adopted in 2015 but now expiring, won support from the Sri Lankan government of the time, which agreed to address violations during the country's civil war that ended in 2009.
Human rights groups have warned of a deteriorating human rights situation in Sri Lanka under the Rajapaksa administration and the reneging on its international commitments has put any prospect of justice, truth and reparations at grave risk.
On 1st February 2021, Human Rights Watch said that Sri Lanka's government is aggressively attacking efforts to hold officials to account for past grave abuses and that efforts to provide accountability significantly declined during 2020. Their report, "Open Wounds and Mounting Dangers: Blocking Accountability for Grave Abuses in Sri Lanka," examined efforts by the government of President Gotabaya Rajapaksa to thwart justice in seven prominent human rights cases. It also highlighted the current context of government repression of activists, journalists, lawyers and the families of victims, as well as threats against vulnerable minorities.
Amnesty International, in a new report published on 17th February 2021, said that the Sri Lankan Government has launched a renewed crackdown on dissent that is severely curtailing civil society freedom and obstructing efforts to deliver justice for conflict-era crimes under international law.The report, "Old ghosts in new garb: Sri Lanka's return to fear", exposes how the Sri Lankan government has targeted human rights organisations, media, lawyers, political opponents and law enforcement officers in a concerted bid to suppress opposing voices and hamper the transitional justice process for crimes committed during the country's 30-year armed conflict.
These concerns were also echoed by the UN in a new report published on 27th January 2021 which warns that "the failure of Sri Lanka to address past violations has significantly heightened the risk of human rights violations being repeated". It highlights "worrying trends over the past year, such as deepening impunity, increasing militarization of governmental functions, ethno-nationalist rhetoric, and intimidation of civil society".
In response to this, the Sri Lanka authorities has urged the UN Human Rights Council to reject the forthcoming resolution, saying "it would have to decide whether time should be spent raking over Sri Lanka or if the resolution was politically motivated".
In recent months, attacks on civic space has persisted. There have been restrictions on the right to peaceful assembly against civil society members, journalists in the North and East while human rights lawyer, Hejaaz Hizbullah remains in detention. Further, a journalist is at risk of arrest for he Facebook posts, a former police investigator targeted for exposing human rights abuses is still in detention while a parliamentarian has been sentenced to a four year prison term for contempt of court.
Peaceful Assembly
Activists and civil society groups targeted around 'walk for justice'
Thousands March for Justice in Sri Lanka, Despite Ban https://t.co/40V1QvPJs6

— Human Rights Watch (@hrw) February 9, 2021
In February 2021, Sri Lankan magistrates across districts in the North-East issued bans and injunctions against civil society members, journalists and other individuals ahead of a 'walk for justice' organised by Tamil war victims' families and civil society organisations.
This walk was organised by civil society organisations from the North and East and planned around the country's independence-day celebrations to begin on 3rd February 2021 from Pothuvil in the Eastern province and to end in Polihandy in the Northern province. The protest was around demands for the United Nations and the international community to heed calls for justice and accountability.
According to a news report, the Jaffna Magistrates' Court banned all protests for four days between 3rd and 6th February 2021. Stay orders were issued to multiple individuals after an application was filed by Jaffna and Kopay police to the Jaffna Magistrates, citing reasons of public harassment and violations of COVID-19 guidelines. The Mannar Magistrates' Court also issued an injunction  against the walk going through the Mannar district, citing COVID-19 violation risks as the reason. Mannar police filed an application to the court seeking an injunction specifically against at least 14 individuals taking part in the walk. The Batticaloa police requested the Kalunvanchikudy Magistrate in the Eastern Province to ban protests for 'instigating the UNHRC to act against Sri Lanka', 'turning people against the Sri Lankan Government' and for encouraging 'communal disharmony'. The Magistrate subsequently issued a court ban.
According to Human Rights Watch, a sinister threat followed, with the public security minister warning that the protesters would be arrested. "Now we have their photographs and we have their vehicle numbers, we know who these individuals are," the minister said in a television interview. Despite this, the march proceeded.
Thousands of Tamil civilians were killed in the final months of fighting between the Sri Lankan government and separatist Liberation Tigers of Tamil Eelam, when both sides were responsible for numerous atrocities. Instead of addressing concerns, President Gotabaya Rajapaksa's government has denounced international efforts for justice, adopted discriminatory measures against Tamils and harassed victims' groups. HRW reported that, for a second year, the singing of the national anthem in Tamil, an official language, was dropped from the government's independence-day parade. In January 2021, authorities demolished a memorial to Tamil civilians killed during the war.
Association
Ambassadors raise concerns about detention of human rights lawyer 
Lawyer Hijaz Hisbullah may be produced in Court tomorrow https://t.co/QSoEvjaLg1 #FinancialChronicle #Srilanka #LK

— Financial Chronicle (@SriLankaEquity) February 17, 2021
On 11th March 2021, human rights ambassadors of European countries expressed deep concern over the continued incarceration of prominent human rights lawyer Hejaaz Hizbullah by the Sri Lankan government since April 2020. The statement was issued by human rights ambassadors of the Netherlands, Germany, the United Kingdom, Sweden, Estonia, Lithuania, Luxembourg and Finland.
"Mr. Hizbullah is a leading advocate of the rights of people from minority communities including Muslims in Sri Lanka, and a vocal critic of discriminatory policies," the European human rights ambassadors said.
As previously documented, human rights defender Hejaaz Hizbullah has been held in detention under the country's repressive Prevention of Terrorism Act (PTA) without charge or any credible evidence being put before a court. He has been accused of links to the perpetrators of the 2019 Easter Bombings. Under the PTA, the authorities can detain any 'suspect' for up to 18 months, using detention orders lasting 90 days at a time. Hizbullah has been a vocal critic of the government's treatment of the Muslim community.
He was finally produced in front of the courts on 18th February 2021 following a directive from the Attorney General. His next hearing around his detention is scheduled for 18th March.
Surveillance and intimidation of civil society 
Sri Lanka at 'tipping point' with risk of return to past atrocities, activists warn https://t.co/ZjxA16LH2C

— The Guardian (@guardian) February 24, 2021
The report published by the Office of the United Nations High Commissioner for Human Rights (OHCHR) in January 2021 noted that a pattern of intensified surveillance and harassment of CSOs, human rights defenders and victims appears to have intensified over the past year, including of those who supported the implementation of resolution 30/1.
As of December 2020, over 40 civil society organisations had approached OHCHR with reports of harassment, surveillance and repeated scrutiny by a range of security services - including the Criminal Investigation Department, the Terrorist Investigation Division and State Intelligence officials – who questioned them about administrative details and activities of the organisation, lists of staff, including their personal contact details, donors and funding sources. Some were questioned about the whereabouts of their relatives abroad. The Secretary-General and Special Procedures have received similar allegations of surveillance and reprisals.
The report stated that this has been reinforced by changed institutional arrangements for NGO oversight, and the use of laws on counter-terrorism or money-laundering to stifle legitimate activities.Significantly, the government moved the NGO Secretariat, which supervises and monitors the registration and operations of NGOs, from a civilian Ministry under the purview of the Ministry of Defence and its intelligence arms. There are also worrying reports that the Voluntary Social Services Organisations (VSSO) Act that regulates operations of NGOs will be reviewed to control their access to foreign funds.
Other laws, such as the International Covenant on Civil and Political Rights (ICCPR) Act, which prohibits incitement to hatred, have also been misused in a discriminatory or arbitrary manner to arrest or detain people for peacefully expressing their opinion. For example, Ramzy Razeek, an online activist, was arrested on 9th April 2020 under this law and the Computer Crimes Act for using the expression "ideological jihad" in a post on his Facebook page criticising anti-Muslim campaigns. A few days before, he had filed a complaint with the police about death threats that he received following his posting. He was released on bail on 17th September 2020 on account of his deteriorating health.
Expression
Former journalist at risk of arrest
Ex-Sirasa Journalist Eureka De Silva Facing Imminent Arrest Upon Her Return To Sri Lanka Over Facebook Post https://t.co/2R5WIXSUXe pic.twitter.com/betRleH3Nk

— Asian Mirror (@AsianMirror) November 24, 2020
A former TV journalist, Eureka De Silva, presently residing in Australia, is facing arrest upon her return to the country. In November 2020, a police media spokesman, DIG Ajith Rohana, confirmed that De Silva was under investigation over a Facebook post regarding incorrect information shared about the handling of the COVID-19 situation by the Sri Lankan authorities.
Furthermore, 27 other individuals are under investigation for the same offence. The police have already arrested some of them while others are being traced. Speaking in Parliament, SJB parliamentarian Imthiaz Bakeer Markar said the government had handed over a list of 200 journalists to the police to be arrested for disseminating "false information" on social media.
Health concerns around detained former police investigator
On 27th November 2020, Amnesty International reported that Shani Abeysekara, the former director of the Sri Lankan Criminal Investigations Department (CID) was transferred to a remote prisoner treatment centre after he was infected with COVID-19, reportedly against his wishes and without his family being informed of his health situation or whereabouts.
Detained since 31st July 2020, his family believes that he is being targeted for exposing human rights abuses implicating top politicians. Amnesty International said there is grave concern for his life, safety, health and wellbeing as he suffers from existing heart conditions and diabetes.
Abeysekara oversaw the investigations into a number of emblematic human rights cases. These included the case of the forcibly disappeared cartoonist Prageeth Ekneligoda, the assault on journalist Upali Tennekoon, the murder of journalist Lasantha Wickrematunge and the disappearance of 11 youth (the 'Navy 11'). Current members of the government and their close associates, including president Gotabaya Rajapaksa, were implicated in some of these investigations.
According to Amnesty International, the current government has accused Abeysekara of carrying out a political agenda. The Colombo Crimes Division (CCD) arrested Abeysekara over allegations of fabricating evidence over a firearms case. His bail hearing is scheduled on 17th March 2021.
Four year prison term for contempt of court for parliamentarian
On 12th January 2021, the Supreme Court of Sri Lanka found Ranjan Leo Sylvester Alphonsu, known also as Ranjan Ramanayake, guilty of contempt of court and sentenced him to four years of 'rigorous imprisonment'. The accused is presently a Member of Parliament, formerly a deputy minister, and is also a well-known actor.
The reason for the charge and the conviction was an interview that was broadcast in 2017 with some words to the effect that the "'Majority in Sri Lanka are corrupted judges, corrupted lawyers. They work for money'".
According to the Asian Human Rights Commission (AHRC), the United Nations Human Rights Committee (UNHRC) had on two separate occasions examined communications filed against the Sri Lankan by two of its citizens and held that disproportionate punishment had been practised with regard to Contempt of Court charges. In these two earlier occasions, one person was sentenced to one year and the other to two years. These sentences were held to be arbitrary deprivation of liberty by the Courts and by the State. The UNHRC recommended that measures should be taken to bring about legislation on Contempt of Court in terms of international norms and standards. However, these recommendations have been ignored.