Activists in Malaysia facing various forms of harassment from authorities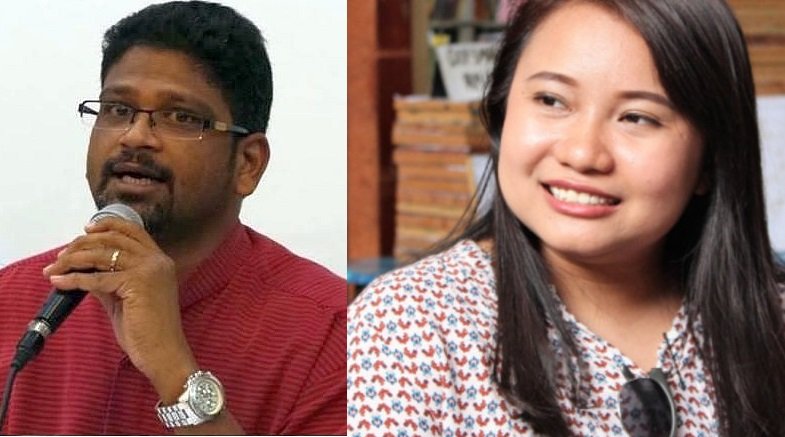 In past few months, human rights activists Sevan Doraisamy and Rama Ramanathan faced harassment, including being taken in for questioning for speaking up and criticising the authorities. Activist Maryam Lee is being investigated by the Islamic authorities because of her writing. The courts have also failed to protect women's rights group Sisters in Islam from being deemed "deviant' by the Islamic authorities.
Concerns have also been raised around the use of the Security Offences (Special Measures) Act to detain a dozen individuals in October 2019 accused of links to the Liberation Tigers of Tamil Eelam (LTTE), the defunct Sri Lankan armed group. The law has been misused previously to suppress dissent and allows for 28 days' detention without trial. Five of those arrested have alleged torture or ill-treatment in detention. The 12 of them have since been charged under the Penal Code with supporting the LTTE via their social media accounts and possessing items related to the LTTE.
Association
Police file defamation charges against human rights defender for exposing abuse
On 11th October 2019, police filed a defamation charge under Section 500 of the Penal Code and Section 233 of the Communications and Multimedia Act against Sevan Doraisamy, the Executive Director of human rights group Suara Rakyat Malaysia (SUARAM), over comments made during a press conference that a father and son had been wrongfully detained and ill-treated.
14 local civil society groups condemned the charges, saying the move was "a form of intimidation and reprisal" against a human rights defender. They called for the "use of repressive criminal defamation laws" to be repealed as it was "clearly a violation of the right to freedom of expression and freedom of speech".
The Asian Forum for Human Rights and Development (FORUM-ASIA) and Asia Democracy Network (ADN), on behalf of their members, expressed solidarity with Sevan Doraisamy - who is also an Executive Committee member of FORUM-ASIA - stating that "the police and other sectors of the government must refrain from using these tactics, and instead support an enabling environment for all human rights defenders".
Doraisamy has been subjected to several instances of intimidation, including police questioning in December 2018 over his involvement with an activist group.
Activist interrogated by police for blog post 
Retaliation on police critic Rama Ramanathan underlines urgency of police reform - https://t.co/OTAaltcevA pic.twitter.com/4oMHklqHvM

— Aliran (@aliranmalaysia) November 15, 2019
Human rights activist Rama Ramanathan from the Citizens Action Group on Enforced Disappearances (CAGED) was questioned by the police on 7th November 2019 after he had written a blog piece in October around an alleged attempt at forcible disappearance of activist Jufazli Shi Ahmad that was thwarted by Jufazli's sister. Police also reportedly raided his apartment without a warrant and removed his laptop and phone.
According to reports, Ramanathan is being investigated under Section 504 of the Penal Code and Section 233 of the Malaysian Communications and Multimedia Commission Act which deals with "intentional insult" and "the improper use of network facilities".
Ramanathan believes the police harassment he is facing is due to his advocacy for police accountability and his critical public comments on a proposed Independent Police Complaints of Misconduct Commission (IPCMC) bill.
Human rights advocacy group Suara Rakyat Malaysia (Suaram) criticised the investigation, saying that "this was an attempt to intimidate and stymy the work of activists" and that the Pakatan Harapan government was complicit for its failure to "end the practice of harassment and intimidation against human rights defenders".
The national human rights commission SUHAKAM also urged the police to stop their investigation and expressed concern over the police probe. It stated:
"Being able to champion victims of human rights abuses, without fear of undue interference, is vital for these activists to operate. Action should only be commenced to verify the truth of such allegations and not to punish the messenger."
Islamic authorities probe activist for her writings
Activist Maryam Lee was summoned by the Selangor Islamic Religious Department (Jais) in October 2019 for allegedly insulting the Islamic faith in her book "Unveiling Choice", which was published and launched earlier in 2019.
The charge under Section 10(a) of the Syariah Criminal Enactment 1995 carries a maximum punishment of a RM3,000 (USD 720) fine, or three years in jail, or both, if found guilty. The enactment criminalises "any person who by words which are capable of being heard or read or by drawing, marks or other forms of representation which are visible or capable of being visible or in another matter: (a) insults or brings into contempt the religion of Islam".
The Joint Action Group for Gender Equality (JAG) urged the authorities to "immediately cease investigations into activist Maryam Lee". The group stated that "instead of frightening women into not telling their stories, the government and religious authorities should be creating safe spaces for women to come forward, share their experiences and be believed".
Court dismisses challenge by women's rights group against edict
Despite the High Court decision on the fatwa against Sisters in Islam, it will continue to champion the rights of women in Malaysia. #FMTNews https://t.co/r9t3UZ8Hrd

— Free Malaysia Today (@fmtoday) August 27, 2019
On 27th August 2019, the High Court dismissed an application by Sisters In Islam (SIS) challenging the decision of the Selangor Fatwa Committee which declared it "a deviant organisation which had deviated from the true teachings of Islam". The court ruled that a fatwa (edict) is the exclusive jurisdiction of the Syariah Court.
The High Court, presided over by Justice Datuk Nordin Hassan, stated that civil courts do not have jurisdiction over matters concerning Islam, as such cases should be referred to the Syariah Court. Justice Nordin further argued that the fatwa "does not infringe on SIS' free speech, and that despite SIS being a registered organisation, the fatwa applies to it as the office bearers are Muslims."
The fatwa, which was gazetted in July 2014, singled out Sisters In Islam (SIS) in a sweeping declaration that the organisation and any individuals, organisations or entities holding on to "liberalism" and "religious pluralism" are deviant from Islamic teachings.
Human rights group Lawyers for Liberty (LFL) criticised the decision. In a statement, LFL's legal coordinator Zaid Malek said that SIS plays a crucial role in the promotion and protection of human rights for all. It called on the authorities to "protect all human rights defenders and organisations which is crucial in ensuring that they can work in a safe, supportive environment that is free from attacks, reprisals and unreasonable restrictions".
Expression
Activist arrested for sedition
It is so frustrating that our fundamental liberties are still at stake, sedition! late night arrests! intimidation! Come on PH combine your political will and set things right! Yes you can! | Suaram slams Khalid Ismath's late-night arrest https://t.co/jmkH0Pivsy

— The IvyGram (@ivyjosiah) September 14, 2019
In September 2019, activist Khalid Ismath was arrested at his home under Section 4(1)(b) of the Sedition Act for allegedly posting a seditious tweet aimed at the Queen. His mobile phone was also seized. Khalid's arrest happened hours after the Queen posted on Instagram telling the public that she had left Twitter for personal reasons and there was no need to lodge any police reports.
Human rights group, Suara Rakyat Malaysia (Suaram) slammed the arrest and said the arrest was "nothing more than intimidation" by the police.
Amnesty International Malaysia executive director Shamini Darshni Kaliemuthu said in a statement:
"Once again, the repeated use and the wide nature of the Sedition Act signals a stagnation of the efforts to improve freedom of expression in the country. Despite repeated promises to do away with the Sedition Act, the Pakatan Harapan government has failed to live up to its word."
The draconian anti-sedition law had been used by the previous government to silence, harass or jail hundreds of government critics, including human rights activists, journalists, academics, lawyers and opposition politicians. The new Pakatan Harapan government had committed to repealing the law in its 2018 manifesto.
Anti-Fake News Act repealed
In October 2019, The Anti-Fake News Act was repealed again by the lower house of parliament. The government first attempted to repeal the bill in September 2018 but this was rejected by the opposition-controlled senate. However, the upper house can only block a bill once.
The Anti-Fake News Act 2018 was passed by the government of former Prime Minister Najib Razak just weeks before he lost the May 2018 election, in a step that critics said was designed to stifle dissent. UN experts and Malaysian civil society had raised serious concerns that the law is inconsistent with international standards and may be used to violate the right to freedom of expression.
Phil Robertson, deputy Asia director of Human Rights Watch said:
"The repeal of the anti-fake news law is welcome news that is long overdue. Such anti-fake news laws are just a rebranding of government censorship in a more appealing form, designed to fool people while enabling officials to shut down criticism they don't like."
Continued use of law to silence expression online
As previously documented, the Communication and Multimedia Act (CMA) has been used extensively to silence freedom of expression online. In particular, Section 233(1)(a) of the CMA criminalises "transmitting offensive communication with the intent to cause annoyance to other people" and carries a maximum one year in jail or a fine of up to 50,000 ringgit (USD 12,200), or both.
Peaceful Assembly
Police probe legality of rally in support of Hong Kong protests
A rally in Malaysia in September 2019, held to show solidarity with anti-government protesters in Hong Kong, was investigated as an 'illegal gathering' as the police were not informed.
Under Malaysia's Peaceful Assembly Act, marches and rallies require that police be informed 10 days ahead. Amendments to the law made in July 2019 did not include provisions for spontaneous protests, a right under international law and standards.
However, according to human rights lawyer New Sin Yew, failing to give notice is no longer an offence due to a 2015 Court of Appeal decision that ruled a person could not be criminalised for exercising his or her freedom of assembly.
Student activist Liew Liang Hong, who organised the protest, said that "very few people here dare to speak out against China. But this is a global issue. We intend to hold many more events like this".