Activists, lawyers and critics continue to face harassment and defamation charges in Thailand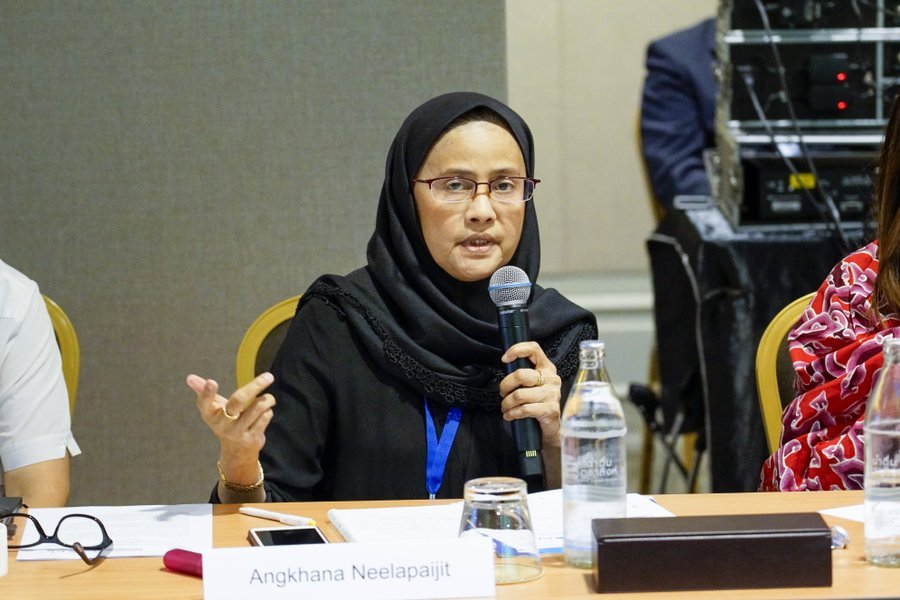 In the last few months, there has been harassment against activists, lawyers and government critics from both the state as well businesses. The bones of a disappeared ethnic Karen activist were found. A new report by Human Rights Watch documented cases of peaceful critics who have been prosecuted by the government for the last five years and concerns have been raised about a new anti-fake news centre established by the authorities. A study finds that SLAPP or strategic lawsuits against public participation are on the rise.
Association
Criminal defamation complaint filed against human rights defender
On 25th October 2019, Thai company Thammakaset Company Ltd., which operated chicken farms in Lopburi Province, filed a criminal defamation complaint against Angkhana Neelapaijit, a former commissioner of the National Human Rights Commission of Thailand (NHRCT). She is a winner of the prestigious Ramon Magsaysay Award for 2019.
Thammakaset alleged that Neelapaijit had violated Articles 326 ('defamation') and 328 ('libel') of Thailand's Criminal Code by publishing two tweets in support of woman human rights defender Sutharee Wannasiri and lecturer Ngamsuk Ruttanasatain on 3rd December 2018 and 28th June 2019 respectively.
As previously documented, Thammakaset has filed criminal and civil complaints against a number of human rights defenders, including former employees, for reporting labour rights abuses.
Activists harassed before regional forum
In September 2019, prior to the regional ASEAN Peoples' Forum (APF) in Thailand, it was reported that several human rights defenders and activists received threats and anonymous messages from government officials. LGBT rights activist, Sirisak Chaited, received an anonymous email requesting her "cooperation" to discuss human rights issues at the ASEAN Peoples' Forum "without harming the public image of the country". The email said that speaking the truth directly and criticising the country would "hurt the collective interest" of both Thailand and ASEAN, and that the email was sent "because of the concerns for her safety".
Another activist, Siyeed Alam, the Chair of the Rohingya Association in Thailand, received a message from Special Branch police officers regarding his participation in the forum. They contacted him to get information on members of the Rohingya community who were attending the forum and told him to schedule a meeting with them prior to the forum.
Lawyers facing legal harassment
Thailand: Two lawyers subjected to legal harassment for their defense of human rights researcher Andy Hall https://t.co/dgJqUDTJZA

— Andy Hall (@Atomicalandy) November 12, 2019
On 12th November 2019, the Bangkok Civil Court conducted its first hearing in a case by a Thai fruit processing company, Natural Fruit Company, against two lawyers. The lawyers are representing human rights researcher Andy Hall in several criminal and civil proceedings brought against him seeking damages claimed to have resulted from his research into labour rights abuses allegedly committed by the company. In the lawsuit against the lawyers, the company is seeking 50 million Thai baht (approximately 1.65 million USD) as compensation for lost business.
In the complaint, Natural Fruit claims that Andy Hall and his lawyers "excessively exercise their rights", "intentionally damage the company's reputation", and "caused financial loss in their business" when they brought a case against the company in 2017.
Frederick Rawski, ICJ Asia Pacific Regional Director said:
"This legal action is part of a pattern of harassment by Natural Fruit against Andy Hall. It is a bedrock principle of the rule of law that lawyers should not be identified with their clients or their clients' causes as a result of discharging their function."
Bones of disappeared human rights activist recovered
Bones at Nat'l Park Belong to Missing Karen Activist: DSI- a heartbreaking news indeed and now, we ask the important question: Will there be justice for Billy and his family. https://t.co/sHEQyDtlAr via @KhaosodEnglish

— Shazeera Zawawi (@shazyra) September 3, 2019
On 3rd September 2019 the Department of Special Investigation (DSI) held a press conference to announce that the bones of prominent ethnic Karen activist Porlajee 'Billy' Rakchongcharoen who was forcibly disappeared more than five years ago, had been recovered.
In April 2014, the then-head of Kaeng Krachan National Park, Chaiwat Limlikitaksorn, and his staff arrested Billy for alleged illegal possession of a wild bee honeycomb and six bottles of honey. Park officers claimed they released Billy after questioning him briefly and had no information regarding his whereabouts. In September 2014, Police Region 7 investigation officers filed malfeasance charges under article 157 of the Penal Code against Chaiwat and four other park officers for unlawfully detaining Billy. They found no record of Billy's release from custody.
Ever since he went missing, civil society groups have called for the government to conduct a thorough investigation to bring the perpetrators to justice. After his remains were found, Amnesty International (AI) and the International Commission of Jurists (ICJ) released a joint statement noting that that Billy was the victim of enforced disappearance and urging the Thai Ministry of Justice to identify the perpetrators. They emphasised that the disappearance of Billy highlighted the serious risks that activists and human rights defenders face in Thailand, and that the government should make enforced disappearance a crime.
Expression
New report by HRW on the criminalisation of freedom of expression
During 5 years of military rule, critics of the Thai government were repeatedly harassed, arrested and prosecuted. New @hrw report calls on the new "civilian" government to amend or repeal abusive laws and end the repression of critical voices. https://t.co/MqMM6dyrTw pic.twitter.com/dmGP6qlFSN

— Linda Lakhdhir (@LLakhdhir) October 25, 2019
In October 2019, Human Rights Watch (HRW) released a new report "To Speak Out is Dangerous: The Criminalization of Peaceful Expression in Thailand" documenting cases of peaceful critics who have been prosecuted by the government using a range of broad and vaguely worded laws and orders. Among those targeted were journalists, students, activists and lawyers. The report covers the period between the military coup in May 2014 and nationwide elections in March 2019.
Human Rights Watch said that "concerned governments should press Thailand to protect the rights to expression and assembly, and reform laws penalising peaceful speech to bring them in line with international standards".
Linda Lakhdhir, Asia legal advisor at Human Rights Watch said:
"The five years after Thailand's military coup were marked by intense government repression of peaceful speech and assembly, and little has changed under the new government. "The government needs to stop prosecuting its critics and dissidents, which only makes a mockery of claims that democratic rule has been restored."
New anti-fake news monitoring centre raises concerns about free speech
#Thailand unveils 'anti-fake news' center to police the internet https://t.co/gOMlp6iNkq

— Asia-News-De (@base_thai) November 1, 2019
On 29th October 2019 the Minister of Digital Economy and Society, Buddhipongse Punnakanta announced that Thailand's first 'fake news monitoring hub' would start operating from 1st November. By using artificial intelligence and human resources, this center will monitor social media posts to combat disinformation or fake news which would "mislead people" or "damage the country's public image".
Human rights groups in the country say that this could easily be used as a smokescreen to stifle dissent while keeping a close eye on public discussion of Thailand's monarchy. A Senior Researcher at Human Rights Watch stated that the centre is just another tool for censorship which puts a greater chokehold on free expression in Thailand.
Strategic lawsuits against public participation on the rise
The study found 95% of #SLAPP cases in #Thailand include criminal charges and involve - political activists (39%), community groups or workers (23%) and journalists (9%) and the most common activity is expressing views online (25%). https://t.co/mtF257Te0V pic.twitter.com/1LYgsfSfKu

— iLawFX (@iLawFX) November 29, 2019
A new study by Thailand's Human Rights Lawyers Association into the rise of SLAPP or strategic lawsuits against public participation in Thailand shows that "since 1997, 212 SLAPP cases have been brought to Thai courts, some for as little as one social media post". According to the report SLAPPs are often libel cases and in Thailand individuals can face up to two years in prison and 200,000 Baht fine (USD 6,874) if found guilty of publicly damaging the reputation of other persons.
According to the report, the situation has got "progressively worse since the coup in 2014", with the military creating and applying laws in ways that "protect the powerful and prioritise corporate or government interests against the public good".
The study also found that 95 percent of SLAPP cases in Thailand involve criminal charges and those targeted include political activists, community groups or workers, human rights defenders (16%) and journalists and the most common activity cited as the reason for the suit is expressing views online.
Peaceful assembly
Six pro-democracy activists acquitted
In September 2019, Bangkok's Criminal Court acquitted six prominent pro-democracy activists. The court ruled that a 2018 rally demanding a free and fair election was a peaceful exercise of fundamental freedoms guaranteed by the Thai constitution.
On 20th September 2019, the Bangkok Criminal Court acquitted Nuttaa Mahattana, Chonthicha Jangrew, Sirawith Seritiwat, Anon Numpha, Kan Pongprapaphan, and Sukrit Piensuwan, all members of a network of pro-democracy activists calling themselves the "We Want Elections" group. Authorities had charged them with illegal assembly and sedition for protesting on Ratchadamnoen Avenue near Bangkok's Democracy Monument in February 2018.
According to Human Rights Watch, the court dismissed the illegal assembly charge because the then-ruling National Council for Peace and Order (NCPO) lifted the ban on a political assembly of more than five persons in December 2018. The court also rejected the sedition charge on the basis that the activists had held their rally peacefully in accordance with the constitution. The court also ruled that the activists' criticisms of the military and government leaders were made in good faith according to democratic principles, and therefore did not constitute an act of incitement.
Youths protest as part of global climate strike
In September 2019 more than 200 youth activists staged a protest in front of Thailand's Ministry of Natural Resources and Environment in Bangkok to protest against the government's inaction on climate change. Environmental activists and youth protesters lay on the ground and played 'dead' as they staged the protest as part of a worldwide movement called the "Global Climate Strike." Protests took place in 150 countries to demand action prior to the United Nations Emergency Climate Summit held in New York on 23rd September. At the end of the protest, a senior officer at the ministry accepted a letter from the students.