Activists, journalists continue to face reprisals as COVID-19 law exacerbates violations in Cambodia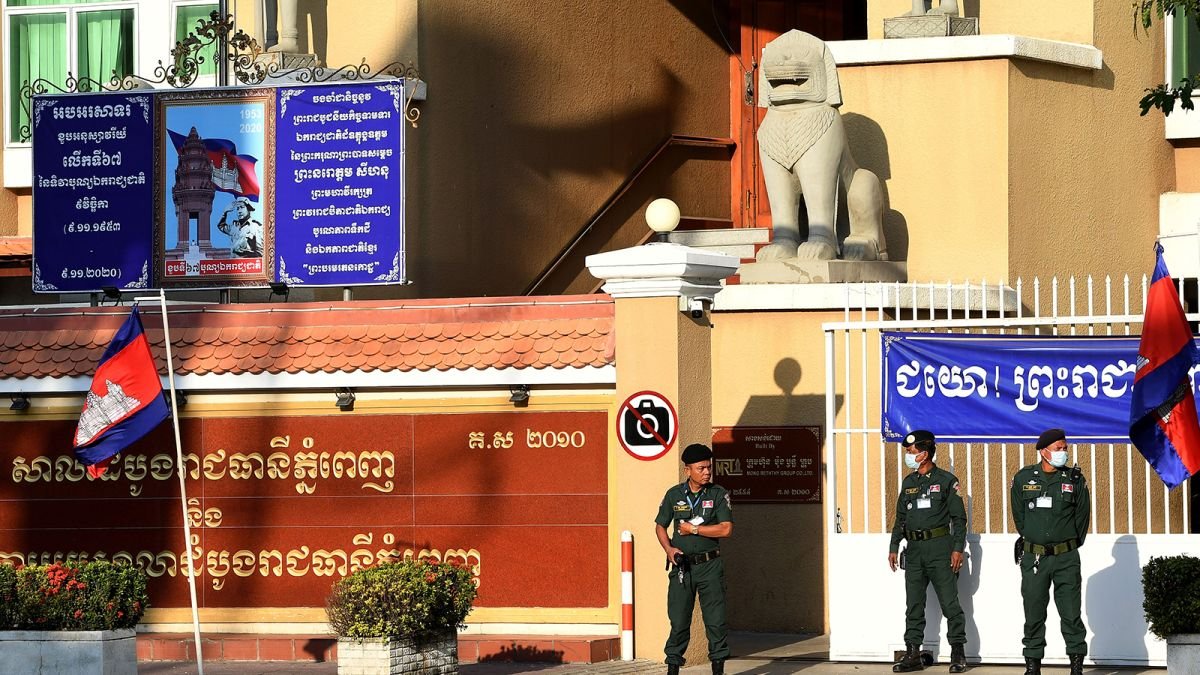 Amidst the increasing cases of COVID-19, the government passed the "Measures to Prevent the Spread of COVID-19 and other Deadly and Serious Infectious Diseases" law on 11th March 2021. The law includes severe penalties, including long prison terms and hefty fines for those who violate the preventive measures outlined in the law. It has been used to stifle reporting and expression on the COVID-19 pandemic and has added to the slew of repressive legislation currently being used against human rights defenders and journalists in the country.
The Fundamental Freedoms Monitoring Project, a joint project by civil society organisations Cambodian Center for Human Rights, Adhoc and the Solidarity Centre, released its fifth annual report on 30th April 2021, which detailed a total of 384 incidents related to the exercise of fundamental freedoms, particularly those related to freedom of association and speech, perpetrated by national and local authorities during the period 1st April to 31st December 2020.
The study listed hundreds of cases of individuals who were summoned, questioned, charged or convicted for merely exercising the rights to freedom of association and freedom of speech. It also noted that 45 of those arrested were affiliated with the main opposition party, CNRP, which has been dissolved. The state crackdown reached a peak in July 2020, with a surge in activist arrests following the arrest of Rong Chhun, president of the Cambodian Confederation of Unions. The report noted that these incidents were a violation of both domestic and international human rights law, adding that state officials often weaponised the criminal code to further state aims.
Wendy Sherman, the US Deputy Secretary of State, met with Prime Minister Hun Sen on 1st June 2021. She called on the Prime Minister to drop "politically motivated cases" against the opposition and activists. Sherman reportedly raised concerns on the government's crackdown against civil society, and attacks against fundamental freedoms. She emphasised the importance of human rights in Cambodia's relationships with the US and the European Union, and called on the government to drop the charges against critics and to reopen civic space ahead of the 2022 commune and the 2023 elections.
In recent months, environmental defenders have been charged and convicted for advocacy against environmental destruction. Opposition members, journalists and perceived dissidents continue to face reprisals from the government and from non-state actors.
Expression
Environmental defenders facing judicial harassment
🇰🇭#Cambodia: Yesterday 3 environmental activists from @CambodiaMother were sentenced to jail for 18 to 20 months. Their 'crime'?

Organising a one woman protest against the filling of lakes in the capital. Release all 3 activists now, our statement: https://t.co/vn3NWK0HGL pic.twitter.com/87C4VZexs2

— CIVICUS (@CIVICUSalliance) May 6, 2021
On 5th May 2021, environmental human rights defenders Phuon Keo Raksmey, Long Kunthea, Chea Kunthin, Thun Ratha and Alejandro Gonzalez-Davidson, affiliated with Mother Nature Cambodia and Khmer Thavrak, were convicted of incitement and sentenced to between 18 and 20 months in prison over attempts to organise a march to the prime minister's residence to protest the filling-in of a city lake in 2020.
Three of them, Phuon Keoraksmey, Long Kunthea and Chea Kunthin were sentenced to 18 months in prison, while Thun Ratha and Alejandro Gonzalez-Davidson each received 20 months. All were asked to pay a fine amounting to USD 1,000.
As previously documented, Phuon Keoraksmey, Long Kunthea and Thun Ratha from environmental group Mother Nature, were detained in September 2020 and later charged with "incitement to cause societal chaos" for planning the peaceful protest. Gonzales-Davidson and Chea Kunthin were sentenced in absentia.
Mother Nature Cambodia is an environmental rights organisation that advocates and campaigns locally and internationally for the preservation, promotion and protection of Cambodia's natural environment. As part of their work, the organisation monitors and challenges gross environmental violations and also raises awareness, educates and empowers people by providing them with training and financial support.
The UN Rapporteur on the situation of human rights, Mary Lawlor, released a statement condemning the convictions and called for their release. The statement called for the government to immediately and unconditionally release the three human rights defenders and urged the international community to support the work of human rights defenders in Cambodia. The statement was also endorsed by Special Rapporteur on human rights and the environment, and Special Rapporteur on the rights to peaceful assembly and of association, Clément Voule.
Cambodia charges environment activists with insulting the king https://t.co/bDtqPFeUet

— BBC News (World) (@BBCWorld) June 22, 2021
On 21st June 2021, four environmental activists affiliated with Mother Nature Cambodia – Sun Ratha, Ly Chandaravuth, Yim Leanghy and Alejandro Gonzalez-Davidson – were charged for investigating river pollution in the Tonle Sap river in Phnom Penh.
Sun Ratha and Yim Leanghy were charged with both "plotting" and "insulting the King", under articles 453 and 437 (bis) of the Cambodian Criminal Code, which carry maximum prison sentences of 10 years and 5 years respectively, while Ly Chandaravuth was charged with "plotting" only. Yim Leanghy and Ly Chandaravuth were sent to pre-trial detention in CC1 prison and Sun Ratha was sent to CC2 prison. Alejandro Gonzalez-Davidson was charged with both "plotting" and "insulting the King" in absentia.
Journalists, individuals silenced for reporting and commentary on the pandemic
#Cambodia : stop silencing critical commentary on COVID-19 https://t.co/XDEFObPEGW via @ICJ_org

— icj (@ICJ_org) May 25, 2021
In the last few months, the government has tried to limit critical commentary on the handling of the COVID-19 pandemic. On 15th March 2021, Phnom Penh authorities arrested activist and member of the dissolved opposition party, the Cambodia National Rescue Party (CNRP), Thorn Kimsan for criticising the Chinese COVID-19 vaccine and posting on social media that the product is unsafe and has affected several victims. Local authorities argued that her statement "gravely affected social security".
In a press release on 1st May 2021, the Government Spokesperson Unit demanded the immediate cessation of social media posts intended to "provoke and create chaos" in the context of the COVID-19 pandemic. On 3rd May 2021, the Ministry of Information announced that it would limit reporting within 'red zones' to state media or journalists only. This placed a de facto ban on independent reporting.
Farmers in the Sa'ang district were told on 4th May by Kandal provincial authorities to stop posting photos of vegetables spoiling during the lockdown, as they were affecting the morale of other farmers and of the community. One farmer who had been uploading photos on having to throw away vegetables because of market closures said he was pressured by the officials to sign a contract to stop posting.
On the same day, the Information Ministry threatened legal action against journalists covering stories in 'red zone' areas with strict lockdowns, hospitals and treatment centres. The government said that these stories could cause "social chaos and misunderstanding" among the public.
On 24 May, eleven human rights organisations, including CIVICUS, called on Cambodia to stop silencing critical commentary in relation to the COVID-19 outbreak. In its press release, the organisations said that the government's actions, which included prosecuting media and individuals for their commentary and preventing reporting, had reinforced an already "widespread atmosphere of self-censorship" and contributed to the lack of government accountability.
The organisations called on the government to end the harassment of journalists and individuals reporting and speaking out on COVID-19, and to take steps towards ensuring a "free, independent and diverse media environment." They also called for the repeal or substantial amendment of the COVID-19 law and other legislation to ensure their compliance with international human rights standards.
Harassment and attacks against journalists remain pervasive
Journalist have continued to face harassment and attacks for their reporting. On 14th March 2021, Pran Sean, a Siem Reap-based journalist and publisher of digital news outlet Anachak Khmer, was beaten while sleeping in a hammock outside Beng Melea temple. He sustained a head wound requiring 20 stitches and two broken teeth. Pran Sean has shared fears that the attack was premeditated and was a retaliation by illegal loggers for his reporting on illegal timber trading.
On 11th May 2021, two digital news journalists from Voice of Democracy (VOD) and TN Hot News reported being harassed by authorities while covering villagers protesting in two separate land disputes. VOD reporter Sokun said that he was told to delete photos from his smartphone, and another official came to confiscate his recorder and notebook. The authorities also reportedly tore up his notes and deleted audio from his recorder. His equipment was later returned.
In March 2021, the Cambodian Journalists Alliance Association (CamboJA) released a report detailing 35 incidents of journalist harassment involving 72 journalists in 2020, with the most common forms of harassment being imprisonment and violence. Online journalists were the most targeted by these attacks. The report noted that these were, in part, related to the country's crackdown against critical commentary on the government's handling of the pandemic.
On World Press Freedom Day, 3rd May 2021, 45 non-governmental organisations expressed concerns over the continuing degradation of Cambodia's media climate and urged the government to stop harassing independent media outlets and journalists for exercising their right to freedom of expression. The groups further called on the government to repeal its repressive legislation and to end the impunity for harassment against journalists.
Cambodia ranked 144th out of 180 countries in 2021 World Press Freedom index
Press freedom group Reporters Without Borders (RSF) ranked Cambodia 144th out of 180 countries in the 2021 World Press Freedom Index. The report noted that Cambodia "adopted extremely draconian laws or decrees" in 2020 which criminalised criticism of the government. It used the crisis to promote censorship, block websites and intimidate and arrest journalists. 
A state of emergency declared in 2020 provided it with "unprecedented power" to censor the media. The index is measured on criteria including pluralism, independence of the media, legislative framework and media environment.
UN Special Rapporteur to Cambodia raises concerns on national internet gateway
In his first speech since taking office, the UN's newly appointed special rapporteur to #Cambodia, Vitit Muntarbhorn, raised concern over a new law creating a national internet gateway and over any form of control over media or online access.https://t.co/vVeiLV6iCn

— Pokpong Lawansiri (@pokpongl) May 27, 2021
At the end of May 2021, Professor Vitit Muntarbhorn, the recently-appointed UN Special Rapporteur on the situation of human rights in Cambodia, raised concerns over the country's new law creating a national internet gateway, during a forum organised for World Press Freedom Day. The Rapporteur argued that any limitations to access to information must abide by international standards of legality, necessity and legitimacy.
As previously documented, Hun Sen signed a sub-decree which establishes a National Internet Gateway in February 2021. The sub-decree would require internet service providers in Cambodia to reroute services through the gateway. It would allow the blocking of online connections, if deemed to be detrimental to ''safety, national revenue, dignity, cultural traditions and customs' -- notions that can be interpreted broadly by the government.
Civil society groups have raised concerns on how this sub-decree will enable broad surveillance and the closing of civic space in the country. They further raised concerns about the lack of independent oversight provided for in the sub-decree.
The Rapporteur argued that the law and other forms of control over media or online could lead to repression in Cambodia. He further showed support towards the creation of an access to information law that would balance access to information with privacy.
Youth activists held overnight for petition drive
On 25th March 2021, Cambodian police prevented a youth group from collecting thumbprints as part of a petition drive asking Prime Minister Hun Sen to resolve the country's economic hardships. Facing pressure from authorities, the group had earlier cancelled plans to march to Hun Sen's cabinet office in the capital to call on the government to provide payment to millions who have lost their livelihoods because of the pandemic.
Keo Thithlida, president of the Women for Society Association, and six other youths were held overnight by Stung Meanchey I district police and released the next day after putting their thumbprints on a document handed to them by the police. The youths later shared that they would suspend their campaign and have reportedly refused to provide further details on the incident, raising concerns that they were intimidated by the police.
Association
Opposition CNRP activist attacked by unidentified men
On 12th May 2021, an activist from Cambodia's outlawed opposition party, Cambodia National Rescue Party (CNRP), was attacked by unidentified men armed with metal bars and pipes, leaving him hospitalised with a fractured skull. The activist, Sin Khun had been working to provide food relief to those stuck in the so-called 'red zones', or areas with lockdowns because of COVID-19 infections.
According to Radio Free Asia, the attack against Sin Khun brings to 29 the number of estimated attacks against CNRP since March 2021. Perpetrators of these attacks have yet to face justice.
Since 2017, the CNRP has faced politically-motivated accusations that it colluded with the United States government to foment a so-called "colour revolution", characterised as a coup d'état by the Cambodian authorities. This accusation formed the basis of the arbitrary dissolution of the CNRP by the Supreme Court in November 2017.
Hundreds of CNRP activists and supporters have been arbitrarily arrested, detained, and have faced politically motivated criminal charges since then. Many CNRP activists have been physically attacked and injured by unknown assailants during this period, with no credible investigations into the attacks to date.
Thai activist in Cambodia remains missing a year on
A year later, there are still no clues to the fate of Thai dissident Wanchalearm Satsaksit, who was abducted in Cambodia.https://t.co/XM1HfFBUDQ

— The Diplomat (@Diplomat_APAC) June 5, 2021
4th June 2021 marked one year since the enforced disappearance of Thai activist Wanchalearm Satsakit, who was abducted in Cambodia's capital.
Human rights groups have decried the lack of progress by authorities on resolving the case. Amnesty International called Cambodia's investigation into the disappearance, which had been under way since September 2020, "negligent" and called for Thailand and ASEAN to launch independent investigations. Human Rights Watch asserted that the Thai and Cambodian governments had "collaborated to harass, arbitrarily arrest, and forcibly return exiled dissidents", in violation of their obligations under international law
As previously documented, Wanchalearm was abducted in Phnom Penh by armed men days after he posted a message on Facebook criticising Thai Prime Minister Prayut Chan-ocha. Wanchalearm left Thailand in 2014 after the coup, when he was summoned for questioning by the military. In 2018, he was issued an arrest warrant for his Facebook page which was critical of the Thailand government.
His sister, Sitanun Satsaksit had earlier shared with the media that she was on the phone with him when he was taken. She said that she later received a phone call from someone who claimed that Wanchalearm had been abducted. He is reportedly the ninth exiled critic of Thailand's military and its monarchy who has been disappeared in recent years.
Peaceful assembly
Soldiers shoot land rights protesters
Soldiers fired into a group of land rights protesters in the Tuol Pich commune, in Kandal province, injuring one man in the shoulder. According to human rights group LICADHO, on 3rd June 2021, an estimated 100 soldiers from the Royal Cambodian Armed Forces faced off with the protesting villagers who were fighting for their farmland in the commune. Soldiers were captured on video advancing on the protesters and firing live rounds into the air and into the crowd
The land dispute, which started in 2020, involves more than 150 hectares of land farmed by 300 local families. The provincial authority had recently issued a letter saying that this land was considered as state land, while villagers claimed that they have farmed the land since 1979.
Land grabbing is a major issue in Cambodia and there have been a number of cases of shooting of land protesters according to LICADHO. In March 2018, three individuals were shot in Kratie after security forces, including soldiers, fired into a crowd protesting an eviction. In January 2019, a man was left paralysed after being shot during a protest in Preah Suhanok province.