Activists fear Rajapaksa's return to power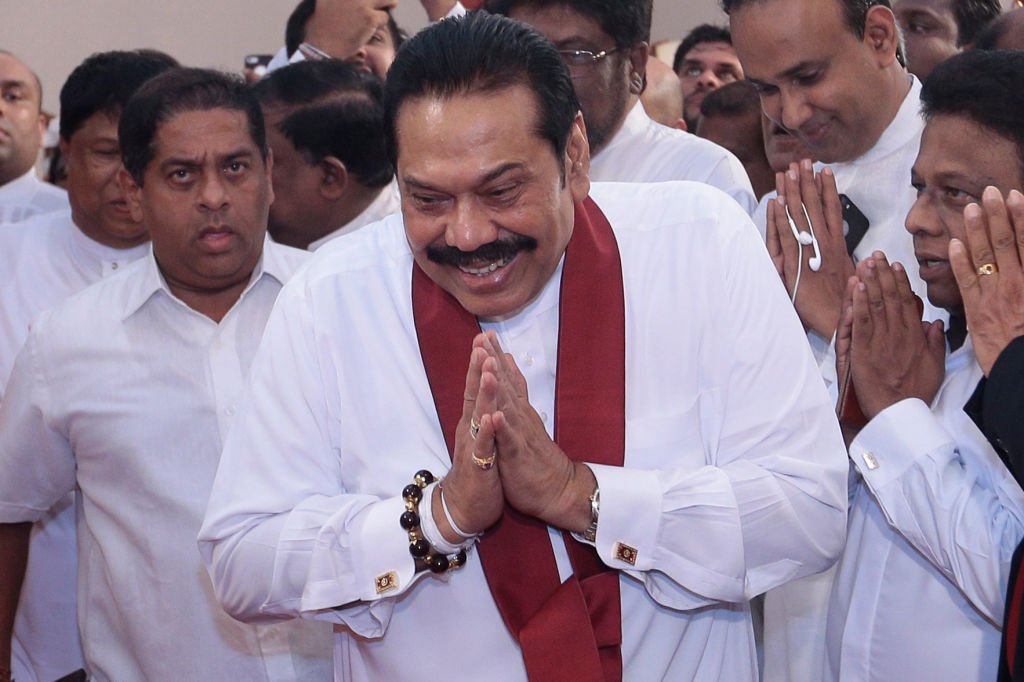 In a shocking move on 26th October 2018, President Maithripala Sirisena fired Prime Minister Ranil Wickremesinghe and replaced him with Mahinda Rajapaksa, the controversial former leader that he ousted in a 2015 election. The ensuing drama plunged Sri Lanka into a constitutional crisis. Sirisena said he sacked Wickremesinghe after accusing him and a Cabinet colleague of an alleged plot to assassinate him. No further details of the plot have been disclosed and Wickremesinghe has repeatedly denied the accusation.
The crisis emerged over the legality of the sacking. Critics said Wickremesinghe's removal was illegal, citing constitutional amendments passed in 2015 that the President does not have the authority to sack a prime minister. Wickremesinghe, has challenged his dismissal saying he commands a greater majority in Parliament and vowed to remain Prime Minister until Parliament voted him out.
President Sirisena then suspended parliamentary proceedings until 16th November 2018. However, after receiving sharp criticism from the party of the country's sacked Prime Minister which decried this date as "too late", plans emerged to convene parliament on 14th November 2018. In recent days, a steady stream of defections has eroded Wickremesinghe's narrow majority in the 225-member House.
Human rights groups have raised fears about a return to past abusive practices in the country. Rajapaksa's administration was implicated in serious human rights violations during the final stages of Sri Lanka's brutal civil war and in suppression of freedoms of the media, expression, and association.
What's happening in Sri Lanka? Here's a look at how the political crisis unfolded. pic.twitter.com/QWeWAKigEu

— Al Jazeera English (@AJEnglish) November 5, 2018
Peaceful assembly
Violence and protests due to political crisis
The shocking dismissal erupted into violence on 28th October 2018 when bodyguards for a Sri Lankan cabinet minister allied to Wickremesinghe opened fire with live ammunition inside a government ministry as a mob loyal to President Maithripala Sirisena besieged the minister's office. A 34-year-old man was shot dead and two others were injured.
On 30th October 2018, thousands of Sri Lankans marched through the streets of Colombo demanding the president resolve the country's deepening political crisis that has resulted in the death of at least one person. The demonstration came just a day after Parliament Speaker Karu Jayasuriya warned of possible violence if politicians were not summoned immediately. Demonstrators held placards reading "Let's defeat dictatorship that undermines the constitution, restore democracy, uphold the constitution and convene Parliament to end crisis". Addressing the protesters, Wickremesinghe said the president had used his executive powers against democracy.
Expression
Concerns for media safety amid political crisis
#SriLanka press freedom under pressure as soon as Mahinda Rajapaksa appointed prime minister. His supporters and posters appear in state media office. This even before his parliament confirmation. https://t.co/iKOxsK4NH4 via @TheNationalUAE

— meenakshi ganguly (@mg2411) November 5, 2018
According to the International Federation of Journalists (IFJ), after Mahinda Rajapaksha was sworn-in members of the unions loyal to Rajapaksa's Sri Lanka Podujana Peramuna (SLPP) party moved in to take control of state-owned institutions. Senior editorial staff at the Sri Lanka Rupavahini Corporation (SLRC), the Independent Television Network (ITN), the Sri Lanka Broadcasting Corporation (SLBC) and the Associated Newspapers of Ceylon Limited (ANCL) were kept away from the offices.
According to reports, a group of SLPP loyalists within ANCL barged into the layout section of the Daily News on the evening of the 26th October 2018 and changed the layout claiming that they were acting under orders from the Prime Minister's office. Similarly, the staff at the Sunday Observer, were pressured to publish a story of Rajapaksa being sworn in and warned not to report any stories regarding Wickremesinghe. Senior journalists at the paper had tweeted protest against it. At the Independent Television Network (ITN), several journalists were also forced out.
The IFJ said:
"[We are] seriously concerned by the ongoing political crisis in Sri Lanka, and the harassment of journalists at the state media institutions by politically motivated members. Upholding press freedom, editorial independence and journalists' rights is a basic component of a democracy and the IFJ urges all to respect it and ensure that the pillar of democracy is not affected."
There were also reports that a journalist from the Hindu's media outlet in Sri Lanka, Meera Srinivasan was intimidated following the publishing of an article. The article stated that India's RAW (foreign intelligence agency) was attempting to assassinate him. In response the Free Media Movement – Sri Lanka (FMM) said: "The FMM feels that this baseless allegation against a Colombo based foreign correspondent is an act of bullying and draw the attention of all concerned to respect the right of a journalist to conceal the source of information".
Association
Activist and journalists fear of becoming targets
Some of us spoke to @safimichael on concerns for accountability, human rights & democracy if there is a return to Rajapaksa rule. Sri Lanka crisis: activists fear end of human rights investigations https://t.co/d2aRSrbxd6 #ConstitutionalCrisisSriLanka #SriLanka

— Bhavani Fonseka (@bfonseka) October 31, 2018
Activists fear Rajapaksa's return would mark the end of a series of investigations, into crimes allegedly committed during his rule, and strain a post-civil war reconciliation process which was already stalling. On 31st October 2018, lawyer Bhavani Fonseka said many of the investigations into Rajapaksa's rule that commenced after he left office had dragged anyway in the past year "but even those moving slowly are likely to stop if Rajapaksa comes back to government." She added:
"The prospect of a Rajapaksa government is not good for accountability, democracy or human rights protection"
Rajapaksa was feared by political opponents, In particular, he brutally supressed critics and the Tamil-speaking people on the island during his ten-years in power between 2005-2015. Under his rule, activists, journalists and politicians with opposing views were harassed, intimidated, abducted and even murdered. Now that he is back, activists fear they will once again become open targets.
Tamil activists and journalists believe the threat facing them is more imminent than it has ever been with Rajapaksa back in power. Journalists have already begun to self-censor. Some have taken to deleting content from their social media accounts, while others are deleting public accounts altogether. At least one journalist has reportedly left the country.
New counter-terrorism bill still not in compliance with international law
#SriLanka :Political prisoners and counter terror laws - Ruki Fernando https://t.co/z6lzHAgIFu #PoliticalPrisoners pic.twitter.com/6h6lGOHRmt

— sunanda deshapriya (@sunandadesh) September 23, 2018
The Prevention of Terrorism Act (PTA) has been used to arbitrarily detain suspects for months and often years without charge or trial, facilitating torture and other abuse. In October 2015, the Sri Lankan government agreed to a resolution at the UN Human Rights Council outlining a series of commitments on accountability and justice including repealing the PTA.
According to Human Rights Watch, the Counterterrorism Act of 2018, drafted to replace the PTA, significantly improves upon the current Prevention of Terrorism Act (PTA) but needs further safeguards against rights violations. The Counterterrorism Act of 2018, drafted to replace the PTA, narrows the definition of terrorism, increases protections against torture and coerced confessions, and reduces pretrial detention. But overbroad provisions could be used to prohibit peaceful protests and ban nongovernmental organisations. Curbs on police powers remain insufficient. The organisation called on Parliament to amend the Bill to fully comply with international human rights standards and resist pressure to roll back its reforms. The Cabinet of Ministers submitted the draft law to Parliament on 9th October 2018.
Day of disappeared commemorated
#SriLanka have to accept enforced disappearances, to achieve reconciliation: @ompsrilanka Chairman @saliyapieris says commemorating the International Day of the Disappeared https://t.co/MmXPRACtHu Pix by #DamithWickramasinghe pic.twitter.com/I0D4Hct5lZ

— Lahirru Pothmulla (@lahirru) August 31, 2018
On 30th August 2018, Sri Lanka's Office of Missing Persons (OMP) marked the International Day of the Disappeared, in Colombo along with families of the disappeared. For the families, it was an important moment in their journey towards truth and justice.
According to Brito Fernando, President of the Families of the Disappeared Organisation, it is a sign that the state now finally recognises that disappearances once occurred in Sri Lanka. Appreciating the many recommendations and suggestions being made by the OMP on behalf of the victims and their families, Fernando, however, says they will continue in their fight for justice to ensure that the government delivers on its promises.
The Office on Missing Persons (OMP) is a key body, empowered to search for and trace people who were disappeared during Sri Lanka's 26-year-long internal conflict. Since their appointment in February 2018, the OMP members held six events to reach out to families of the disappeared in Mannar, Mullaitivu, Matara, Trincomalee, Jaffna and Kilinochchi with more than 2,000 people in attendance. However, victims of human rights abuses and their families remain sceptical that the new body will help them find their missing relatives.