Activists disappeared or arrested in Pakistan while media faces restrictions and threats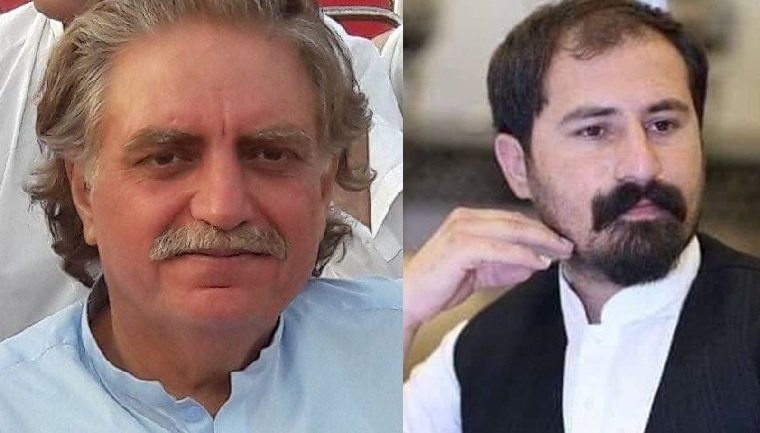 Over the last few months of 2019, Pakistani human rights defender Idris Khattak was forcibly disappeared, activist Muhammad Ismail was arbitrarily detained on trumped up charges, while his daughter and women rights activist Gulalai Ismail fled the country. The authorities also denied entry to a representative from the Committee to Protect Journalists' (CPJ), warned news anchors not to express their opinions, while journalists from the Dawn newspaper faced threats for their reporting. Student protesters including Alamgir Wazir were arrested and charged for their activism.
Association
Human rights defender forcibly disappeared
Muhammad Idris Khattak, a Pakistani human rights defender, is feared to have been forcibly disappeared by men in plain clothes from Khyber Pakhtunkhwa province on 13th November 2019.
Idris Khattak was on his way home from Islamabad when his rented car was intercepted near the Swabi Interchange of Khyber Pakhtunkhwa province by four unidentified men in plain clothes. The only other person in the car was the driver with whom Idris Khattak has travelled frequently. The driver was also picked up with Idris Khattak on 13th November 2019 and was released on the night of 15th November 2019.
Khattak, aged 56, has been involved with progressive politics since his student days, and has long been a member of the National Party. He is also a freelance researcher focusing on human rights issues in his home province of Khyber-Pakhtunkhwa. On 23rd November, Khattak's brother filed a habeas corpus petition in the Peshawar High Court, which demanded that the government report on Khattak's whereabouts.
According to Amnesty International, in Pakistan, enforced disappearance has been used as a tool to muzzle dissent and criticism of military policies.The individuals and groups targeted in enforced disappearances include Sindhis, Baloch, Pashtuns, the Shia community, political activists, human rights defenders, members and supporters of religious and nationalist groups, suspected members of armed groups, and proscribed religious and political organisations in Pakistan. Pakistan's Commission of Inquiry on Enforced Disappearances reported in September 2019 that 2,228 individual cases remain unresolved.
Activist detained for a month on terrorism charges while daughter flees country
We call upon the Government of Pakistan to immediately and unconditionally drop all charges against Professor Muhammad Ismail. Take action here 👉🏽 https://t.co/F28HTmTctv pic.twitter.com/QH0QpaQTmP

— Amnesty International South Asia (@amnestysasia) November 6, 2019
Muhammad Ismail, a human rights activist and CIVICUS member, was arbitrarily detained in October 2019. Previously, in July 2019, Muhammad Ismail was accused of baseless charges under the Anti-Terrorism Act in connection with the legitimate human rights work of his daughter, Gulalai Ismail. The charges include taking funding from "foreign countries", aiding "terrorist organisations" and working for them under the guise of his social work.
On 24th October 2019, Ismail travelled to the Peshawar High Court for a hearing, which had been routinely postponed. He was leaving the premises when he was accosted outside the court by men dressed in black militia uniform, who forced him into a black vehicle. His whereabouts remained unknown until the morning of 25th October, when he appeared in the custody of Pakistan's Federal Investigations Agency before a judicial magistrate, with further charges under the Pakistan Electronic Crimes Act for 'hate speech' and spreading 'fake information' against the government's institutions.
Ismail was detained in appalling conditions and denied medical care despite having multiple health conditions including a neurological disorder, dislocated discs in his back, kidney pain and high creatinine levels. He was also denied medical care for his hypertension. He was released on bail on 26th November 2019.
Prior to his detention, Ismail and his family had faced months of intimidation, including at least three raids on their family home in Islamabad, as well as threats of physical harm to Gulalai Ismail's younger sister.
Muhammad Ismail is a prominent member of Pakistani civil society and the focal person for the Pakistan NGO Forum (PNF), an umbrella body composed of five networks of civil society organisations (CSOs) in Pakistan. 
Prominent Pakistani rights activist Gulalai Ismail has sought asylum in the US.

Ismail is facing sedition charges for her work with an ethnic Pashtun rights movement https://t.co/tXd3NTKRQ5 pic.twitter.com/An1FVCZWzQ

— Al Jazeera English (@AJEnglish) September 20, 2019
Muhammad Ismail's daughter Gulalai Ismail is a human rights defender who has faced persecution from authorities for her advocacy for the rights of women and girls, and her efforts to end human rights violations against the ethnic Pashtun people. She was forced into hiding in June 2019 after facing defamation, sedition and other charges which stemmed from a speech she gave at a rally in Islamabad, in which she called for justice in the case of a 10-year-old girl who was raped and murdered in May 2019 and denounced the authorities' inaction to bring the perpetrators to justice. She has subsequently sought asylum in the US.
Expression
Journalist denied entry into Pakistan
CPJ's Steven Butler denied entry to Pakistan to attend a human rights conferencehttps://t.co/SKgnmpR4p6

— Committee to Protect Journalists (@pressfreedom) October 18, 2019
In October 2019, the head of the Committee to Protect Journalists' (CPJ) Asia programme, Steven Butler was denied entry into Pakistan and deported. A border security official at Lahore's international airport told Butler that his journalist visa was valid, but he was barred from entering Pakistan because his name was "on a stop list" of the Interior Ministry.
Butler told Al Jazeera the official at the airport did not know why his name was on the list. He was due to speak at the second annual Asma Jehangir Conference, an event aimed at discussing human rights in Lahore.
Joel Simon, CPJ's executive director said:
"Pakistani authorities' move to block Steven Butler from entering the country is baffling and is a slap in the face to those concerned about press freedom in the country. Pakistani authorities should give a full explanation of their decision to bar Butler from entering and correct this error."
CPJ frequently documents cases of censorship in Pakistan's media, and released an in-depth report in 2018 that "accused the military of restricting reporting by barring access, encouraging self-censorship through direct and indirect acts of intimidation, and even allegedly instigating violence against reporters". Pakistan ranked 142 in Reporters Without Borders' (RSF) Press Freedom Index for 2019, down from 139 last year.
Authorities order news anchors not to express opinions
PEMRA directs anchors not to appear in other shows as experts. pic.twitter.com/dugGUN38fH

— Mansoor Ali Khan (@_Mansoor_Ali) October 27, 2019
In October 2019, Pakistani authorities ordered news anchors not to express their opinions on air. Issued on 27th October 2019, the Electronic Media Regulatory Authority (PEMRA) sent the directive to TV channels stating that journalists who host TV discussions must limit themselves to "moderating" and must never express an opinion or judgement.
The directive ends by referring to sections 30 and 33 of PEMRA's statutes, under which non-compliance is punishable by a fine of up to 10 million rupees (USD 64,200) and withdrawal of the TV channel's broadcasting licence.
According to Reporters Without Borders (RSF) the PEMRA directive was sent after television journalists commented on the release of former prime minister Nawaz Sharif, paroled from prison on health grounds. Judges had "expressed annoyance" over the comments, adding that Sharif is one of the subjects seen as implicitly off limits.
Demonstrators block entrance to newspaper and threaten staff
According to the Committee to Protect Journalists (CPJ), on 3rd December 2019, dozens of protesters besieged the Dawn newspaper's Islamabad office, blocking staff from entering or exiting the building, after the paper published a headline accurately describing the perpetrator of a terrorist attack in London on 29th November as "of Pakistani origin". Demonstrators also gathered at the Karachi Press Club holding signs calling for Dawn editor Zaffar Abbas and publisher Hameed Haroon to be hanged.
On 7th December 2019, another protest was held against the publication. Nearly 100 people who had arrived in vans, gathered outside the newspaper's offices and chanted slogans against the media group and set copies of the newspaper on fire.
The journalist community condemned criticism of the outlet as a way of curtailing media in Pakistan. Dawn editor Zaffar Abbas said the attacks by protesters on the daily's offices were an "orchestrated campaign" against the newspaper which has a history of strained relations with authorities. He added:
"Everyone has a right to disagree with Dawn's journalism, and even to protest against us. But calling us anti-state, making demands that we be hanged, burning our effigies, amounts to incitement to violence. This should immediately stop."
Academic sentenced to death for blasphemy
In December 2019, university lecturer Junaid Hafeez was sentenced to death over a blasphemy charge. Hafeez, a 33-year-old Fulbright scholar who was employed as a lecturer in a Multan university, was accused of committing blasphemy in 2013. The charges against him included "liking" an allegedly blasphemous Facebook page.
The sentence was announced under Sections 295-A, 295-B and 295-C of the Pakistan Penal Code. Section 295-A deals with "deliberate and malicious acts intended to outrage religious feelings of any class by insulting its religion or religious beliefs," Section 295-B concerns the "Defiling… of Holy Qur'an", whereas 295-C deals with the "use of derogatory remarks…in respect of the Holy Prophet."
After legal experts refused to take up Hafeez's case, the Multan coordinator of the Human Rights Commission of Pakistan (HRCP), Rashid Rehman, decided to represent the university lecturer. In 2014, Rehman was found shot to death by assailants.
According to the Center for Social Justice, a Pakistani advocacy group, at least 1,472 people were charged under the blasphemy provisions from 1987 to 2016. Although there have been no executions, at least 17 people convicted of blasphemy are currently on death row, while many others are serving life sentences for related offences.
Peaceful Assembly
Student protesters arrested and charged
Kamil Khan, @FarooqTariq3 and I have been granted interim bail in the sedition case against us. Alamgir Wazir is in custody on judicial remand for two weeks. #ReleaseAlamgirWazir pic.twitter.com/VALvKwcKJK

— Ammar Ali Jan (@ammaralijan) December 2, 2019
In November 2019, Pakistani police filed criminal charges against activists who have supported the 'Student Solidarity March' and arbitrarily detained Alamgir Wazir, one of the protestors. The crackdown came in the wake of peaceful student solidarity marches across Pakistan.
According to Amnesty International, Alamgir Wazir was detained from the Punjab University campus in Lahore on 30th November 2019. He is the nephew of Ali Wazir, a parliamentarian and leader of the Pashtun Tahaffuz Movement, a non-violent movement calling for an end to enforced disappearances, extrajudicial executions and other human rights violations against Pakistan's Pashtun ethnic minority.
The other four activists named in the police report are Ammar Ali Jan, Farooq Tariq, Muhammad Shabbir, Kamil Khan and Iqbal Lala. The five activists have been charged under 'sedition', 'maintenance of public order', 'nuisance', and 'continuation nuisance' laws. They have also been charged with the violation of the 'Punjab Sound Systems (Regulation) Act' – a non-bailable offence that can be punished by six months imprisonment and/or a fine.
Rabia Mehmood, South Asia Researcher at Amnesty International said:
"The crackdown on the student protests is a brazen violation of their rights to freedom of expression, association and peaceful assembly. The charges against the organisers must be dropped and anyone detained for their peaceful participation in the protests must be released immediately and unconditionally."
The Student Solidarity Marches, which took place across Pakistan on 29th November 2019, demanded cuts in student fees, an end to surveillance of students on and off campus, an end to violence on campus, an end to sexual harassment on campus, the introduction of policies to address complaints of sexual harassment, an end to privatisation of academic institutions, and the restoration of student unions in Pakistan.
Teachers arrested in Islamabad
In October 2019, police raided a protest camp at D-Chowk to disperse protesters and arrested around 120 people including male and, female teachers and children on charges of "using loud speakers, delivering hate speeches against government and raising slogans against the government".
Most of the protestors teach at remote schools under the Basic Education Community system. Many of them claim that they have not received their salary for months and are demanding that the government regularise their jobs. After staging a similar sit-in in 2018, they were assured by the three government bodies by a signed letter that their employment would be regularised within a year.