Activists denounce police excesses in enforcing COVID-19 restrictions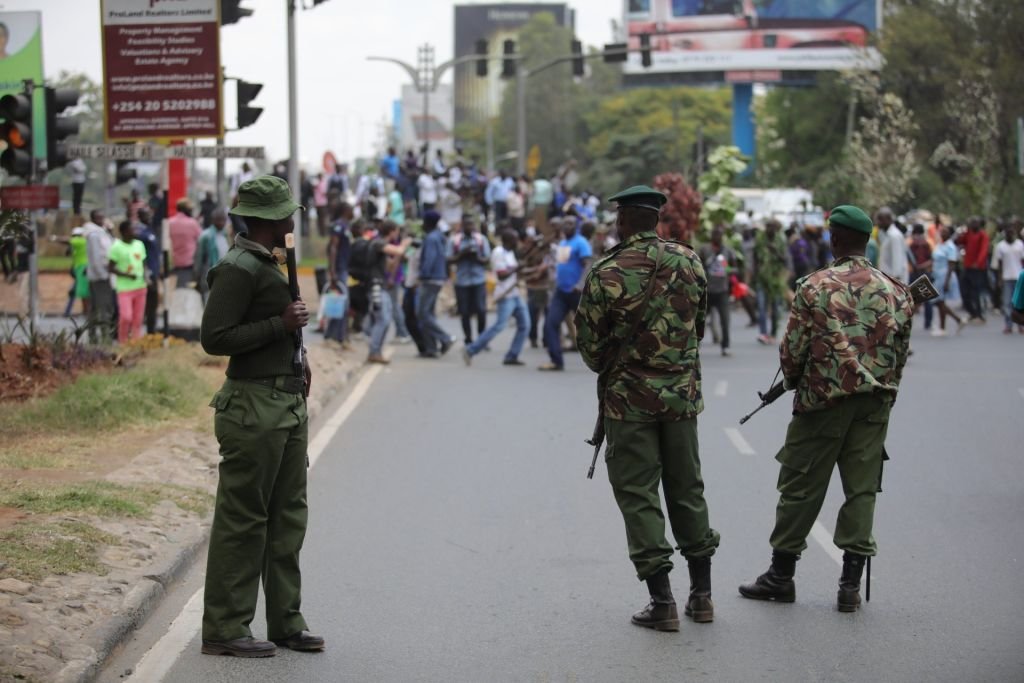 Under the auspices of the Police Reform Working Group and 20 national human rights organizations, we collectively & unequivocally condemn the unnecessary and excessive use of force by the @PoliceKE officers yesterday at the Likoni Ferry. #CurfewKenya #PoliceBrutality pic.twitter.com/Yii8ywGowi

— Amnesty Kenya (@AmnestyKenya) March 28, 2020
In late March, human rights activists protested killings by Kenyan police officers while enforcing virus-related restrictions and also accused officers of using the situation to extort bribes. Police brutality increased significantly after the imposition of a curfew to curb the spread of COVID-19.
Police in various locations were recorded caning people who defied the curfew, while videos and photos also featured the police lobbing teargas canisters and clubbing people with batons in the city of Mombasa to clear the streets in advance of the curfew.
According to Kenya's Independent Policing Oversight Authority (IPOA), as at 2nd June 2020, more than a dozen people had been killed by police while enforcing the COVID-19 curfew. The IPOA noted that 87 complaints against police had been reported since the end of March and that, following investigations,15 deaths and 31 injuries were directly linked to the actions of police officers in relation to the curfew enforcement.
Following massive public uproar, it was reported on 13th May 2020 that at least a dozen officers had been interdicted as the Internal Affairs Unit (IAU) took up investigations on incidents.
On the same day, Police Constable Beckham Osoro Orwaru became the first police officer to be charged for committing violations against citizens while enforcing the COVID-19 curfew. Orwaru was charged with the murder of 26 year old Karani Kinyiri in Nairobi's Mathare informal settlement.
On 4th June 2020, the Independent Policing Oversight Authority (IPOA) said that two other police officers would be charged with murder after fatal shootings while enforcing the COVID-19 curfew. One of the police officers, Duncan Ndiema, was charged with shooting a 13 year old boy, Yassin Moyo who was sitting on the balcony of their house in Nairobi, while Lotugh Angórita killed a teacher, Colleta Amondi Ouda, while responding to a report of a burglary in Siaya county, western Kenya.
IPOA said it would also press charges against four other officers over an assault on a man in Garissa, in the east of the country. 
Last weekend, police and demonstrators in #Nairobi, #Kenya clashed during protests against demolitions in Kariobangi that displaced at least 7,000 people.

📷: A police officer in the Kariobangi slum of Nairobi, Kenya.

More on our Instagram: https://t.co/NjiZKNjPO0 pic.twitter.com/FZecX9QjBL

— The Republic (@republicjournal) May 12, 2020
Peaceful Assembly
On 8th May 2020, hundreds of people protested against government demolitions of the homes of more than 7,000 people in Kariobangi, a poor informal settlement in Nairobi. The Kenyan government ignored a court order that barred it from evicting the slum residents until their case arguing for their right to live on the land is determined. Many, including the Housing Coalition, an alliance of non-governmental organisations, criticised the government for allowing the demolitions to take place without taking measures to alleviate the suffering of those affected, at a time when it was urging people to stay at home to curb the spread of the coronavirus.
In a separate incident, on 26th June 2020, Kenyan police shot and killed three people in Lessos, Western Kenya, when a crowd of motorcycle taxi drivers and villagers protested against the shooting of a cobbler who was trying to intervene as police officers were harassing a motorcycle rider over a bribe for not wearing a mask.
The Kenyan police chief said an inquiry would be held into the shooting and ordered "the immediate arrest and suspension" of the officer involved. 
CONTROVERSIAL blogger Robert Alai arrested over #Covid_19 tweet, being held at Muthaiga Police Station. pic.twitter.com/w0zl50CTlK

— TheStarBreaking (@TheStarBreaking) March 20, 2020
Expression
Blogger Robert Alai was arrested on 20th March 2020 for posting false information about the virus. Alai had claimed that the government was concealing crucial information about the spread of the virus and that its impact was far greater than the government was acknowledging. He was accused of contravening the Computer Misuse and Cyber Crimes Act 2018.