Activists and opposition face judicial harassment as emergency measures in Thailand raise concerns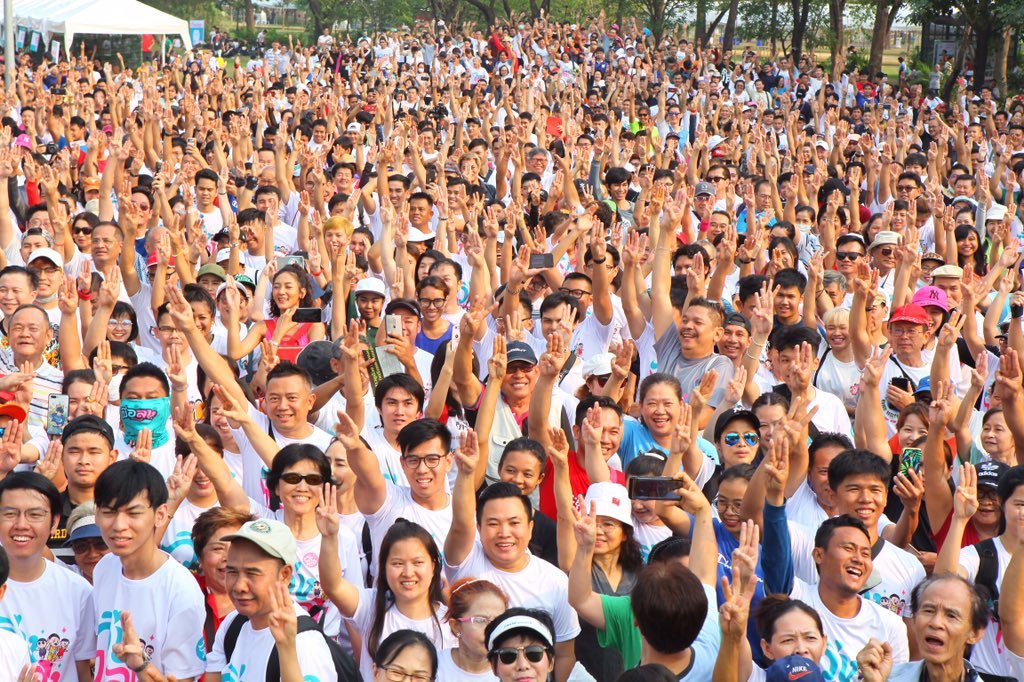 Protesters holding a "Run Against Dictatorship" in January 2020 faced obstruction, harassment and intimidation. A leading opposition party was dissolved by the courts in February 2020, a move that many believe was politically motivated. Authorities have dropped serious charges against officials involved in the murder of a prominent ethnic Karen activist. A journalist was convicted for her social media post and human rights defenders continue to face charges for exposing labour abuses. New emergency laws passed could threaten the right to freedom of expression and access to information.
Peaceful assembly
Protesters face obstruction, harassment and intimidation
On 12th January, over 12,000 people registered and gathered to take part in the "Run Against Dictatorship" in Bangkok. "Run Against Dictatorship" was organised as a marathon held in Suan Rot Fai Park to protest against the government under Prime Minister Prayuth Chan-o-cha, who led the military coup in 2014, and to call for more political freedom. The organising committee of this event stated that they also invited the Prime Minister and his cabinet ministers to participate but none of them did.
The run was considered "one of the biggest shows of dissent" against the Thai military junta government, with thousands of citizens demanding their rights to freedom of expression, chanting "Long live democracy." Many showed the three-finger salute used during the anti-government protests in 2014, a gesture featured in the Hunger Games TV series that symbolises unity amid struggle.
Prior to the event, Thai Lawyers For Human Rights reported that a Chulalongkorn University student and lead organiser of this event, Thanawat Wongchai was summoned by police. Three other students from University of Phayao were also questioned for over five hours for their role in organising the Run Against Dictatorship. It was also reported that in at least 15 provinces people faced threats and intimidation and were interrogated for their involvement with the run.
Thai Lawyers for Human Rights and ARTICLE 19, released a statement calling on the Thai authorities to immediately halt the harassment of activists for running such an event and ensure their fundamental rights. They added:
"While the government has stopped short of banning the run outright, authorities seem intent on obstructing and harassing the organisers at every turn. The government's campaign of intimidation and obstruction not only violates the human rights of Thai people, but also contravenes the right to freedom of peaceful assembly as guaranteed in the 2017 Constitution."
Association
Opposition party disbanded
Thailand's Constitutional Court has dissolved the opposition Future Forward party and banned 16 of its leaders from politics for 10 years.https://t.co/VW1XYh3phT

— DW News (@dwnews) February 21, 2020
On 21st February 2020, the constitutional court dissolved the opposition Future Forward party and banned 16 of its leaders from politics for ten years. The court ruled the party had violated election rules by taking a 191.2m baht (USD 6 million) loan from Thanathorn Juangroongruangkit, the leader of the Future Forward Party (FFP). The law limits donations from an individual to 10m baht. Thanathorn denies any wrongdoing, and some political commentators say other parties' finances have not been scrutinised in the same way.
The Future Forward Party, founded in 2018 on a pro-democracy platform, is facing at least 28 legal challenges. It won 81 seats in the general election in March 2019, the country's first since the May 2014 coup led by Prime Minister Prayuth Chan-o-cha. Both before and after the elections, the authorities had tried to persecute Future Forward Party members or to dissolve the party altogether.
Regional lawmakers expressed extreme disappointment at the decision and Abel Da Silva, a Timor-Leste Member of Parliament (MP) and member of ASEAN Parliamentarians for Human Rights (APHR) said:
"The penalty seems wholly disproportionate to the infraction, and when you look at the huge number of cases brought against the Future Forward Party and its members since it was founded, it is hard not to question whether they are being singled out because they pose a threat to the political establishment's grip on power."
Previously, on 21st January 2020 Thailand's constitutional court acquitted Thanathorn and the party's key figures of sedition charges. The sedition case was initiated on 18th June 2019 by a petition filed with the constitutional court by Natthaphon Toprayoon, former advisor to the Chief Ombudsman. Thanathorn, the party's secretary-general, Piyabutr Saengkanokkul, and several party executives are alleged to have violated Section 49 of the 2017 Constitution through acts deemed to have the intention of overthrowing the constitutional monarchy. Natthaphon further accused the party of having links to the Illuminati, a name given to both real and fictitious groups, citing a vague resemblance between the logos.
Amnesty International called these legal cases against the FFP "an instrumentalisation of the legal process to intimidate and harass the members of the opposition party and other human rights activists" in Thailand.
On 26th December 2019, police filed charges against the Future Forward Party leader, Thanathorn for organising a rally on 14th December 2019 at Bangkok's Pathumwan Intersection to oppose the government's attempts to dissolve the party. More than 10,000 people attended the rally, the biggest political gathering since the May 2014 military coup.
The authorities accused Thanathorn of holding a public assembly without permission under the Public Assembly Act and using loudspeakers without permission under the Controlling Public Advertisement by Sound Amplifier Act. In addition, Sonthiya Sawasdee of the ruling Palang Pracharath Party filed a police complaint against Thanathorn and other key members of the Future Forward Party under the Public Assembly Act for not notifying authorities of the rally and holding it within 150 meters of a royal residence.
Authorities drop serious charges against officials involved in murder of activist
Appalling that Thai authorities are quietly trying to drop the most serious charges against 4 park officials for the abduction & murder of prominent ethnic Karen activist Porlajee "Billy" Rakchongcharoen in April 2014. His killers must face justice. https://t.co/qc9v0hnbJc pic.twitter.com/MbQrkfgSKm

— Elaine Pearson (@PearsonElaine) February 4, 2020
In January 2020, it was announced that the government was dropping the most serious charges against four park officials for the abduction and murder of a prominent ethnic Karen activist Porlajee 'Billy' Rakchongcharoen.
As previously documented, in April 2014, the then-head of Kaeng Krachan National Park, Chaiwat Limlikitaksorn, and his staff arrested Billy for alleged illegal possession of a wild bee honeycomb and six bottles of honey. Park officers claimed they released Billy after questioning him briefly and had no information regarding his whereabouts. There is no record of Billy's release from custody.
According to Human Rights Watch, on 27th January 2020 public prosecutors with the Special Litigation Department announced that they had dropped the most serious charges against four park officials, including illegal confinement, premeditated murder and concealing the victim's body. The prosecutors contended that there is no clear evidence that Billy is dead because his body was never found, though the Justice Ministry's Department of Special Investigation (DSI) discovered skull fragments matching his DNA. The suspects will face only malfeasance in office charges for failing to hand him over to the police after arresting him.
Raid on house of human rights defender in Narathiwat Province
#Thailand: on 9 Dec, around 70 heavily armed rangers raided Arfan Wattana's house; the HRD was present at his home along with his family when the incident took place. Four days later, the grounds for the raid have still not been communicated.https://t.co/2KRSpsGsNU pic.twitter.com/giWhQCFgla

— Front Line Defenders (@FrontLineHRD) December 13, 2019
According to Frontline Defenders, on 9th December 2019, around 70 heavily armed rangers raided human rights defender Arfan Wattana's house in the Narathiwat Province of Thailand. Arfan Wattana was at his home along with his family when the incident took place.
Arfan Wattana is a prominent Patani leader and human rights defender predominantly working in the region of Patani, one of the most militarised regions in Asia which has been under martial law for the past 15 years. He currently works as assistant of foreign affairs at an NGO, The Patani Organisation. In his capacity, Arfan Wattana advocates for Patani issues at the international level. He is a vocal critic of Thailand's assimilation policies in Patani.
About 70 rangers in fifteen cars surrounded his house and asked the human rights defender and his family to exit the house. The raid was led by the 48th ranger forces regiment along with the Department of Special Investigations. The officers then began to photograph Arfan Wattana, and in return the human rights defender took photographs of the officials, at which point one of them snatched his phone away and deleted all the photos on it. Arfan Wattana was further threatened that he would be taken to the military base if he tried to resist the raid.
The raid took place over a two-hour period and ended with the human rights defender having to sign a few documents. In addition to this, the officers also took copies of his and his family's ID documents. Arfan has told CIVICUS he continues to be monitored by the authorities.
Expression
Emergency measures by Thai authorities raise concerns
Thailand declares State of Emergency, with tough new restrictionshttps://t.co/Vq0WXWH07D https://t.co/Vq0WXWH07D

— The Star (@staronline) March 25, 2020
Human rights groups ARTICLE 19 has raised concerns about emergency measures announced by the Thai government that could threaten the right to freedom of expression and access to information.
In a press conference on 24th March, Prime Minister Prayut Chan-o-cha announced that emergency powers would be exercised under the Emergency Decree on Public Administration in Emergency Situation, (2005) (Emergency Decree) beginning on 26th March and would apply nationwide until 30th April.
Among the measures announced is a prohibition against sharing "any kind of news or information related to COVID-19 that is false and might instigate fear amongst the public or that is intentionally distorted to mislead the public". Public officials are empowered to censor these types of communications or initiate criminal proceedings under the Computer Crimes Act or the Emergency Declaration. The Computer Crimes Act—a repressive law in its own right—provides for up to five years' imprisonment for uploading 'false information', and violations of orders made under the Emergency Declaration are punishable by up to two years' imprisonment.
The Emergency Decree grants the Prime Minister broad powers in an 'emergency situation' that requires measures to protect state interests including 'the safety of the people'. Under Section 9 of the Emergency Decree, the Prime Minister may issue orders confining people to their homes, prohibiting assemblies, banning press releases and other publications that 'may instigate fear', and restricting travel and access to certain areas or buildings. Additional powers of arrest, detention, search, seizure and requisitioning of goods and services are available under Section 11 of the Emergency Decree in 'serious situations' involving 'terrorism, use of force, [or] harm to life, body or property'.
Matthew Bugher, Head of the Asia Programme at ARTICLE 19 said:
"The virus' spread in Thailand demands a forceful response, but there is no reasonable justification for the type of restrictions on speech imposed by the government today. Emergency powers should be limited to those strictly necessary to ensure an effective public health response. Broad restrictions on speech are counterproductive in these circumstances".
Artist arrested for criticising COVID-19 monitoring at airport
On 23rd March 2020, police arrested Danai Ussama at his art gallery in Phuket and brought him to the Crime Suppression Division in Bangkok. He was charged with violating section 14(2) of the Computer-Related Crime Act for "putting into a computer system false computer data in a manner that is likely to cause panic in the public." If found guilty, he faces up to five years in prison and a fine of up to THB100,000 (USD 3,050).
The charge is based on a complaint that the national airport operator filed against Danai for a 16th March post on Facebook. Using the alias "Zen Wide," Danai wrote that upon his return from Barcelona, he and other passengers on his flight did not encounter any COVID-19 screening at Bangkok's Suvarnabhumi Airport.
Journalist convicted and activist charged over social media posts
Suchanee Cloitre: Thai journalist sentenced to two years in prison for defaming the owner of a poultry farm [Thammakaset] via a tweet said Thursday the kingdom's criminal libel laws are eviscerating media freedom. | AFP https://t.co/5ZXZZB6Gmm

— ThailandWatch (@ThailandWatch) January 11, 2020
In January 2020, Suchanee Cloitre, a Thai reporter working for Voice TV, was sentenced to two years' imprisonment after being convicted for defamation. Her lawyer said that Suchanee was convicted for a Twitter post she uploaded over working conditions at a chicken farm owned by the Thammakaset company. Suchanee plans to appeal the maximum two-year term imposed by the court and is currently out on bail.As previously documented, Thammakaset has filed criminal and civil complaints against a number of human rights defenders, including former employees, for reporting labour rights abuses.
Previously, in December 2019, Thammakaset filed a criminal complaint for "defamation" (Article 326 of the Thai Criminal Code) and "libel" (Article 328) with the Bangkok Southern Criminal Court against Puttanee Kangkun, a Senior Human Rights Specialist with the NGO Fortify Rights over 14 social media posts. (three tweets, nine retweets, and two Facebook posts). She posted them between 25th January and 17th September 2019 to express support for fellow human rights defenders - including Sutharee Wannasiri, Nan Win and Ngamsuk Ruttanasatian - involved in cases regarding labour rights abuses committed by Thammakaset.
According to the information received on 6th December 2019, if prosecuted and convicted under these charges, Puttanee could face up to 28 years in prison and a fine of up to 2.8 million Thai Baht (USD 85,064).
In March 2020 a group of UN experts condemned the continued misuse of judicial processes by Thai poultry producer Thammakaset to harass and silence human rights defenders who have spoken out against its abusive and exploitative labour practices. They added:
"We are deeply troubled by the information we continue to receive about migrant workers, human rights defenders, academics and journalists facing ill-founded defamation cases by the company Thammakaset when they raise legitimate concerns about working conditions in this company."