Activist groups in Japan call for end to racism, police abuse and passage of equality law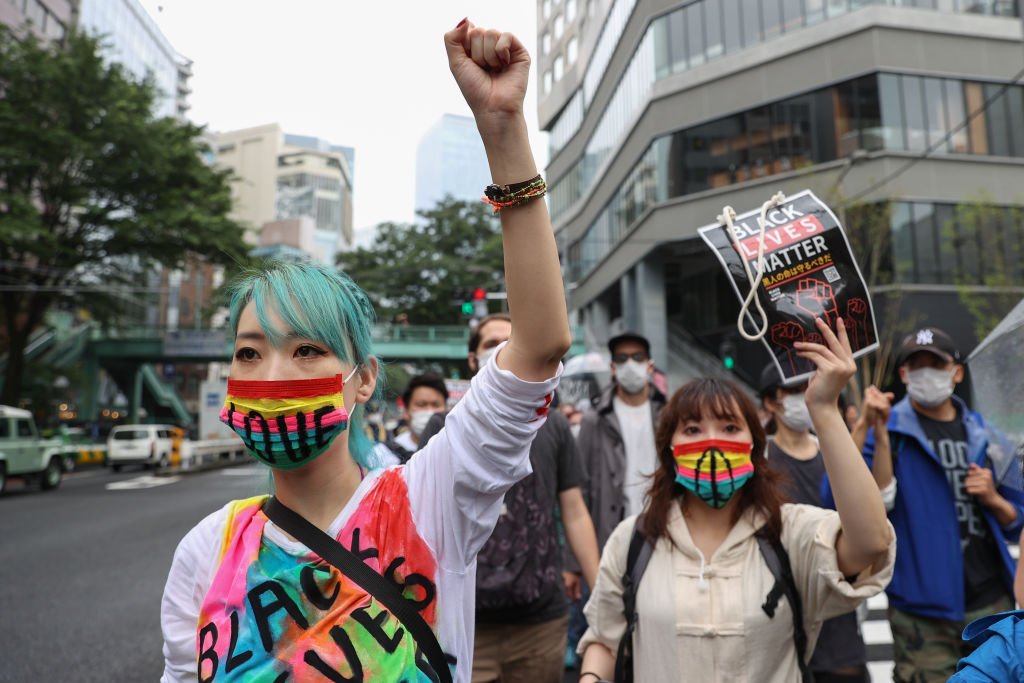 In July 2020, thousands joined protests in Japan against racism and police brutality. Numerous civil society groups have launched a campaign calling for the passage of an Equality Act which would protect LGBT people from discrimination on the basis of sexual orientation and gender identity. 
Peaceful Assembly
Protesters rally against racism and police brutality
Thousands of protesters took to the streets in July to protest against racism and police brutality and spread awareness of racial discrimination in Japan. The protest occurred amid a wave of demonstrations worldwide following the killing of George Floyd in the United States.
On 7th July 2020, protesters took to the streets of Tokyo and Osaka to speak out against racial prejudice and the violent treatment by police of foreign residents in Japan. In Osaka, a peace march sponsored by the Kansai chapter of Black Lives Matter drew nearly 1,000 people.
In Tokyo, two demonstrations were held in front of and near Shibuya Station. In one, a march against police brutality, more than 500 demonstrators denounced the treatment of a 33-year-old Turkish man of Kurdish origin who was stopped by police driving in downtown Tokyo on 22nd May 2020.
In a video filmed by his friend, police could be seen shoving the man to the ground after he declined to give them permission to search his car. One officer can later be seen kicking his leg and then, while the man is crouching on the ground, wrapping his arm around his neck.
On 14th July 2020, more than 3,500 protesters marched in Tokyo from Yoyogi Park, down Omotesando and through Shibuya, holding signs written in Japanese and English that said "Racism is the real pandemic" and "Black pride, enough is enough!"
Professor Shuichi Furuya from the Waseda Law School and the International Humanitarian Fact Finding Commission said there are many issues of discrimination plaguing Japan in addition to problems with Japan's criminal justice system. Further, there are no comprehensive laws prohibiting direct or indirect discrimination by public authorities and private entities.
Japan's penal code has also come under international media scrutiny as there is no right to have lawyers present during criminal interrogation – a situation that is made worse by Japan's allowing suspects to be detained for 23 days without charge or legal assistance.
Association
Human rights groups launch equality campaign ahead of Olympics
Human rights groups to launch equality campaign in Japan ahead of Tokyo 2020https://t.co/Kshd8jX1wC pic.twitter.com/r5WvX3wEQ3

— gaymen-online (@gaymen_online) July 22, 2020
Numerous civil society groups from within and outside Japan launched a campaign #EqualityActJapan in July 2020, ahead of the delayed Tokyo Olympics. The campaign calls for the passage of the Equality Act which would protect LGBT people from discrimination on the basis of sexual orientation and gender identity.
As previously documented, LGBT people still face discrimination at home with their families, at work, in education and access to health services. Although Japan does not legally recognise same-sex marriage at the national level, local governments, including the Shibuya and Setagaya wards of Tokyo, have taken steps to recognise same-sex partnerships. Other prefectures are taking similar measures.
The groups involved include the Japan Alliance for LGBT Legislation (J-ALL), an umbrella organisation of 100 LGBT groups in Japan. Others supporting the campaign include Human Rights Watch and Athlete Ally.
Yuri Igarashi, co-representative director of J-ALL said:
"LGBT people in Japan are entitled to equal protection under the law. Postponing the Olympic Games to 2021 has given the Government time to introduce and pass historic protections to benefit everyone in Japan."
Tokyo was slated to host the 2020 Olympics this summer, but the International Olympic Committee (IOC) and the Japanese government postponed the games for a year due to the COVID-19 pandemic. The postponed games are scheduled to begin in July 2021.
The Olympic Charter bans "discrimination of any kind," including on the grounds of sexual orientation. In line with the IOC's commitment, the Tokyo metropolitan government in October 2018 adopted a landmark ordinance that protects LGBT people from discrimination.
Kanae Doi, Japan director at Human Rights Watch, said that "Japan has an opportunity to be a true global LGBT rights leader by protecting against discrimination at home. The Tokyo metropolitan government has shown solidarity with the LGBT community by passing its historic Olympic LGBT non-discrimination law, and the national government should urgently follow suit."